I may be the only person on this board of the opinion that the S2 is the best of all the 944′s.  OK, maybe the second best, the 944 Turbo S is tough to beat.
Anyhow…
My fondness is derived in the fact that with the S2 you get all the styling and most of the performance of the Turbo cars without the headaches.
Don't get me wrong, I love the turbo cars but the older I get the more I gravitate towards the path of least resistance.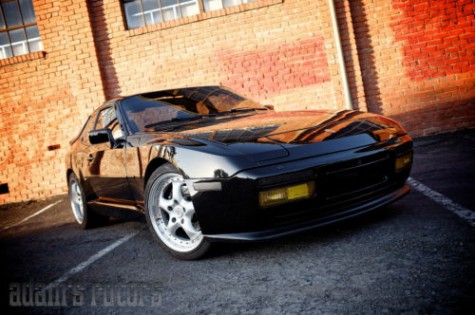 From the seller -
"This is our [adamsrotors.com] current project/show car.

car is immaculate…

has a freshly repainted front lip, euro side skirts & rear bumper, front bumper, nose, headlight covers, and hood.

entire car was polished.

black exterior with glossy paint, no damage…clean title, pink in hand.

interior is flawless black w/with carbon fiber trim & suede wheel and shifter & red accents.

car has 94,xxx miles, is a 3 owner, bay area California car.

ton's of records have been kept, including the below modification list.

car has BOTH factory keys, valet keys, OEM spare tire and untouched/used compressor, factory wheel nuts & lock, and window sticker.

-90k mile service was just fully completed including timing belt, water pump, tensioners, etc.

-cam tensioner job also just completed…

-new oil cooler lines just installed.

see mod list for extensive yet tasteful, professional additions, ALL included in price.

price is set VERY fair considering mods and condition, let alone it's rarity as a black on black S2 coupe.

cash, picked-up…shipping is set-up and paid for by buyer. will need payment in full prior to shipment.

happy to mess with bill of sale for tax purposes if need be.

=adam's rotors 1989 porsche 944 S2=

power train:

-S2 3.0L 208hp

-5-speed manual

-custom straight pipe, cat-back turn-down exhaust piping.

-custom short ram CAI

suspension:

-full coilover front end (not yet installed, come with car)

-camber plates

-helper springs

-dampening adjustability

-drop shocks

-modified rear fenders

wheels & brakes:

-Rial 18×8.5″ & 10.5″ 911 fitment 2 piece wheels

-Kuhmo Tires

-OEM porsche bolts

-OEM porsche wheel locks

-adam's rotors, AR sport II rotors f&r (black zinc)

-POSI-Quiet sport pads f&r

-refurbished OEM brembo/porsche 4-pot front calipers

-matching refurbished OEM 2-pot rear calipers

interior:

-custom Jager engineering 9 piece carbon fiber trim set

-330mm black suede (airbag/horn delete) steering wheel:

-red stitching

-red track stripe

-momo hub adapter w/porsche emblem/horn

-black suede shift boot

-SRP racing satin machined pedal set

-PEP red seat belts

-35% tint all around

-50% tinted windshield

-fire extinguisher

-Lloyd's porsche floor mats

-keyless entry/alarm

-OEM blaubunkt radio/tape deck

-brushed aluminum porsche badged door sills

exterior:

-OEM S2/turbo front bumper

-OEM S2/turbo rear valance

-OEM S2/turbo fenders

-AIR fiberglass track pieces:

-euro rear bumper painted matte black

-euro boxed rockers/side skirts paint matched

-front race lip painted matte black

-custom smoked blinkers/running lights

-rear red blinker lenses

-french hi/low beams

-french fog lights

-rear wiper delete

-OE black 944 S2 badge

-aero front wipers

-ROTORS2 vanity plate"
There are a lot of things that are right with this car.  Recent 90k maintenance, tasteful modifications, lots of detail work done are all things working in this car's favor.  My only hesitation is the "monster truck" look on the staggered rear wheels and the recent paint on the nose.  In regards to the paint, without it you are dealing with 20 years of  road rash.  If it is done well, bravo!  Being the glass half full kind of guy I will assume it is well done.
Good pictures and excellent description.  Starting bid of $10k with no reserve.  As I mentioned above, I am in the minority thinking this is a good deal.  In fact, I could have it in my driveway for $11k shipped.  If I was not stuck with a Clubman S I cannot seem to sell I would have to give this serious consideration.  Best of luck to the seller.
~Aaron.