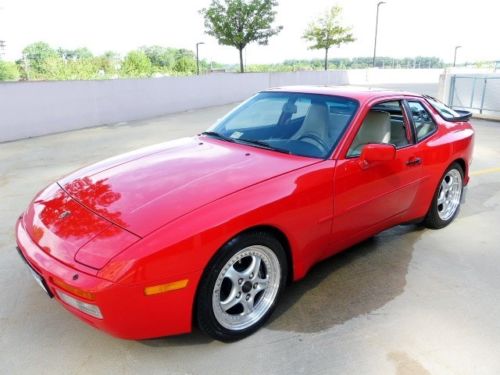 It should come as no surprise that Porsche 944 Turbo prices are on the rise. In fact, in atypical Porsche form it's quite late to the party. Considering the stratospheric rise of its ostensible competition from BMW and Audi, the 944 Turbo has remained quite affordable for a very long time. That has resulted in a glut of mediocre to poor condition examples; let's not forget, after all, that this is a Porsche, and servicing a complicated 30 year old example can be beyond the budget of some available to leap over the entry price hurdle. However, one of the Turbo models that have traditionally retained greater value is the later run 1988 S models and 1989 S-spec models. Properly, 1989 models are not referred to as S models, but as they carry all of the same upgrades as the 1988 model many add the suffix to the name. Considering how limited they were in the U.S., at only a reported 1,874 1988s and 1,385 1989s with a handful of 89 spec cars shifted in 1990, it's not as much of a surprise that they're prized possessions for many and generally speaking they come to the market in better condition than the earlier '86/87 models. But not many these days come to market having traveled only 28,500 miles since new: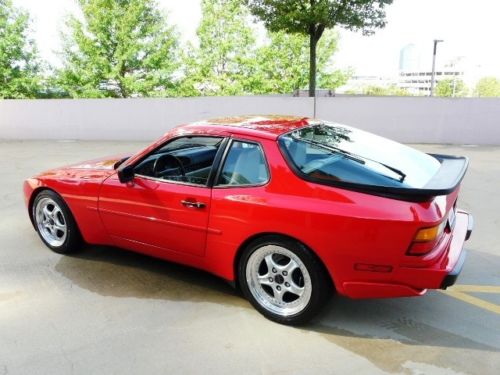 Year: 1989
Model: 944 Turbo
Engine: 2.5 liter turbocharged inline-4
Transmission: 5-speed manual
Mileage: 28,494 mi
Price: $46,995 Buy It Now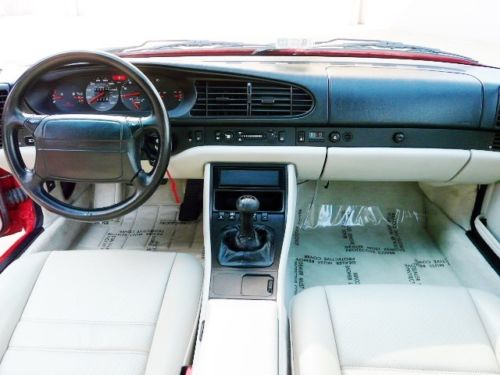 1989 Turbo "S"

The Turbo S goodies are:

Larger turbo and revised boost mapping to bump power and torque to 247 hp and 258 lb/ft, up from from 217 hp and 243 lb/ft

Sport suspension with adjustable-damping Koni shocks, adjustable front ride height, stiffer front springs, thicker rear torsion bars, and frame rail braces

Revised transmission with shorter gearing, higher friction clutch disc, 40% lockup limited-slip differential, and external cooler

Larger front brakes from the 928 S4 with 12" rotors and 4-piston Brembo calipers

Only 28,249 miles
Clean Carfax

Mileage is original and fully documented!!

Pristine Concours Condition 1989 Turbo "S" out for the first time from a private collection. Full service history from purchase. All documents, including: Original Window Sticker, Build Sheet, Books, Original Sales & Accessories Brochures, Owners Manuals, and Warranty cards. All original keys, stereo, air pump & tool kit included.

Exceptionally rare find. One of only 1915 944 Turbo's to enter the US Market. Extremely low miles & elegant and rare color combination.

Immacculate condition inside and out. Mileage is original and documented. Comes with full Clearbra to protect the front end. Upgraded Kinesis wheels worth $4,000 included. Drives like the day it rolled off the assembly line. Very few 944 Turbos left with such low miles. Will not last.
Engine (M44/52):
Performance
Chasis & Suspension

Powerplant: 8 valve SOHC in-line 4
Construction: Aluminum block and heads
Displacement: 2,479cc
Values: 2 valves per cylinder
Location: Front
Bore: 100 mm
Stroke: 78.9 mm

0-60 mph: 5.5 seconds
Standing quarter mile time: 13.9 seconds (some sources cite 13.5)
Top speed: 162 mph/260 km/h (electronically limited)

Chassis and Suspension:
Front: MacPherson struts with lower A-arms, coil springs, tube shocks, anti-roll bar

Rear: Semi-trailing arms, torsion bars, tube shocks (Koni; adjustable), anti-roll bar

M474: Sport suspension (Koni): strut assemblies, strut boots, bump stops, adjustable shock absorbers

Brake System:

Description: Hydraulic dual circuit brake system with front/rear brake circuits, Brake power assist (ABS)

Discs: Internally ventilated disc brakes front and rear

Calipers: S-4 Calipers (from 928 S-4
I'm not sure where the seller got the 1915 Turbo production number. Most sources I can find seem to confirm about 14,000 Turbos imported with about 3,400 of those being late run cars. On top of that, it's a bit annoying that the seller claims 100% originality when the car is wearing aftermarket wheels and the photos lack any real detail. The car has also had 5 owners according to eBay, a bit strange considering the low miles but perhaps it's traded hands between collectors and sometimes eBay's claim of ownership changes are wrong. Condition and color combination look very nice from what is seen and if you're looking for a collector-grade 944 Turbo you won't find many with lower miles these days. Consequently, the price is extremely high relative to what we're used to seeing 944 Turbos trade for. But, as mentioned previously, $47,000 is no longer a number that's shocking to see attached to a clean and original Quattro and it would be considered a bargain if associated with a M3. So, perhaps this is going to become the new normal? It feels a bit ahead of the market – but it might not be too far ahead.
-Carter