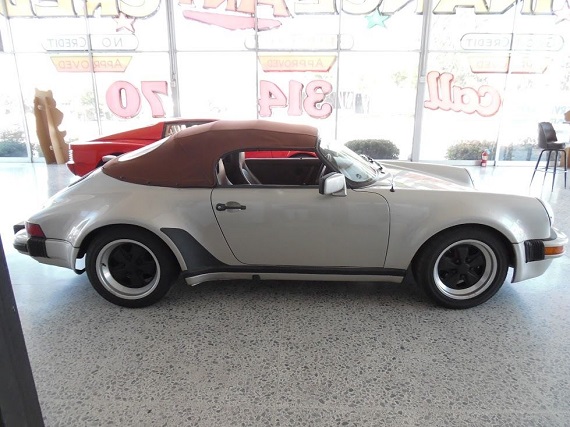 The rare Linen Grey over Mahogany 1989 Porsche 911 Speedster we featured in early February is back up for sale. The price has been lowered ever so slightly to $153K. Almost as rare as its color, this Speedster actually has had a decent number of miles put on it so that usage will balance the color combination. We'll have to see if there is increased interest so this Speedster can find a new home.
The below post originally appeared on our site February 9, 2016: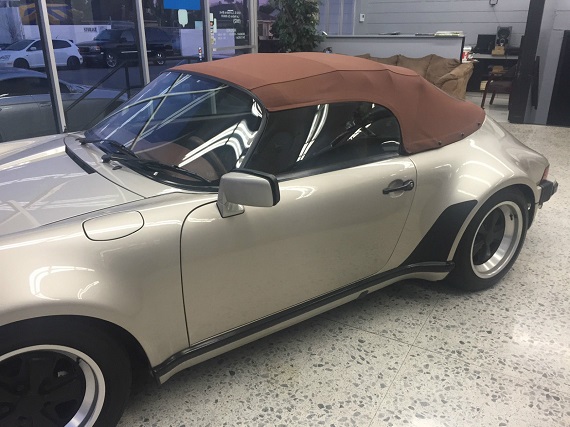 I haven't featured a Porsche 911 Speedster in a little while. Like other rare 911 models that we see up for auction fairly frequently many of them seem more or less the same so without some aspect that makes it stand apart I tend to pass them by. They come in few colors and many sit with very low mileage and in very good condition. Many were bought by collectors and have remained with collectors. The 911 Speedster we see here does stand apart for its unique color combination so it caught my eye, even if we could do with some better pictures to help showcase the car. Those colors are Linen Grey over Mahogany. The former I've seen a few times and it's always somewhat of an interesting choice as it kind of makes for an inside-out Carrera – Linen being a very popular interior color on 911s of this vintage. It isn't an exciting color though. The latter color I can't recall coming across at all. Mahogany is in the vein of brown or chocolate that Porsche offered as an interior color in the late-70s and early-80s, but this might be the first late-model 3.2 Carrera I've seen with a brown interior. A brown interior isn't always to everyone's taste, but I think the fact that Mahogany appears to be a lighter shade of brown will give it wider appeal. Either way, it's certainly rare and that's the key here.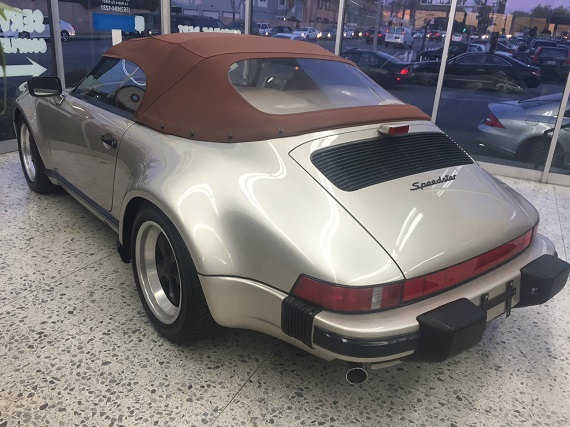 Year: 1989
Model: 911 Speedster
Engine: 3.2 liter flat-6
Transmission: 5-speed manual
Mileage: 63,084 mi
Price: $159,900 Buy It Now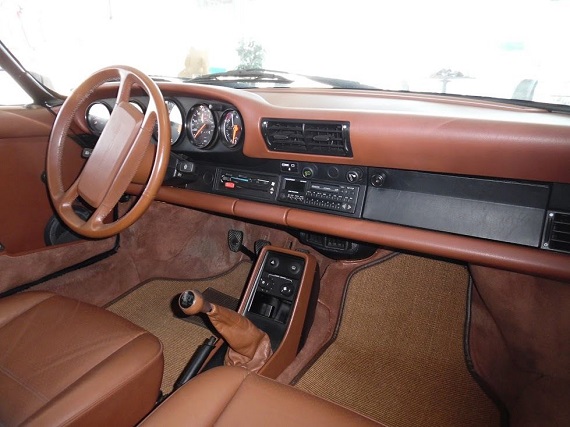 Clean Carfax and Autocheck. No accident or odometer issues. Excellent mechanical and cosmetic condition. Original owners manuals, tools, air compressor, keys, etc. Porsche dealer stamped warranty book, showing dealer service up to 19,000 miles. Service and maintenance records from 40,000 miles to present. Car has been meticulously maintained and was serviced extensively by Redline Service of Tucson, AZ. Porsche Certificate of Authenticity. Rare color combination of Linen Gray with Mahogany Interior and Mahogany convertible top, believed to be 1 of 4 cars. Car starts, drives, brakes and steers as it should and everything works as it should. Will provide documents and additional photos to interested parties.

I am a licensed California Dealer, so please buy with confidence. Vehicle can be inspected. I can transport vehicle to any transport company in Los Angeles.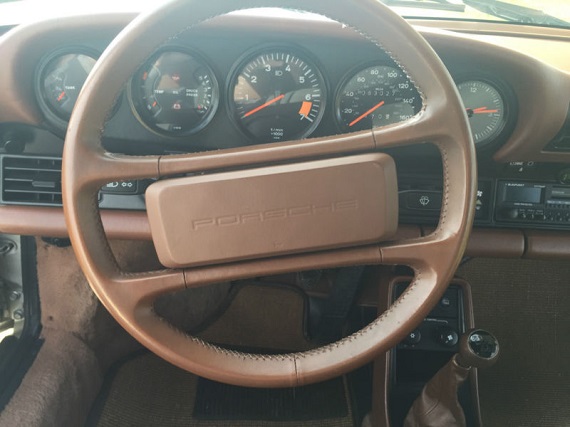 Speedster values have been continuing to climb, though like many air-cooled 911s the precipitous nature of their climb has slowed. But they remain highly collectible linking significant models in Porsche's history so we can probably expect that they will always garner a good deal of attention at any auction. This one has a few more miles than we typically see with the Speedster and I'll be interested to see how those miles are balanced by the rare color combination when it comes to a selling price. At nearly $160k this one strikes me as priced too high given the mileage, but it is still well below where we see the ultra-low-mileage examples sell even if they only come in a fairly standard color. Were this a completely documented car – the ad suggests that records from 19K miles to 40K (and however many years that encompassed) are absent – then we might see it move at this price. Without those records, I think we'll have to see but as I said this will be one to keep an eye on.
-Rob