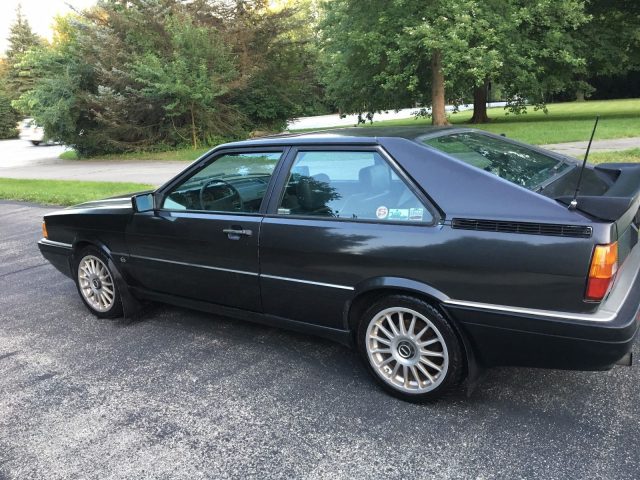 Edit 10/8/2017 – This car is back up again on a new auction with the vinyl removed and/or replaced. The seller removed their ~$5,000 asking price but the car has gone through several reserve auctions and not cleared $3,000.
Do you ever see a car and think it looks awfully familiar? Probably like a lot of you, I scan listings nearly every day, and every day provides a wealth of new examples of rare cars that encourages a lot of what we do here at GCFSB. But, once in a while, one pops up that sticks out like a sore thumb.
Now, being the chief (and only) Audi Coupe GT enthusiast in the world at GCFSB, I'm obviously prone to remembering these cars. Sure enough, with so few hitting the market these days I tend to remember every single example I've written up – meaning, basically every single example which comes to market – sorry about that.
But this one is particularly interesting. I immediately recognized the Team Dynamics wheels that this 1986 was wearing, but the two-tone paint color was off. Not many Oceanic Blue Metallic Coupe GTs are still kicking around, but at least the sides of this one were the neat and oh-so-80s-electric hue. But closer investigation of some of the details in the description revealed what I thought; this was the same GT I knew from the early 2000s. Originally, the car was Graphite Metallic with black leather – a rare combination on an infrequently seen car – and had been upgraded to participate in track events in Pennsylvania with a cage, a hotter NG motor, rear discs and upgraded suspension, those great looking Team Dynamics wheels and a few other odds and ends. Later it turned up on the West Coast with a notorious flipper of Audis; now with European H1/H4 lights and little else but failing paint, the flipper was looking to make a profit claiming it was one of the best GTs in the country.…