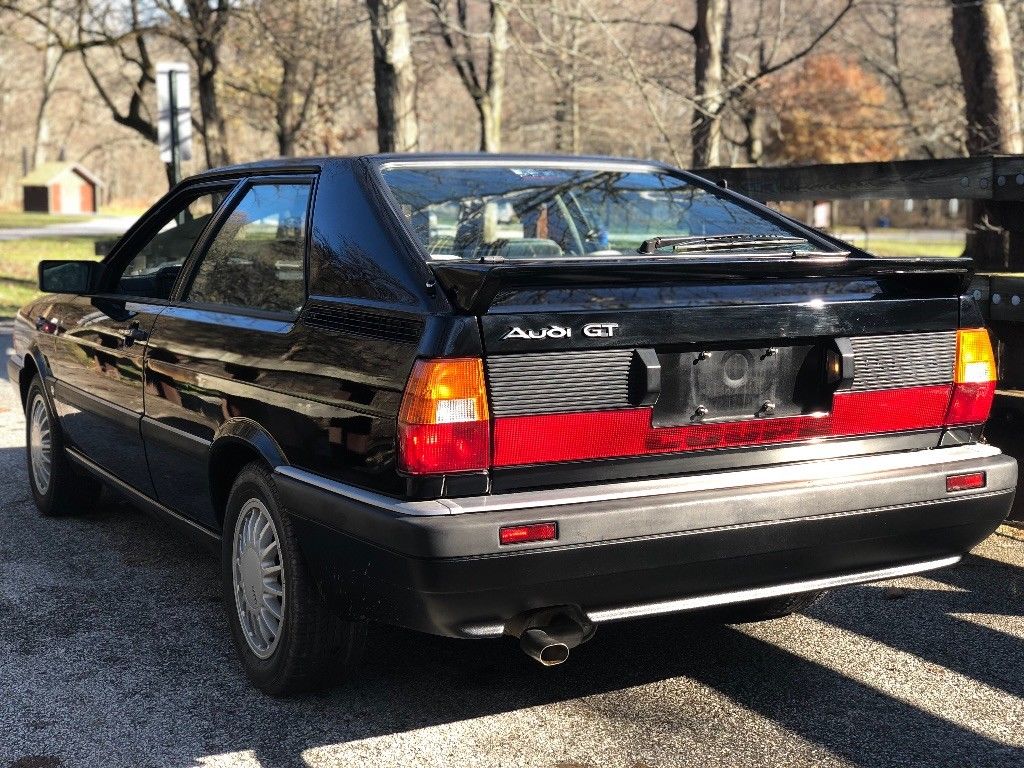 Update 4/28/19: Back in December 2018 I looked at this beautiful, low-mileage Coupe GT Special Build with a $12,000 asking price. It quickly disappeared, but has popped back up at another dealer, now with a $14,950 asking price. While it seems unlikely to sell, appreciation for this chassis has been rapidly growing and pricing creeping up. Finding an original one like this is very tough today!
How many times can you write-up the same car, or find something new to say? Somehow, for me these older Audis drive a passion of discovery which keeps them fresh. Today's example of a B2 Audi is, like the 4000CS quattro from the other day, a last year model. Unlike the 4000CSq, though, the late Coupe GTs were upgraded with the Special Build package. A crossover to the B3 chassis, they featured rear disc brakes, color-matched trim, B3 interior fabric and a 20 horsepower bump thanks to the addition of the 2.3 liter NG inline-5. The Special Build also had a slightly different version of the '86 digital dashboard. The best performing GT offered here, these are generally considered the most desirable of the lineup.
Today's example is much like my '87.5 project, (unfortunately) right down to the automatic transmission. But with only 60,000 claimed miles and in pristine shape, is this the one to get?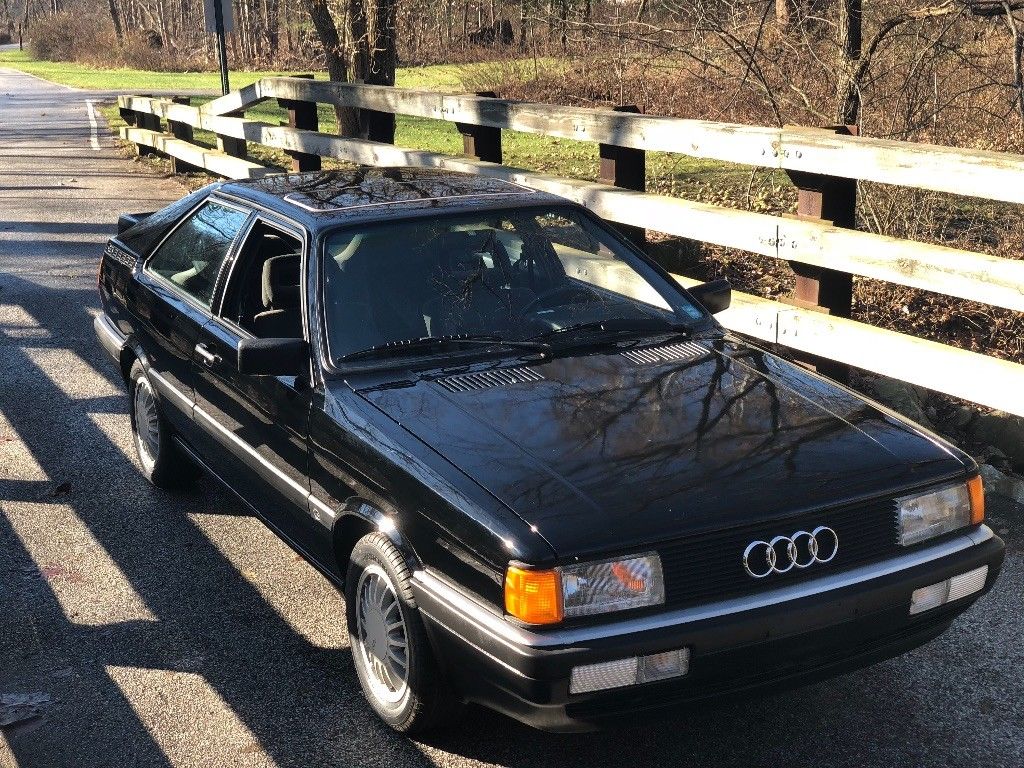 Year: 1987
Model: Coupe GT Special Build
VIN: WAUBE0850HA033304
Engine: 2.3 liter inline-5
Transmission: 3-speed automatic
Mileage: 61,280 mi
Price: $14,950 Buy It Now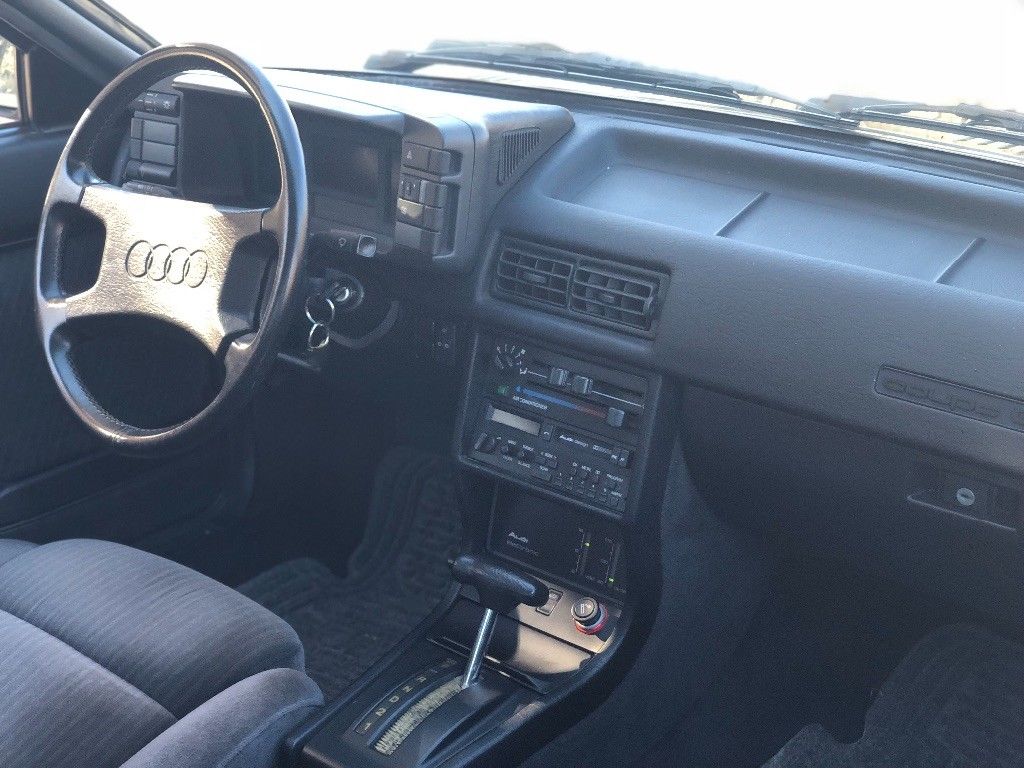 Audi Coupé GT special build
1987 with 2.3 automatic
one original owner
the condition is 9.8 out of 10 (almost prestine)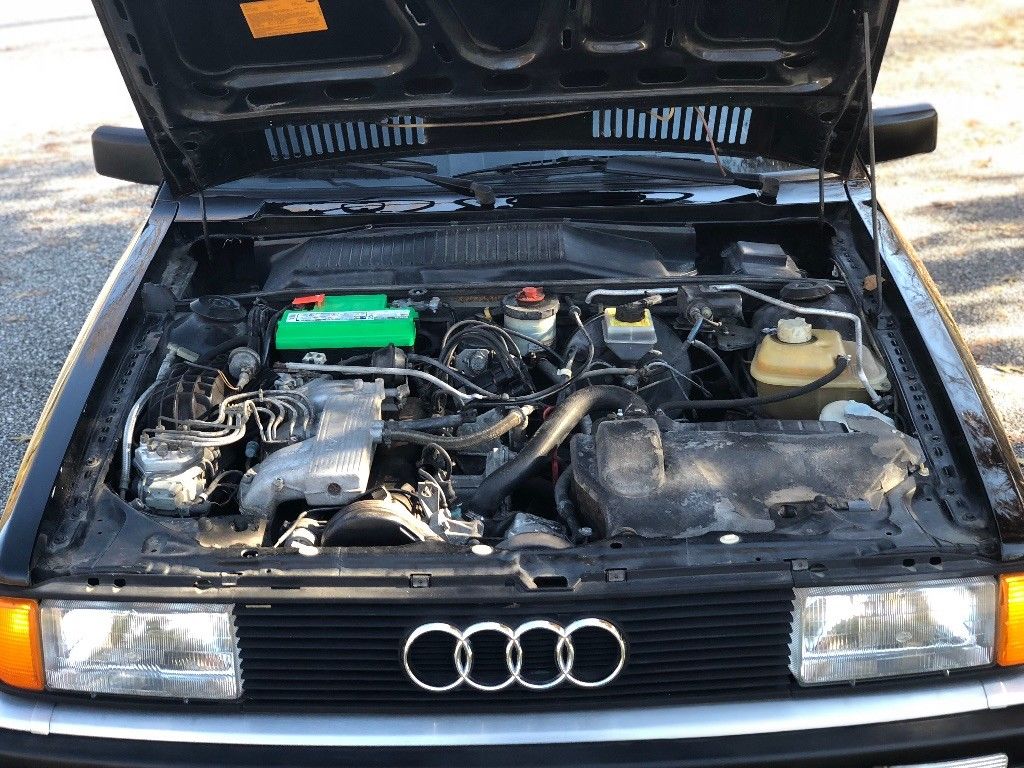 I was just watching some older Motorweek tests with my wife and we were laughing about the inflation corrected prices of cars from the 1980s. In 1987, this car was just a hair over $21,000. With heated seats, rear wiper, and automatic transmission, the only option this car didn't have was leather. That'd equate to a bit over $48,000 in today's market. That'd get you into a pretty well equipped A5 or TT today, and while that isn't mission drift overall, the car you get today is considerably nicer, faster and more efficient than the GT ever was.
This one certainly is pretty stellar. The Black L041 is very rare to see on the GT, and it appears to be matched with the Graphite Kensington Velour. The Special Build package included the sunroof, 4 speaker Blaupunkt cassette radio, power door locks, windows and mirrors, trip computer and cruise control. Claimed to be a one-owner car, it appears completely original and overall in great shape, though under the hood doesn't look as pristine as the rest of the package. Unlike other Audis of the period, the odometers on the digital dashboard don't break – but the dash sometimes does, and this one appears to be dimmer than it should. Otherwise there's little to worry about outside of parts availability and getting service up-to-date.
Is this a $12,000 car today? That's right where the neat 20V-swapped example just sold for. With many more miles and mods, this one is a much cleaner and more original chassis. However, it's also an automatic – making it a less enjoyable driver and, consequently, less sought. I don't think it's likely to trade for that amount or anywhere close. But it's a lovely and rare example to consider, and a reminder that I just can't get enough of these older Audis.
-Carter