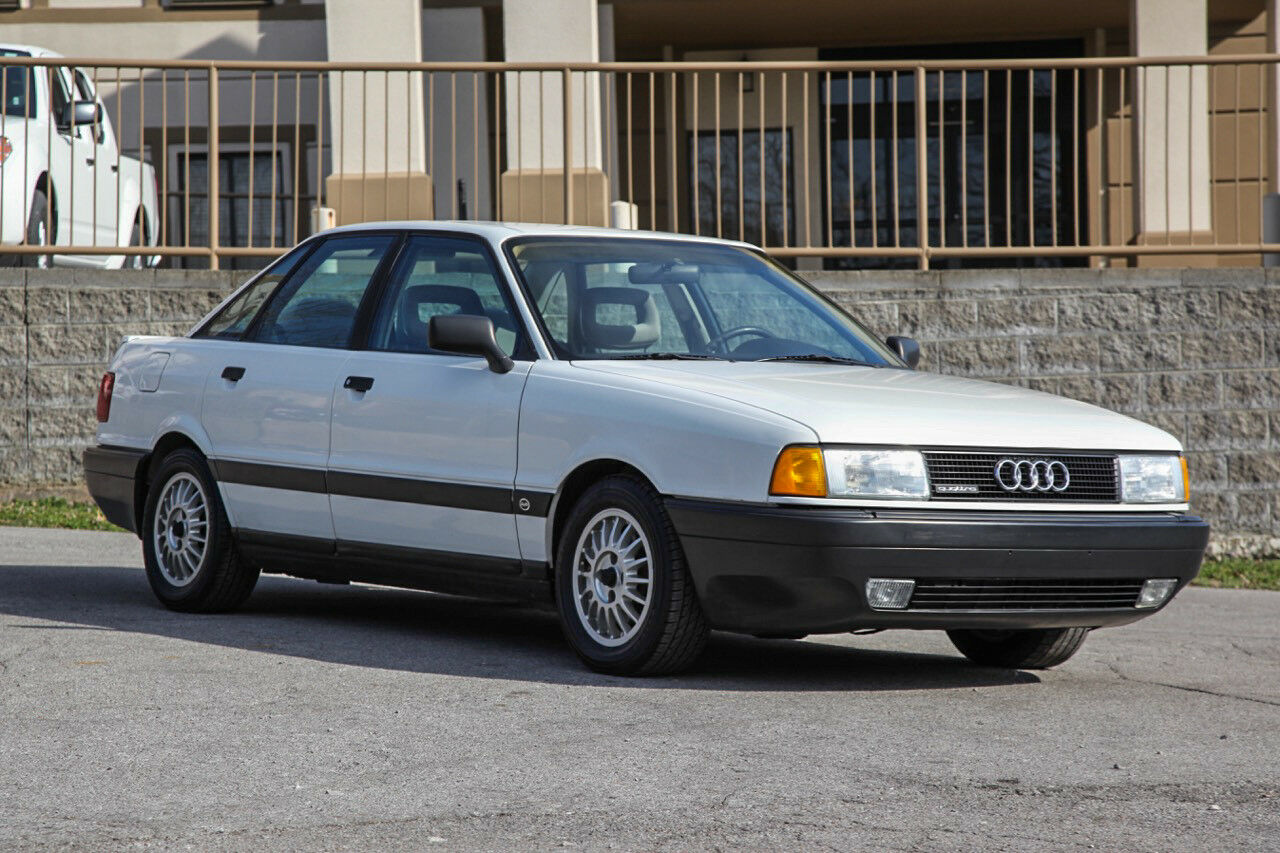 Rounding out my trio of grunge-era Audis, let's take a look at the entry level quattro-equipped model – the 80. While the move from the B2 to B3 chassis brought many changes to the small Audi lineup, it was also very much a case of 'meet the new boss, same as the old boss'. Some of the features of the 4000 were gone; you could no longer opt to lock the center differential, for example, since the manual locker had been replaced by a more sophisticated Torsen unit. You could still opt to engage a rear differential lock, but electronics overrode that at 15 m.p.h.. That change was indicative of movement in the marketplace and where the B3 was aimed – slightly more upscale from the B2. Interior quality was greater, safety took priority, and production was broken into two categories as it had been in Europe for the B2. Selecting the top-range 90 quattro got you nicer BBS wheels, color matched bumpers and mirrors, a sportier raised spoiler, a better leather interior and wood trim. The downscale 80 would channel more of the outgoing 4000, with a velour and plastic-heavy interior. They even opted to keep the same Ronal R8 wheels as the old model early on, and the subtle rear spoiler was a near copy of the B2.
The more basic 80 was closer in performance to the 4000, too – the luxury and safety items of the B3 meant more weight, and the 90 tipped the scales at nearly 3,000 lbs. Mechanically identical, the 80 quattro was about a hundred pounds lighter and anyone who has driven 80s normally aspirated Audis knows that 100 lbs. makes a difference in performance. Motivation for both was the same NG-code inline-5 that was seen in the last Coupe GT Special Build models, meaning 130 horsepower and 140 lb.ft of torque – smoothly adequate, but certainly never overwhelming. The 80 quattro enjoyed only a short run in the U.S., being available in the 1988-1990 model years and then re-introduced with some 90 quattro upgrades for the '92 model year as a hold-over until the V6 B4 was ready for production. The de-contented 80 was a fair bit cheaper than its quite expensive brethren; while a Coupe Quattro would set you back over $30,000 with some options, select a basic 80 quattro and you could sneak out of the dealership for $23,000 – barely more than the '87 Coupe GT retailed for. Today I've come across what must be one of the best 80 quattros remaining out there: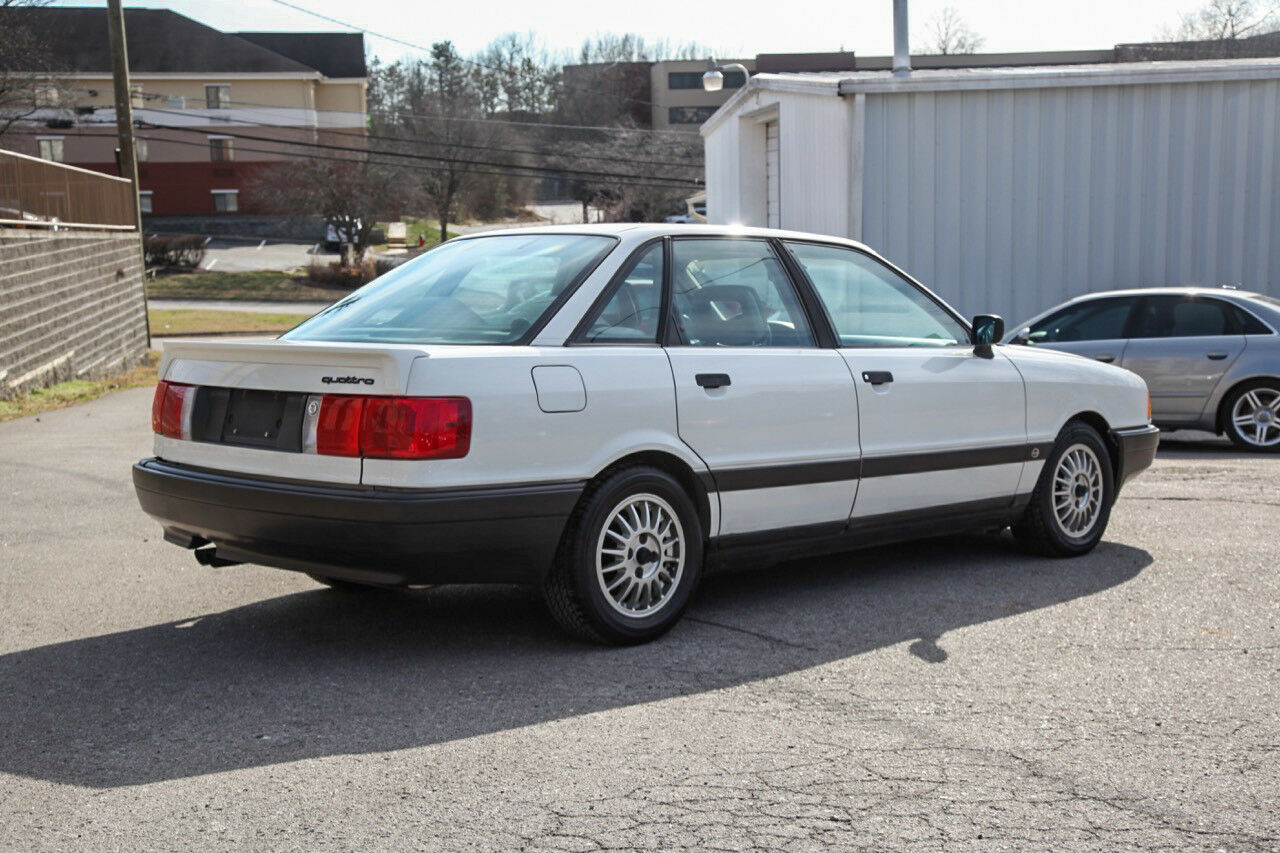 Year: 1988
Model: 80 quattro
VIN: WAUFC089XJA299946
Engine: 2.3 liter inline-5
Transmission: 5-speed manual
Mileage: 44,047 mi
Price: Reserve Auction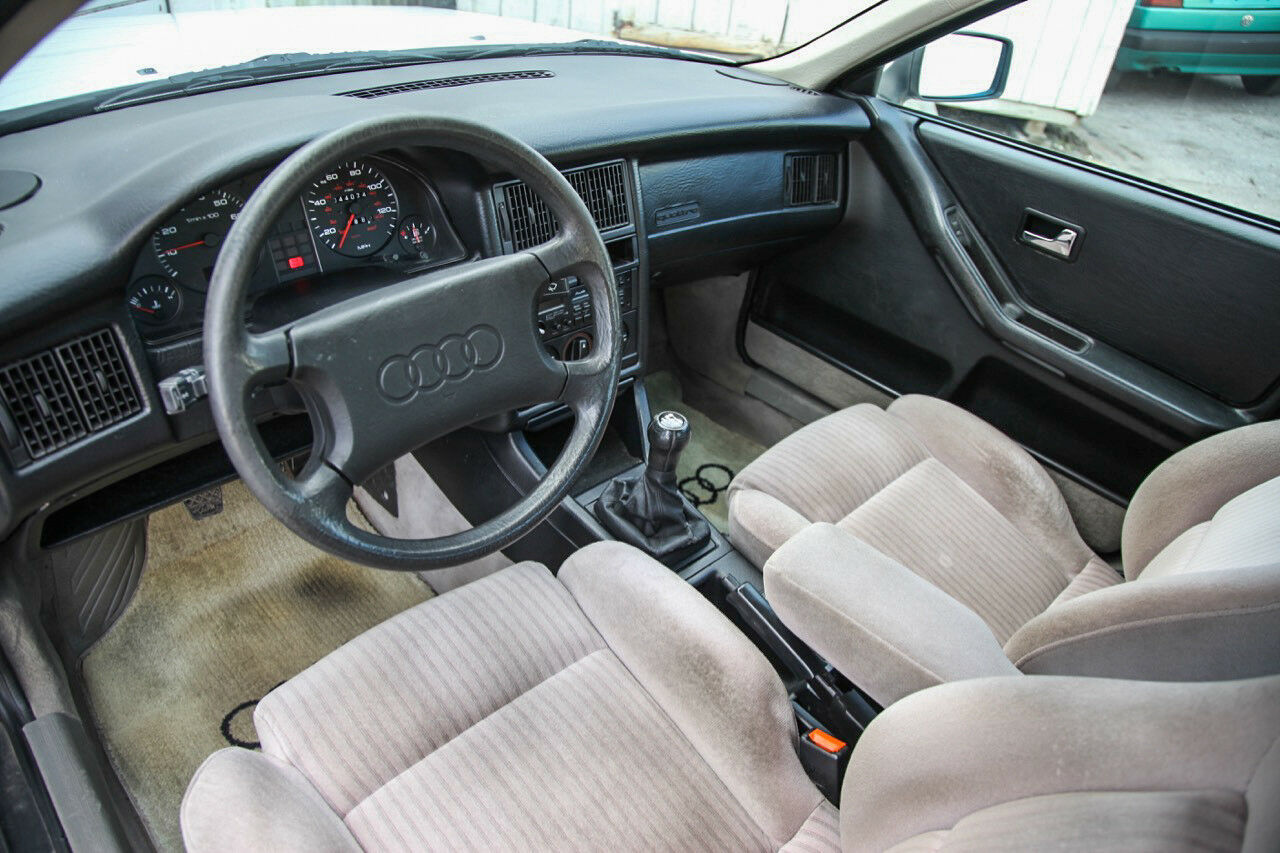 Up for sale is this extremely clean, and very low mileage 1988 Audi 80 Quattro 5-Speed. This Audi 80 has had just 2-owners since new. The second owner has owner the car for the last 30 years (bought in 1989 with 7k miles) This Audi 80 has always been garaged, never wrecked, NO RUST. Since we acquired this car a couple months ago, we have done the following….. -New Timing Belt and Water Pump (T-Belt was original!) -New Thermostat -New heater core w/ coolant flush -All new drive belts (all 3) -New front Brembo rotors and pads -New front strut inserts -New Front Strut Mounts w/ bearings -Tune up with distributor cap, rotor, air filter, cleaned throttle body, and spark plugs -New Fuel Pump -New Fuel filter -New Wipers -New Headliner (accept sunroof insert, material included in sale) -New Tie rod ends -Alignment -Replaced 1 Torn axle boot -Oil Change -etc, etc, etc……. We have put a LOT of time, money, and effort into this car. When we did the heater core, we also re-sealed the heater box completely (no more foam bits coming through the vents!) The total amount for all the work done totals over $6,500! After all the work was performed, we drove this car to Memphis and back. It didn't skip a beat, got 23mpg, and had blazing hot heat 😉 Everything on this car works! All lights, gauges, windows, sunroof, radio, fog lights, AC, Heat, etc, etc! These Audi 80's are nearly extinct and it's such a shame because they are truly AWESOME! Now is your chance to own this rare and very well sorted machine! Please call or e-mail with any questions! Reserve is set at a very reasonable price and our intent is to sell this Audi by the end of the auction! Please call or e-mail with any questions!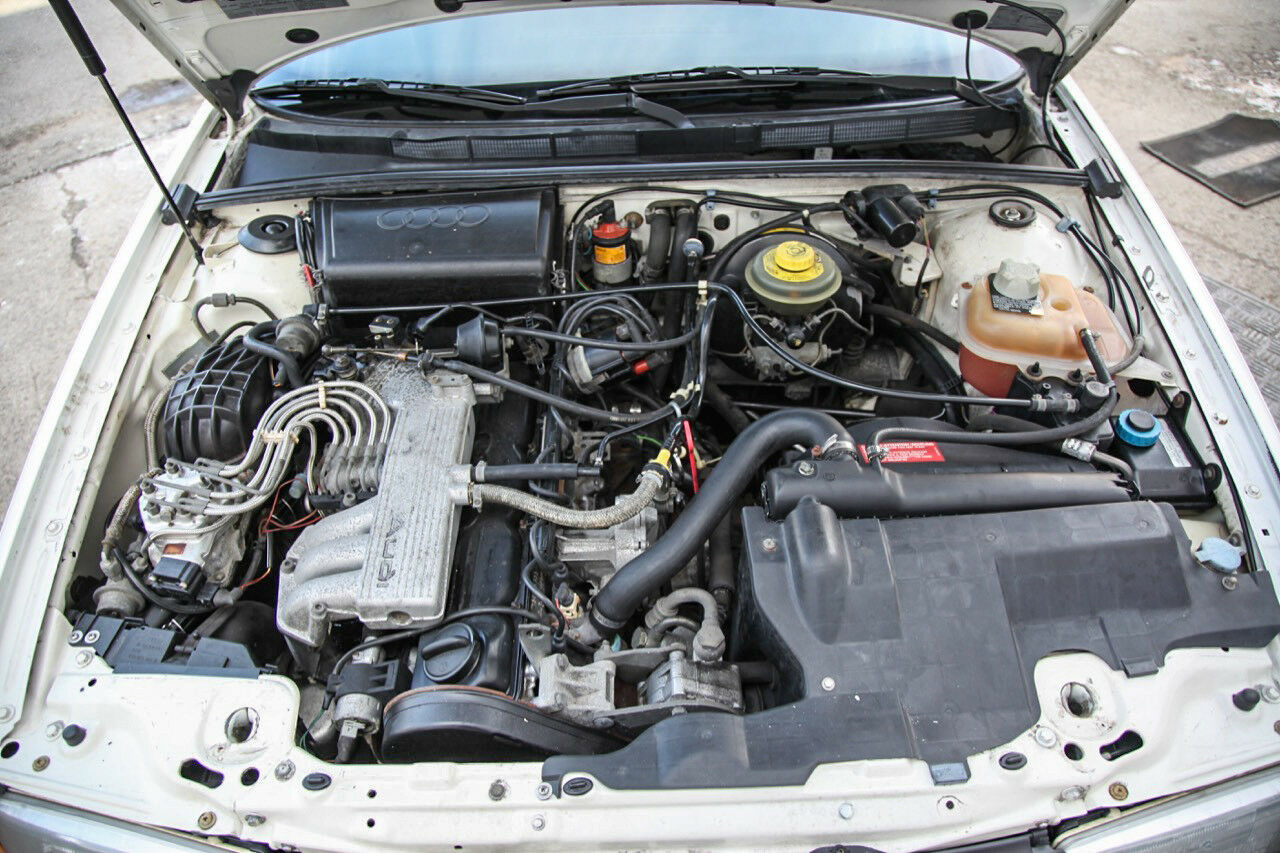 This L90E Alpine White over Quartz Serret Velour is a very interesting car. Few of these have been driven less than 200,000 miles, yet here is a clean, original example with under 50,000 on the odometer. Condition inside and out looks quite good; not showroom, mind you, but very presentable. Compared to the 4000, I've always felt something was lost in the softer looks of the B3, especially when coupled with unpainted bumpers and mirrors (which are correct, though ugly). The car should have to my knowledge full center lug covers on the Ronal R8s and it's missing its Audi, 80 and rings badges in back, but otherwise little looks out of place. It's very interesting to look at the build sticker for this car, mostly because it shows exactly ZERO options. Now, the basic 80 quattro did come with some standard features, just like the 4000 quattro had. Here you got integrated front and rear fog lights, cruise control, air conditioning, power mirrors, windows and locks, a radio and sunroof. Otherwise, this is quite a basic example. No climate control, no power seats, heck – those seats aren't even heated! Inside a few more flaws pop out – a broken e-brake cover, a missing sunroof vent trim.
The seller has apparently also spent a fair amount of money prepping to get back on the road. As it sits, this car appears to be probably the best overall 80 quattro I've seen in a long time. Bids have so far hit nearly $3,000 with the best part of a week to go, but the reserve is still on. That money will get you into a 20V-equipped Coupe Quattro or 90 20V, but not in this condition. Here's what that money will get you in those two cars:
The 90 and Coupe Quattro are, no doubt, nicer cars. And, they're faster. As a result, they're more desirable and very good examples bring the bids. If you are looking in the sub-$5,000 range, you either need to get lucky or you'll end up with a needy car. This 80 quattro appears quite sorted in comparison and the condition trumps most if not all that appear on the market. But I also bet the seller is hoping for somewhere around $7,500 or more for the car based upon their prior asking prices for a similar car. To me, that's a reach, and I'd rather grab that clean '90 V8 quattro. The 80 just doesn't excite me like the V8 does, even if the B3 is closer to the original.
-Carter