We see a lot of rare German cars. Some of the best gems from tuners the likes of AMG or Alpina bring the buyers out of the wood work and as such realize high prices. The one common theme that we see in big ticket sales of tuner cars is documentation.
Now documentation on cars like these is not always easy. It is well known that trying to find specific records of modifications done to a car from some place like AMG can end in a dead end. In some cases if you really want to be sure about an engine modification it takes opening up the engine and looking at stampings on internals. That said there are often other clues that can help you back up a story about a one off vehicle. Scanning in any documentation you have is the obvious first step, but then adding pictures of data plates, the VIN, or other unique features is needed.
A seller should never make any rock solid claims about the vehicle without being able to back them up. At the very least give some indication of a reason as to why you are making a claim. If you aren't sure about something it is much better to say so up front or even to ask for help in identifying a feature or modification within the text of an advertisement. Enlisting the help of enthusiast out in the world can help in two ways. You might get some helpful information back and the up front nature can prevent a listing from seeming cagey and turning off the very community where your potential buyers reside.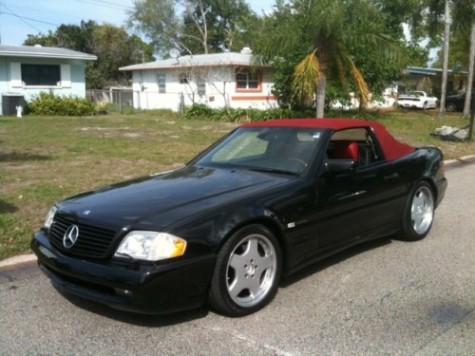 Ok deep breath, what's all that have to do with this particular car. Here we have a Mercedes listed as a 1998 SL60 with modifications from Swiss firm Rinspeed, the car has 71,000 miles.…