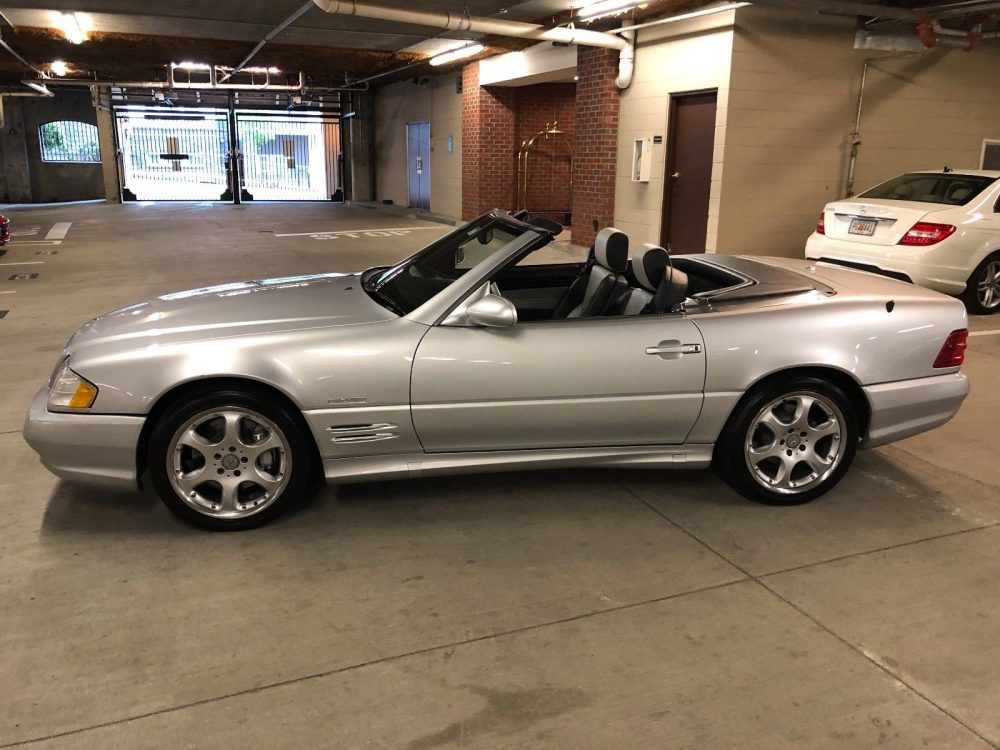 Last week on Christmas day I looked at a 2002 Mercedes-Benz SL500 Silver Arrow that had a little bit of a mixed reaction. Even though it had only 70,000 miles and spent the majority of its life in Florida, the wood on the center console had some odd stuff going on with it. That is often the one minus of cars in the regions of no snow: you have to deal with the heat, along with the sun, that can wreak havoc on wood and leather. For the $17,000 asking price, you could probably find a better car or at least a better deal if you planned on driving it regularly. Today, I might have found that better deal. This Silver Arrow up for sale Atlanta, Georgia has 40,000 more miles but of course has some flaws to go along with those miles. The good news is the price is much cheaper than $17,000. How cheap?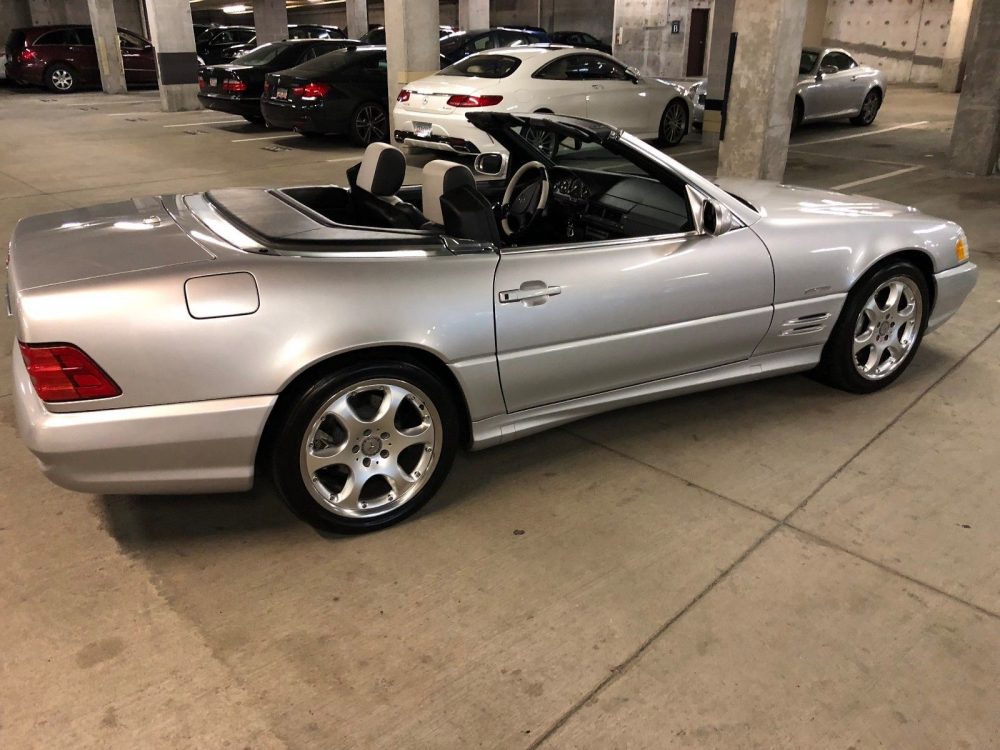 Year: 2002
Model: SL500 Silver Arrow
VIN: WDBFA68F82F204269
Engine: 5.0 liter V8
Transmission: 5-speed automatic
Mileage: 108,947 mi
Price: $11,900 Buy It Now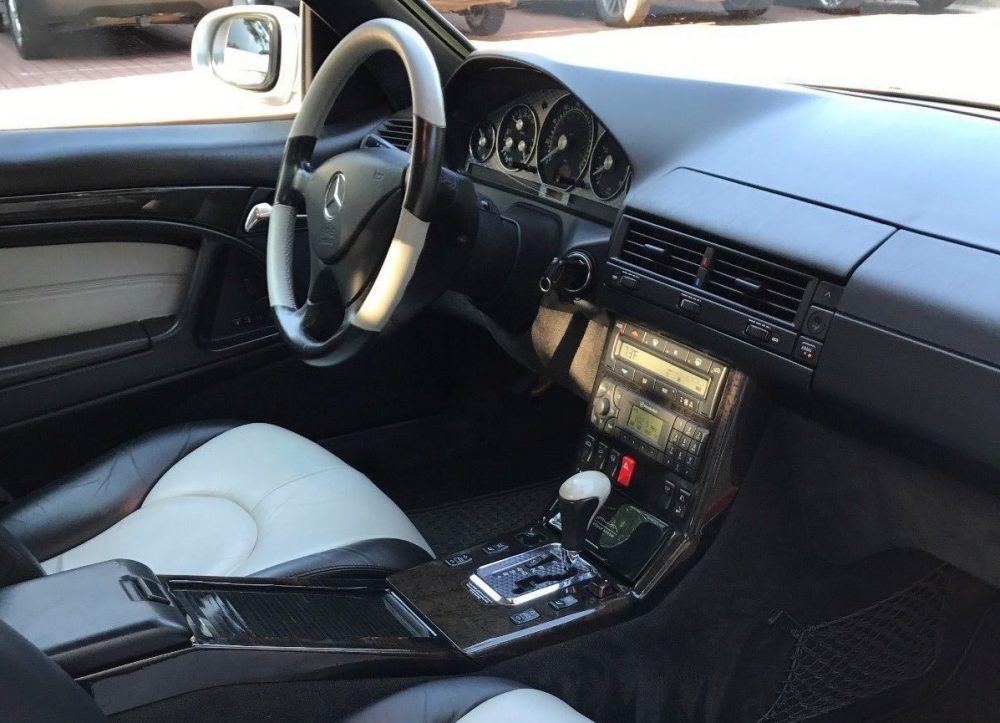 Only 1,400 of this Limited Edition SL500 Silver Arrow were made. Except for having a few blemishes I personally consider this car to be in excellent condition, but I have listed it in very good condition with its primary flaws being some rock chips in the paint and a couple scrapes on the wheel rims (See photos). And it BEGS for speed! I bought this car with 4,300 miles on it and have put a little over 105K more on it with plenty of TLC. Regularly conditioned the leather seats for as long as I have owned the car. More recent TLC includes new convertible top, refinished leather steering wheel, plugs/plug wires, AC compressor, new battery, and more. Latest factory-scheduled service was completed last month along with adding new motor mounts. Serviced exclusively by MB dealerships since I have owned it. Runs as good or better with the new plugs/wires as when I bought it, and that is not an exaggeration. I have routinely averaged 17-19 mpg through the years with as high as 26 mpg on longer highway drives. Very solid vehicle. Great opportunity to drive an $88,000 car for under $12,000. Includes rolling hard-top storage rack with cloth hard-top cover. Truly an amazing car for the money! Make someone HAPPY on Christmas morning!!
This is an interesting example. It has some minor cosmetic issues, but the mechanicals seem to be fully sorted. There are some rock chips that aren't the most appealing and the Silver Arrow wheels has some curb marks on them. Not a massive deal, but these wheels are unique only to the Silver Arrow and nearly impossible to find used. I'm sure they can repaired or you could just drive on them as-is. One interesting thing is that the steering wheel leather was refinished which I can probably guess was from the white leather not holding up so well. The car seems to have a nice list of repairs from the dealer including the AC compressor, which seems a little odd, but maybe a little bit more common in somewhere as hot as Atlanta. The rest of the stuff is pretty common for the R129 and the M113 to have been replaced at this mileage and age.
The seller is asking just under $12,000 and I think that is pretty fair. I'd expect a non-Silver Arrow R129 with this mileage and maintenance to be in the same ball park with the price so you can assume this is probably a good buy if you plan on selling it in six month or six years. I honestly think these are going to hold their value pretty well, especially if you can find a SL600 Silver Arrow. Are they going to be $40,000 in five years? I wouldn't bet on it. Buy today and not lose any money as long as you keep it nice? Much safer bet.
– Andrew