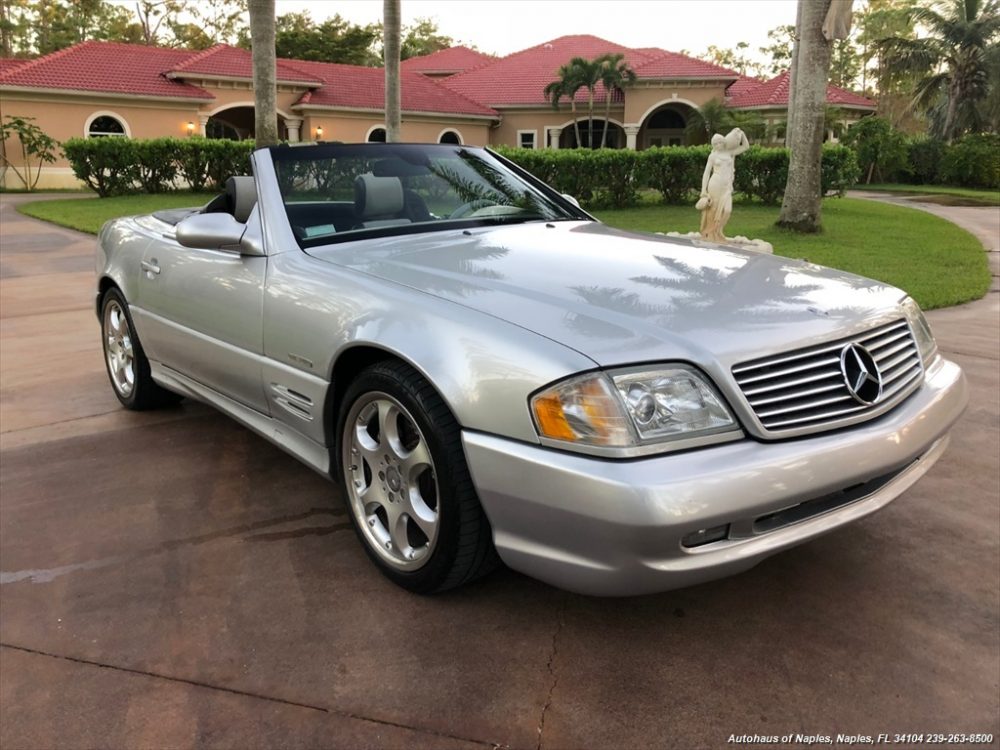 Update 12/25/18: This Silver Arrow is listed as sold for $16,900.
Last weeks very special 1970 Mercedes-Benz 300SEL 6.6 was one of the most interesting cars I've looked at in a while but one of our readers spotted something in the background. As you might have noticed, that something was a R129 SL500 Silver Arrow. Today's vehicle isn't that same car because that dealer doesn't seem to have it listed for sale, but it is another very nice Silver Arrow so I figured that will work just fine. This one up for sale in Florida checks in with just a hair under 70,000 miles and honestly, has a very fair price on it. How much?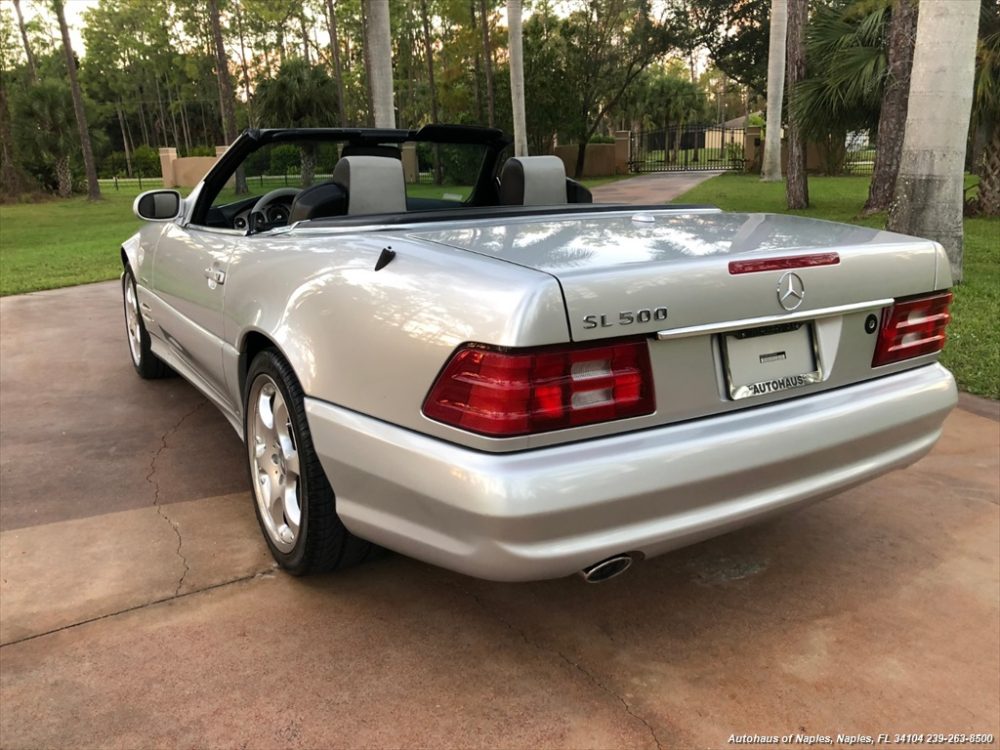 Year: 2002
Model: SL500 Silver Arrow
VIN: WDBFA68F32F203904
Engine: 5.0 liter V8
Transmission: 5-speed automatic
Mileage: 69,961 mi
Price: $16,900 Buy It Now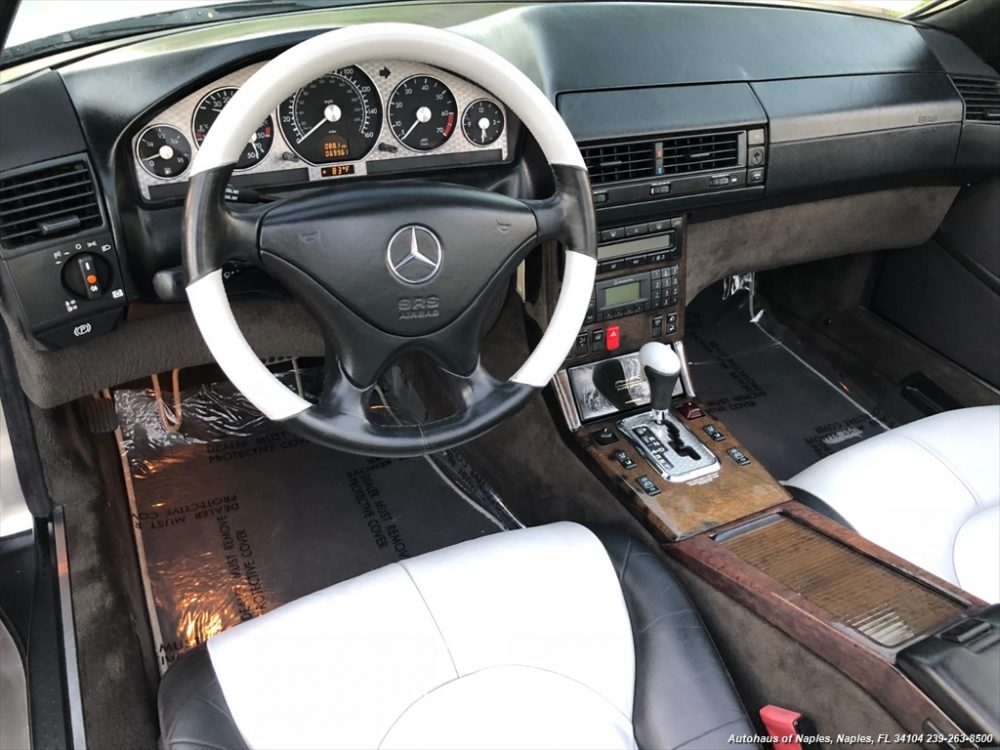 Offered for sale is this stunning and hard too find 2002 Mercedes Benz SL500 Silver arrow edition! Only 69,961 original miles! Powered by a 5.0-liter V8 backed by a 5-speed automatic. The Silver Arrow was a limited edition built only for 2002 and featured two tone Napa leather seats and door panels, steering wheel and shifter knob!, aluminum front grill, 18″ 6 spoke wheels and more! Autohaus of Naples has financing options for qualified buyers & vehicles. You can apply for financing here: Credit Application Once you have submitted the credit application please send an email with any additional information Email Details Once Submitting Credit Application Here We take trade-ins at fair market value & buy cars daily! We can help arrange shipping to anywhere in the world. All Autohaus of Naples vehicles are fully inspected at our workshop by our trained technicians & serviced as required prior to sale. They are professionally detailed, photographed & offered for sale both on the internet & locally at our dealership located at: 493 Airport Pulling Road North Naples, Florida 34104 Call for more details or to schedule a time to view this vehicle. AutoHaus of Naples dealership: 239-263-8500 Or you may text/call directly: Peter: 239-248-2000 Ryan: 239-300-1295 MaryAnn: 239-777-8986 hablo espanol y portugues: Rosana: 239-398-7774 or 239-263-8500 We can promise your next car buying experience will be fair, pleasant, and satisfying. Call or stop by today & don't forget, we ship worldwide!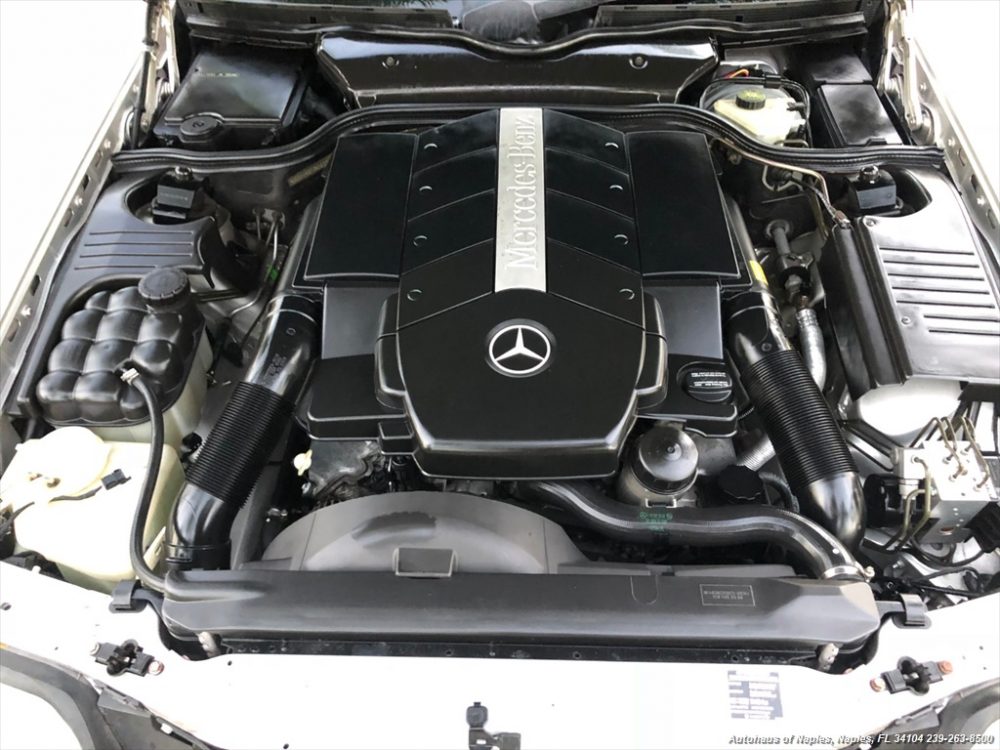 The Silver Arrow was the goodbye to the 12 year production run for the R129. The R230 was ready to launch, so Mercedes was wise to offer a special edition in 2002 called the Silver Arrow, a tribute to the 1930s Silver Arrow race cars. All them were painted Brilliant Silver, they had special wheels, a two-tone interior and interesting gauge cluster finish. That was it. 1550 Silver Arrows were produced for the US market; 100 SL600s and 1450 SL500s. Quite the difference there. Opinions have always been hot or cold on them, but I think as they age, the sentiment will soften and they'll be looked at fondly. I'm not one to fawn over cars that intentionally were made as a last-ditch effort just to move the rest of old stock before a new generation launches, but I don't control the market.
As for this specific car, I don't see any real objections as it looks like it has been well-loved and taken care of. The white leather and especially the white leather on the wheel is extremely susceptible to showing dirt and thankfully these are really clean. The only really minor thing that I found is the plastic piece that covers where the seat belt attaches to the seat frame is cracked, which might bother some people. I am going to go out on a limb here and say that piece is no longer available from Mercedes, so good luck finding a used one that isn't cracked as well. Other than that, it looks like a winner.
Prices on Silver Arrows have always been stronger than other 2002s, but usually only by a few thousand dollars when looking at comparable condition and mileage cars. I think $17,000 is probably fair seeing where R129 prices are heading. It seems like lots of people are speculating, mostly dealers, on clean R129s and you can assume that these and very clean SL600s are going to lead the way. Can you find a cheaper one? Probably. I don't think these will ever be worth big money, but I think they'll age well and values will remain respectable. If the Silver Arrow is your thing, not a bad example at all.
– Andrew