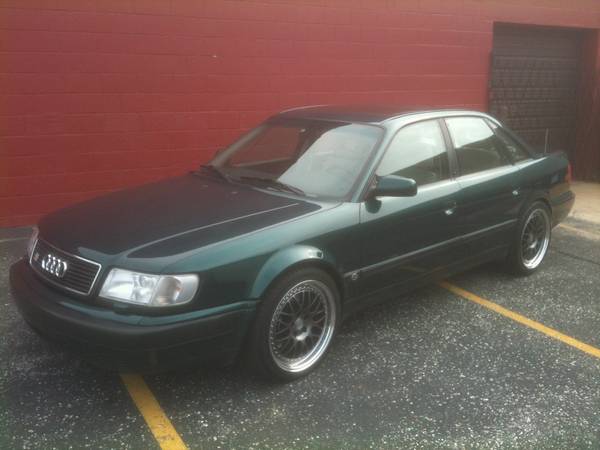 Okay, so this isn't the first time I've written up a S4 face-off, but it's an interesting question to me. That's because right now, clean examples of the C4 S4 are on their way up, while prices of the B5 S4 have come down and stabilized at levels that seem to be very reasonable. Compared to their equivelants from both Mercedes-Benz and BMW, both are priced very reasonably and you get a lot of performance value for your money. You also get all-wheel drive capability, a luxurious and quiet highway cruiser, a car capable of carrying 4 adults, and both a near limitless tuning potential; both are certainly capable of 600 to 1,000 horsepower, if you're willing to foot the bills. So which would you rather have? The two in question today are quite different; a turned up C4 S4 versus a 1 owner, all original B5 – let's start with the C4: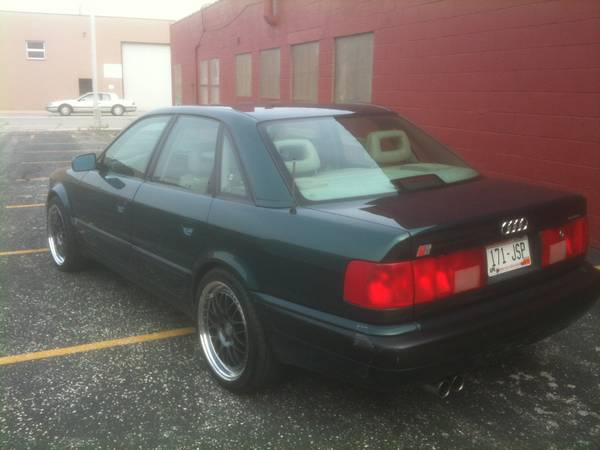 Year: 1994
Model: S4
Engine: 2.2 liter turbocharged inline-5
Transmission: 5-speed manual
Mileage: ~170,000 mi
Price: $8,900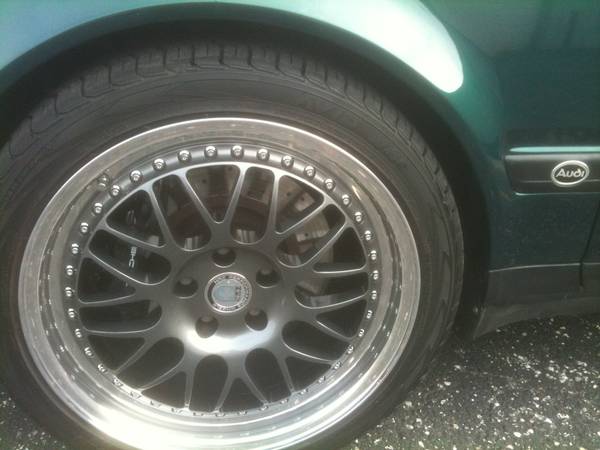 Very fast, tastefully modified 1994 Audi S4. 5spd manual, 5 cyl 20V turbo, AWD Emerald Green with Ecru leather, all options, 10 disc changer and phone hook ups. Previous owner performed upgrades include the following performed by Anderson Motorsports in MN. Hoppen stage 3+ ECU chip upgrade, RS2 turbo, RS2 exhaust manifold, 3″ turbo back stainless steel Stromung exhaust – cat pipe and non cat pipe, non cat pipe-straight pipe installed now, great exhaust note, not too loud but just enough growl to let you know it's not stock. Samco silicone intercooler hose ~330-350hp range. 993 Porsche front brake calipers, cross drilled euro S6 rotors. Pagid race pads w/ 50% left. Stainless steel lines, blue dot fluid. Lowered w/ H&R springs and Bilstien shocks. 16″ snow tires & rims. clear corners. Performed service, clutch, rear main seal, heater blower motor, brake accumulator, all interior bulbs,

Upgrades/service since purchase in 2006, 034 coil conversion kit, HID lights, new waranteed H&R springs up front and new shocks, large Apikol FMIC,034 new silicone hoses to intercooler,034 new cold air intake, light weight HRE 3 pcs rims, down pipe wrapped in heat shield, new 02 sensor, 034 Solid rubber street motor mountsand snubber mount and trans mounts, inner control arm bushings, sway bar bushings, fuel filter, fuel system clean, new fuel line. Have last of the OE door trim replacents in the bag still, front upper strut mounts, upper strut bearings, Mintex red pads front & rear, New windshield, Timing beltservice done at 170K on 6-06.

Wear hole in drivers seat bolster and some wear on paint, small ding on rear bumper. Nice and tight motor that pulls like a freight train.

All service and upgrades were performed w/ the best parts available for this car. I have a book containing over $30K in repiepts of service and upgrades that will go with the car. This car makes me grin from ear to ear every time I drive it, now it's your turn.

The car is currently in storage and I will be picking it up for serious buyers before it goes on Ebay.

CALL OR TEXT
show contact info – JD

$8900 OBO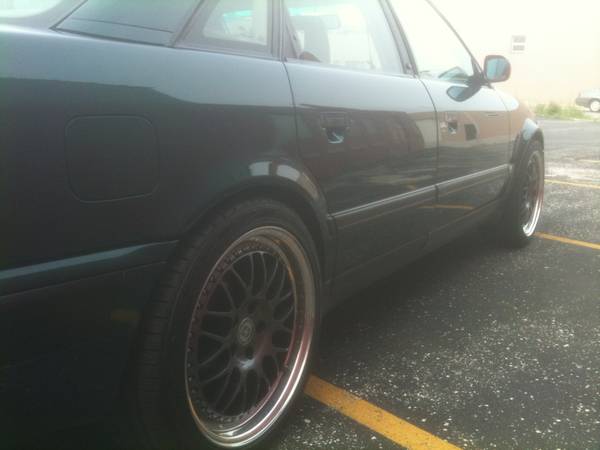 Our reader John spotted this car, and it's certainly not a bad example; the popular-then Emerald Green Mica paint appears to be in good shape, the RS2 upgrades are popular, and the Anderson link is one of the more notable in the Audi community. I'm not personally a fan of the wheels on this car; I'd really prefer some Euro-spec Boleros or S6 plus wheels, even if they're heavier. I'm also guessing that in typical fashion, the lack of photos of the Ecru interior hides some typically bad-looking but functional seats. The price is slightly high but not unreasonable considering the amount of work and what appears to be a well-cared for condition. Rather have something more stock?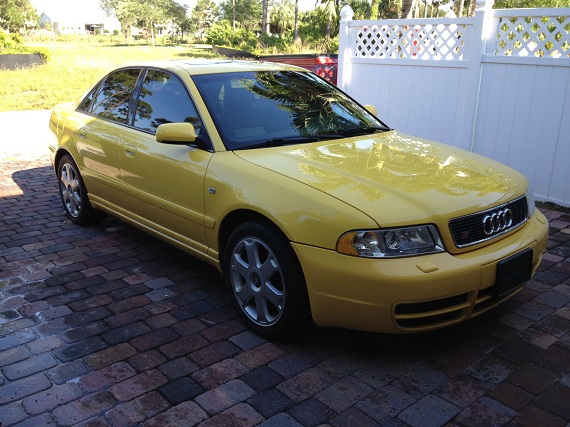 The days of one-owner B5s are mostly gone; in fact, most are easily on to their third or fourth owner. I was very excited to get a one-owner 2002 Passat; with all of the records and careful ownership, I knew it was the one I wanted. Sure, there were a few small things wrong, but it was a unique color (Ink Blue), the package I wanted, and the owner obviously cared for it – this S4 is exactly the same, to me: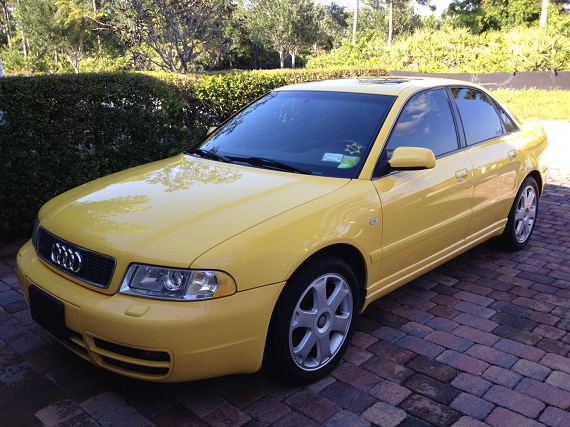 Year: 2000
Model: S4
Engine: 2.7 liter twin-turbocharged V6
Transmission: 5-speed manual
Mileage: 110,903 mi
Price: No Reserve Auction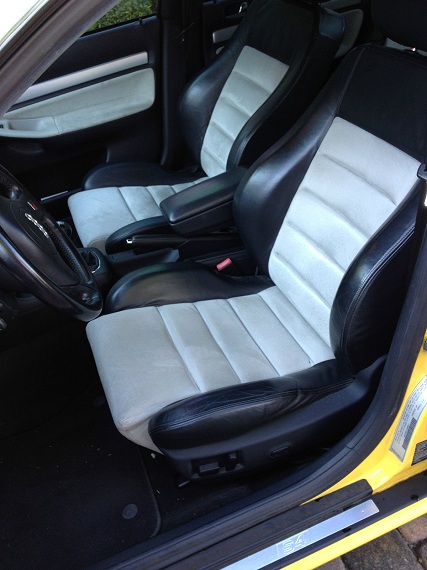 I leased this car in October 1999, then purchased it in January 2003 when the lease was up. I have all maintenance records since 1999. I have run full synthetic oil in it, and changed approximately every 5,000 miles. It runs strong and shifts perfectly. *new plugs and air filter October 2013 *new drivers tie rod and both front axels October 2010* new Nitto tires at 96,000 miles * cylinder 6 injector replaced September 2007 *rear differential seal replaced June 2011 *O2 sensor replace May 2003 * brand new Bosch battery *The ABS module went bad about 4 years ago. It beeps 3 times upon startup, and the brake light is lit on the dash. It passed NYS inspection with this and I have had no issues driving it like this. The module can be rebuilt and is apparently not an uncommon issue with this model. The LCD in the center of the instrument cluster fades in and out. It can be replaced for less than $100. The drivers side door mirror is blemished, but still works. The front bumper has stone chips in the clear coat. NO DOOR DINGS !!! Interior (including trunk) is IMMACULATE !!! Full size spare in trunk never used. Factory tool kit in trunk. Car was garaged during winters in NYS. I now live in FL. If you have any other questions, just ask !! This has been my baby for almost 15 years, but it's time to move on… Cashier's check or money order only. I have tried to include everything and be up front in representing the vehicle.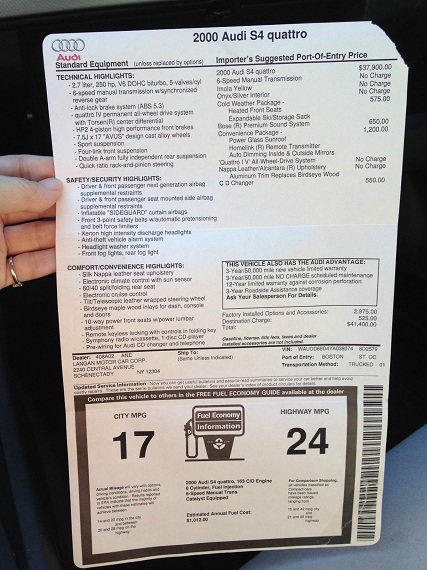 The seller of this car has obviously taken care of the car well, and I love the Imola Yellow with Alcantara interior. Indeed, the ABS problem is a common one on the B5 chassis, as is the pixilated dash display; both are pretty easily remedied, and you'd have a very nice and original S4 sedan. I know that most enthusiasts presented with this option would choose the C4, but I'm going the opposite way today; I'd really rather have the B5 here. Sure, the AAN is legendary and makes a great noise, but I think the one-owner, unmodified unique color S4 gets my vote; I think it's the better value and day to day, I think it's the car I'd rather jump into.
Which of these cars get your vote?
-Carter