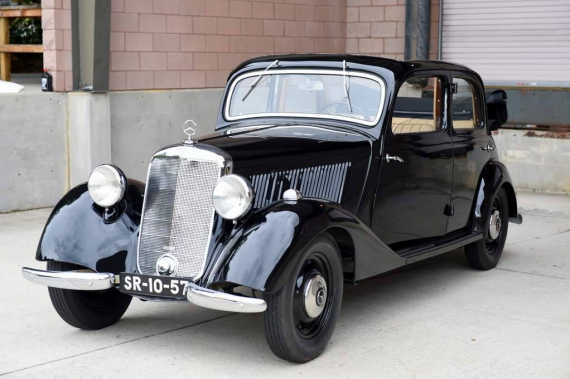 We don't see a ton of pre-war Mercedes featured on this site, but when you do it's something you might find on the 18th green of Pebble Beach. Not today with this 1939 Mercedes-Benz 170V Cabriolet located in North Carolina. About a year ago Paul featured the brother of this car, a 1935 V170 from the same seller. This W136 cabrio can still give you pre-war Mercedes lure without the seven-figure price tag.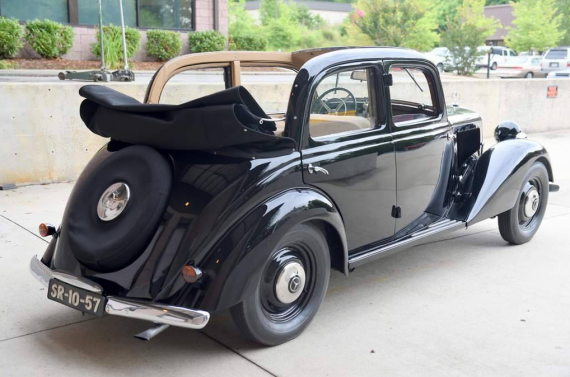 Year: 1939
Model: 170V Cabriolet
Engine: 1.7 litre 4-cylinder
Transmission: 4-speed manual
Mileage: 48,223 km (29,964 mi)
Price: $99,500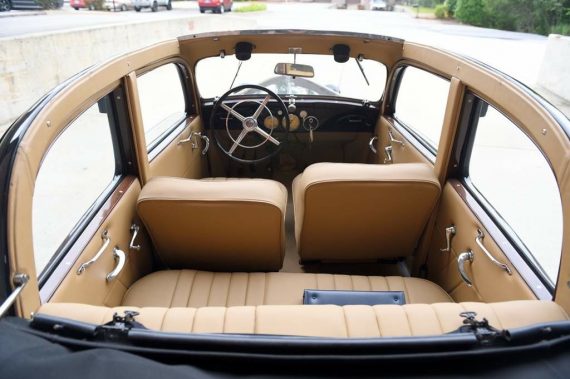 This 170V, delivered in August 1939 through the Daimler-Benz Königsberg branch, has the unusual cabriolet saloon body. It is essentially a four-door with a fold-back black fabric roof that gives open air to all passengers when opened. The side rails and windows, however, remain in place, providing shelter from the wind and cold.

The 170V was the most popular Mercedes model in its day, with more than 70,000 built from 1936 to 1942. The Cabriolet Saloon, however, is one of the more unusual variations, and it is seldom seen today. Certainly, they are rarely seen in this condition.

This beautiful 170V was part of a substantial European Mercedes collection for many years. It sat proudly next to 300SL's and pre-war 500K and 540K Roadsters, until 2013 when I purchased it and brought it to America for the first time in it's long life. This isn't one of the fastest cars in my stable but it certainly is one of the most appreciated.

The black paint has a deep shine and very few blemishes. The brightwork has all been recently re-plated. The car is upholstered in tan leather, which is all in excellent condition. The dashboard is painted gloss black and presents very well, whilst tan carpet lines the floor. A day-night mirror is mounted above the windscreen. The rear of the car has an exposed spare tire with a fitted black fabric cover. The engine compartment and undercarriage are finished to an excellent standard and fully functional.

This beauty will turn heads and get the "thumbs up" wherever you go. People love it and it will be very much appreciated at any concours event.

Call Ken +1 828 654-3222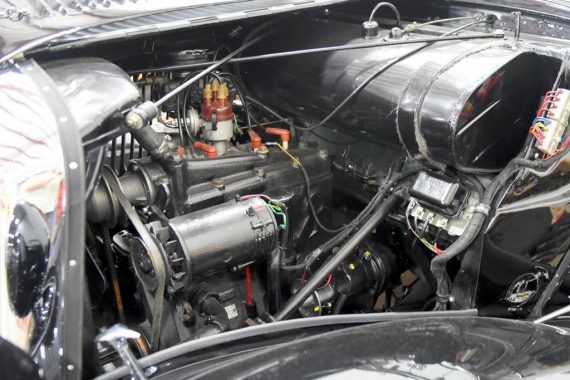 The car is no speed demon. On second thought, I don't think the word "speed" is appropriate at all in this car. But that's not what they car is about. It's a strikingly handsome car without being 13 feet long like a 500k is. The all black exterior it's slightly sinister although maybe it's because I'm picturing it as a NSKK staff car from watching too many movies. It's no question this car is nearly perfect aside from a shift boot that has popped off the transmission tunnel.
As far as price goes, it's tough to gauge as real market value as they don't come up for sale often. Or at all for that matter. It's not valuable that it it'll be locked away 360 days a year like most of the Mercedes from this era that are still around. It still can be taken out to a local show or for a Sunday drive around town without too much worry. I think to sell a car like this you'd need a large auction setting to really gauge as to what someone is willing to pay for it.
-Andrew