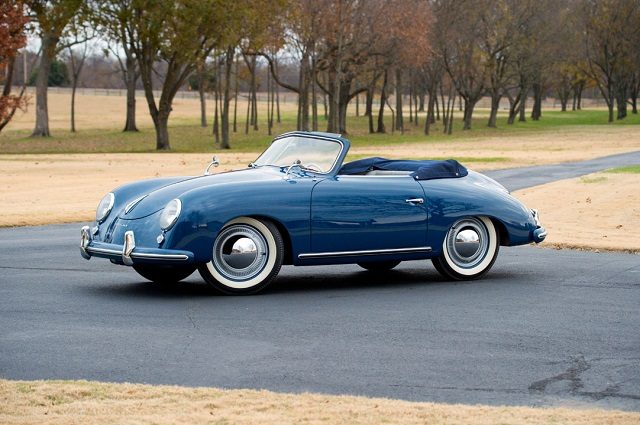 I'm pretty sure this will be the oldest car I've featured. And I don't imagine I'll happen across any that are much older given how rarely a Porsche of this age even pops up. I've written before about how much I enjoy the 356 for its simple and elegant lines, the vintage charm of the painted dash, and the nostalgia of having a chance to experience such an early icon. Here, with this Azure Blue 1953 Porsche 356 Cabriolet, I'm going back even to the early days of this very early model. While there are mechanical differences between this "Pre-A" 356 and its successors, the basic blueprint of the model is there and the elegant lines remain. With its Telefunken radio the interior takes on an even greater level of vintage charm and the quad round tailights at the rear give a very clean look. As with most any 356 a Cabriolet in a lovely color like this really brings out the best in the design and it exudes grace.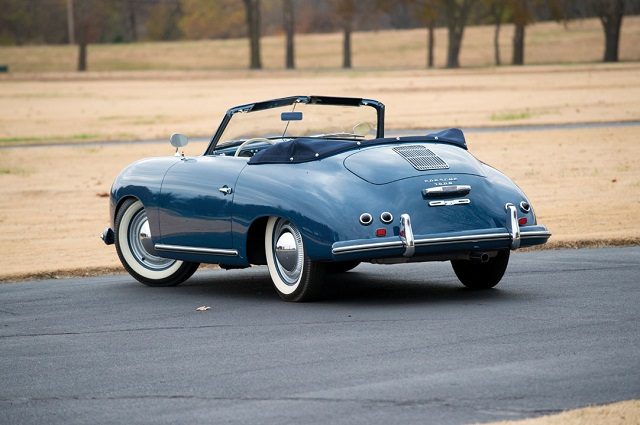 Year: 1953
Model: 356 Cabriolet
Engine: 1.5 liter flat-4
Transmission: 4-speed manual
Mileage: 381 mi
Price: $425,000 Buy It Now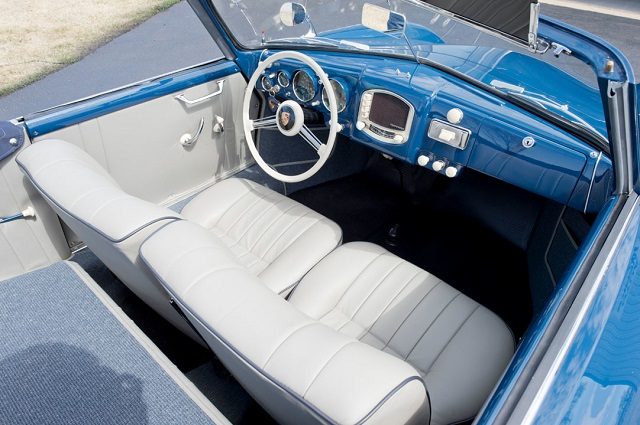 1953 Porsche 356/1500 'Bent Window' Cabriolet

Chassis No: 60115

$425,000.00 OBO

– Rare "Pre-A" example – in most desirable open-air form

– Solid example benefiting from expert restoration

– Well-equipped, including restored and working 'Telefunken' radio

– Options and numbers verified by Porsche Certificate of Authenticity

– Stunning color combination

1,488 cc air-cooled, horizontally-opposed OHV four-cylinder engine, 64 HP at 4,400 rpm (SAE)/55 HP at 4,400 rpm (DIN), four-speed manual gearbox, independent front suspension with parallel trailing arms and laminated torsion bars, independent rear suspension with swing axles and transverse torsion bars, four-wheel hydraulic drum brakes; wheelbase: 82.7"

Rooted in humble origins as the "two-seater Volkswagen sport" project on June 11, 1947, from a converted sawmill in Gmünd, Austria, Porsche's sporting dynasty soon took physical form with the emergence of the sleek 356 "No. 1" roadster. Production and acceptance of the new sports car came quickly, with sales propelled by the diminutive Porsche's growing victory tally on the track, including the remarkable 20th overall finish and S1.1 class win scored by Veuillet/Mouche with the #46 "works" entry at Le Mans in 1951. In testament to the upstart Porsche's stunning prowess, it finished the race just two places behind the mighty Hemi-powered Cunningham C2-R driven by John Fitch and Phil Waters.

On the road-car front, Porsche's work with Reutter Karosserie added a number of welcome refinements to the 356 that began to appear on the 1952 model-year cars from March. Among them, the production process was simplified and streamlined. A one-piece, bent windscreen and more substantial bumpers appealed to the important American export market, and ventilated disc-type wheels with optional trim rings typified Porsche's export models. Fully integrated front and rear aprons extended below the rear bumpers, interiors included a new 6,000-rpm tachometer, and detail changes heightened the overall driving experience.

Engine development also proceeded at a rapid clip with the debut of the new 1500-cc unit for 1952 developing 60 horsepower at 5,000 engine revolutions. Utilizing the Hirth roller-bearing crankshaft design, it was a mainstay of the 356 and the most popular power choice until the debut of the 356A for 1956. A higher-output, race-ready derivation, internally designated Type 528, used a new crankshaft, greater valve lift from an Ernst Fuhrmann-designed camshaft, and higher compression. Known as the '1500S,' this 70-HP unit powered Porsche's aluminum Gmund coupes at the 1952 Mille Miglia. Through it all, the 356 formed the basis for Porsche's growing confidence and strength during the early 1950s and beyond, with both the car and company earning a well-deserved and formidable reputation for performance and quality that continues unchanged today.

Numbered 60115, this "Pre-A" 1953 Porsche 356/1500 Reutter Cabriolet was owned by the noted Beck family of Beck Spyder lore. It was in their Arizona care for some 35 years before being acquired in complete and correct condition as an excellent candidate for restoration. It is accompanied by a Certificate of Authenticity from Porsche, listing original data, including its June 5, 1953, production completion date. Factory-original features and options include a Telefunken radio, which is restored and works, a retractable radio antenna, Comfort seats, windshield washer system and 'Hella' horn. This very desirable 1500-powered, early Reutter Cabriolet clearly benefits from a fresh, concours-level restoration. To restore this very special Porsche, experts from the Tulsa, Oklahoma area for the job. The gorgeous Azure Blue paint and body work were performed by Straight Line Restorations, American Upholstery re-trimmed the factory correct gray interior, and Huber Restorations expertly handled final mechanical sorting and detailing.

Remaining true to its factory-original specifications, the Porsche is further complete with its original date-coded wheels, "Turbine-style" trim rings, and steering wheel, which is nicely restored in keeping with the rest of the car. The '1500' engine was rebuilt by the noted Porsche "Pre-A" engine specialist Geary Miller of New York with improved internal components for enhanced durability." Only an approximate 100 test miles have been covered since the Cabriolet's restoration was finished. A very nice example with a top-quality restoration, this "Pre-A" 1953 Porsche 356/1500 Reutter Cabriolet is highly collectible, enjoyable, and certainly one of the finest available today. The engine case is not numbers matching but it is date period correct.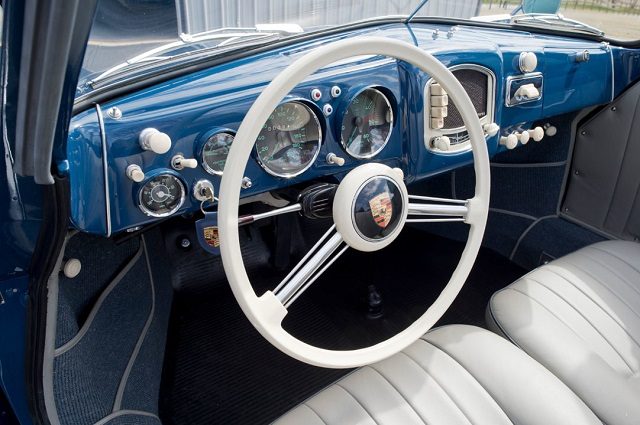 I won't say too much about the asking price because frankly I'm not nearly well versed enough to know the market for an early 356 such as this. I can venture over to Hagerty and tell you that the price is very high, but well restored examples – and this one does look fantastic – can garner significant premiums given their age. But really it's because the devil is in the details and there may be flaws here that I won't recognize. Or it may be perfect. I'm just happy to come across it and be able to take the time to look over one of Porsche's earliest models. To see where many of the ideas began. The genesis of the 911 is here, we can see the roots clearly, and here we can also see the details that went into the 356's own evolution. A wonderful looking car.
NB: The pictures on eBay are displayed in the wrong aspect ratio so everything looks a little squished. At the seller's website you can find the correctly presented pictures. The car looks much better.
-Rob