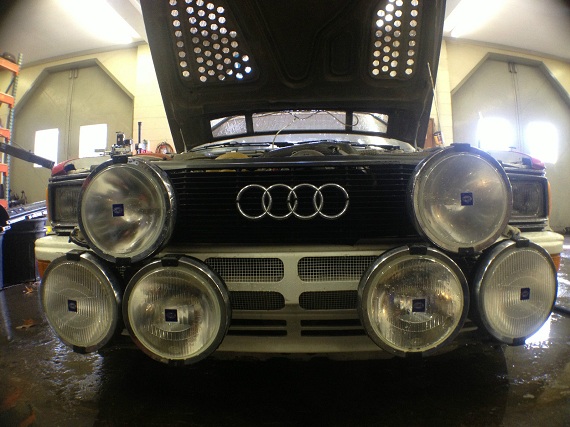 There are precious few times that you'll see something like we have to feature today; while there are plenty of clones of the factory Audi Rally cars, few make it up for sale. Last month I wrote up a Quattro rally tribute car that was pretty well built, though I suggested perhaps overpriced given what it was. The same might be said of this car today, though while you could build an exhaustively accurate replica of this car for much less than the asking price, you can't recreate provenance. Today's Quattro is one of the A2 long wheel base factory cars that was later bought and raced by Frank Sprongl – infamous in the Audi and Rally scene. At some point this car switched owners and was bought by the equally notable Shokan Coachworks in New York. Shokan has amassed an impressive collection of rare Audis over the years, including a Sport Quattro and several RS2s, but this car was likely the crown jewel in the collection. It's not often that you even get to see one of these cars outside of the factory. Despite this, the time has apparently come to move on and this revolutionary car is up for sale: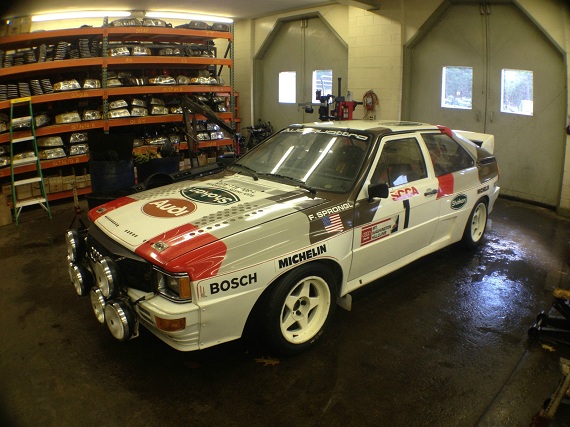 Year: 1983
Model: Quattro (A2)
Engine: 2.2 liter turbocharged inline-5
Transmission: 5-speed manual
Mileage: 9,184 mi
Price: $385,000 Buy It Now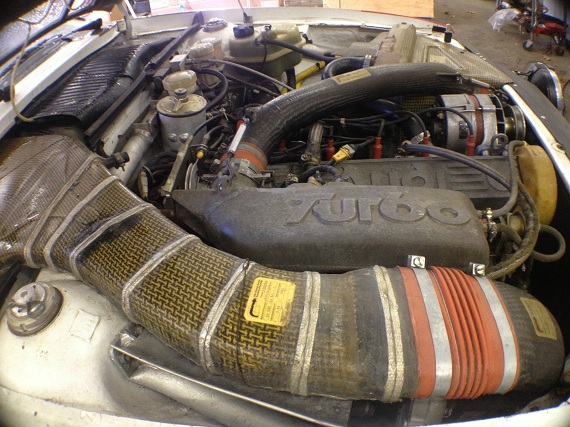 Audi factory built A2 Groupe B Rally Car. All original with logbook. Comes with huge spare parts collection including engine. Will not separate. Actual VIN # is WAUZZZ85ZDA900006 this is a import from germany Again, this car is factory original, not a clone.
Please call for details and additional information.
1-800-ALL-AUDI
1-800-255-2834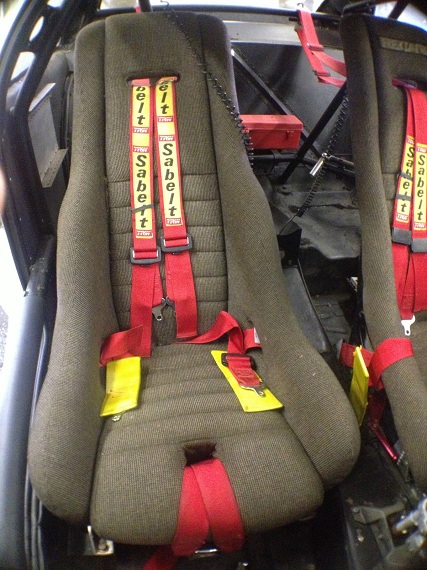 If you're a classic Audi fan or just a Rally aficionado, this is a rare treat. Works cars come up for sale so infrequently for any marque that it's a very special occasion. You could sit and look at the details incorporated into this car for hours – the Sport brakes,tubular control arms, the bespoke special 350hp+ engine, rear mounted oil cooler under the spoiler, the baffled gas tank; the list goes on and on. Then, of course, there are the spares – Speedline works wheels as far as the eye can see, alloy engine bits and spare bodywork, differentials, suspension and driveshafts, and even a spare cage; there's enough here to go conquer Rally Monte Carlo on your own.
Of course, that package comes at a price, and it's sure a steep one – at just shy of $400,000, the asking price would be enough to make most serious Porsche competition works cars blush. It's unfortunate that it's priced there in some regards, because at that price it's unlikely to shout in anger again. The A2 was the bridge model between the introductory A1 and the explosive S1, but while the Sports get all of the attention, it was really the A1 and A2 that provided the WRC championships to Audi and made this car the legend it is. In that light, how do you put a price on something so pivotal to a brand, and indeed modern motoring itself? With a majority of car companies – especially European – offering turbocharged, all-wheel drive models today, one is left to wonder where we would be without the Quattro. While it's hard to say what motoring would look like today, as enthusiasts we would have been much worse off without this car – and that may just be priceless.
-Carter