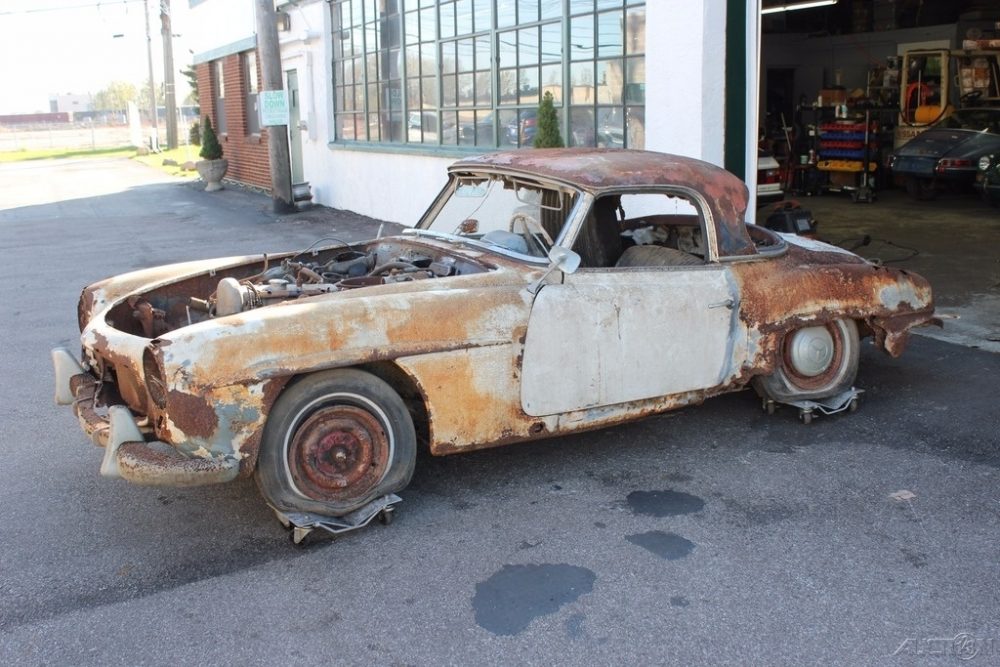 This is a new one for me. A car so far gone, so decrepit, so haggard that it's only salvageable parts are maybe some gauge cluster faces and one windshield wiper arm. All of this for the price of a new Mercedes-Benz CLA250. I'm not joking and neither is the seller of the 1957 Mercedes-Benz 190SL in Ohio. What once was a beautiful Mercedes-Benz convertible, is a now crumbling under the weight of it's own rust. I'm not sure where to being or where to end with this 190SL but I do know that the price, $32,950, is well, a little optimistic in my opinion.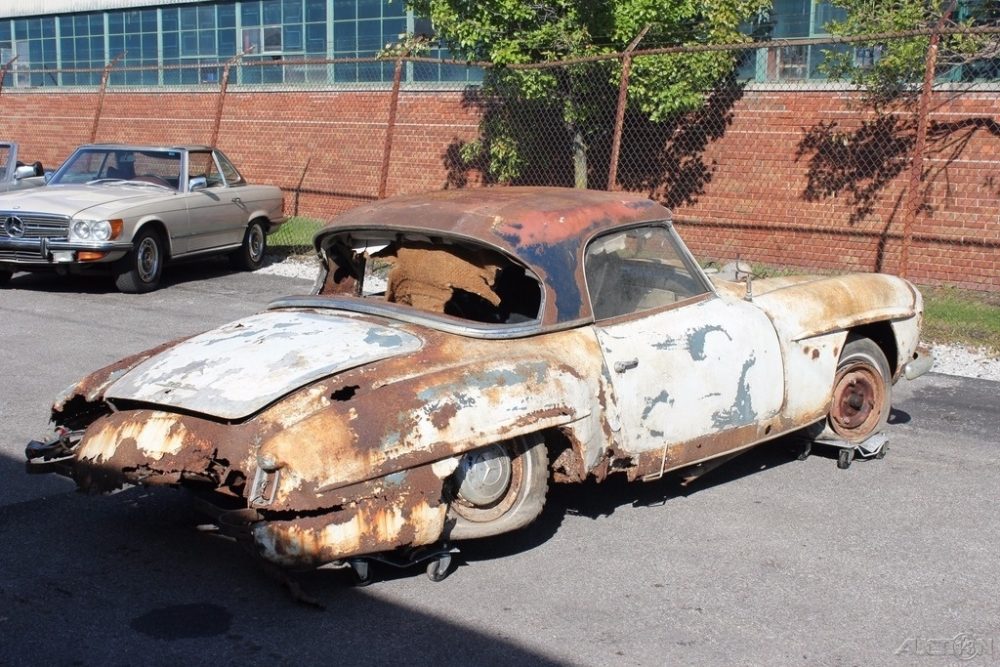 Year: 1957
Model: 190SL
Engine: 1.9 liter inline-4
Transmission: 4-speed manual
Mileage: 1,133 mi (claimed)
Price: $32,950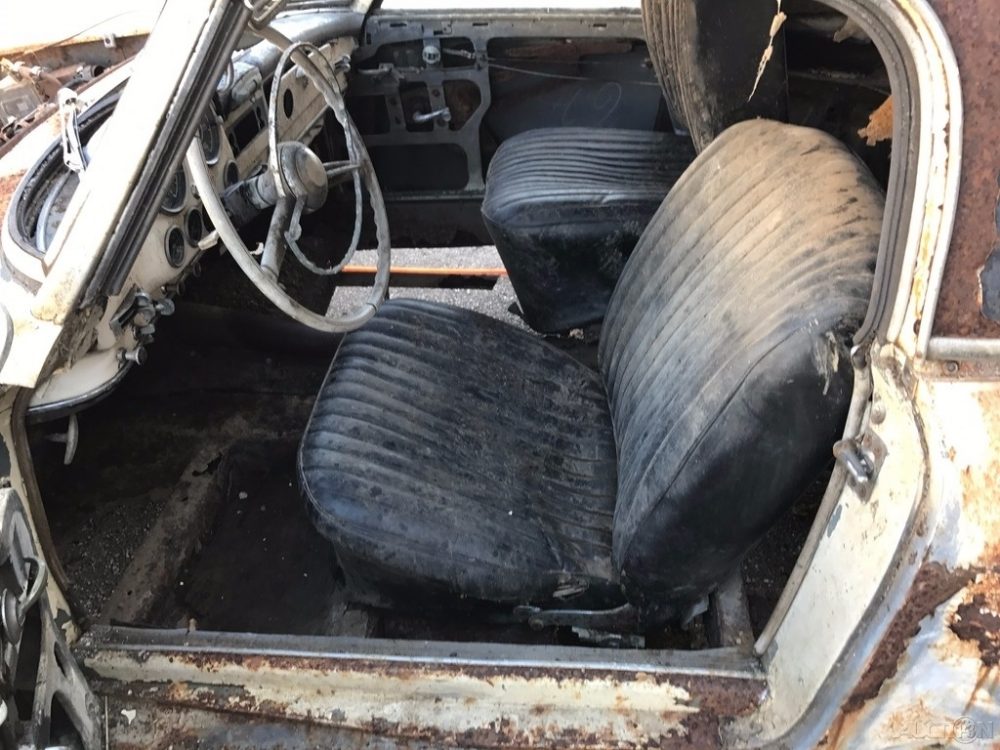 Chassis# 1210427501091
Engine# 121921750208

Paint Code: 166G Grey Blue

A 1957 Mercedes 190SL roadster. Hard top only. Grey blue with a black interior but was painted white many years ago, the original paint is peeking through in many places.

This car was was abandoned for many years and just discovered in a barn, completely rusted out a few weeks ago.

Only comes with parts you can see in the pictures.

A rare and exciting opportunity to own and restore or use for parts, not many project cars in this condition become available now.

Any questions welcome.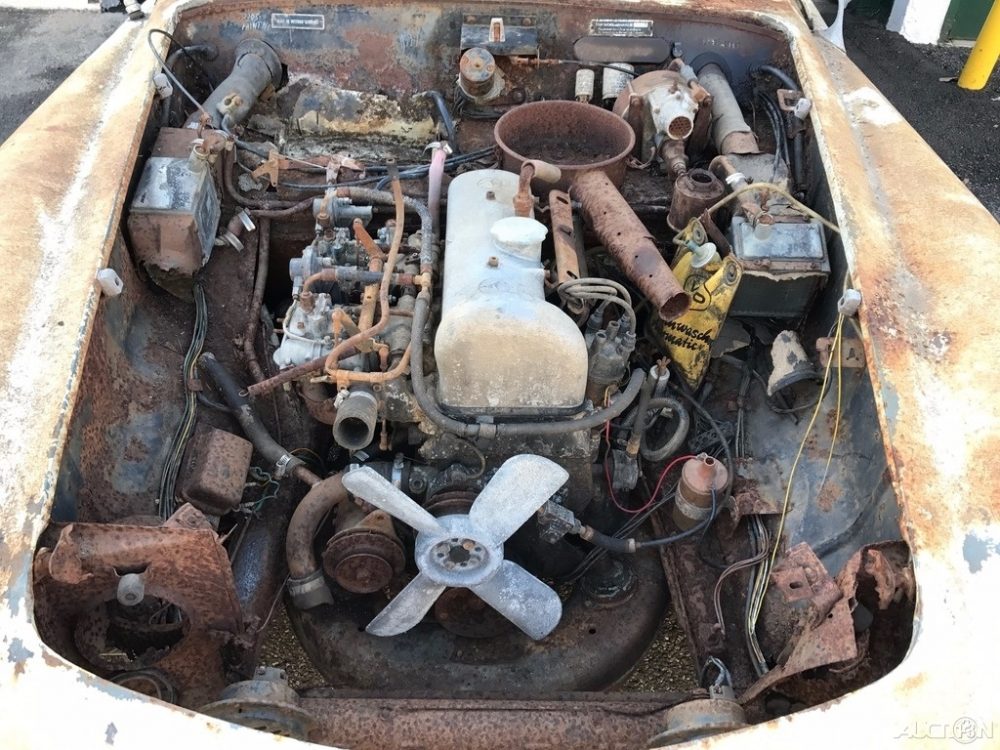 Now that you are done checking out what is left of this thing, which isn't much, let me try to break it down. I didn't even know it was possible to have a car deteriorate this severely outside of literally throwing it into a river and letting it sit for 25 years. The seller says it was discovered in a barn but I don't know, was this barn without a roof and eight feet underwater? The seller also claims that this poor thing only has 1,133 miles but being a five-digit odometer, I'd bet good money that that number rolled over to 00,000 once it hit 99,999. It is just amazing to be how literally every single part of this car is ruined. It's not like you can pull a piece here and a piece there, every single piece of this car was effected in some way. I don't even think it's possible to give this thing an acid bath and try to sandblast it as you'd just be blasting metal away into dust. So what is the point here?
I get that the 190SL is a hot car right now. A few months back I featured another 1957 that was in average shape for $89,000 that sold in one day. Most of these cars in nice shape are now over the $100,000 mark with the nicest examples going for much more that. But $32,950 for this? A pile of nothing? This isn't a 300SL or some rare one-off Ferrari that the VIN is worth the asking price. This a 190SL, a car you can buy a running, driving example of for $10,000-15,000 more and not need a tetanus shot. I get that this is a dealer that takes the term of selling cars "as-is" very seriously, but they aren't being serious with this price. This car was listed at an even higher price of $34,950 a few times before as if someone on the fence for this car is going to be swayed by a $2,000 price reduction. Where ever this car may end up or turn into, I hope it at least fetches the price it deserves, maybe a few grand just to say you actually own a 190SL?
– Andrew