Warning!
This post is in our archives. Links in this post may have been updated to point to similar cars available to bid on eBay.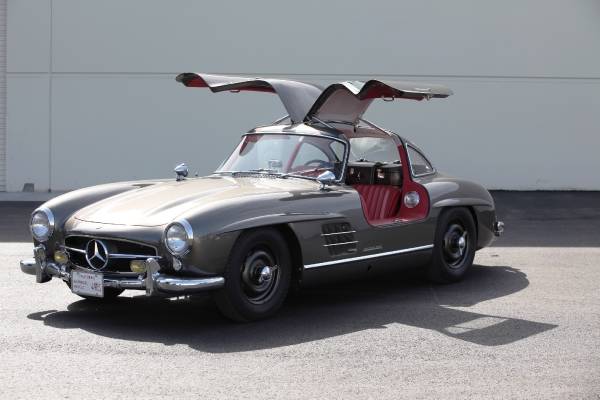 There are a lot of famous cars that I dream about owning but just aren't realistic. I'd love a Lancia Stratos, for example. And a Porsche 917K. But since my bank account doesn't currently contain quite enough commas in the balance statement to make that occur, they're going to remain dreams. Of course, for reasonable amounts you can buy quite convincing replicas of these cars; Hawk makes a very good Stratos copy, and RCR makes one killer-looking 917K knockoff. While purists decry these fakes as degradation of the brand, when well executed I find these replicas really intriguing. They offer an opportunity for not only mere mortals to own them, but more importantly they offer people who would never get to see them driven a chance to experience the shape in the wild. Another such car that gets traded for the same amount as the GDP of some small African nations is the Mercedes-Benz 300SL "Gullwing". Considered by many to be the first "supercar", the 300SL's performance and design was otherworldly in the 1950s and though it's not the most expensive Mercedes-Benz model they remain firmly out of the grasp of any but the most well-heeled enthusiasts. Like many Ferrari models, Mercedes-Benz has carefully sought out and squashed any attempts at building replicas, and few that remain floating around look close to the original. But today I have both a stunning original example and a reasonably accurate replica that you could actually buy and drive. Is the replica worth spending money on, though?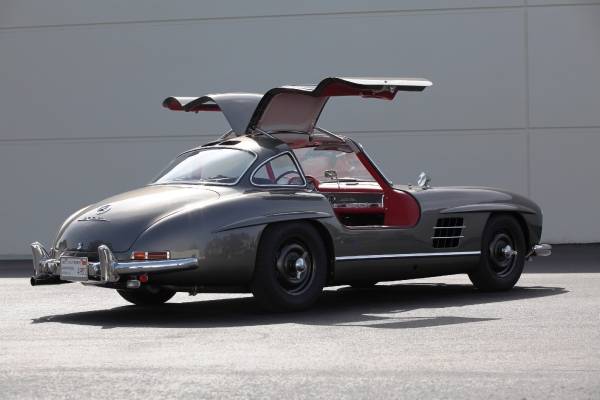 Year: 1956
Model: 300SL
Engine: 3.0 liter inline-6
Transmission: 4-speed manual
Mileage: 98,594 mi
Price: $2,495,000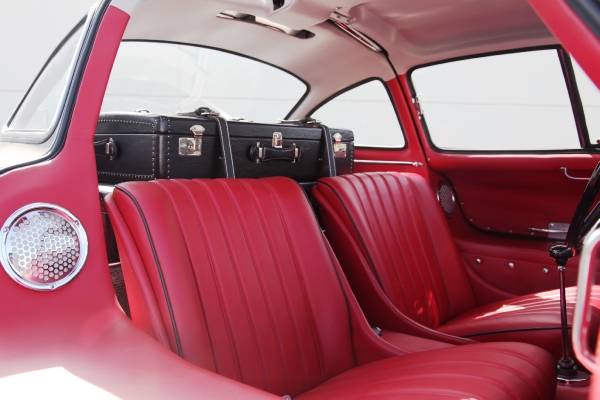 Location:
Costa mesa, California 92626
Stock #:
173
Mileage:
98594
Trans:
Manual
Condition:
Mint
Exterior:
Anthracite Gry
Interior:
Red

Description:

1957 Mercedes-Benz 300SL Gullwing Coupe

Chassis no. 198040.570013
Engine no. 198980.6500342

2,996cc SOHC Inline 6-Cylinder Engine

Bosch Mechanical Fuel Injection
212bhp at 5,800rpm
4-Speed Manual Transmission
4-Wheel Independent Suspension
4-Wheel Drum Brakes
Rudge Wheels
Luggage
One of ony 70 cars built in 1957
Restoration in 2010
Exceptional example of the iconic Gullwing
Matching numbers example
Serviced and maintained by Gullwing experts

The 300SL Gullwing

Max Hoffman rarely missed an opportunity. The impresario of imported cars on New York's Park Avenue built the U.S. presence of most European brands after World War II – Jaguar, Allard, Alfa Romeo, Lancia, Mercedes-Benz and more – and when Mercedes-Benz won the Carrera Panamericana in 1952 with a W194 300SL coupe driven by Karl Kling, Hoffman seized the moment.

He pproached Mercedes with a radical idea: take the charismatic tube frame W194, with its high performance 3-liter engine and characteristic roof-hinged doors, and create a road car based on it. It was audacious, but Hoffman had a highly developed sense for the U.S. market and backed up his suggestion with his checkbook. He placed an order for a thousand luxury high performance coupes based on a more civilized version of the W194.

Mercedes-Benz, still valiantly trying to shake off the devastation of the war and the weak European market, took him up on it and the 300SL was born.

Hoffman had proposed a relatively direct transformation of the multi-tube framed W194, retaining its roof-hinged doors, tall, wide sills, 45° canted triple-carbureted single overhead camshaft inline six and fully independent suspension with more civilized accoutrements. The engineers at Mercedes-Benz weren't satisfied with such a simple transformation and added the first direct mechanical fuel injection system ever offered in a production automobile. Introduced at the February 1954 New York Auto Show, the 300SL was an instant sensation.

Its curved doors soon brought it the nickname "Gullwing" which has stuck for well over half a century and been copied by many lesser automobiles hoping to capitalize on the 300SL's halo. The body design was refined for the street and added eyebrow moldings over the wheel wells to signal an association with Mercedes-Benz's later race cars. The driving position, steering wheel location, controls and instruments' visibility were carefully refined by M-B to make driving the 300SL a rewarding experience.

Over the next three years Mercedes-Benz built over 1,400 300SL Gullwings. The majority were sold through Max Hoffman in North America, validating both the reality of his vision and returning many times over the confidence he showed in backing its development.

Ever since 1954, the Mercedes-Benz 300SL Gullwing has been one of the seminal cars every collector must own or experience.

The Motorcar Offered

This original U.S. market Gullwing was first delivered on January 31 1957 to its first owner Edgard W. Stewart of Fullerton California. Being one of the last cars built the has benefited from all the enhancements Mercedes had made from 1954 to 1957 is known to have been fitted with 3.25 rear axle ratio allowing the car to go to high speed with lower RPM.

In recent ownership, the 300SL was Completely restored by Mercedes Walter Quitt of Costa Mesa, California.

The car is fitted with Rudge wheels and matching luggage set and comes with full set of owers manual and tool kit.

Please feel free to call Mort at 949-335-7474 ext 1 for any questions.

Price: $2,495,000 negotiable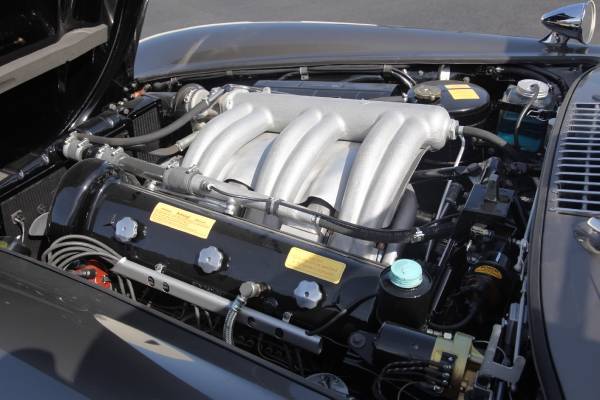 The combination of Rudge knock-offs, red leather and Anthracite Grey Metallic are enough to make my heart flutter. This is a stunning car – so dynamic and nuanced in its design. The darker colors really highlight the chrome and curves perfectly, while the wheels remind us that this was in essence one of the best race cars of its day. However, even considering the pristine condition, excellent color combination and a ultra-rare status, the pricing on this example is pretty ambitious. Were it one of the all-aluminum bodies it might push some extra value, but condition one 300SLs currently seem to max out around 2 million, with most trading around 1.5 million. Even if you could negotiate down, though, this car is still much more than most would consider spending on even a very expensive house, meaning it's unlikely to be spotted in traffic anytime soon. Despite that – wow, these 300SLs are so good to look at.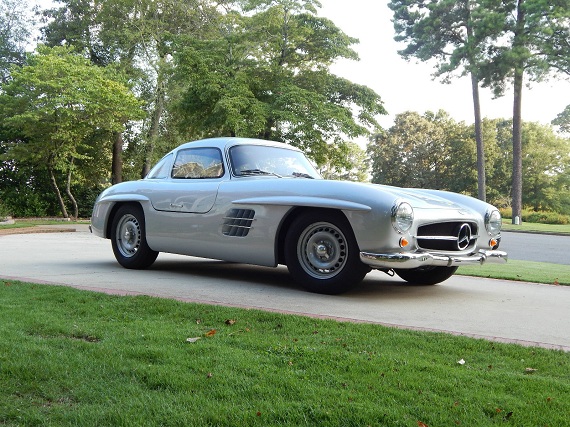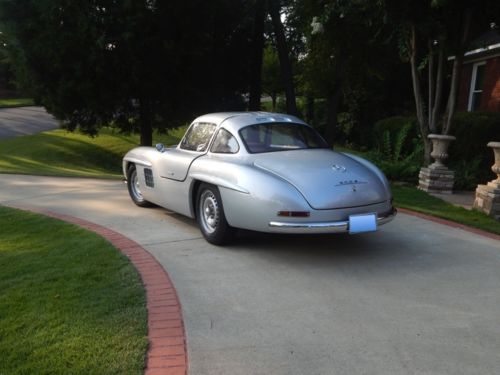 Year: "1956"
Model: "300SL"
Engine: 3.2 liter inline-6
Transmission: 3-speed automatic
Mileage: "999,999" mi
Price: $129,000 Buy It Now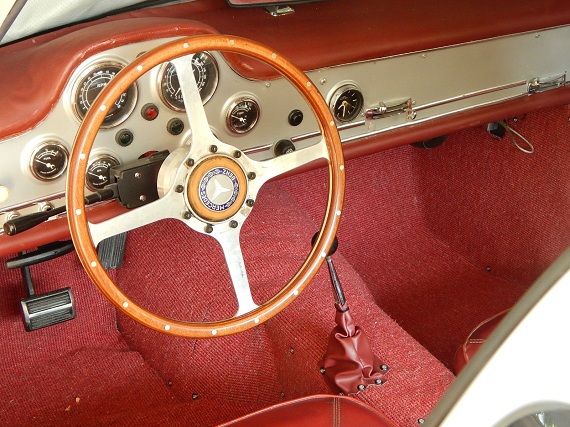 You are looking at one of the most amazing vehicles in the world . . . however it is only a replica of the original Mercedes 300SL Gullwing.

As to my knowledge there were 5 people/companies that have ever attempted to manufacture such replicas and certainly there are only a very few on the market. You might even think that the replicas are just as seldom as the original and getting more expansive every year.

A.) Mainly known is Tony Ostermeir out of Gardena California, who had done a great job copying the original but discontinued. He had used former W124 E300 chassis to build up the famous gullwing

B.) Hermann Quin used Corvette frames / later steel space frames with corvette engines and build up fiber-glass bodies to come up with the car.

C.) Lone Star Motors seemed to build those cars but never came close to the original.

D.) Scheib in Germany had used later versions of the SL (R129) or SLK and build up the famous coupe . . . but were cut off by Daimler AG to continue . . . . and

E.) Gill Longnecker had build the 300SL Gullwing from scratch. He passed away in 2009 but his idea is still spread over the Internet, when he started to rebuild Gullwing Coupes out of Redmond WA. He based the car on a Steel-Space frame trying to match it's original as close as possible and inserted a slant 6 Cylinder Chrysler engine with an Offenhauser high performance kit to match the performance as well. Axles, transmission, brakes are well performing but using standard parts from standard production cars to provide for a reliable and yet much more affordable variant, and details like lights, blinkers, front bumper, mirrors, windshield wipers etc. were either copied and rebuild or taken of the Mercedes 190SL. Some few parts are actually the original parts of the famous Mercedes W198.

Later Gill Longnecker moved his "kit car production" to Mt Dora Florida. Thoroughbred Motorcars build up 300SLR kits and 300SL kits but only a very few complete cars have ever been assembled and again – only a very few are available in the market.

This particular model is one of Gill Longnecker's show cars out of the Redmond facility. It was a completed 300SL Gullwing replica in silver with red leather interior and sold for $40,000 in 1985. I have the original receipt of the purchase/sale signed by Longnecker and title of the vehicle. The vehicle is registered and has a clear title, so that you should have no issue to get it registered in your name.

From a short distance this car turns more heads than any Ferrari . . . it looks like the original and seems to be build to a great detail with parts that match the original as close as possible. There are some imperfections – but with any kit car, you will have to live with just a copy to the original.

You may also research the original facility in Redmond WA, before Thoroughbred moved to Mount Dora Florida. At a later time, most of his demo cars and bodies were sold through Bob's Classics at a time when M.G. Longnecker closed his business – but this particular vehicle seemed to be one of the very first and out of the Redmond production. To my research there were only 7 vehicles that have left Thoroughbred as complete vehicles . . . all others seemed only to be sold as kits.

So let me describe the vehicle you are looking at:

Model: HMDE 300SL Gullwing

Color exterior: DB 180 Silver

Color interior: red

Engine: 6 Cylinder (slant inline) with Offenhauser high performance kit

Transmission: Automatic

The vehicle is in driving condition and looks better than most replicas you might be able to find. It has no ding, no scratch, the chrome parts are in great shape. Tires are new, the entire drive system got serviced with new brake lines, brake pads, new fuel lines, new hoses, new filters, etc. The interior is clean but has some imperfections: the carpet is still nice and clean, the leather seats have no rips nor tears but a few little stains. Please note that this replica is old enough to actually make a vintage vehicle itself . . . so please do not expect a new car – although – it is kept in very very nice condition.

A lot of detail was put into this vehicle by Thoroughbred as you may see with the center-bolts for the wheels and I would not be surprised if you want to show the car around.

As a reference I found the following statement about Thoroughbred Cars in the Internet: . . . "Now, I have been around collector and special interest cars for the last 30 years and have seen many a replica. So it is a big thing when I make the statement; I have NEVER seen one built to this build quality and standard. Built by Thoroughbred Coach Builders in Washington (later out of Florida) as a factory turnkey car, this Mercedes Benz 300 SLR replica has covered slightly over 15K miles since its completion. . . . There were probably a number of bodies sold off by Thoroughbred possibly over the years, but only SEVEN complete cars were built by the Factory. Making this particular piece extremely rare."

Now with that statement, please note again – that the offered vehicle is around 30 years old, it represents itself already as a vintage vehicle. Therefore it might have lost some of the perfection it might have had when completed years ago by Thoroughbred, but it is still in stunning condition and runs very well, all functions still do and it surely will lead to more interested looks than any modern car might do.

For any further question – please just ask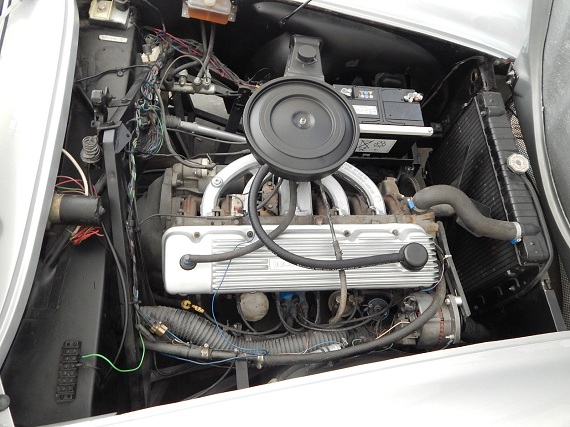 Overall, on the face of it this is a fairly convincing replica. Granted it's certainly not perfect – but for 99% or more of even enthusiasts, at first glance they'd likely mistake this car for the real item. Look closely, and some details are off; the bumpers aren't quite right, the wheels are wrong, it's missing some trim details like the beltline chrome. Inside, the cabin is finished nowhere as close to the original – but, it must be said, it looks reasonable for a kit car. Better carpet and some work on the dash and other details like the window seals could make it more convincing. Under the hood, that magical inline-6 has been replaced by a Chrysler slant-6 and 3-speed automatic; not thrilling, but at least cheap to keep going. So why even consider this car? Well, at $129,000, it's around 5% of the asking price of the real one above. It would afford you the opportunity to live your dreams, too, and frankly most would presume it was the real deal. Personally, I think a S54 6-speed swap in here would be awesome though likely hard to pull off. As is, I think it's likely overpriced by a long shot for a replica – but then, it's so much cheaper than a real one that it's at least compelling to consider.
-Carter