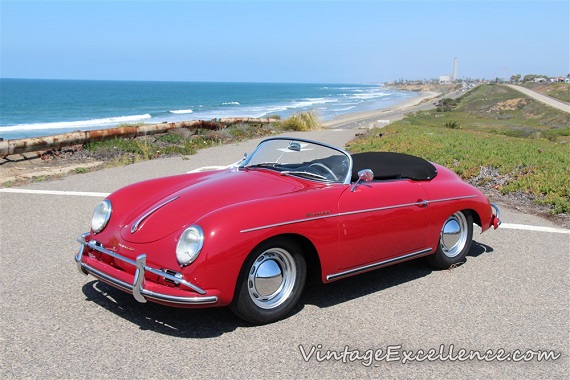 Let's turn back the clock a bit to one of Porsche's earliest attempts to meld track duty with everyday usability, matters that over time became hallmarks of the brand. The Speedster was developed during a time when two-seat open-top machines began to proliferate and became common occurrences on trackdays. These were cars that, in their own unique way, provided owners the ability to take their car to the track on Saturday and then to work on Monday. Creature comforts were limited, as with most track cars, but it was their mechanical simplicity – and relatively low cost – that made them worthwhile considerations for dual-purpose duty. As such, Porsche tried to emulate that model and the 356 Speedster featured side curtains rather than windows, a removable windscreen, a very basic manually-folding soft-top, and bucket seats fitted to an austere interior. While initially very popular interest in the Speedster waned and it was replaced by the Convertible D (later 356 Roadster) after only four years of production. With such low numbers extant the Speedster has become an icon of the brand and highly-prized among collectors. The example we see here comes from the earlier T1 design, a Ruby Red 1957 Porsche 356 Speedster, located in California.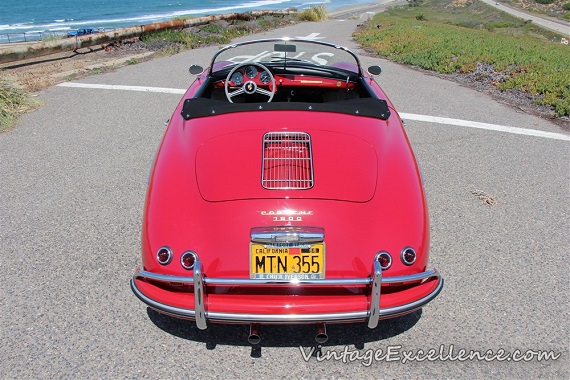 Year: 1957
Model: 356 Speedster
Engine: 1.6 liter flat-4
Transmission: 4-speed manual
Mileage: 12,000 mi
Price: $329,000 Buy It Now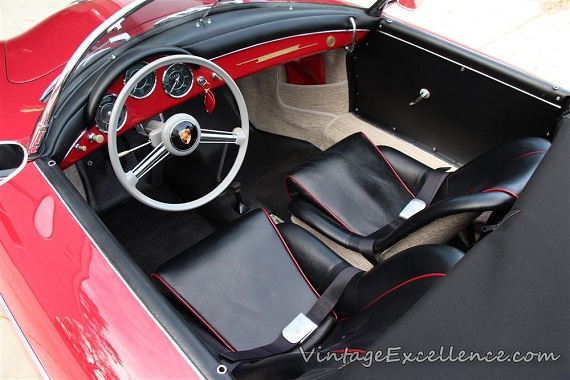 VIN 82928

Engine 712960

Trans 12875

Color Ruby Red

Early 57 last of the T1 body with desirable Beehive tail lights

USA bumpers with overriders

Dry Texas/California car – never rusted!!!!!!!

Excellent paint, perfectly straight body, excellent gaps

All original body panels! matching VIN stamps

5 Correct date stamped wheels

Owner's manual/Tool kit/Tire Jack/Records/Tonneau/Side curtains

Just completed a major service and sorting

Come see the car in person at the 2015 Dana Point 356 Concours on July 26

Contact Mark Allen 760-522-0090. 18 years selling on eBay! 356 Club member, 356 Registry member, Early 911S Registry member, PCA member, 912 Registry Charter member, long time Porsche guy with a great reputation

The Speedster needs no introduction, it is the stripped down version of the 356 that everyone wants. A minimalistic elegant design that exudes what could only be known as "COOL". Sure all 356 cars are beautiful but this is the most beautiful version. While they do not have all the comforts of a regular car, such as roll up windows, the car delivers an intense experience every time you take it out. You are not simply driving somewhere in a Speedster, you are cruising like a king in the most eye catching vehicle on the road. A must have for any collector; these cars can be the highlight of a collection or a most handsome accessory no matter what classic car genre you are involved in.

This car is an early 1957 car built January 28th the last of the T1 body with the signature Beehive tail lights and over rider bumper bars which are the most classic looking of all the designs. This car like most every Speedster made was destined to be delivered to the USA, equipped with beautiful USA overrider bumpers. This car was lucky to have been originally sold in dry & hot Texas where it completely escaped snow, rain, and other rust causing environmental conditions. Ownership and records are present from the late 1980s. Oldest know history is well known Speedster restored Roy Smalley bought this car in Dallas Texas in the mid-1980s. Roy said that this car was in unbelievable original condition when it was found so that only the lightest restoration was done and there was no need to disassemble the entire chassis.

Since the car was very original when found, back when original 356 parts were still available from the dealer, the car retained most all of its original parts and almost no reproduction parts were used. The current paint job, completed by Roy in '89, was a bare metal Glassurit job in the original Ruby Red color. This paint is in fantastic shape. The transmission was numbers matching to the car, the engine had been replaced with a correct appearing more powerful 356 engine. After Roy sold the car the last owner brought the car out to California to his vacation house. Traveling back and forth between 2 different houses depending on the time of year meant that the Speedster saw less than 3000 miles since the restoration. Still in excellent condition but with a few leaky seals, soggy brakes, and light layer of dirt the car was acquired in September 2014, over the last 8 months the entire car has been gone through, the results can be seen below.

This car was found in Dallas Texas in the 1980s by well know Speedster restorer Roy Smalley of Eurowerks in Texas. Roy restored the car in 1988-1989 and sold it to the previous owner Bill T. When this car was last acquired from Bill T. we contacted Roy Smalley to ask if he remembered the car "You bet I do…" he replied and then went on to say "You got an exceptional speedster. I have 5 in the shop, two more on the way and none are even close." Roy's description of the car is also noted in a letter written to the last owner after Roy completed restoration work in September of 1989 where he notes that the car was an "Unrusted, unwrecked, original Dallas TX car", the letter goes on to offer to buy the car back for $80k if the owner ever considered selling, which was a good offer back then. The restoration work done 26 years ago held up extremely well partially due to the car only traveling 3000 miles since the restoration! The last owner was a Porsche collector and enthusiast who drove a 993 C2S as his primary car, he lived between Texas and California during different times of the year therefore the car was only used on special occasions.

In September of 2014 the car was brought to Vintage Excellence for a complete mechanical and cosmetic sorting – while the car was already an excellent driving car it had so much more potential with proper deep cleaning, polishing, and mechanical servicing. The result is what you see in the accompanying pictures. The entire body had all trim and rubber removed for a cut & buff of the Glasurit Ruby Red paint done so many years ago – the finished polishing made the paint looks as if it was recently done. When old paint looks this good, it stays looking this good with the right care. No need to worry about fresh paint shrinkage showing bad bodywork or rust bubbles – this paint is old, hard, stable and very shiny. Many old paint jobs show rust bubbles, fading, cracks but not the case with this car – there is NO RUST in this car. While most of the Speedsters being restored today have had drastic metal work and panel replacement this car wears all of its original metal aside from battery floor and main floor pan, you will not find another Speedster with this solid and original of a body. Solid body means a quiet smooth driving car. A complete inspection of the body panels showed it retains all of its original body panels, so they fit very well, verified by the last 3 of the VIN number stamped into- front & rear hood, left & right doors, even the door jamb panels have the VIN stamps on them which is usually unheard of (see pictures for confirmation of these stampings). The front and rear of the car have never been hit, there is no clip or body damage, a paint meter shows very respectable thin paint thickness on the entire car.

After the polishing was completed the body was re-assembled using all new correct rubber seals and floor mats. Trim was cleaned and repaired as needed – most all trim is original Porsche parts – not reproduction. The interior was done in the late 80s in black leather – still in great condition it has a slight patina that fits the car very well, unlike puffy new leather interiors. While the interior was out for cleaning new Oatmeal colored German Square Weave carpet set was made for the car. The top was also changed, Speedster tops are either "low bow" or "high bow" but this car has an intermediate top – in between the production of a low bow and high bow top – these are very rare tops and have subtle fitment differences than most all other Speedster tops. Due to the complexity of the top, since no pattern was available at either of the world's best Porsche trim shops here in San Diego a custom top was created, to ensure the top fit perfectly the top bows were straightened using jigs made by Richard Miller (a Speedster expert out of San Diego, RIP), the first top that was made sagged in the corners so another one was made learning from the first mistakes, now the new canvas top fits like a glove and snaps against the body when you give it a little tug – the way it should. Top work was completed by an automotive trim artist – Thomas Pocius, not a major production shop. A matching canvas full tonneau cover compliments the convertible top. All mechanical items inside the car were cleaned, inspected, lubricated – new heater cables, shift bushings, etc – heater blows HOT. All lights were disassembled and cleaned, every 6V bulb was replaced, original horns repaired and are LOUD.

Work underneath the car included: Full brake job, drums machined, brake shoes re-lined, shoes were properly curved to match the drums, all new wheels cylinders, new flexible rubber lines, new e-brake cables, all new Ate brake fluid – entire brake system flushed. The wheels are correct original Lemmerz 15×4.5″ all 5 with a November 1956 date stamp on them. These wheels were professionally restored by Andre at Custom Wheel Refinishing, the wheels look like new with no blemishes showing, they really make the car sit perfectly. 5 new period correct tires installed (Vredestien 165/15). The engine/transmission were removed from the car to be cleaned and re-sealed, new 1 piece axle boots with correct straps, new spring plate bushings, swepco gear oil, cable hangers installed. Transmission is in excellent condition. The rest of the suspension, including the Koni shocks, were all in good condition. Ride height was adjusted right where is needs to be. Trunk was clean as can be, original fuel tank rust free inside and out, a new 6V battery and a new correct battery fiberboard cover fitted.

While the engine was out a complete tune up, re-seal, and cosmetic detailing was done. This engine is a 1964 356C 1600cc engine that has been upgraded to full SC specs and 1720cc big bore pistons and cylinders. Engine features include: counterweighted 912 crank & rods, 86mm NPR P/Cs, 912 cylinder heads, torquey cam, rebuilt Solex PII carburetors with original Knecht wire mesh air cleaners, Bosch 022 dizy, new Dansk Sport Exhaust with chrome tips. This engine produces a confident 110hp+ which is more than enough to push the lightweight Speedster to any speed you wish or to cruise slowly down the boulevard. The simple late model 356 motor can be serviced by any shop competent in 356 cars, parts are easy to obtain, and you will get a reliable 30MPG on the freeway.

In summary this is a very special car in just the right condition. This car is only slightly below a concours winning freshly restored car. It is well above a driver car that would need a full restoration to bring it near this condition. A decent Speedster project car will cost $150,000+ and a proper restoration will cost $150,000+ not including metal work. It makes sense to buy the best car you can find rather than a car with some issues. While this car does not have its matching number engine, the majority of Speedsters are missing their original engines, it does retain the original color, transmission, and 90% of the parts are original to the car so you feel the authenticity and original quality that Porsche intended. This car is as authentic appearing as they were when they were new, it drives perfectly and needs no maintenance or restoration. Included with the car is a copy of the original Kardex file from Porsche, a history file folder and current repair receipts, reproduction owner's manual with red folder, reproduction correct tool kit, original tire jack, original spare tire, side curtains with storage bag, and a full canvas tonneau cover. It is now ready for your ownership.

*Please note that the California license plate in the pictures is only a prop, the car is not registered to this plate. The original Chick Iverson frame and plate are included with the car.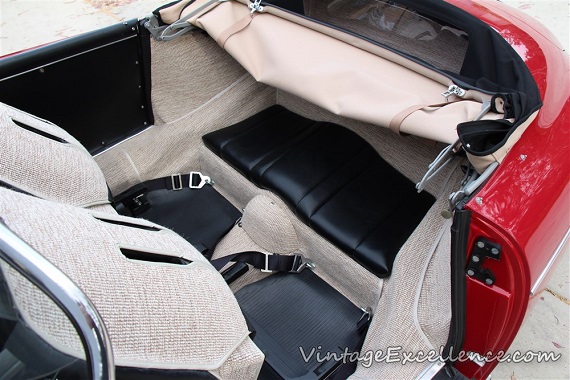 The seller has provided us with a wealth of information to help understand the mechanical condition, originality, and restoration work performed on this Speedster. While it borders on too much information, when asking prices stretch above $300K it is difficult for buyers to be too informed about a potential purchase, especially when that purchase likely will be viewed in large part as an investment. I won't repeat everything here from the ad other than to note what probably is this Speedster's biggest flaw, which is that it lacks its original engine. It now contains a period-correct engine from a '64 356C that has been converted to 1720CC SC specifications. In most other respects this Speedster presents quite well and serves as a reminder of what stripped-out motoring was like from a car also capable of providing everyday transport.
-Rob