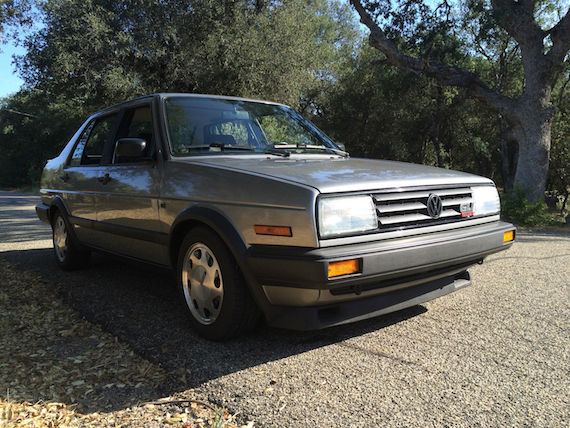 For those A2 fans out there, the Volkswagen Jetta GLI 16V we featured earlier in the month is back up for offer. Beige is rarely so interesting…
The below post originally appeared on our site July 2, 2015:
One of GCFSB's own, Dan, recently dabbled with a 1989 Volkswagen Jetta GLI 16V. While the world was hot for the GTI, the four-door equivalent, the Jetta GLI, went rather unnoticed for two different generations. This was a bit of a thinking man's performance sedan, whereas the GTI appealed to the boy racer in us all. While I see a fair number of tuned Mk2 Jettas out there, many of them GLIs, unmolested examples these days are almost all but nonexistent. This 1989 Jetta GLI 16V for sale in California has but 51,000 original miles on the odometer and brings back a lot of good memories from my childhood.
Year: 1989
Model: Jetta GLI 16V
Engine: 1.8 liter inline-4
Transmission: 5-speed manual
Mileage: 51,000 mi
Price: Reserve auction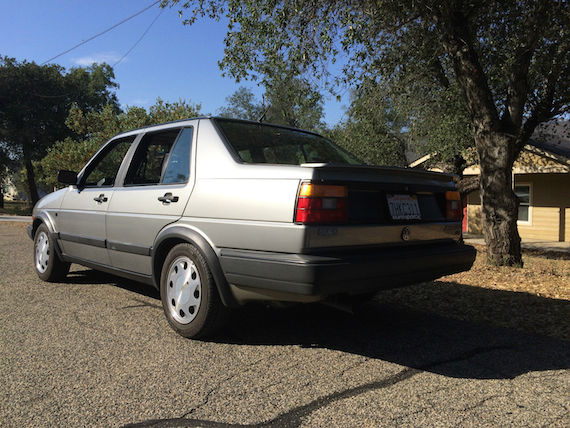 I'm looking to sell my 1989 Volkswagen Jetta GLi 16v Wolfsburg Edition. I am the second owner and it only has 51K original miles. German built GLi. The car is in excellent shape both mechanically and cosmetically. 99% all OEM. The only items not OEM are as follows: Bilstein/Neuspeed sport suspension (OE springs included with sale), EuroSport cat back exhaust, EuroSport front upper stress bar, Pioneer CD player, cold A/C that has been converted to R-134 and OE Euro spec intake cam (OE US spec intake cam included). I have service records and receipts that date back to day one. I am including the OE VW window sticker and VW brochure from new as well.

All service items are up to date which include; spark plugs-wires-cap-rotor, all 4 brake rotors and pads, oil and oil filter, all belts including the cam belt and tensioner, low temp fan switch with low temp stat and coolant, tranny fluid and fuel filter. All work performed on the car was completed by VW guru Scott Wood of Stray Dog Garage (formally of VW Specialties). All items used were VW OE or its equivalent. Another rare item is included – a set of OE VW corduroy floor-mats that are in near new shape (when was the last time anyone has seen those). The interior is near flawless. No rips, tears or stains. The only item that might need attention is the headliner. It sagged in the rear a bit. It has been stuck back up and looks fine. She does have a sun-roof that works perfectly and does not leak.

The paint is in great shape and feels like glass. There are a few nicks here and there from use over the years. The car is 99.9% rust free. There is a small spot of surface rust forming by the lower portion of the driver's side windshield. The windows and window rubber are as new – no cracking. Overall she is in great shape. No leaks or rattles. Just get in and go. I am selling her because I need to get a larger car for my family. I have two kids less than 5 years and they are growing out of the back seat. The gas MPG is great as well. I have gotten up to 34MPG for highway driving and 30MPG for mixed. Pretty good for an 89!!! Any questions please feel free to ask. If you would like to come by and see her in person and go for a spin that is fine too. Please call me at (7 six 0) 7 six 5 – zero 1 6 two (no texts as it is a land line) or eMail through eBay. Any bidders with less than 10 feedbacks or any negative feedbacks need to contact me before bidding or your bids will be cancelled. Thanks for looking, Kevin.

We saw a 1986 Jetta GLI with 75,000 miles sell last August for $3,650. A starting bid of $7,000 is fairly stiff, even if this is a later car with a bit less miles. You can get into faster and more prestigious vehicles for this price, such as a slew of 1990s Audis with the S badge on their trunk. However, there is a rabid set of VW enthusiasts out there who are loyal to the brand and I'm sure an honest, original car like this will garner a lot of interest.

-Paul