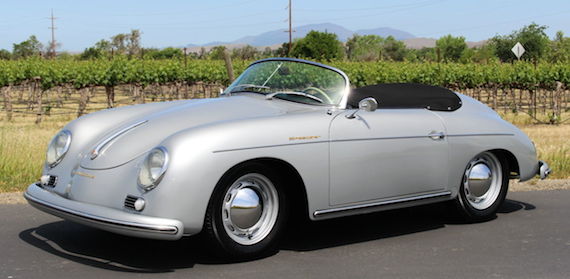 While many of us deride the American car market for what it deems verboten to us, we have to remember that years ago, it was this very same market that helped shape some of the model lineups of post-war German automotive manufacturers. Such was the case with this car, the Porsche Speedster. Egged on by importer Max Hoffman, Porsche decided that a more basic, lower cost model would appeal to this market. The Speedster was quite successful by Porsche sales standards. Curiously, this more basic model has become one of the most prized models of the entire 356 range. This 1957 example for sale in California has been fully restored was formerly owned by actor Michael Parks.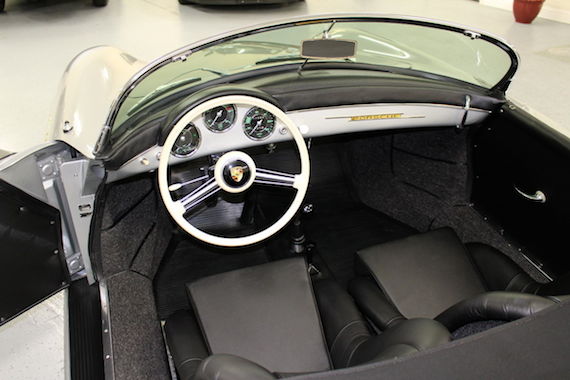 Year: 1957
Model: Speedster
Engine: 1.6 liter flat-4
Transmission: 5-speed manual
Mileage: 77,022 mi
Price: Reserve auction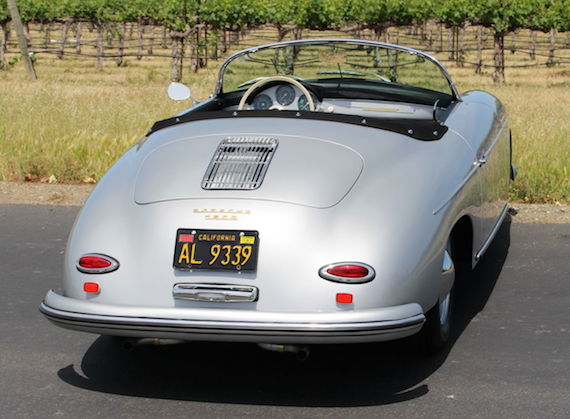 1957 Porsche 356A Speedster in fully restored condition. Solid California car with excellent metal throughout, zero rust. Silver exterior with black leather interior. Undercarriage was taken to metal and sealed with epoxy primer for 30 years rust protection. Engine is a correct 1957 case completely rebuilt in excellent running condition. Too many details to list: runs, drives, and looks superb. Previously owned by Michael Parks, an actor whose career spans four decades and comprised over 50 films and TV shows. Quentin Tarantino has called him "the greatest living actor" (His role as a sleazy Columbian pimp in Kill Bill 2 is classic). During the 1960's Michael Parks was expected to be the "next James Dean" because of his persona as well as his looks. In the early 1960's he toured the states doing a one-man show called "My Friend Jim" in which he wore a red windbreaker and channeled Dean in a monologue. He also had a popular TV show called "Then Came Bronson" that aired in 1969 and 1970, much of which was filmed along the Central California Coast. I found this blog entry from someone who encountered Mr Parks driving this Speedster in 1973:

"I then moved to California in 1973 and ended up working opening shift in a gas station in Santa Cruz right where Highway 1 comes down the coast and through Santa Cruz and turns into the freeway headed south. I had just opened up in the early dawn light and this old bathtub Porsche convertible pulls in, and out pops Michael Parks, watch cap, leather jacket and all. He had driven all night up the coast highway from LA. I got to tell him how much it meant to me to ride across the Bixby Creek Bridge and he seemed very much like the character in the show. He told me he had grown up around Big Sur and the bridge scene was his idea.
Thanks for the site and for stirring up all that old stuff.
Jack W."

Mr. Parks sold the Speedster to a Los Angeles private detective in the early 1970's, and the detective stored the car in the Palm Desert for almost 40 years, untouched. He eventually developed cancer which caused him to lose part of his jaw, and he was fitted with a prosthetic face. He could not speak and communicated with me by email to sell the car. The story sounded outlandish, but when we arrived in the Palm Desert there was the car, just as he had written. And here it is, all finished. We are a licensed California dealer: California retail buyers will be responsible for tax and license fees. Overseas buyers are welcome: We work closely with a local shipper in Hayward, California, who offers competitive rates. Please complete any inspections prior to bidding. Thanks for looking!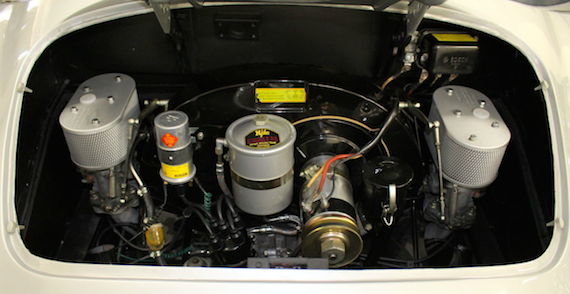 The one problem with the Speedster is that there are so many convincing replicas out there that any normal passerby will have little clue that you are in a rare, authentic example. The year 1957 was when Speedster production hit its peak, but even then only 1,171 examples left the factory. A Speedster in restored condition such as this should pull between $200,000 to $300,000 in today's market, depending on provenance.
-Paul