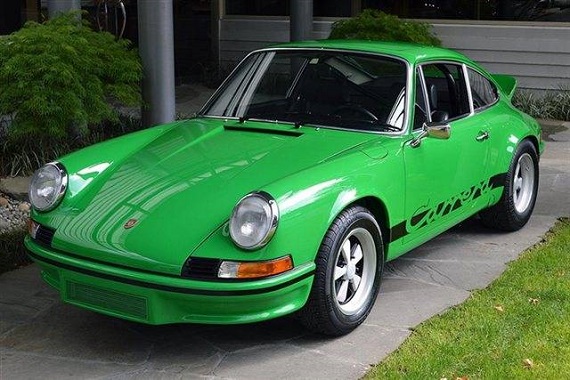 Ask a gaggle of Porsche enthusiasts what they would consider the most iconic production Porsche and you'll likely get a small variety of answers. But one of those possibilities is almost certainly a version of the car seen here, the 1973 Porsche 911 Carrera RS. Built to satisfy homologation requirements so that Porsche could compete in Group 4 racing, the Carrera RS was an instant success, more than tripling the necessary 500 model production run. Offered in both Lightweight and Touring trim, the RS combined increased engine output with lower weight and improved aerodynamics to push the performance envelope and provide its owners with the ultimate road-going Porsche of the day. The example we see here is a fully restored 1973 Porsche 911 Carrera RS Touring that has received engine work from Kremer Racing to increase displacement from the standard 2.7 liters to a full 3.0 liter flat-6. The Kremer brothers were a well established Porsche racing team who went on to win the 1979 24 Hrs of Le Mans at the wheel of their Kremer Porsche 935.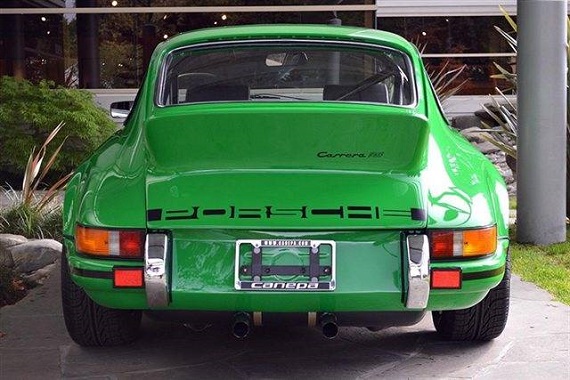 Year: 1973
Model: Carrera RS
Engine: 2.7 liter flat-6
Transmission: 5-speed manual
Mileage: 18 mi
Price: Inquire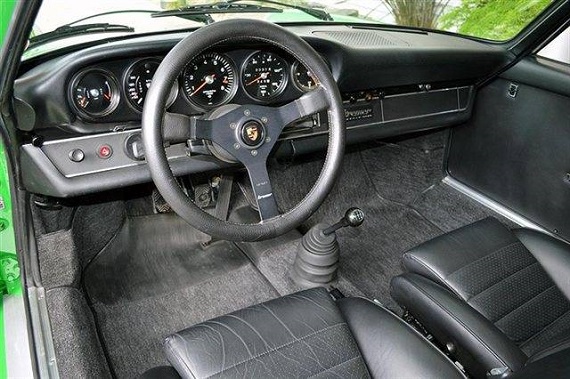 1973 Porsche 911 Carrera RS VIN: 911 3 600376 Engine: 6392402 Original Engine: 6630377 Original Transmission: 7830374 Porsche is always at its best when met with a racing challenge. The immensely collectable 73 Carrera RS is the result of such a challenge. Built as a response to Ferrari's 365 GTB Daytona Competizione, Porsche created the light, nimble, and quick RennSport 2.7. Of course the new race car needed to be homologated for FIA Group 4 racing to take on (and ultimately defeat) the big Ferrari. According to the rules Porsche needed to build 500 road cars to meet the requirements. In 1972-73 a special production run of 500 cars handily accomplished the task. This RS is one of those first 500. Originally sold in West Germany in January of 1973 this early RS is a M472 code Touring version. Being a first-run Touring chassis it shares some of the features of the rarer M471 Sport lightweight such as the lighter doors, roof, hood, and fenders. 9113600376 was prepared in 1977 for Club Sport competition by the famous Kremer brothers of Porsche Kremer Racing in Cologne, just two years before they would shock the world by winning the 1979 24 Hours of Le Mans with their Kremer Porsche 935 K3. The stock 2.7 liter engine was upgraded to a 3.0 liter by Kremer (producing 241hp, a 34hp increase over stock.) In addition to the engine work an RSR front oil cooler, Cibie lights, factory roll bar, Eberspacher gas heater, and rally clock were also installed. Shortly after this work was completed the car was sold to P. Siragna of Zurich, Switzerland. He would keep the car for two years, and eventually sell the car to Christoph Schneider also from Zurich. Schneider drove it regularly, and in 1985 he would have the engine completely rebuilt with new heads, pistons, valves, and oil cooler. At the same time the transmission was rebuilt with a new gear set and syncros. Schneider would go on to drive the car for a few more years before he stored it from 1989 to 1999. Georg Weing of Laupheim, Germany would resurrect the car in 2000, then in 2002 the car was purchased and imported to the US by Don Ahearn of Brightwater, NY. Ahearn had Eurometrix rebuilt and convert the MFI 2.2 throttle bodies from 42/42 to 44/42, and do a stack conversion. In 2004 Duane Hyatt purchased the car from Ahearn, and brought it home to Scottsdale, AZ. Duane Hyatt was a noted Porsche enthusiast, and owned some fantastic Porsches including a 1968 police car, a 67 911S, and this Kremer 73 RS. He was known for his passion to make them perfect; whether it was the paint, the stance, the engine or interior. His cars were incredibly well sorted, and he and his wife Charlie were a fixture on the R Gruppe and Early S registry scene. Duane would immediately engaged Pebble Beach winner Steven Loy to help him perform a full concours level restoration. Once the car was stripped down to the tub the chassis was placed on a surface plate and found to be only a fraction of an inch out of factory specification. It was straightened, and as a result it handles and tracks better than any new RS. (Due to period production methods, all 911s from this period were not perfectly straight when new from the factory) Careful consideration was paid to retain the original Kremer Racing modifications and upgrades. The weathered Kremer steering was replace by the very last period steering wheel from Kremer, hand delivered by Erwin Kremer himself, who remembered the car fondly. Notable upgrades are the cross-drilled brakes front and rear, Bilstein shocks, and aluminum rear trailing arms. Every component of the car was either restored or replaced with correct factory parts, allowing the car to present in as-new condition. When the time came to repaint the car it was shot in its original Viper Green, and the Lightweight configured interior was done its original black. After the completion of the restoration the car competed at the Porsche Parade and finished second in class. It was also shown at the 2007 The Quail, A Motorsports Gathering during the Monterey Historic week. Included with the car are the original Kremer work orders, full importation documents, service records from 1979 to 1988 while the car was in Zurich, Switzerland, verification letters from Porsche, tools, manuals, jack and compressor. Porsche options: Electric Sunroof Electric Windows Manual antenna, 4 Speakers 3-point seat belts Touring Package About the 911 Carrera RS: 0-62 mph: Touring – 6.3 seconds, Lightweight – 5.8 seconds Top Speed: Touring – 149 mph, Lightweight – 152 mph The Carrera RS is one of the most revered cars in the Porsche pantheon, and is regarded as one of the finest sports cars of the 1970's. Revealed at the 1972 Paris Auto Show, it was a factory special built to meet the homologation rules of FIA Group 4 racing. The RS (Rennsport, meaning motorsport or circuit racing) was almost invincible at Le Mans, Daytona and the Targa Florio, often winning outright against pure racing prototypes. It's not often you would see the same car on the podium one day, and passing you on the open road the next. The RS is conclusive proof that one of Porsche's greatest skills was building a car that was immensely competitive at the track, and equally useable as a street car. Compared with a standard 911S, the Carrera 2.7 RS had a larger engine (2687 cc) developing 207hp (210PS, 154 kW) with MFI, revised and stiffened suspension, a ducktail rear spoiler, larger brakes, wider rear wheels and rear wings. In RS Touring form it weighed 1075 kg (2370 lb), in Sport Lightweight form it was about 100 kg (220 lb) lighter, the saving coming from the thin-gauge steel used for parts of the body shell and also the use of thinner glass. In total, 1580 were made, comfortably exceeding the 500 that had to be made to qualify for the vital FIA Group 4 class. Carrera production started with chassis number 9113600011 (produced in 04/1972) till 9113601590 (produced in 07/1973). There were only 1580 original Carrera Rs's divided in roughly three production batches of 500 each. Of those 17 were homologation specials, 200 were Sports versions with M 471 code, 1308 were touring version with M 472 code, and 55 were racing specials coded M 491.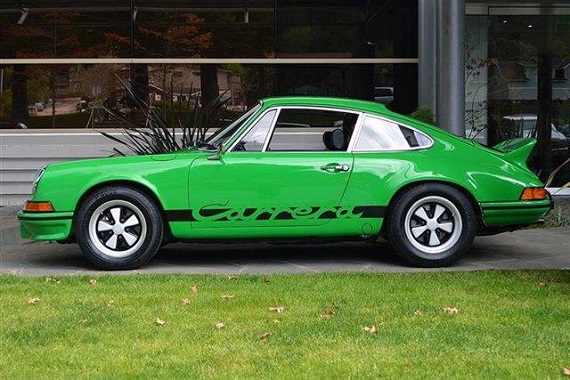 The ad listing provides additional details on the history of this particular car so there's no need for me to recap those details here. Needless to say, no Carrera RS is inexpensive, with some selling for more than $500K, and while this car may not see that sort of price due to its engine work and other assorted modifications, it is certain to garner plenty of attention and a very high price. It is absolutely stunning!
-Rob