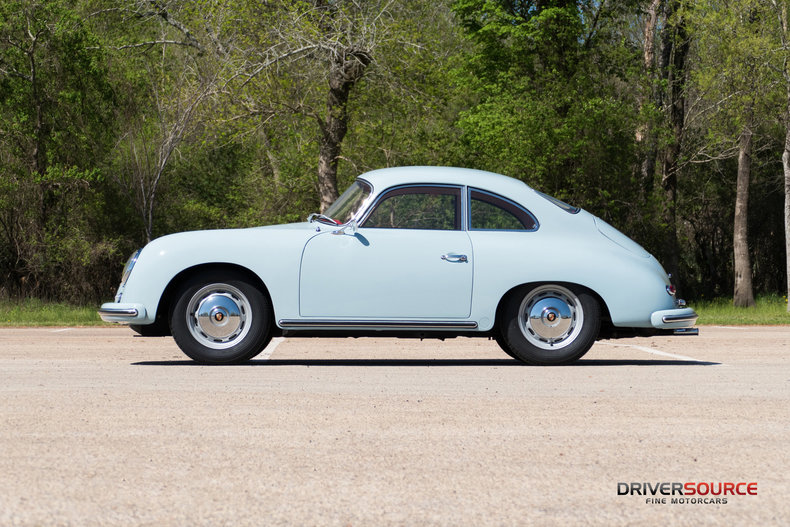 I want to turn back the clock from yesterday's very pretty Aetna Blue over Bordeaux Carrera 4S to see a somewhat similar early example of that color combination. Admittedly, the comparison here isn't exact since the colors are not precisely the same, but I think we still get a sense of the way these colors work on a vintage Porsche and a sense of the inspiration for that modern example. Here we have a Meissen Blue 1959 Porsche 356A 1600 Reutter Coupe, located in Houston, with a Red leatherette interior. On this 356 the shade of blue is a little lighter and the shade of red is a little brighter. Nonetheless, we end up with an equally pretty Porsche and one that surely would be a prized part of any collection.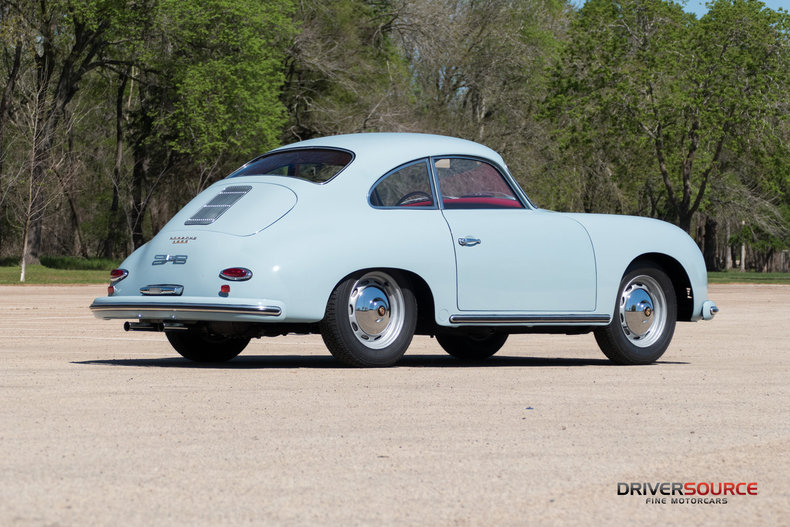 Year: 1959
Model: 356A
Engine: 1.6 liter flat-4
Transmission: 4-speed manual
Mileage: 44,430 mi
Price: $189,500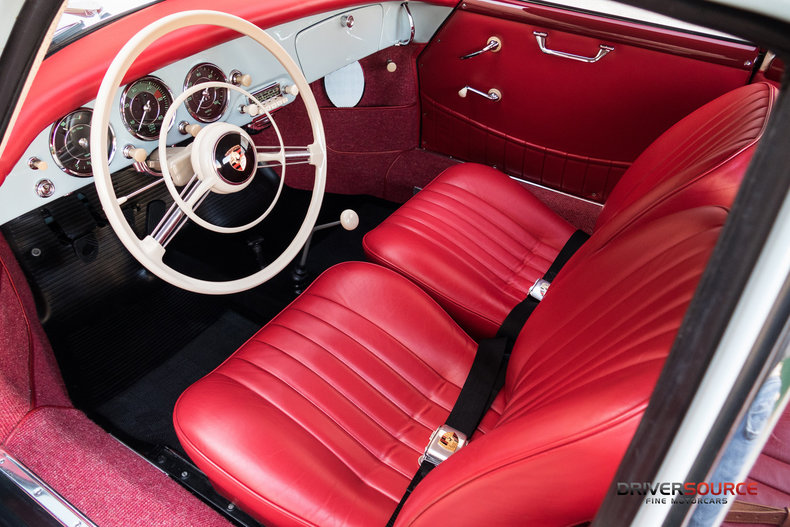 1959 Porsche 356A 1600 Reutter Coupe

Chassis No. 107183

Engine No. 73642

An Extraordinary, Early 356 in Meissen Blue over Red Livery – as Delivered

Original Numbers-Matching Engine

Verified by Porsche Kardex & Porsche Certificate of Authenticity

Stunning Restoration with Over $60K in Recorded Expenses

Incredible Driving Example, Suitable for Display & Vintage Touring

Accompanied by Correct Manual, Tool Kit, Jack & Spare Tire Assembly

The 356 model line expanded and evolved throughout the 1950s and quickly gained an enthusiastic following with each subsequent new variant. Mechanical improvements and additional comfort increased drivability. Further changes took place in 1958 with new steering and the now twin carbureted, 1,600 cc engine reverting back to standard bearings and cast-iron cylinders. With their beautifully minimalistic design and carefree drivability, 356A's and Pre-A's have become highly sought after and truly represent the core essence of Porsche.

Offered here is a sporting example of the last model year 356 A Coupe. 107183 was completed on March 31, 1959 as a U.S. equipped Ruetter Coupe, distributed by Hoffman Motor Car Company of New York, wearing exquisite Meissen Blue paint over Red leatherette upholstery, as confirmed by accompanying Porsche Kardex and Certificate of Authenticity. In the previous decade, this California car was the recipient of a comprehensive restoration to outstanding results of which still present very well today. The previous caretaker whom commissioned the effort, coordinated top specialists around the Costa Mesa area to complete the rotisserie restoration, with over $60,000 in recorded expenses at the time. All mechanical and electrical systems were addressed and refreshed to new, as were the cosmetics, including a fully tailored leather cabin with all instruments in proper working order. The car displays tight panel fit and excellent, thin finishes as the car was properly stripped beforehand. Its body #183 appears stamped on the rear deck lid, which covers its original and appropriately displayed 1600cc engine. A corresponding 10/58 date stamped gas tank resides up front, as does the matching spare tire assembly with leather strap, original jack and a concours quality tool kit.

Drivability and power is absolutely dialed in. We recently had the privilege to display the Porsche at a local Cars & Coffee event in Downtown Houston, and not only was the reception overwhelming, but we were beyond impressed with the 356's handling and ease of use in modern traffic and freeway speeds – a truly versatile instrument for nearly any vintage automotive event. Quality "A" coupes are becoming very difficult to source as Pre-A's have sky rocketed in values. They are the essence to the birth of Porsche and will surly continue to appreciate in popularity – especially in unique factory form, such as this example. 107183 offers many possibilities to its next caretaker and is now available for worldwide purchase and delivery from our Houston, Texas showroom.

$189,500.00

To learn more about this vehicle, please contact our sales department at (281) 497-1000 or sales@driversource.com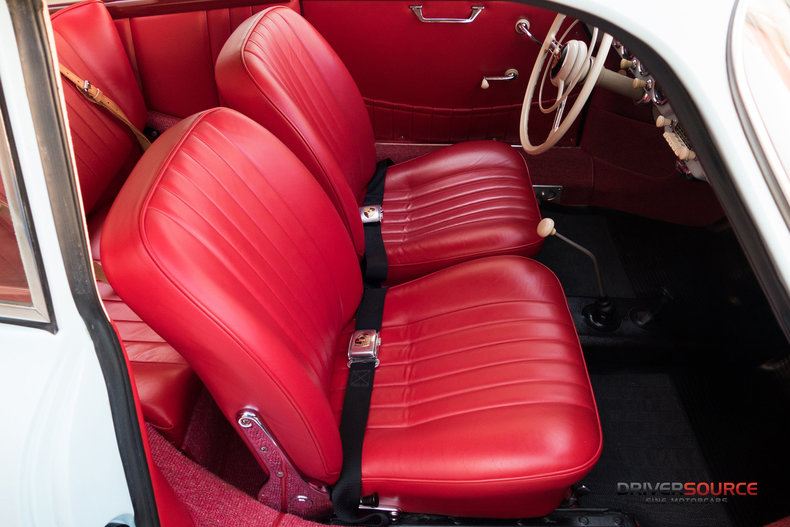 One thing that immediately becomes apparent when looking at this 356 is its relative simplicity compared with a modern 997. That should be somewhat obvious but the spartan nature of a 356's interior really drives the point home. We are left with a seemingly more artistic design bereft of mechanical gadgetry that focuses our attention on these beautiful colors. The Meissen Blue painted dash pairs wonderfully with the red interior carpet and seating and both are tied together by a cream and chrome steering wheel and other interior accents. The green of the gauge faces provides additional stimulation for the eyes. These are the sort of vintage touches that make so many classic cars desirable today and are certainly one of my own favorite parts of the 356. It looks both expensive and minimalist.
All in all this is an excellent looking example of these classic Porsches. It is said to be numbers matching and the color combination is original to the car. It sounds like we have a little bit of its history as well, though how comprehensive is not quite clear. We do know that it was restored in the last decade and in its current state appears to have fully retained the excellent results of that restoration. Given its early nature as a 356A Coupe and its current condition and configuration I'm sure that it will attract a pretty high selling price (and the asking price itself is quite high), though it must be said that if your goal is to own a 356 Coupe one of the later models – and perhaps in not quite as good condition – can be had for far less money.
I suppose if you really had the funds pairing this 356 as a museum piece and occasional parade or concours entry with the modern 997 as an everyday driver wouldn't be the worst decision you could make. You certainly would end up with two beautiful Porsche designs from quite distinct periods in the marque's long history.
-Rob