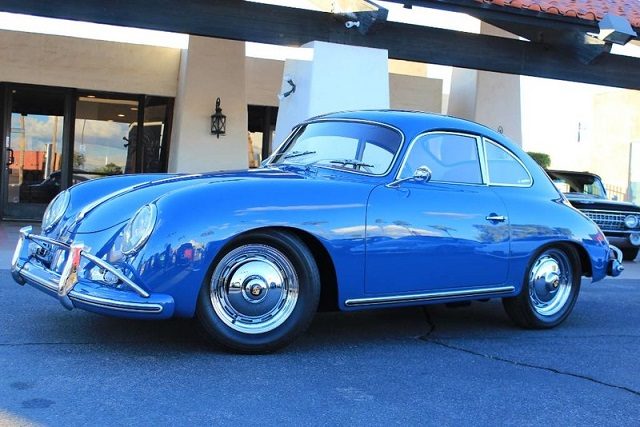 I've been known to look quite longingly at the Porsche 356. I love the shape and vintage style and find them to possess the sort of timeless design that brings us back to various vintage cars. So I'm always prone to being attracted to very pretty examples in interesting colors. So it should be no surprise that this restored Aquamarine Blue 1959 Porsche 356A Coupe caught my attention. But once I took a look suddenly I realized this 356 was much more special than it seemed at first blush. That it had a sunroof was pretty apparent from the initial ad picture. What was less clear was the wonderful red interior, but the biggest surprise came as I made my way through the pictures. There were no bucket seats! Benchseat!
Of course, my first thought after seeing this combination of rarities was, "Please let there be some documentation." Thankfully the seller has provided the CoA and it confirms what we see. More thorough verification still will be necessary, but we're off to a good start with what should be a very rare specimen.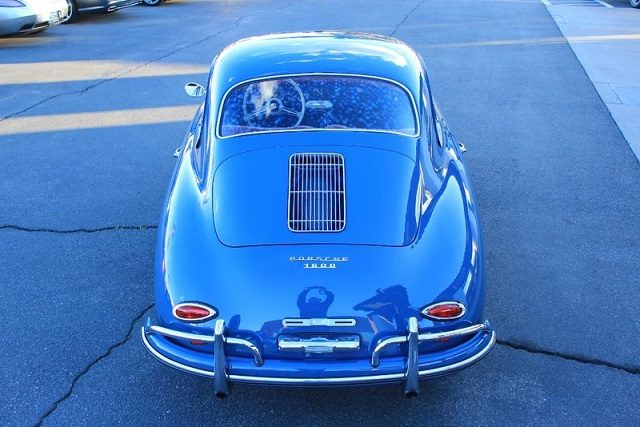 Year: 1959
Model: 356A
Engine: 1.6 liter flat-4
Transmission: 4-speed manual
Mileage: 38 mi since restoration
Price: $199,900 Buy It Now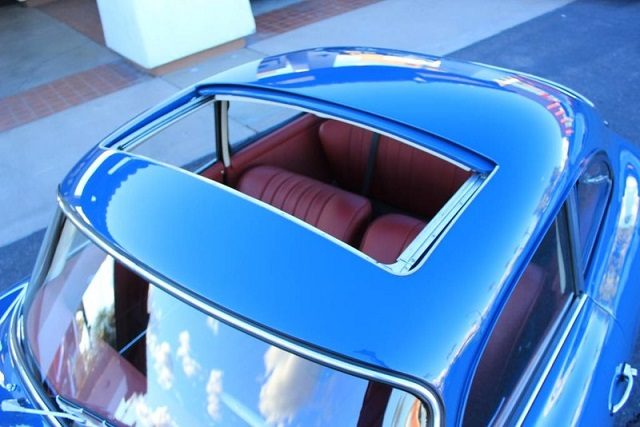 959 Porsche 356A Coupe. 1600cc, 4-Speed Manual Transmission. Aquamarine Blue paint w/Red interior. Full Compehensive resoration to match the Certificate of Authenticity with less than 100 miles. This 356 was completely taken apart, and every nut and bolt was restored. This example exudes a subtle elegance that does nothing to distract from the body's flowing lines. Nicely optioned from the factory. Rare Factory "Golde" Sunroof, Sealed Beam Headlights, USA Bumpers, Fog Lights in Bumper, Ventilated Chrome Wheels, Rare Factory Bench Seat, Electric Time Clock and much more. Porsche Certified Certificate of Authenticity. Numbers Matching Drive Train. Vin# is 106237. Engine # 72684. Transmission # 25713. Aquamarine Blue Exterior # 5707. Red Leather Interior/A. Spare tire and Jack included. Amazing condition from the ground up. All origional. Spottless inside and out. Pictures dont do any Justice to this Car. Must see in person to appreciate. Please give us a call for any questions. 480-990-1554 ext. 1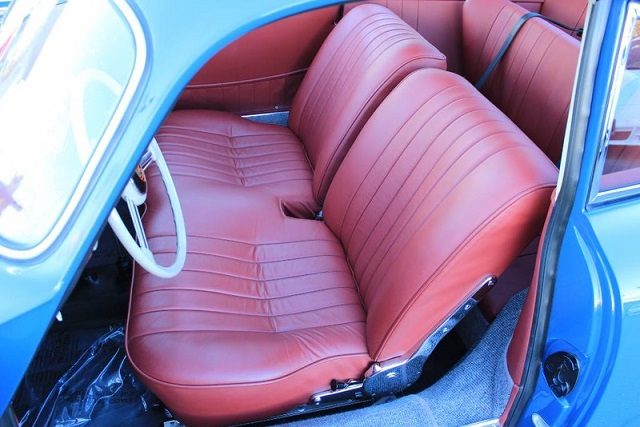 I have come across, and believe also featured, a couple of 356s with a sunroof. They're rare, but we do see them now and them. The benchseat, however, is an entirely new find. Never seen one before. Were I a shopper in 1959 I'm not sure it's something I'd opt for given the sporting nature of the car. Here in 2017 though is an entirely separate matter. By modern standards the 356 is more cruiser than sports coupe and, frankly, there's something about a benchseat that really brings with it a vintage flavor that feels at home in any car of this age. Add to that the collector appeal of such a rare option and suddenly a benchseat becomes a highly sought after item. I've read that the seats themselves go for significant money so I can imagine the same will hold true for a car with one fitted. Combining these two rare options certainly makes for a rare 356 and we haven't even gotten around to the very attractive and rare color combination. This is truly a unique Porsche and one that should garner significant interest.
Will that interest be enough for this $200K asking price? That may be another matter. This is sure to be a high priced 356, but I see coupes priced below $100K fairly frequently. Are they in this condition? Not usually. Do they have these options? Of course not. It's still a significant premium. Were everything in completely original condition then we may see this sell pretty quickly, but on a restored model, as pretty as it looks, I'm less sure. It's worth keeping an eye on though and I'm confident it will be a while before I come across another quite like it.
-Rob