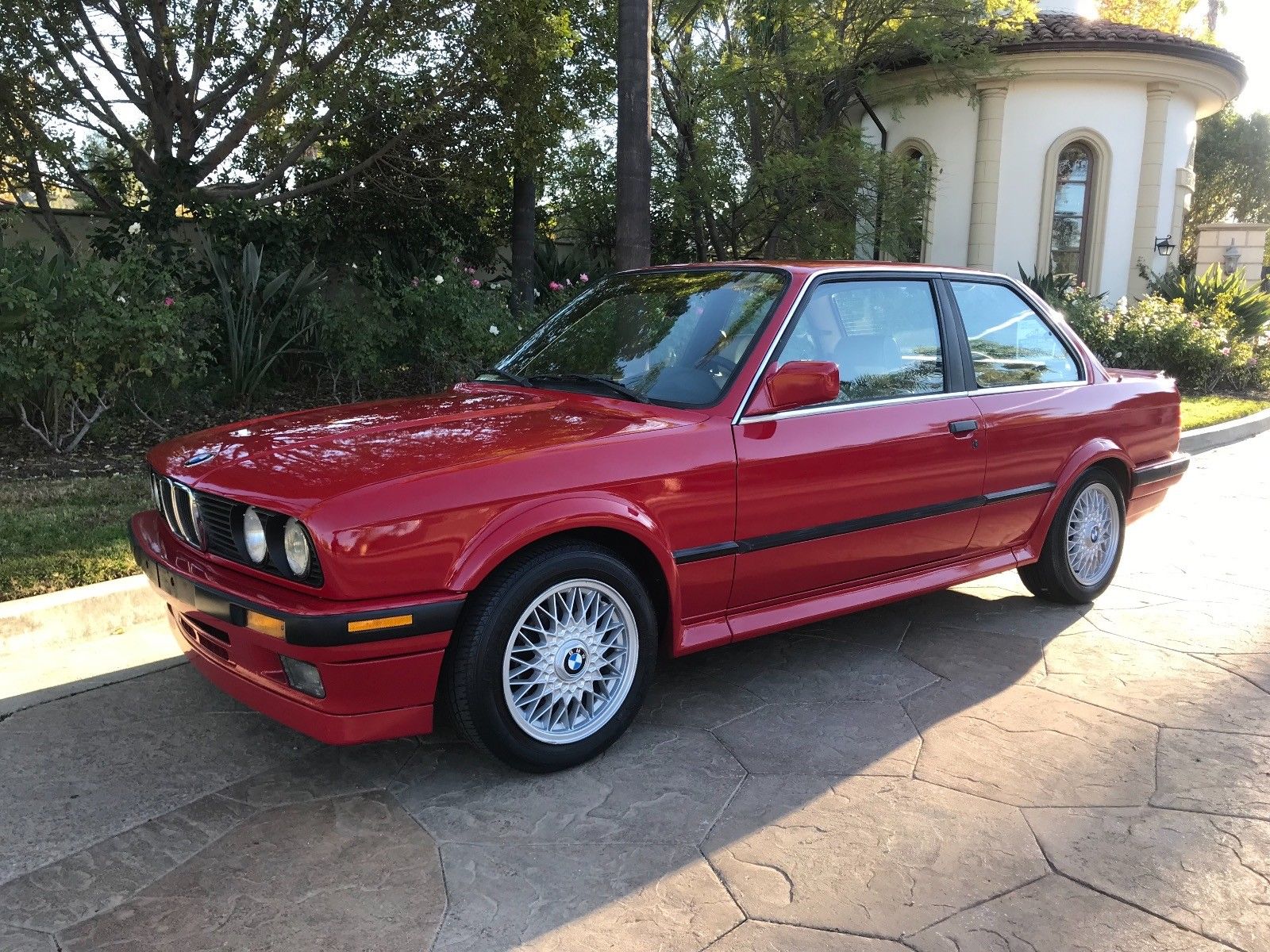 I've been accused of ignoring the E30 325ix. True enough, I've flatly declared that I'm much more an Audi fan from the period. But the BMW was a pretty interesting development from Munich, and as these are still market darlings, it's certainly worth taking a look.
While BMW wouldn't launch the U.S. spec ix until 1988, Europeans were introduced to the concept in 1986. Unlike Audi's quattro system which utilized a rearward driveshaft tacked on to a front-wheel drive transmission output shaft, BMW mated a transfer case and two viscous couplings, which effectively were front and rear limited-slips. This was very different from Audi's contemporaneous system, which relied on the driver to lock the rear and center differentials that were otherwise open. The 325ix was able to be mated to an automatic transmission long before Audi would do so in the small chassis. BMW's system was also more rearward biased, with 67% of the power being sent to the back wheels. While still more prone to understeer than a standard 325i, it was less so than the Audi.
Then, of course, there was the power difference. Because of suspension and other changes between the front-drive and quattro Audis, the system added about 225 lbs to the curb weight, while BMW claimed the ix system added around 150 lbs. Since both cars made use of otherwise standard engines, the advantage was again with the BMW. The M20B25 cranked out nearly 170 horsepower, some 40 more than the NG 2.3 inline-5 shared in the 80/90 quattros. The only real external differences between the 325i and 325ix were the addition of the color-matched fender flares and rear spoiler, slightly higher ride height and 15″ BBS mesh wheels, and the simple addition of one "x" behind the normal designation. Weren't times so much more simple?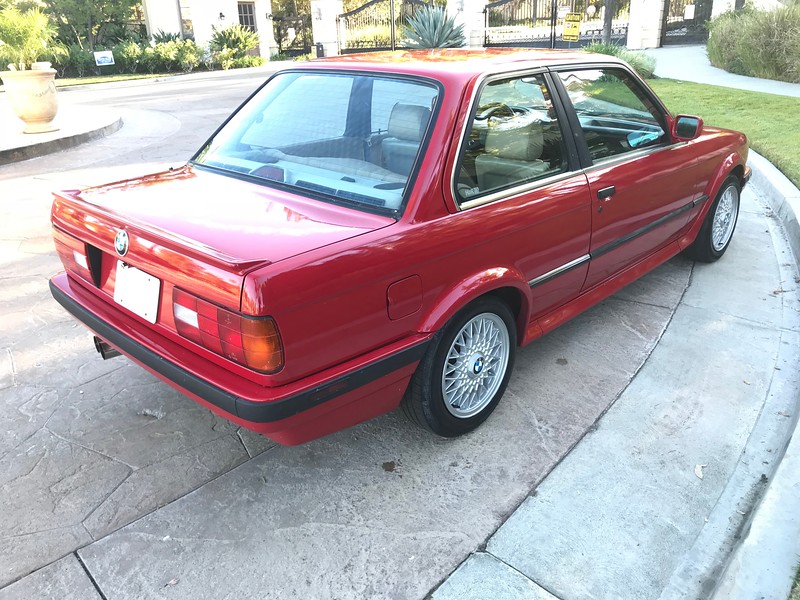 Year: 1989
Model: 325ix
VIN: WBAAB9302K8137148
Engine: 2.5 liter inline-6
Transmission: 5-speed manual
Mileage: 151,200 mi
Price: Reserve Auction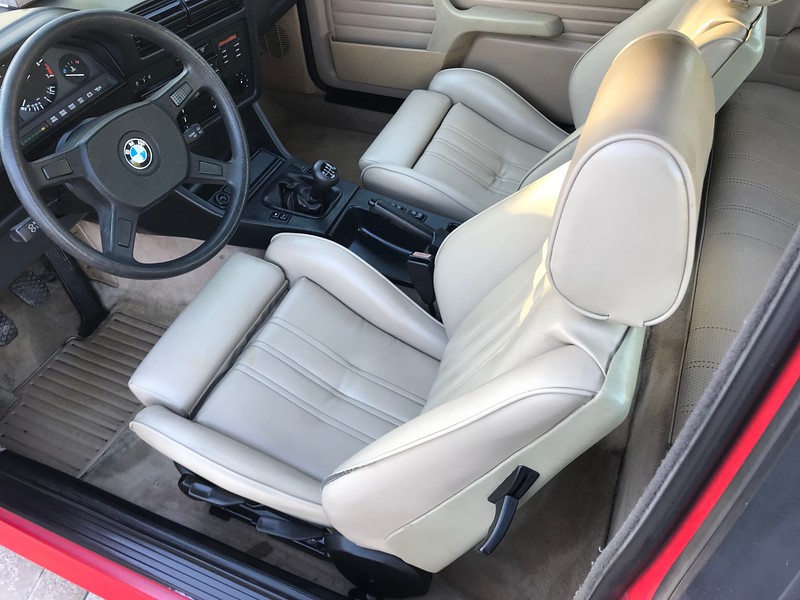 DESCRIPTION

For sale is a very well maintained 1989 BMW 325ix e30 Manual Coupe. Odometer reads only 151k original miles documented with CarFax & Autocheck report. Comes with clean and clear title with no accidents. An excellent example of this year and model. No signs of abuse. Adult driven. Always garaged, properly maintained, and serviced while in my possession. All services are up to date, with minor service performed within last 200 miles and a major service in 2015 by the previous with a receipt over 4k for the work done to it including a motor rebuilt. Runs and drives excellent. Drives as good as it looks. It is in excellent shape for a 28 year old car, showing less than average wear and tear even before the brand new paint job that still needs a good color sand which has not been done yet.

Please read this ad top to bottom carefully, and please pay particular attention to the terms and conditions at the bottom of the ad. If you do not agree or are unclear with anything described or stated please contact me prior to bidding as the last winning bidder was unresponsive and that is why the car is being posted again. A 24 hour $500 deposit must be made after the auction has ended via PayPal.

Contact me with any questions prior to bidding. Serious bidders only please! Bid with confidence.

DETAILS

ENGINE

2.5 liter, runs excellent, all service and maintenance up to date, Minor Service done within 500 miles includes:

fuel, air and oil filters
new spark plugs
coolant flushed
new fluids: oil, coolant, transmission, and differentials
new timing belt
new tensioners
new water pump

While a major service was done in 2015 by the previous owner includes:

new cam seals
new head gasket and new head bolts
new drive train belts
new oil cooler line
new cylinder head with new valves and springs
new front and rear crank seals
new oil and gas pumps
new gaskets and o-rings
new alternator and starter
new thermostat
TRANSMISSION

Manual 5 Speed transmission, recently serviced

INTERIOR

Tan BMW interior, excellent condition (as seen in photos), front seats have been swapped out with newly reupholstered leatherette e30 325is sport seats carpet could use some work, dash is crack free as seen in pictures.

PAINT AND BODY

Paint and Body are in excellent condition and 100% rust free and all VIN's are matching a very recent repaint has been done in its factory BMW Red (Brilliantrot) color which still needs a good color and wet sand to be in excellent condition. Before the repaint there were no dents or scratches the paint was done because of oxidation on the hood and roof.

WHEELS AND TIRES

Factory 15" BMW BBS IX Basketweave wheels, tire condition is about 75%

ELECTRICAL AND ACCESSORIES

Factory A/C system that works well and blows cold at the highest setting only, power windows work great and so does the manual sunroof

EXHAUST

A Magnaflow exhaust has been installed giving the car an extra growl than it did with the stock exhaust (sounds amazing)

SUSPENSION AND BRAKES

Brakes are in excellent condition and the suspension has been upgraded with Bilstein shocks upfront and in the rear along with H&R springs.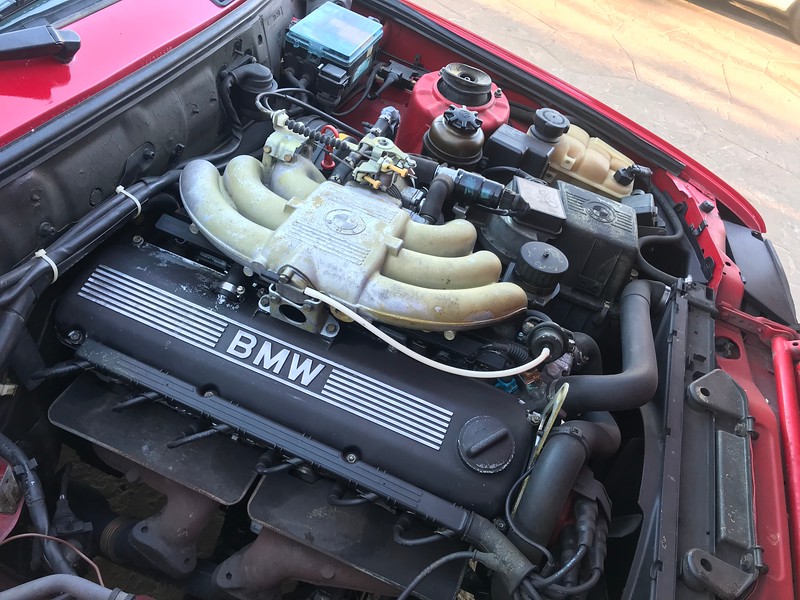 This 325ix stood out to me with its gleaming exterior, helped by a recent repaint. Rust is a big concern on these cars, but this one is claimed to be fixing clearcoat issues. The quality of the job is certainly not top, with overspray in the jambs. Strangely, the seller claims the car is 308 Brilliantrot while the VIN decodes to 138 Zinnoberrot. Every other 325ix I've seen from the period is Cinnabar, so something is amiss. It's a minor point and could be a clerical error, but it might also be the wrong color. With lowered ride height, clean BBSs and fresh paint, though, the car looks great even if it's not perfect. The VIN lists the interior as 192, which would conform to Natur leatherette for '89 and what appears in the back, but the what appear to be 0206 Pearl Beige leather sport seats work well in front with the look – though if you're a perfectionist, the tone differences will drive you nuts.
The car is claimed to have recent maintenance, but one big item's health isn't mentioned – the transfer case. The splines on the gear-driven setup can wear if not properly maintained, and the replacement parts can be pretty hard to and expensive. But clean 325ixs still draw big bids – much higher than equivalent Audis. It's not unusual to see numbers close to $10,000 today. This two-door ticks many of the right boxes for a clean driver, and bids are already past $6,500 with the reserve on – but I expect it should not fetch top dollar because of the mileage and issues.
-Carter