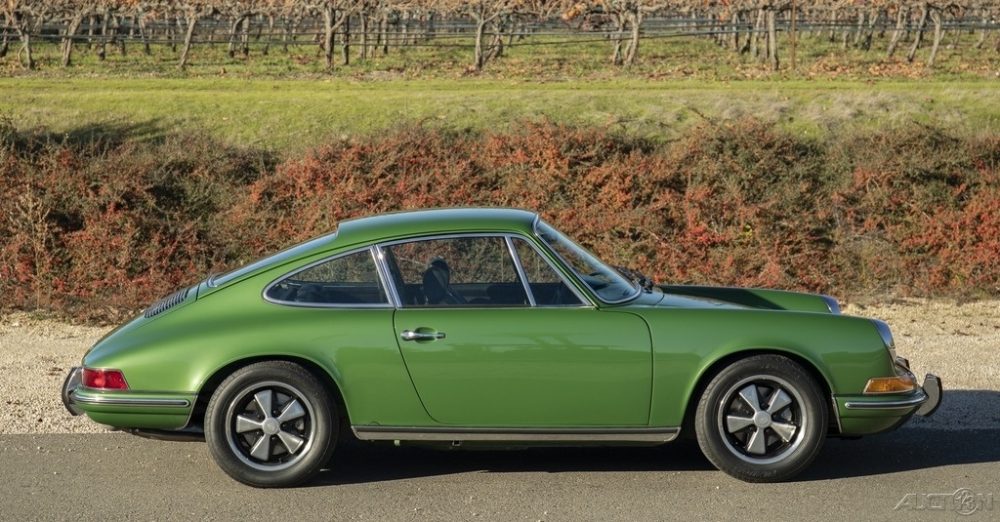 I find myself very captivated by this color. This is a Metallic Green 1971 Porsche 911T Coupe, located in California, with Black leatherette interior and 55,592 miles on it. It is said to have been freshly restored and certainly looks it.
But back to this color that has so drawn my attention. Metallic Green is both pretty descriptive though also, relative to many other Porsche colors, completely generic. I usually am somewhat ambivalent to metallic greens in general. They're fine colors, but they don't tend to wow me the way some of Porsche's non-metallic greens are capable of doing. Dark metallic greens – along with dark metallic blues – especially fit that profile. I like them and I understand their appeal, but usually am left thinking, "That's nice." This is very different and I suspect there is some effect of the lighting and photography at play. Perhaps this is as dead gorgeous as this color can get and given that it's outdoors you may never replicate the look. But I love it.
This particular color only was available from 1970-1971. There may be other similar greens in the Porsche catalog. It reminds me quite a bit of Kermit, the 1979 911SC that was painted Scirocco Viper Green. Perhaps this was the precursor to that color. As I see it here this Metallic Green possesses just the right balance. It finds a sweet spot between light and dark with the metallic sparkle amplifying everything and holding it together. I'm sure I've come across it previously, but if I did it didn't look this good.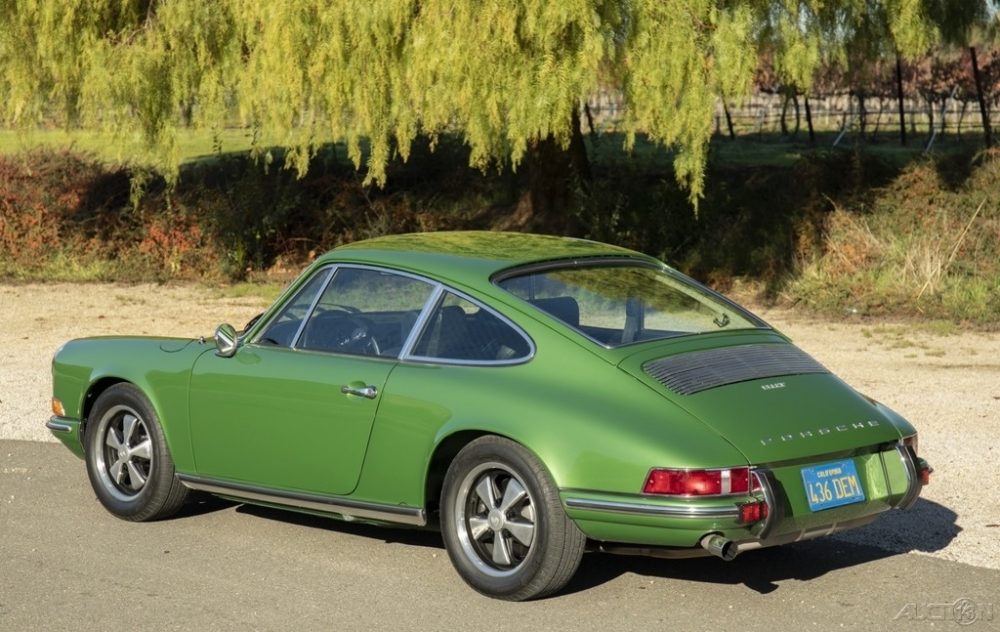 Year: 1971
Model: 911T
VIN: 9111100816
Engine: 2.2 liter flat-6
Transmission: 5-speed manual
Mileage: 55,592 mi
Price: $119,995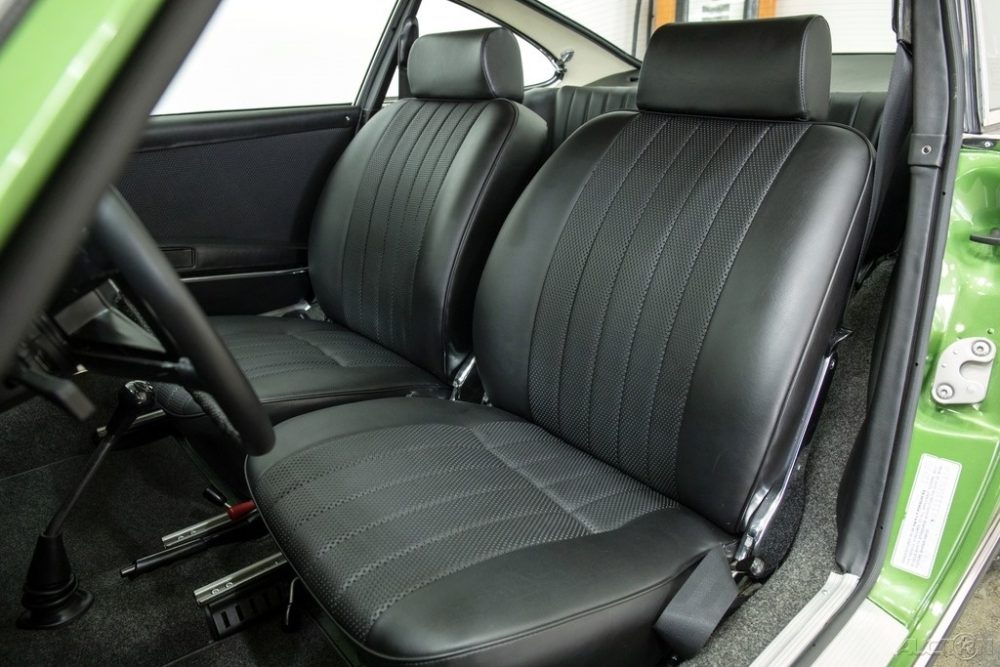 1971 Porsche 911T Coupe: One owner since new; 55k original miles; all numbers match; original floor metal; superb body gaps; never wrecked. Freshly restored: Car was dismantled (windows out, engine removed) and taken to metal; metal hand dollied; hand blocked; base clear paint in the original rare Metallic Green/83 paint; wet sanded and polished; reassembled with all new seals. Too many details to list. Engine rebuilt, new clutch, new interior, new stainless steel exhaust, etc. A beautiful early 911T Coupe ready to enjoy. COA included. We go to extents to document our cars in pictures and provide the most transparent listings on Ebay. Please study the pictures carefully rather than requesting descriptions. Please complete any inspections or ask any questions prior to bidding or committing to buy the car. Thanks for the interest!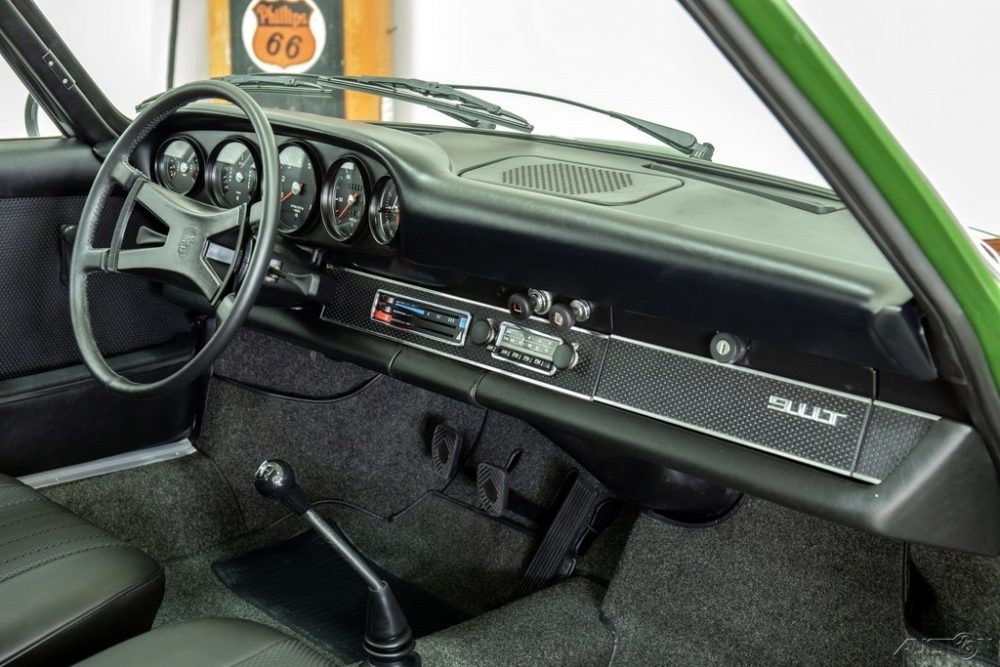 I have said before that I always enjoy coming across ads from this seller. While they can be a little laconic with regard to the description, they consistently provide a ton of pictures detailing pretty much every aspect of their cars. You might have specific questions about history and servicing and I don't think this one is any different, but I'm not sure you'll have too many questions about the condition and the fitted equipment. When looking at a car whose color is responsible for my infatuation these abundant pictures are even more welcome.
There is very little to note here regarding condition. This 911T has been recently restored and each aspect of it looks great. The restoration in general appears to have been carried out quite well. The seating material shows good fit – something that isn't always the case with these restorations – the carpets, dash, and other interior accents look great, and I've already spent plenty of time discussing the exterior. It obviously is not a completely original barn find or anything of that sort, but it should be ready to provide a new owner an excellent driving experience with few immediate worries.
Even among the myriad ultra-high-performance modern 911s that I come across each day it's great to be reminded of how good these early cars can look. There's no wing, or scoops, or vents cluttering up the exterior. A 911T like this won't turn every head as it rolls down a city street, but those who know almost surely will be stopped in their tracks. I know I would.
-Rob