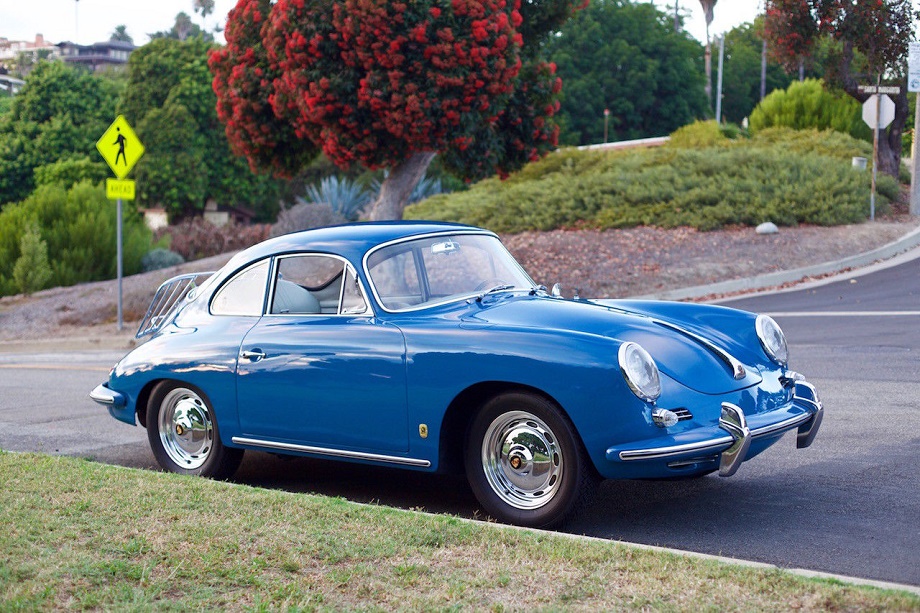 I don't know what we'd consider to be the opposite of the 930 Slantnose Cabriolet I posted previously, but among Porsches this must be about as opposed as we can get. This is an Oslo Blue 1963 Porsche 356B 1600S Coupe with a Grey leatherette interior and Corduroy seat inserts. Whereas the Slantnose is all hard lines and somewhat preposterous proportions, the 356 is vintage charm and elegance. Both of these cars will grab the attention of Porsche enthusiasts, but for completely different reasons. I imagine driving either one would elicit rather different emotions as well.
While this 356 certainly has more miles on it than that very-low mileage Slantnose it nonetheless presents in rather good condition. This is a restored example so that must be taken into account, but the work looks good and it's wearing its original colors. Given that it's up for auction without reserve we also know that it should be making its way to a new home and hopefully for a reasonable price.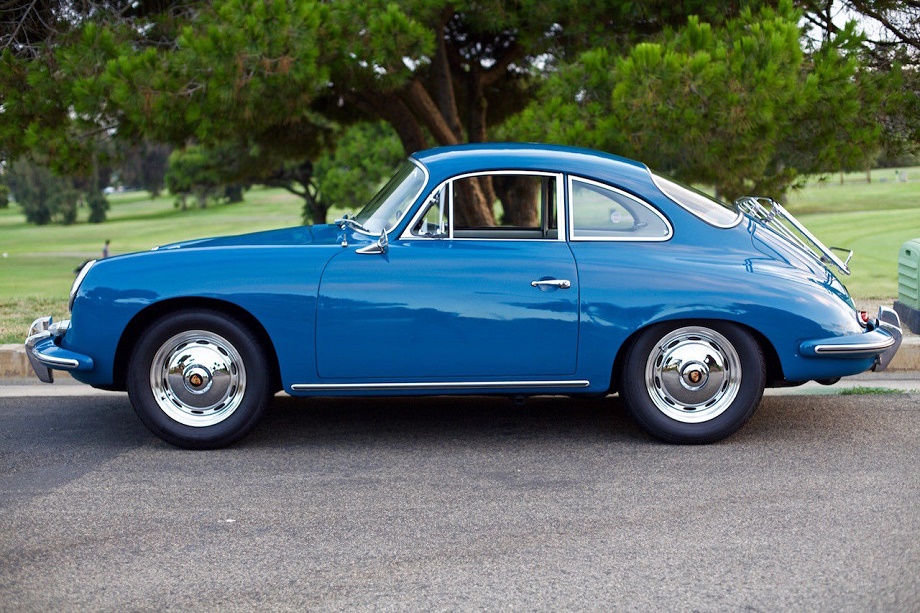 Year: 1963
Model: 356B 1600S
Engine: 1.6 liter flat-4
Transmission: 4-speed manual
Mileage: 130,851 mi
Price: Auction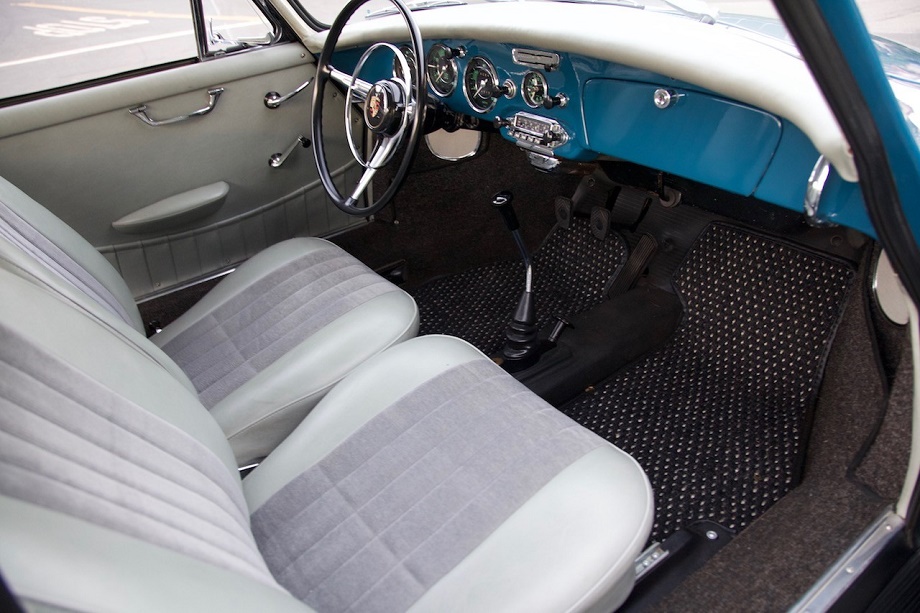 1963 Porsche 356B (T6) 1600 – "S" Reutter Coupe

SHOW/DRIVER
(COND #2+)

1st Place Concours Winner

2005 Coastal Empire PCA
(see ribbon in pictures)

VIN # 123562
Porsche Certificate of Authenticity (1997)

MATCHING NUMBERS 1600 "S"

130851 Miles
(roughly 25K since restoration)
(Restored by Boeing Engineer)

Euro-Delivered Originally

CALIFORNIA BLACK PLATE CAR (1967)

(from 20K miles)
(the Original CA Black Plates come w/car)

Three Owners Since 1967
Full Ownership Documentation

Full Photo-Documented Restoration
w/Receipts

Meticulous Maintenance Records since Restoration

RARE Oslo Blue #6203

Gray Leatherette – Corduroy

Engine # 706234 616/12
(COA Verified Engine)

Optional Equipment (per COA)

Sun Visor with Makeup Mirror

Outside Mirror

Antenna

Two Loudspeakers

Chrome Wheels

Chrome Signal Ring

Two Armrests

4-Speed Transmission

1600"S" Motor
Complete Rebuild

AM/FM Blaupunkt Radio
(completely restored)
Added Correct Shoulder Seat Belt Kits ($541)

Note: There are nearly 200 pictures that load below the text of this ad. If you have an older computer or a slow internet connection it may take some time for all the pictures to load to the screen. You can simply scroll through the large format pictures. If the pictures do not load feel free to go to my ImageShack account and view all the pictures. Go to this link:

https://imageshack.com/a/drno/1

WALK-AROUND VIDEO:

START-UP VIDEO:

Reutter Coupe #123562

When the Porsche 356 appeared in 1948, few could imagine the impact that this small, streamlined sports car, which was based on a Volkswagen platform, would have in the decade and a half to come. The car that Ferry Porsche created proved its worth in competition almost immediately; it brought class victories across a wide variety of events, from Le Mans, where it won the 1,100-cubic centimeter class in 1951, to rallying and hill climbs. By the end of the decade, it was clear that this pint-sized rear-engined car was a true giant killer. It created the foundation for a road and track dynasty that continues today.

Porsche steadily developed the 356 to add power, improve handling, and provide increased comfort. The introduction of the 356 B in 1960 saw the first major styling changes, with the headlights raised, becoming more upright and having larger bumpers, brake cooling slots on the front valence, and revised lid handles. Side "wing-ding" windows were a welcome addition. Inside, the back seat rest was split for added versatility and rear window defroster vents appeared. Fifteen-inch wheels and improved brakes led the mechanical development.

This 356 B T6 Reutter Coupe was a European car that came to the US with a serviceman with 20K miles. The car came to CA and was purchased by an attorney in Berkeley named Anthony Cary in 1967, who bought the car with 65k miles. The original "Black Plates" (DAE 438) applied from the 60's come with the car and are in very nice shape (see pic).

The car was driven in the Berkeley CA area until the crankshaft failed at around 105K miles in 1972. The CA Black plates have their 1971 & 1972 DMV stickers from when it was parked at that time. The car then sat for many years in a garage in Oakland CA until it was purchased by Robert McDonald in 1989, who brought the car back to Whittier CA by trailer and then to Georgia where it went through its extensive ten year restoration, before moving to the Seattle area, where it stayed until last year. It is currently titled and registered in Arizona. Since its restoration it is important to note that this has been a car that has been stored continuously in a garage and been driving only occasionally on sun-filled days.

The first pictures in the restoration book show the condition of the car when it was purchased out of long-term storage in Oakland, CA. The car retained its original paint and was in very good overall condition, with a few minor dents. Everything was with the car and if you progress through the pictures you can see how well it cleaned up. The 4th owner proceeded with the full restoration of the car.

Mr. McDonald, the restorer is a Boeing Engineer. Take the time to look through his notes and detailed hand written log of every penny spent on the car. Every single aspect of the car was restored to a concours level of presentation. In 2005 the car won First Place Concours Winner in the 2005 Coastal Empire PCA event.

The car has traveled roughly 25K miles since the full restoration and has been maintained to perfection. All maintenance notes are included in Bob's "Book" of the restoration and service since completion. All receipts are with the car. I did not photograph them, but you can see the file folders through the years in the pictures posted.

The paint, in the original Oslo Blue color, shows beautifully, and the panel fit is superb and tight, with even gaps, which is so vital to obtain when duplicating the exact build quality of these cars from when they were new. The wonderfully contrasting dark gray German Square weave Carpet with light gray leatherette and corduroy interior is exquisite and totally authentic, and the engine compartment is finished with all correct factory finishes and details.

The results are impressive to say the least. This color combination is rare and elegant and is a standout at any Porsche meet.

BODY & PAINT

The body, paint, chrome, trim and rubber are all like new. The body is extremely straight and appears to have had very little body work required to bring it back to its original glory. Take a look at the shut lines and you will see just what I am referring to. The paint is smooth and orange peel free with no dings, and just one small touch up area that I could find. I would have to rate the paint and body at a 9.3 out of 10.

Chrome is a 9.6 out of 10.

INTERIOR

The Interior was completely restored and has a wonderful original look to it. The seat material looks identical to the original style and texture. German square weave carpet was applied to the floors and is a nice contrast with the rare Oslo Blue exterior. The seats were completely rebuilt with all new foam and are extremely comfortable. The headliner is all brand new, as are the sunvisors. The owner fitted the car with shoulder harness seat belts. The car has a completely restored, perfect operating Blaupunkt AM/FM radio. The steering wheel was completely restored to like new condition. All gauges were redone, either cleaned or rebuilt, including the chrome bezels by North Hollywood Speedometer, renowned for concour restoration work on Porsche, Mercedes and BMW. The car came equipped from the factory with the rare Chrome Signal Ring.

There is a new Sigla windshield and rear side windows. Durvit's are in the rollup front windows and Sekurit in the 1/4 windows. All are in excellent and clear condition. There is a small crack in the passenger side rear window next to the PCA sticker in the window (see pic).

I would rate the interior a 9.7 out of 10.

MECHANICALS

The mechanicals on this car are as good as it gets. The motor was completely gone through from top to bottom as well as the transmission. The front end was rebuilt during restoration as well as almost every component of the car. Please take a look at the pictures included with Bob's meticulous hand written notes to get an idea of just how comprehensive this restoration was. There is just too much to list out.

Here in Bob's words are a description of how he had the engine rebuilt:

"I rebuilt the engine using Harry Pellow's publications and assistance from Bill Perrone (The Parts Shop in Huntington Beach) and others

in the LA area. The original case and heads were found to be serviceable, and new cylinder and pistons giving a displacement of 1700cc were installed."

From my experience of driving over 35 356's from this era, I can tell you this is one of the sweetest running motors I have ever experienced. It has lots of power and runs like a Swiss watch. It starts right up with the slightest turn of the key. It pulls strong and shifts like butter. This mechanicals on this car are superb.

In 2007 the clock was out to Hollywood Speedometer for a Quartz movement. A complete brake overhaul was performed in December of 2012 at a cost of $2875 by German Autoweerke in Edmonds, WA. A new clutch was installed in September of 2016 at a cost of $2977, including tuneup, lube and oil change, by Akers Porsche in Seattle.

The Undercarriage is almost completely original and unmolested. A significant amount of the factory installed undercoating is still in place and showcases nicely the rust free originality of a mostly Northern & Southern California and Southern life . The car spent several years in Georgia during the restoration and recent years in the State of Washington with Bob McDonald. Bob had the car for 28 years. The longitudinals are in perfect untouched condition. Obviously after 54 years it is not as pretty as a newly undercoated carriage, but it is clean and tidy with a few small areas that have delaminated and fell off. The new owner will have the option to dress it up or leave it in original factory form.

Today, this 356B is presented in true #2+ condition, showing very little use since restoration. The COA was requested and shipped in 1997 and pictures are included below.

The car is exceptionally well-sorted mechanically. This Porsche drives as good as it looks, and it is ready to transport its next possessor back to the mid-1960s, when this car was delivered to its doubtlessly delighted first owner. It drives straight down the road, has amazing power and brakes with authority.

In the grand scheme of sports car history written fifty years from now, the late 1950's and early 1960s will surely be considered part of the infancy stage. This will be known as the era when sports cars were real sports cars, seat of the pants, simple and more than fun to drive. In this era when it came to sticking the rubber to the planet Earth nobody delivered it better than Ferry Porsche and his team of engineers. Simple air cooled boxer engines ruled the day. Those days are forever gone and while Porsche still pushes the envelope in every manner possible there is just something magical about a Porsche from this era that truly epitomizes the real spirit of sporting cars.

If you are looking for a fine example of 356, sorted mechanically and show worthy inside and out, then this may just be the car for you. I would not hesitate to jump in this 356 and take a cross-country trip tomorrow. This little gem should prove to be an excellent investment if kept in this type of condition.

Just as a matter of reference, I have been judging cars at all types of show levels for over 20 years and have extensive experience in restoration of many marques. I personally own a 1961 Porsche 356B Roadster and a 1965 356C, although I do not present myself as an expert in the Porsche realm. I am extremely picky and probably grade more on the lower side when evaluating vehicles. I would consider a 10 on my scale to be a Concour Quality vehicle, just so you have a reference. This car is a VERY high quality motorcar but is not Concour. On the 1 – 5 Scale of judging collector condition with 1 being a Concour level car, I would rate this car as a #2+. This would be a very easy car to take to Concour level if a new buyer was so inclined.

Please call if you are local and want to see and experience this little T6 Coupe. We welcome inspection from reputable and knowledgeable inspectors or experts.

I am selling this car for the current owner and his number is available as well. Should you have further questions please feel free to call Frank at 949-310-6262, between the hours of 8AM and 11PM Pacific Standard Time seven days a week.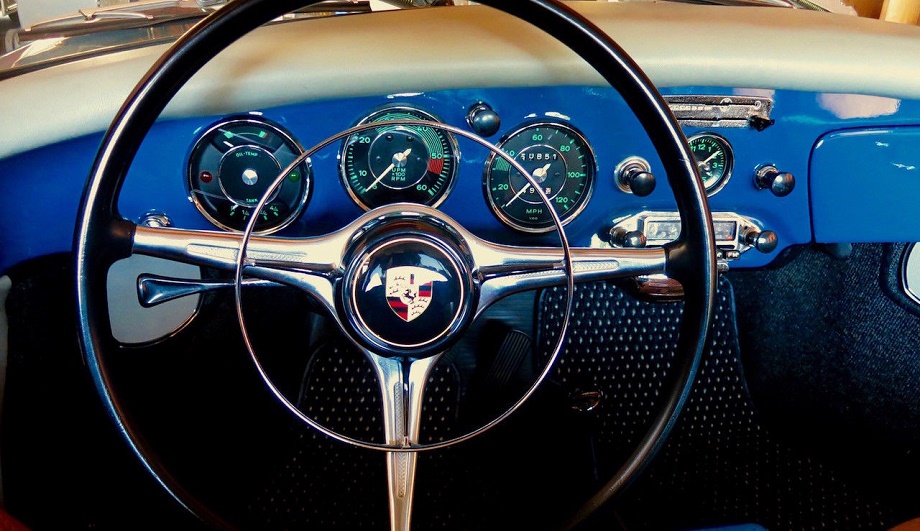 The seller has provided a pretty detailed description of this 356 and there are abundant pictures. I'll hit the major details and leave the rest to curious readers. This 356 originally was delivered in Europe and made its way to the States a short time later. It actually was driven a decent bit over its first 9 years, but suffered a crankshaft failure in 1972 with around 105K miles on it. At that point it was garaged and sat. It was nearly twenty years before a new owner would come along and begin the very long process of bringing this 356 back to life. As you can see from the pictures it was in rough shape when the restoration process began. We're told the restoration took a decade to complete and was done in part by its engineer owner and in part by a variety of shops specializing in such cars. In the early parts of our current millennium the work was completed and it finally began to be enjoyed again. Everything on the car was gone over during the restoration and documentation of all work performed and all work since restoration is available. It has traveled an additional 25K miles since coming out of its hibernation, but judging by its current condition it has remained very well-kept during that time.
It is always nice to see a forgotten car returned to its former glory as this one has been and it is even better to see that it has been enjoyed and cared for during the years since that restoration. Having such abundant documentation of its history certainly helps provide scope to the narrative and gives us a sense of this 356's life. It's a beautiful looking example and the Corduroy inserts are a very nice change relative to the standard leatherette.
Bidding sits currently at $65,889 with about a week left in the auction. I still expect we'll see that price rise by a good bit, but I don't think this will be one that we see exceed six figures. Given how good everything looks and its stated running condition I'm sure the new owner will be very happy to have it. I just hope it continues to receive the level of care it has been shown over the past decade.
-Rob