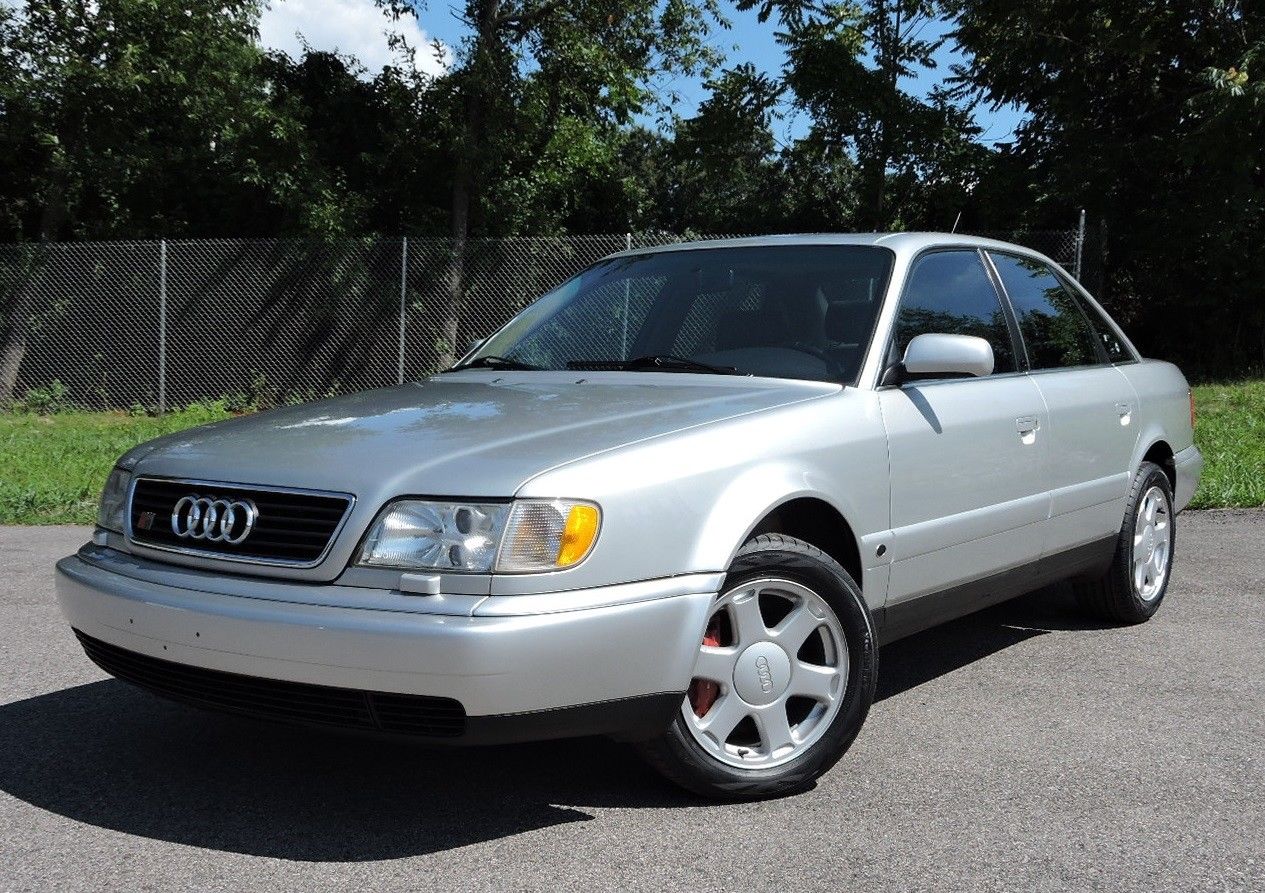 Update 9/9/18: After being listed as sold at $12,200, this S6 was relisted again with no reserve, ending 9/18/18.
Update 8/27/18: This S6 has been relisted with no change in mileage and again at no reserve.
Update 8/22/18: A second listing was generated for this car, apparently by the previous owner, who claims it had 125K when he sold it and the current seller has forged documentation on the car. This clearly got the attention of eBay, as both listings were pulled. The last bid I saw was $12,200, indicating strong interest in clean examples of the chassis.
Back in the 1990s, the latest release of top-tier executive sedans out of Germany still got me pretty excited. Each generation introduced a bit more power, much more refinement, exciting designs and unorthodox technology. While today even fairly basic economy cars have nearly 200 horsepower, crossing that threshold in the age of grunge actually meant quite a lot. It moved you into a new performance category of sporting automobiles, and the war which was waged between BMW, Mercedes-Benz and relative new comer Audi was at its most compelling during this time. If you wanted race-car pedigree and a high-strung personality, you bought the M5. Now in its second generation and with over 300 horsepower on tap, though larger and more refined it was still the defacto driver's car bar setter. If you wanted the velvet hammer, you jumped into Mercedes-Benz's 500E. Topping the power charts for these sedans, it also offered enough torque to reproduce the carrier-launch scenes from Top Gun. And then there was the Audi.
Audi went about things completely differently. It, too, had a race-bred engine, albeit an unconventional one. Still sporting a cast-iron inline-5 levered all the way to the very front of the car longitudinally, drive was transmitted through a 5-speed manual only like the M5, but of course drive was executed by all four wheels. Displacing only 2.2 liters – less than half of the Benz's power plant – the Audi approached the competition as a serious underdog. But a KKK turbocharger and electronic fuel injection meant 227 horsepower and a wide torque band maxing at 258 lb.ft. Yes, it was down on power to the others, but on the move, over changing terrain and especially in real-world situations, the Audi was just as fast as the beefier competition.
But sales were slow in the early 1990s for Audi, and it didn't trade many of these expensive sedans. But their extreme competence, stout build quality and ability to easily take on modifications – allowing them to outpace their countrymen – have made these sedans legendary. With a strong fan base, you'd expect a lot of pristine examples out there. But coming across a sleeper like this '95 happens fairly infrequently: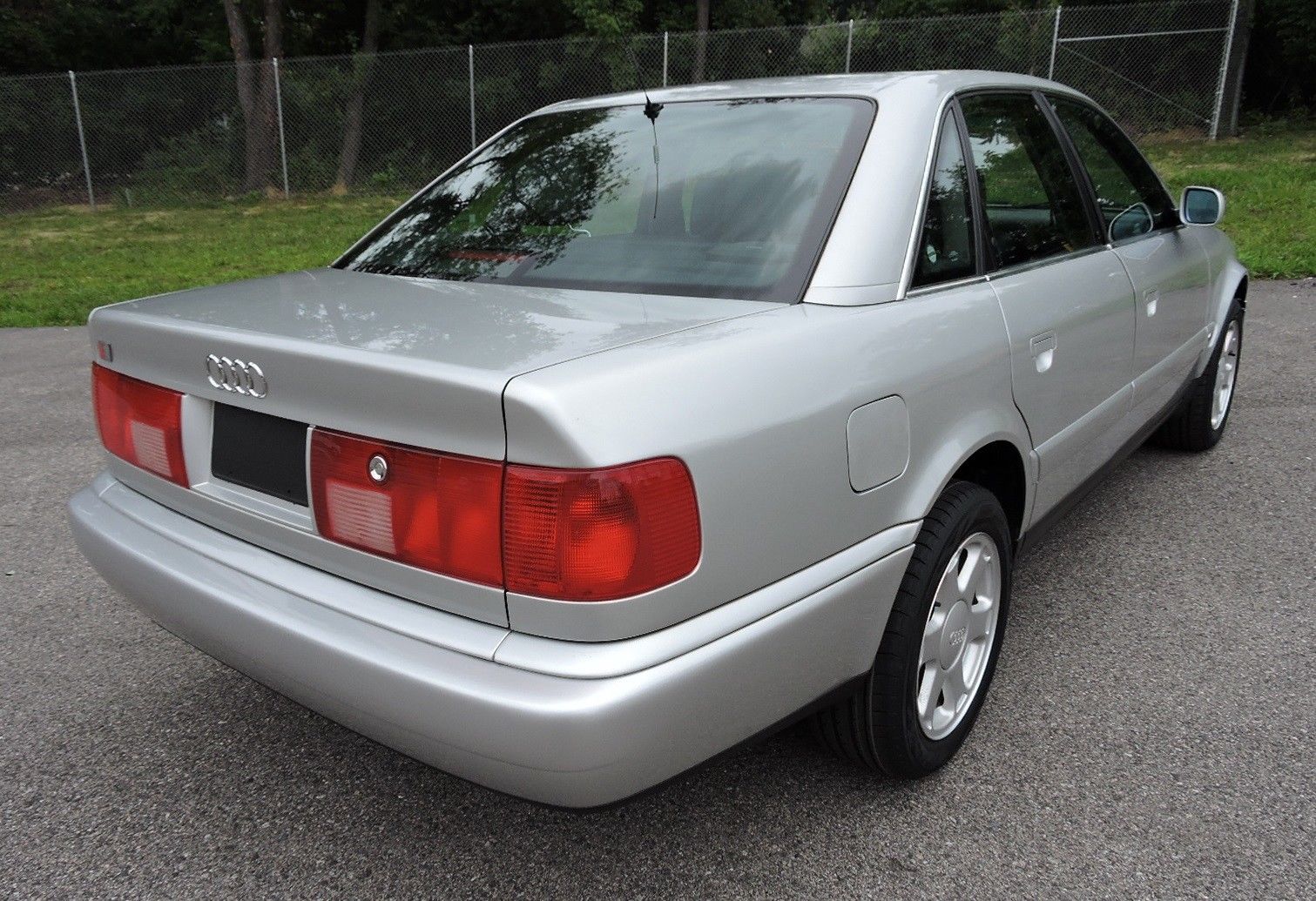 Year: 1995
Model: S6
Engine: 2.2 liter turbocharged inline-5
Transmission: 5-speed manual
Mileage: 94,140 mi
Price: No Reserve Auction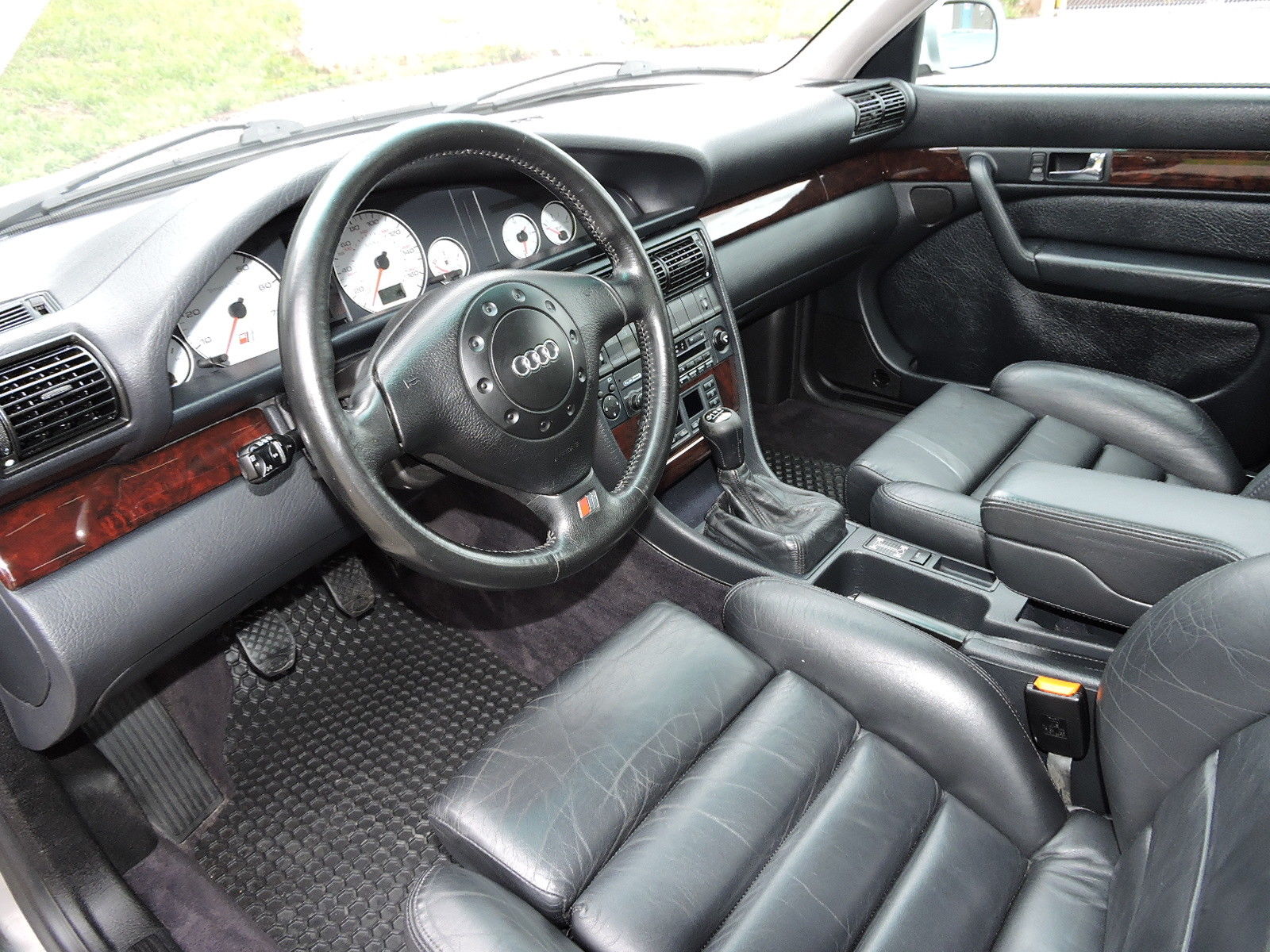 NO RESERVE

Highest bidder gets this car.

Extremely Rare and Coveted 1995 Audi S6 Quattro with 5-Speed Manual Transmission, Rear Locking Limited Slip Differential in a highly attractive Silver Metallic with a Black Leather Interior. This car is car is also known in the enthusiast world as the one and only Audi UrS6.

This car is equipped with Legendary Audi 2.2 liter 20-Valve TURBO 5-Cylinder Engine (AAN Engine Code), a Locking Rear Limited Slip Differential, and a 5-Speed Manual Transmission.

Furthermore, this particular car has been tastefully yet subtly upgraded with Factory Audi RS6 and Porsche parts to 350 WHP. The upgrades were properly done by one of the best companies in the business and are described in detail below.

A Gentlemans' Sports Sedan ordered with virtually every possible option from the factory. Heated Memory Seats, Bose Radio, Factory Car Phone, etc.! Great Condition Throughout. Long time Virginia-owned Car. Always Garage kept. Only 2 owners since new with only 94,140 documented miles.

Extensive Service just performed. Complete Service Records from new, with every service verified by the CarFax Report. Great unmolested original condition. Highly desirable late first-year-made Audi S6 UrS6 Quattro.

Matching Numbers Car Authenticated by the Audi Option and Equipment Codes Sticker. Please see pictures.

Extremely Desirable and Attractive Fully-Optioned Late-1995-Production Car. Ordered with all the right options, such as a 5-Speed Manual Transmission and a Locking Rear Limited Slip Differential.

Everything works and operates like it should. Tight Clutch, New Tires. Never smoked in. No kids. No pets. Properly Stored and Cared For. Complete and Transparent Documented Ownership and Service History.

Audi Club North America, and Audi Quattro Club Member. Please see pictures.

Notable Options and Features:

5-Cylinder 20-Valve Audi TURBO Engine

5-Speed Manual Transmission (stronger, beefier, and improved factory late-production unit)

Rear Locking Limited Slip Differential

Sport Steering

Sport Suspension

Heated Memory Sport Seats

Power Sunroof

Bose Sound System

Factory Original Car Phone

Notable Add-Ons:

Audi RS6 Performance Turbocharger Upgrade

Performance ECU Upgrade with Tune

Porsche 911 4-Piston Calipers Upgrade with Audi S8 Big Brake Rotors

Braided Stainless Steel Brake Lines

The car reliably and consistently pushes 350 WHP in the current form. The Legendary AAN Engine is a direct derived from an Audi UrQuattro Rally Car Engine and can easily handle much more than that.

All of the upgrades were properly done by:

Intersport Performance www.intersportperformance.com in Virginia.

Please do feel free to take a moment and visit their website to see what they do.

Vehicle Service History:

Complete and Transparent Service and Maintenance History with Frequent Oil Changes and Brake Services as Detailed by the Service Records Book and further Verified by the CarFax Report.

Complete 90K mile Service, Full Tune-Up, New Timing Belt, and Brake Service done less than 100 miles back as detailed in the Service records Book and further Verified by the CarFax Report.

Vehicle Condition Description and Rating:

Exterior.: A Solid 9+ out of the perfect 10. Excellent shiny paint with occasional minor blemishes, consistent with the year and mileage. Definitely way above average. Always Garage-Kept and it shows.

Interior.: A Perfect 10 out of the perfect 10 with absolutely minimal wear and present. Please look at the pictures. Excellent Leather. Excellent Dash. Excellent Wood Trim and Plastic Throughout. Excellent Carpet and Headliner. Car was Never Smoked in. No Kids, No Pets.

Glass and Exterior Lights.: A Perfect 10 out of a perfect 10. Excellent Body Glass and Lamp Lenses Throughout.

Engine.: A Perfect 10 out of a perfect 10. Powerful and Responsive. Fresh Tune-Up with New Plugs, Wires, Filters, Fluids, and Oil Change. New Timing Belt, Tensioner,Water Pump, and Related Items less than 100 miles back documented by the Service records, as well as the CarFax Report. No leaks. No smoke. No abnormal noises of any kind.

Cooling System.: A Perfect 10 out of a perfect 10. New Water Pump, Coolant Flush, and related parts less than 100 miles ago.

Transmission.: A Perfect 10 out of a perfect 10. Shifts smooth and tight with no signs of slippage or shatter. Excellent smooth and linear clutch.

Quattro AWD/4WD System.: A Perfect 10 out of a perfect 10. Operates as it should.

Locking Rear Differential System.: A Perfect 10 out of a perfect 10. Operates as it should.

Brakes.: A Perfect 10 out of a perfect 10. Big Porsche Brake Upgrade. Excellent Rotors and Pads all around. The car stops straight and does not pull to any side. Parking brake is adjusted and operates properly. Recent Brake Service documented by the Service Records as well as the CarFax Report.

Suspension and Steering.: A Perfect 10 out of a perfect 10. The car tracks absolutely straight and true. Front end is tight. Fresh 4-wheel alignment.

Undercarriage.: A Perfect 10 out of a perfect 10. Clean throughout. No leaks.

Exhaust System.: A Perfect 10 out of a perfect 10. No leaks. Factory Original Performance Exhaust. Excellent deep, powerful, yet subtle exhaust note.

Electrical System.: A Perfect 10 out of a perfect 10. Everything works and operates like it should.

Heat and Air Conditioning.: A Perfect 10 out of a perfect 10. Operates properly. Heat is hot. Air Conditioning is Ice-Cold. Please see pictures for A/C output temperature readings.

Windows, Locks, and Sunroof.: A Perfect 10 out of a Perfect 10. Everything is lubed, adjusted, and operates as it should. Absolutely no leaks of any kind. Remote Locks and Factory Alarm System operate properly.

Wheels and Tires: A perfect 10 out of a perfect 10. Excellent Original Audi Wheels which are true and correct to the car. Brand-New Yokohama Sport Tires.

Vehicle History.: Long-Time Virginia Ownership with just 2 owners and a Complete Service Records verified by the CarFax and AutoCheck Reports. One minor accident/damage reported back in 2004. We could not find any evidence of any previous damage, thus it is safe to assume that any repairs, if any, were done to factory standards.

This car is in great condition both mechanically and cosmetically and is ready to be driven and enjoyed. Runs, Drives, and Looks GREAT.

All Original Manuals, Service & Maintenance Book with Complete Service Records, Tools, Spare Tire, Extra Key are all there and will come with the car. Original Audi Option Sticker (Build Sheet) is still attached to the car.

Complete set of over 80 High-Resolution Pictures, including the ones of the CarFax and AutoCheck reports can be seen here: https://postimg.cc/gallery/1oknf4qwc/

This is a NO RESERVE auction, so please bid to own. Please feel free to come and inspect this beautiful car prior to bidding. Thank you and HAPPY BIDDING!

Terms of sale: $250 good-faith non-refundable PayPal deposit is due immediately after the end of the auction. Balance is due in 3 more business days after the end of this auction in cash or bank/certified funds. If you can not, or are unwilling to follow this terms than please refrain from bidding. Vehicle description merely represents our subjective and biased opinion. Only manufacturers warranty applies if any. Vehicle is sold absolutely as-is, where is, with all faults that it may or may not have. Miles could differ slightly due to occasional use. Buyer is responsible for shipping, however, I will assist in any way I can, just ask me. Please absolutely no "zero" or "negative" feedback bidders (you must contact me prior to bidding). Non-paying bidders will be reported to eBay and collection agency. Inspections are welcomed and encouraged prior to placing a bid. All sales are final unless cancelled by the Seller. All items not collected/shipped/picked up within 30 days will incur storage fees and will be considered abandoned and disposed of at the Sellers sole discretion 30 days thereafter. Prospective Buyers are encouraged and expected to exercise their own due diligence prior to bidding. This vehicle is also advertised locally. Seller reserves the right to end/cancel this auction at any time at sole discretion. Thank you and GOOD LUCK!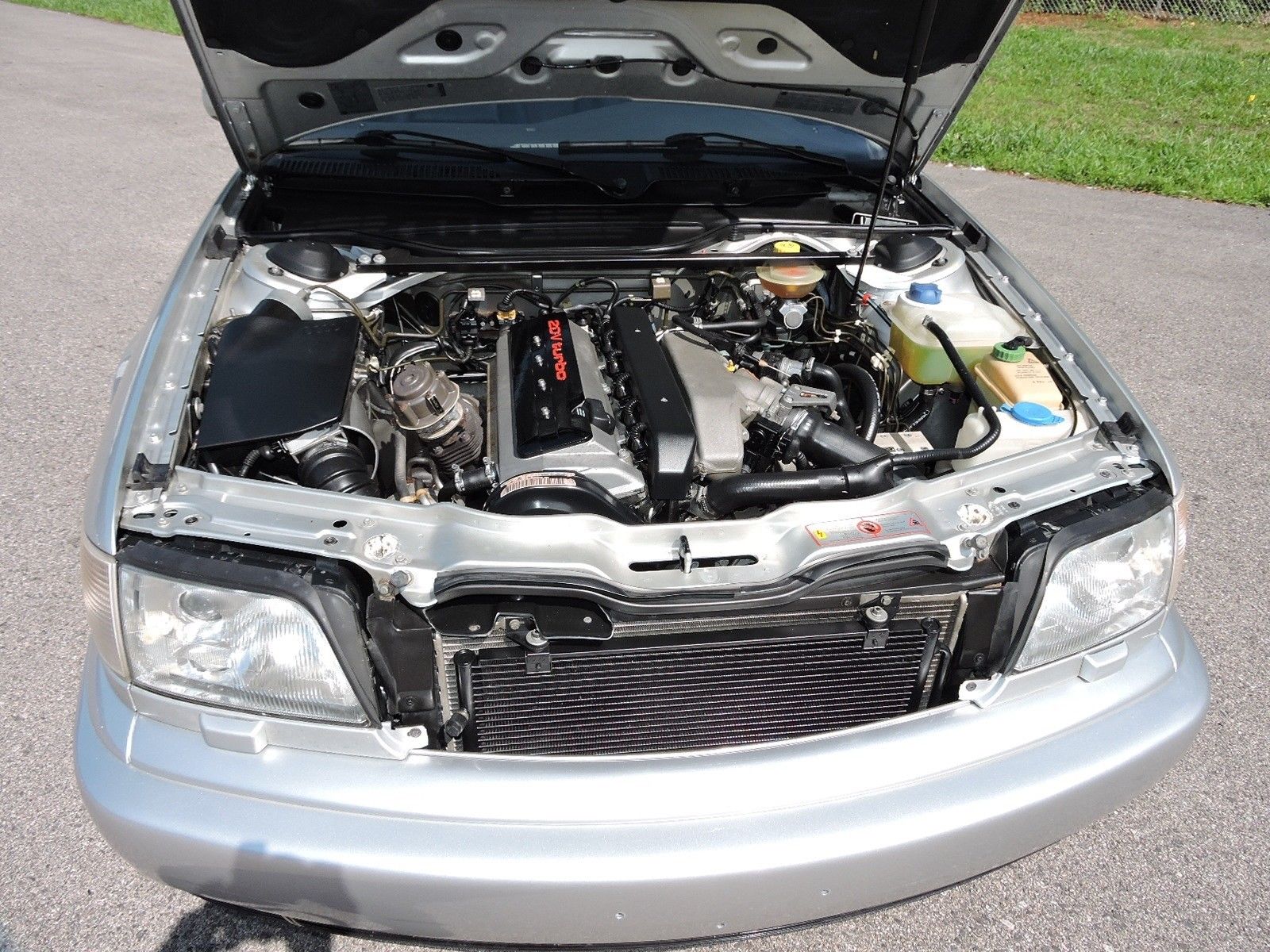 Condition is top-notch and the bidding has already recognized that. With a few days to go, nearly $10,000 has been promised and I can immediately see why. Although the car appears all stock, it's been subtly upgraded with what the seller claims is RS6 gear, but I'd strongly suspect they mean RS2. That said, I don't believe the claim of 350 wheel horsepower can be achieved with a simple turbo upgrade and reflash of the ECU. Still, a relative of mine had a S6 with MTM-replica ECU tuning and that alone was enough to make the car seriously quick and explosive when on-boost. The original Speedline-made Avus wheels are always a treat to see and seem in good nick, too. With below-average mileage, up-to-date service and in top condition with good upgrades and a nice color combination, this is a pretty compelling package. It will be interesting to see where it ends up, as lower mileage S6s don't come up all that often for sale and with the reserve off, this one looks like it will be cracking a good number while still remaining far more affordable than its contemporaries in equal shape.
-Carter