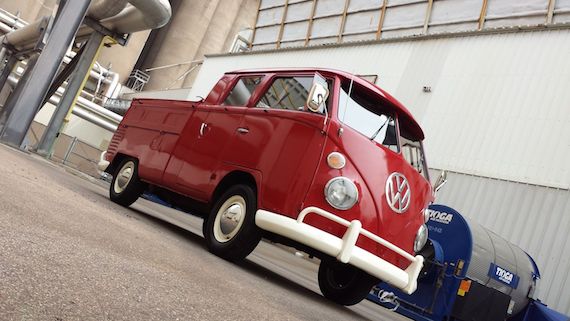 If it weren't for trade wars, we might still be able to buy Volkswagen commercial vehicles in the US to this day. Every time I see articles on social media from Volkswagen touting new developments with their Transporter range, I pine for the days when you could still buy a Eurovan stateside. Sure, these vans always lurked at the back of the showroom, but I always marveled at how functional and sturdy they were. With everyone clamoring to buy SUVs this was an unorthodox choice for a people mover, but you still seem them on the road occasionally. Something about them still appeals to the inner anorak in me.
Dial back a few decades before the Chicken Tax came into effect, and you could spec a pickup body based on the old Volkswagen Bus. This 1964 Type 2 Double Cab for sale in Minnesota has an upgraded 12 volt electrical system, newly rebuilt 1600cc motor and wears a patina that wouldn't make you shy using it for hauling duties.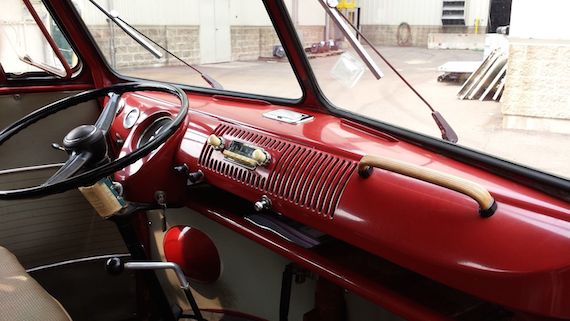 Year: 1964
Model: Type 2 Double Cab
Engine: 1.6 liter flat-4
Transmission: 4-speed manual
Mileage: 85,400 mi
Price: $25,000 Buy It Now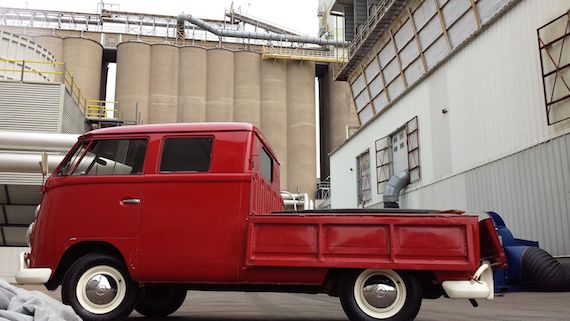 1964 Double cab.

– 1600 Dual Port built by Jeff Wilson at Mears Metal Products (http://www.mearsracing.com/) with less than 1500 miles since he built the motor. This bus is mechanically sound and goes down the road.

– Original Canvas structure included for the covered wagon look (Canvas is long gone) which is amazing to still have this.

– 85k we believe original miles as the odometer works

– 12 volt conversion

– Progressive Weber Carb

– Tires as new

– Brakes excellent

– Reduction boxes sealed and do not leak

– This bus drives and stops and goes down the road without issue

This is my fathers and he has had this since the mid 90s. this bus is stored the last 40 years and sees less than 100 miles a year. It has been repainted on the outside and the paint is showing it's age. It photo graphs better than it looks in person. I do not want to say Nicest VW in city etc. because condition is relative to someones expectations. It can be seen in person in Minneapolis, MN so please understand we are making our best attempt to accurately describe this bus.

The Good:

– One of the best motor builders in the world is a family friend and built this engine as a favor

– Mechanically Sound

– Original Canvas metal frame and wooden bows

– This bus even accelerates up hill and is a great driver.

– Tailgate and folding sides all solid

The Bad:

– Paint is showing it's age (Chiping paint on drivers side where folding gate drops. Chipped paint where seat belts fall out and hit the side)

– Drivers side eye window latch broken

– Rubber seals around windows / doors deterating

– Some corrosion underneath. it was addressed and undercoated

– Canvas missing for covered wagon (You can get new canvas as the Frame and structure is included)

– It was a exterior repaint in the early 80's

– 1964 this is not a restored bus and will show flaws that are normal for a 50 yearold vehicle

This bus can be inspected by serious buyers, it is for sale locally so I reserve the right to end the auction at anytime for any reason. Please understand I am not looking for advice or knowledge and would appreciate only serious inquires and not someone who is looking for a friend. The bus can be shipped overseas it has a clear Indiana title in prior owners name. It can stay for a few weeks as shipping is figured out as long as it is payed in full.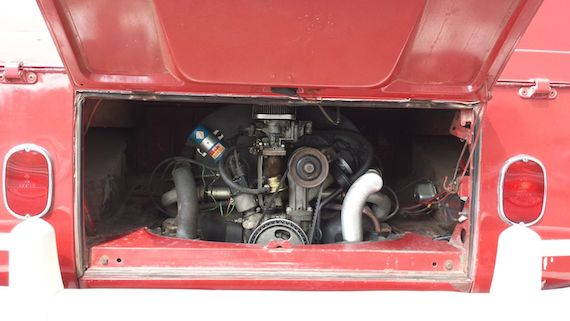 Considering what I've seen other Double Cabs of this Vintage (not to mention Sambas) bring, the asking price is quite reasonable in light of that. Sure, this isn't a concours example Type 2, but I wouldn't want my vintage truck to be perfect. Half the fun of owning one of these cars is being able to use it as intended. So if I wanted to pick up a load of mulch at the nursery, I could do it in vintage style. And in between, you could have fun tackling a few improvements along the way.
-Paul