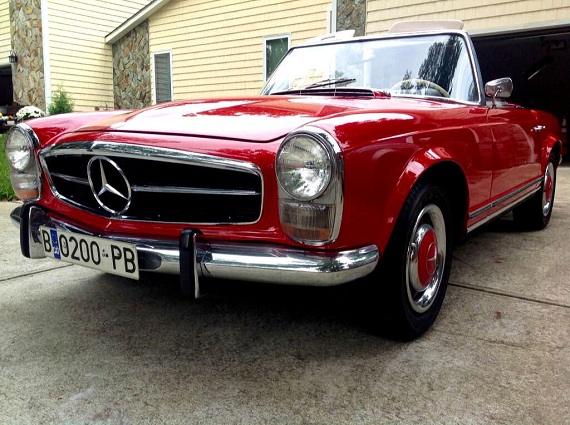 A few weeks ago I wrote up an absolutely beautiful and pristine 1963 Mercedes-Benz 220Se, a car that reached towards the high end of the market for the big coupes but remains a heck of a deal in the older-Mercedes world. One car that hasn't remained such a deal is the much more highly sought-after SLs, and of those the manual early cars usually bring the strongest value. Top of the market in an early W113s will push $100,000, and even condition 2 cars are in excess of $50,000 these days. Like the E30 market, investors and speculators jumped on board about a decade ago and drove prices even higher, pushing them out of the reach of the common man. Despite this, once in a while a very clean example comes to market below average market value – such as the lovely red over black 4 speed today: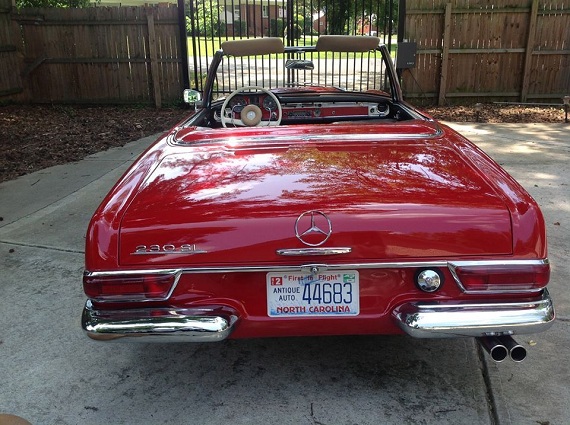 Year: 1965
Model: 230 SL
Engine: 2.3 liter inline-6
Transmission: 4-speed manual
Mileage: 64,000 mi
Price: $39,999.99 Reserve Auction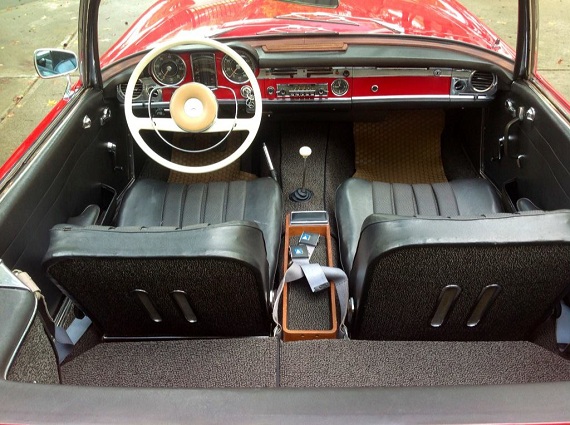 Free Shipping is Included in the "buy it now" Price for all Buyers.

Production Specs for this car:
Mileage: 64,000 original miles
Production Numbers: 4,752
VIN #: 11304210005500 Hard Top Matching # 107

All matching numbers

About my Pagoda:

This is a 1965 Mercedes Pagoda 230SL with the desirable manual transmission Convertible. This car comes with oem color combination (meaning, it is an original red car with black interior). Car has a new mats, carpets interior. The door panels, dashboard and the rest of the interior is all done with the same color. Original Becker radio comes with the car. Car comes with 2 tops, soft top is correct German canvass in black vinyl color but it is the original one, It is in working condition but it looks okay. The hard top in white. Also the hard top carrier comes with the car. Odometer records and speedometer reads in mileage because the car is a USA specs car.

This pagoda is ready to be driven mechanical sound and fun to drive. It is a 2 owner car since new. I still have the original title to prove this statement. Odometer shows 64,000 miles, which is believed to be the original mileage. It has 2 tops – a black convertible top and a white hard top. Body is in very good condition. Paint is good, chrome is good and the interior is very nice. Mechanics are in good working order.

New set of 6 BOSCH FUEL INJECTORS at $240 a piece. ($1,440 + $300 installation) Fuel Injection works really good now! 🙂
New sun visor clips
New brake lines
New Brake pads
New heather core rebuilt ($690)
New sill plate covers
New Clutch
New Interior ($700 installation and $1,175.00 materials)
IVORY Original knob matching color with Original Steering wheel professional clean
Full service done in June 2013 (synthetic oil, hose lower radiator, hose upper radiator, oil filter, air filter, belts, all new fluids, spark plugs, ($2000.00)
2 Sets of keys
Manual and Service books
Original Mercedes Tools
Spare wheel
All chrome and glass excellent.
New hoses (lower and upper radiator hoses, and clams)
All electrics in good and working condition:
Turn signals
Heat
Fan
Radio
Wipers
Horn
All lights
All instruments
New hard top carrier
New Chrome Tail pipes
Hexomat Floor Mats
Over $10,000.00 spent in service, restoration in the last year with all receipts.

This is a completed original "all together" Mercedes Pagoda which can simply be purchased and enjoyed. This is not the average pagoda. We have spent money and time to make it one of the best pagodas for sale which makes for a perfect high standard weekend driver. These cars are going up in value. Restoring these can be expensive so this one makes for great buying considering everything has been done. This car has been appraised for $50,000.00 and is insured by Hagerty for this amount and also is listed in their price guide for this amount. Our reserve is very low compare to the real value of this car. Good luck with bidding on it.

Price $39,900.00 or best offer.

A comprehensive documentation of the body and mechanical restoration along with photographs and detailed receipts come with the car.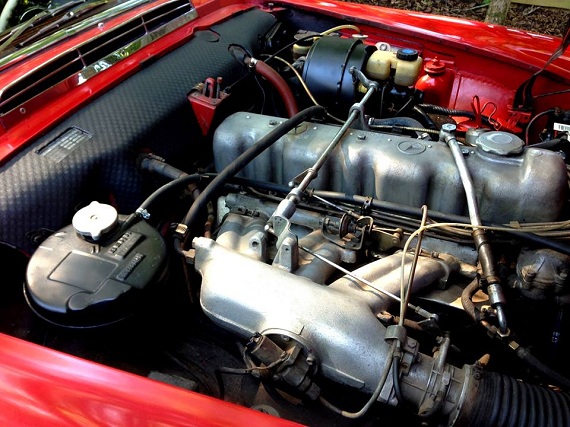 Many early SLs have undergone restoration and color changes to more popular colors such as the red on today's model, so it's nice to know this is an original color combination. This color combination is probably the most popular and sought after of the early SLs. The 230s have different hubcaps that are slightly more simple and in my mind, more attractive than the later 250 and 280 caps. The 230 doesn't have as much twist as the 2.8 did later, but manuals are harder to come by on the later cars. The 4 speed is definitely the transmission you'd want to have in this package. Color combinations on these were interesting and to order, so it's interesting to see the ivory steering wheel match the top but not the hubcaps, though a quick search will show you hundreds of different color combinations between the three. As an enjoyable classic investment, these classic Mercedes-Benz are on par with Porsches in general, but this particular model is easier on the wallet. This car appears well taken care of and ready to enjoy, and at a penny below $40,000 it seems pretty well priced considering the market.
-Carter