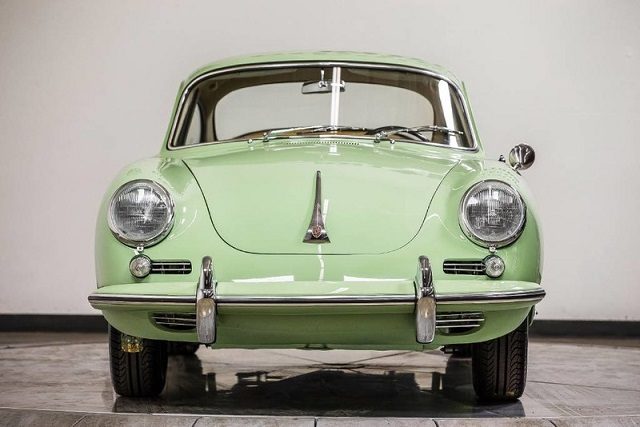 I am always curious about Porsche colors I haven't seen before and very much enjoy featuring them. This one comes with a caveat: per the CoA we know this 1965 Porsche 356C 1600 SC Karmann Coupe did not come from the factory in this color. Nor was its interior this color. Originally it was Light Ivory over Red, which I suspect was a pretty striking combination in itself. But I digress, we aren't told what the colors it wears now are, only that the exterior is green and the interior is tan. Though the interior almost looks yellow I'm going to assume that's a result of its contrast with the green trim and that it is indeed a tan interior. It's a light tan, but tan nonetheless. For the exterior, I have no idea what color it is. Any guesses?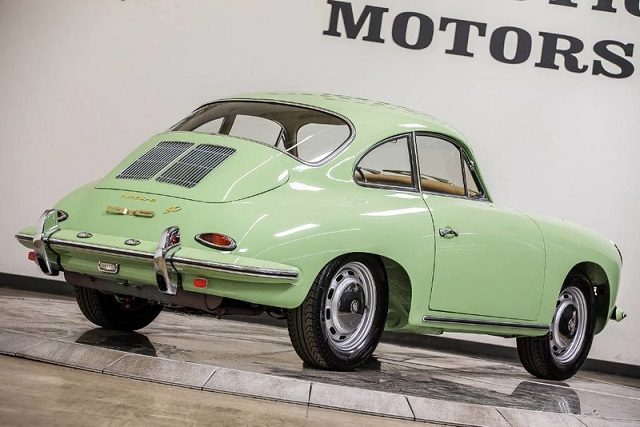 Year: 1965
Model: 356C 1600 SC
Engine: 1.6 liter flat-6
Transmission: 4-speed manual
Mileage: 0 mi since restoration
Price: $129,885 Buy It Now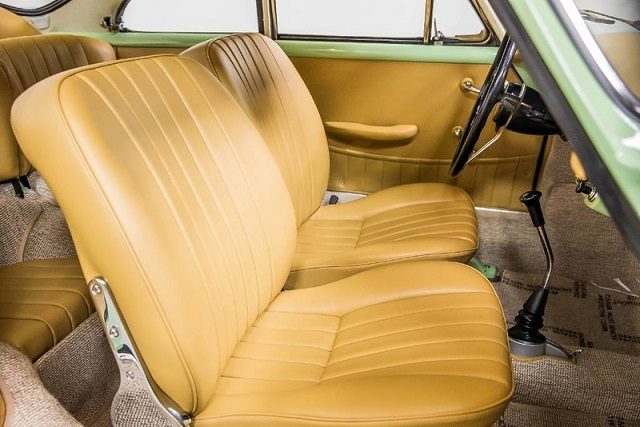 We at Private Collection Motors are pleased to offer our beautiful 1965 Porsche 356 SC to the market. Starts at the touch of the key every time, a specimen that has clearly been lovingly owned and cared for, in far better condition than average, a joy to display and own.

Difficult to find many in better condition. naturally sold with Porsche Certificate of Authenticity. Still not perfect, as no non new item would be, but leaves onlookers with a smile and admiration.

Any shipping fees will buyers responsibility and you can select your own carrier and pay them directly.

In line with normal ebay practices please note that all inspections are to be made prior to auction close, …………….. Prior to auction close multiple inspections by the same person are no problem, you can come back as many times as you like, bring friends, cousins, mechanics, brothers, sisters, neighbor or spouses all welcome !

Please note that due to her age there is no warranty offered, available, stated or implied. The Mileage stated is as displayed and due to her age and the hand me down nature of history cannot be warranted.

As a realistic note, do realize that although in exceptional shape, this 52 year old classic car does indeed have numerous imperfections when compared to a new vehicle, though still exceptional for her age. Our descriptions are made in good faith and in no way form a warranty.

Naturally, beauty is in the eye of the beholder and please ask all questions and inspect her to ensure that she is to your liking and acceptable with her imperfections, prior to placing your bid.

Also please realize that bidders with less than 20 feed backs MUST contact us prior to bidding or their bids will be cancelled.

Should you have any questions or simply wish to have a quick chat, or make us any offers, please do feel free to call 949-791-2167.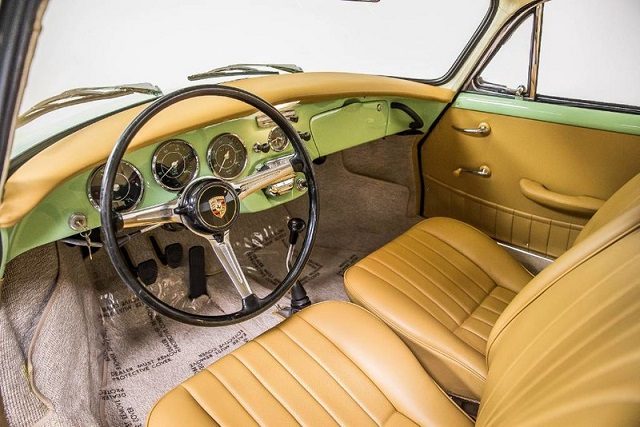 Scrolling through the greens on my usual Porsche paint website there isn't one that definitely looks like this color. While I think the lighting is throwing things off somewhat, the closest color I think is Light Green, which I don't believe was available on the 356 but is the sort of color we probably wouldn't be shocked to find on the 356. Of course, we do have to consider that this might not be a Porsche color at all. There certainly isn't a rule that every repainted Porsche must use a Porsche paint code! So perhaps I'll never know, though I'm going to stick with Light Green. Regardless, it's a very attractive color and works well with this tan interior to create a striking 356C Coupe. The overall condition isn't perfect as it looks like there are minor blemishes here and there, but it's still in very nice condition and I imagine will attract plenty of attention.
This 356 isn't going to sell at this price though. $130K would require complete originality and obviously we lack that here. I would assume this one won't even see $100K, but I could be wrong on that. So I'll admit this is a little bit of an odd feature. A color I can't figure out on a 356 that I think is priced much too high. But it's curiosity that draws many of us here so why not look a little further?
-Rob