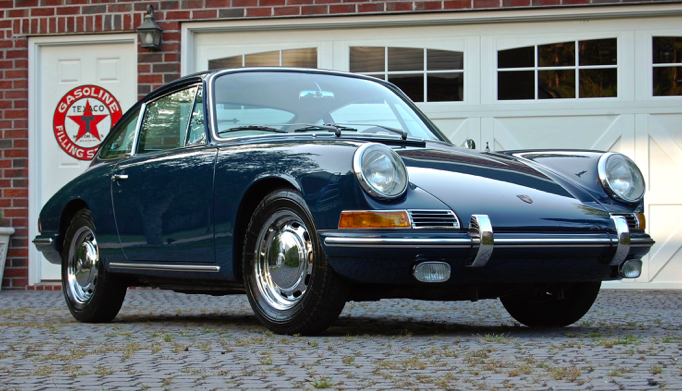 Lately, I've been looking at a lot of modern 911s and others with supercar performance, but let's take a moment to turn the clock back to the 911's early years. Here we have a fully restored Aga Blue 1965 Porsche 911, located in South Carolina, with a reported 78,901 miles on it. Aga Blue is not a color I can recall seeing previously. It's a dark, non-metallic, shade of blue only available during the mid-60s. I've never seen it chosen as a paint-to-sample option either. It reminds me a lot of Albert Blue and that is a color I've seen come around again on PTS 911s. That doesn't necessarily tell us much about Aga Blue and its desirability I'm just always curious about which colors we tend to see reappear throughout the Porsche catalog. It is entirely possible Porsche simply has not made it available since its original release.
Enough of that: whether still available or not this is a very attractive early 911 and it looks well restored. It apparently spent quite a long time in storage though given the amount of original panels, glass, and other equipment still with the car it doesn't appear it suffered too much during those years. That's good because it has left us with a very fine-looking example of where the iconic 911 began.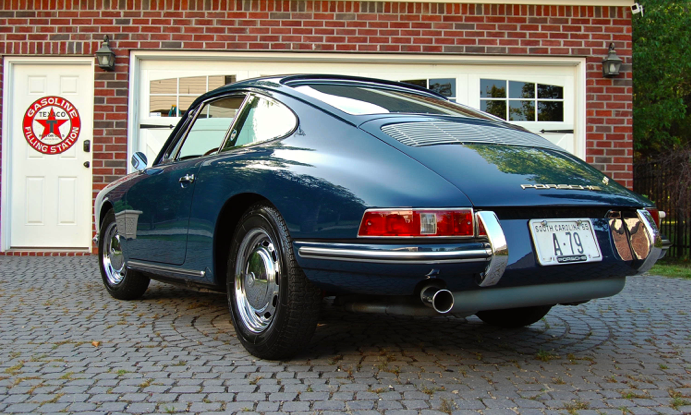 Year: 1965
Model: 911
Engine: 2.0 liter flat-6
Transmission: 5-speed manual
Mileage: 78,901 mi
Price: Reserve Auction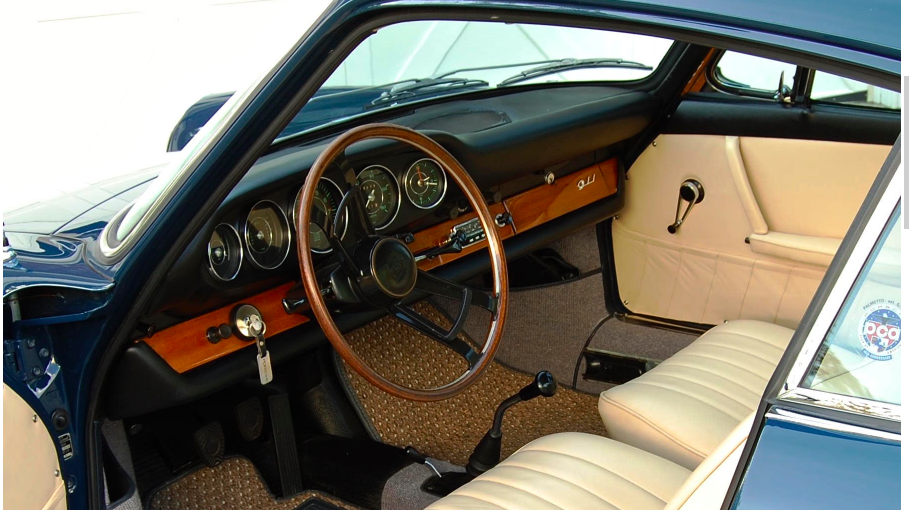 1965 Aga Blue 911. 78,901 miles. This car sat rust-free in primer inside two different Porsche shops in Charleston, SC for decades before it was meticulously restored for the 2008 Historic and Heritage display at the 2008 Porsche Parade in Charlotte, NC where Peter Porsche expressed his personal approval.

This car is also for sale locally and the seller, who has restored multiple vintage Porsches for private use, reserves the right to end the eBay auction at any time. This is the first Porsche this seller has ever sold. For more photos and videos click on www.1965911.club.

This was a bare metal restoration and the original motor was rebuilt with forged aluminum pistons. The Weber 40 IDS carbs were rebuilt by Pierce Manifolds in Gilroy, CA and the gauges were restored by Palo Alto Speedometer in Palo Alto, CA. Custom aluminum plates were fabricated to fasten the original breather apparatus to the Weber IDS carbs for better performance with an original look. The car also has an electronic fuel pump and an electronic ignition. The original fuel pump is rerouted using original braided fuel hoses. The new muffler was ceramic coated by Jet Hot Ceramic Coatings in Burlington, NC. All of the engine tin was powder coated by Marchant Automotive Powder Coating in Charleston, SC. The chrome was re-plated by The paint and body work was done by Star Motor Service in Charleston, SC. The technician who did the paint and bodywork used to work at the Porsche Pre-Delivery Inspection (PDI) facility in Charleston, SC. This PDI facility was an extension of the Porsche factory in Germany. If Porsches were damaged in shipment, the Porsche PDI facility would repair them before they were delivered to the dealer.

This is a numbers-matching, original and completely rust-free 911. All of the sheet metal, glass, lights, everything is original to the car. The only thing that does not match the Certificate of Authenticity is the material used for the interior. The car was originally manufactured with cream vinyl interior but was upgraded to cream leather interior for comfort and longevity. The leather is quality leather from Spinnybeck in Getzville, NY. The carpet is gray German weave from Autos International. This is a replacement of the original gray German weave carpet. All interior work was done by Mary Gronbach of Gronbach Interiors in Gainsville, FL.

This 911 represented the year 1965 in the Historic and Heritage display at the 2008 Porsche Parade. The organizers of the Parade asked the owners of the Historic and Heritage display vehicles to stand next to their cars for a private viewing by the Porsche family. Peter Porsche, brother of Butzi Porsche (designer of the 911 in 1963) left the group on the other side of the convention center and came to where I was standing next to this car. He said in his Austrian accent: "Dis yo cah?" I said yes and he put his fingers together with his thumb and kissed them to express his approval. This was the highest compliment I could imagine at the time and it was very gratifying and made me proud of the restoration effort and proud to own the car.

What Peter Porsche did not know was that the car was not running well because the Weber carbs were not delivering fuel to the cylinders properly, even though they were rebuilt by Pierce Manifold, the go-to company at the time for rebuilding Weber carbs. The car ran, just not like a Porsche 911.

This, coupled with the fact that it sat unrestored in primer in storage for decades, could explain why the car has such low mileage. A friend who owns a dozen or more vintage Porsches said judging by the original windshield and headlight covers, he was fairly certain the mileage is accurate.

My son got married in 2012 in Atlanta, GA, four years after the car was restored. I told him as the father of the groom, it was my responsibility to provide transportation away from his wedding reception and said I could get a horse-drawn carriage or a vintage Rolls Royce and asked which he preferred. He said: "Dad, I want to drive that 911". As a "car guy", I was happy to hear him say this but I had some measure of trepidation because it had not run like a 911 since I had it restored and the motor rebuilt, and I did not want to risk it stalling out at that important moment.

I knew I had to get the car running right so I took it to who many consider the best mechanic in town and this mechanic kept it for months but finally called and said: "Come get your car, I can't fix it." I explained that I had to get it running like a 911 should run because of my son's upcoming wedding and I asked him to give me the opportunity to do some research before he threw in the towel.

I found a Weber carb expert in Paul Abbott of Performance Oriented in Salem, Oregon. He agreed to a conference call with my mechanic friend in Charleston. After a half hour conference call, Paul told the mechanic he had done everything right. He said he needed time to think about it. Two days later he called and said: "I know what the problem is and I'm certain about it. You have the wrong idle jet holders in those carbs." He asked me to go pull an idle jet holder and text a photo to him which I did and he confirmed they were the wrong ones. One idle jet holder has an O-ring and the other does not and Paul diagnosed this over the phone! He sent the correct idle jet holders and did not even charge for them. The mechanic installed them and called and said "the car was running like a scalded dog."

My son drove the 911 away from his wedding reception and I've enjoyed spirited drives ever since, although I do not drive it often, and I don't drive it far. I usually drive it, along with other cars I own, six miles one way to Middleton Place Plantation and back on scenic Highway 61, also known as "Plantation Row", and I never drive it in the rain. The car is stored under a cover in one of my garages to protect the paint. The car is routinely detailed by The Auto Spa in Summerville, SC.

This is a very nice Porsche 911. The wooden dash in this car may be the nicest looking dash of any Porsche 911 anywhere in the world. This is because while the car was in Florida having the new interior installed, I refinished the wood dash using a marine finish product called "Honey Teak" developed by Tom Fabula of Fabula, Inc. in Port Salerno, FL. Honey Teak is a durable two-part epoxy product that you can apply wet-on-wet with as many coats as you care to use. Since I had plenty of time to restore the wood dash, I put twenty coats of clear on the dash, sanding with 1,000 and 2,000 grit sandpaper between coats and it has held up beautifully ever since. This dash, along with the excellent paint job by Star Motors and original Porsche crest on the bonnet, may be why Peter Porsche liked this car so much at the 2008 Porsche Parade.

After twelve incredible years of ownership, it's time for someone else to enjoy this car. Why am I selling it? I recently bought property acreage on a nearby barrier island and need to build roads and buildings and all the associated infrastructure and need some capital to improve the property.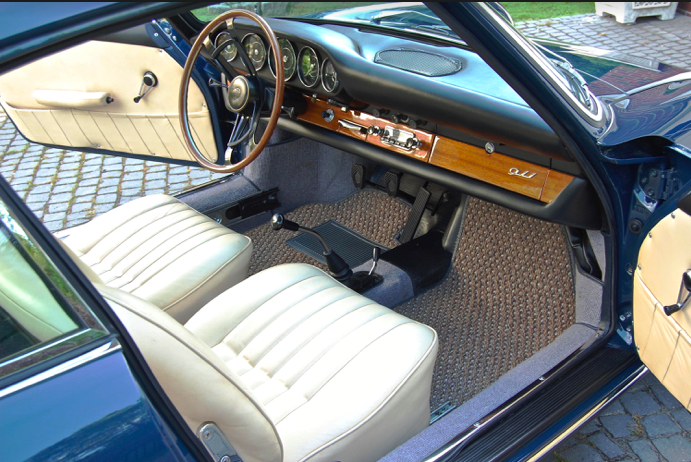 The seller has provided us a decent bit of detail along with plenty of things we don't need to know, but nonetheless attach some character to this 911. As noted above this 911 spent a lot of time in storage and I'm guessing from what's stated here that we don't have much in the way of documentation to cover its early history. The mileage is believed to be accurate based on the originality of much of the car, which seems a reasonable assumption but overall I think the mileage is high enough and the restoration thorough enough that the exact mileage may not be something to quibble much over. Other documentation might be more worthwhile to have and any documents relating to its restoration and servicing since that restoration will be necessary. Outside of paint and the interior seating it sounds like everything else on this 911 is purported to be original. It obviously was repainted and the original Beige leatherette interior was replaced with a cream leather interior. While we probably could have hoped the original interior had been retained, in its current state it looks very good! Everything looks in really nice shape with good shine and depth and very little apparent wear.
My only criticism is that the wood dash, an aspect of these early 911s I absolutely love, almost looks too shiny. The seller has described the process that produced those results and perhaps a few less coats of finish would have been fine. But perhaps in person it will look perfect? That is probably a minor quibble on what otherwise is a very nice 911 and one that I'm sure many would find great joy in owning. It currently sits unbid upon so we'll have to see where this auction ultimately goes. A '65 911 can be a pretty valuable vehicle.
It's not uncommon for sellers to state why they're selling a car nor for buyers to inquire why. I've never particularly cared since the majority of the time the answer boils down to the same thing: need money. This one is no different, but I think it is my favorite reason. To paraphrase: the current owner bought an island and needs to make it inhabitable. I think we can all empathize with that situation.
-Rob