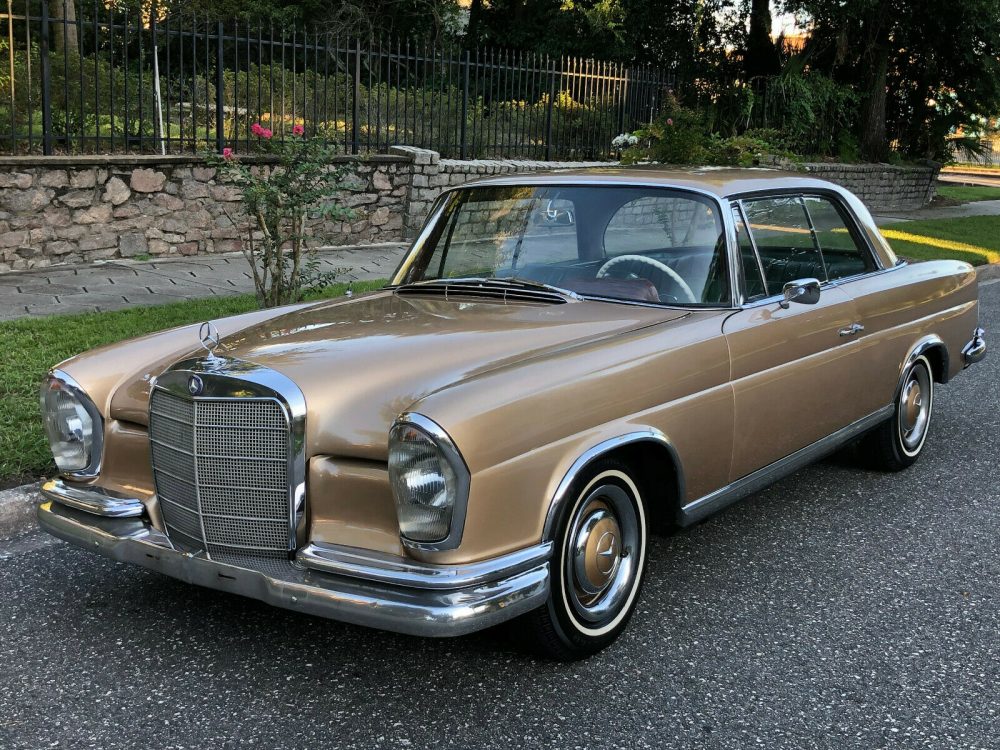 In terms of 'Classic Mercedes-Benz', the W111 Coupe is near the top. Rightfully so, as it is a product of Frenchman Paul Bracq who was also responsible for the Pagoda, 600, and even some other iconic cars at BMW, CitroŽn, and Peugeot. It's as every bit as elegant and stunning as anything that rolled out of the factory in Crewe, England at rival Rolls-Royce/Bentely, and the build quality is on par with some international bank vaults. Even doing a quick Google search for "W111 Coupe" will have you lost in an array of stunning examples. However, I highly doubt a Google search will turn up this color combination. This 1966 up for sale in Florida is painted in Sandbeige Metallic over a green leather interior. Yes, green. Not that green that almost looks like black. No, this is Saint Patrick's Day green. Wait until you peek inside this car.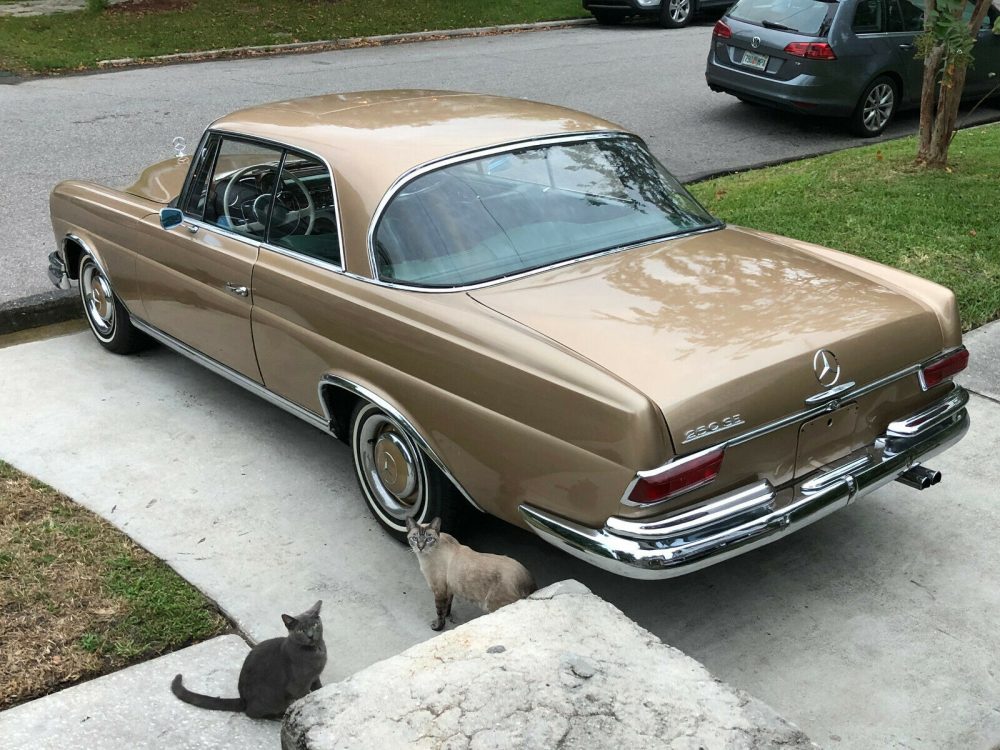 Year: 1966
Model: 250SE Coupe
VIN: 11102112083986
Engine: 2.5 liter inline-6
Transmission: 3-speed automatic
Mileage: 153,042 km (95,095 mi)
Location: Jacksonville, Florida
Price: $32,500 Buy It Now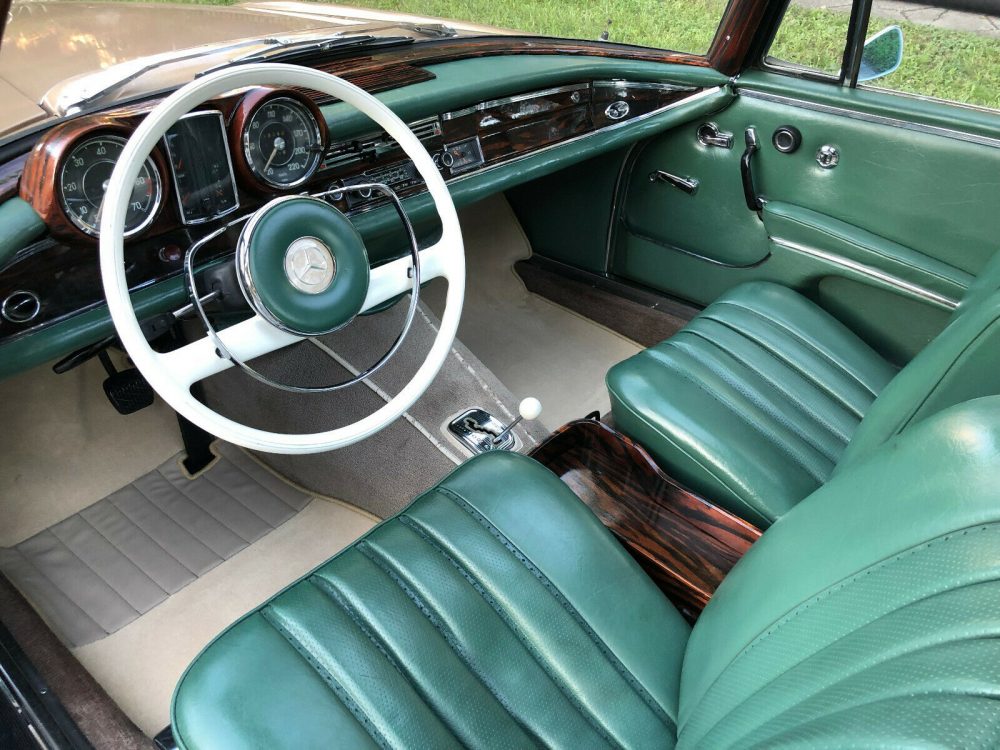 1966 Mercedes-Benz 250SE Coupe (W111)

VIN # 111.021-12-083986

Being sold on behalf of second owner, Dr.Parks, as a part of a long-term collection (owned since 1969).

Original and documented 153042 km (odometer in km) / 95095 miles..

100% original and DATA-Car matching car!

Exterior in factory original DB 467 Sandbeige Metallic * (currently featuring the only one and quality repaint from 2002;, besides couple small, hard to find and barely noticeable touch-ups, the paint is extremely beautiful and it shows well).

Green leather interior (old, aged but well kept;, seats are strong and supportive).

Power sunroof (operates smoothly).

Manual windows (operate well).

Original BECKER Mexico TR radio (works the way it should).

Hirschmann radio anntenna (comes with two keys and a small booklet).

Original KIENZLE clock (the light works, the clock itself is moody).

4-speed AUTOMATIC transmission.

All original factory SEKURIT windows.

All original factory chrome bumpers and aluminum trim (bumpers do have couple of barely noticeable scratches).

Well maintained (only 153k km /95k miles).

Well preserved (no smoke, no funny odors, sporadically driven by one person since 1969).

Never in any type of accident.

In September of 2016 (at the age of 50) the vehicle received the following service:
– all new shocks
-all new brakes (calipers, rotors, pads, lines)
-new engine and transmission mounts
-all new hoses and belts
-full engine tune-up
-transmission service
-all fluids exchange
-new exhaust

Recent tune-up.

Tires are 195/75-14″ brand new white-walls (130 miles on them).

Even the glove box light works!!!

Original books/manuals, service records, original trunk mat, original tools, jack and original spare tire are included and come with the car.

This elegant and timeless classic is ready to be enjoyed immediately and for many more decades of joy to come.

*

This stunning Mercedes-Benz is only 53 years old.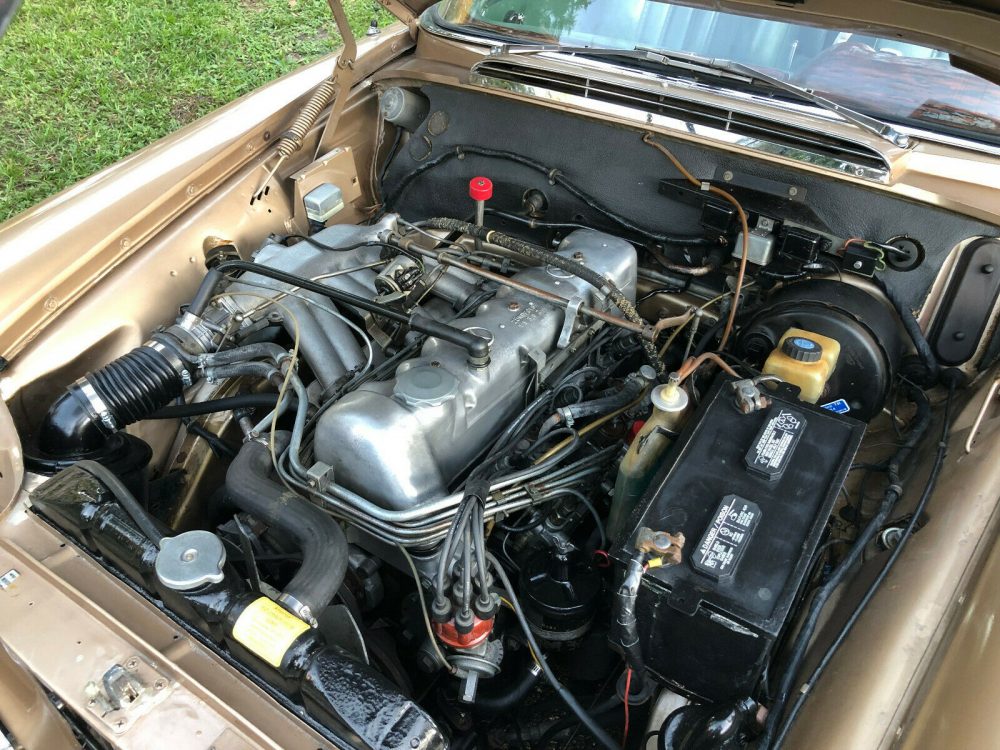 You have to wonder how a color combination like this gets made. Is the car coming down the production line and someone said "Hey, we have some gold paint leftover and a green interior, will that be okay?" Did someone order this car like this? The thing is, I don't hate it. To me, the more unique, the better. I say this as someone who owns a silver over black and tan over brown Mercedes, but give me these crazy interiors all day. All that luscious wood just finishes the interior off so well, but the grey carpets are a little bit of a head scratcher. Not the end of the world, but no one will focus on those anyway.
Prices for the W111 Coupe are all over the map depending on engine choice and condition. You can grab a really early model for under $20,000 if you don't mind a little bit of a project, and go all the way up well into six-figues for 3.5s in outstanding condition. This car has been offered for a few weeks starting in the high 30s but has been slowing falling to it's current price of $32,500. Not a bad price at all given it's recent maintenance and condition. I honestly think the Sandbeige Metallic will hold this car back more than the green interior as no one is out there jumping to sign up for "old man tan", myself included.
– Andrew