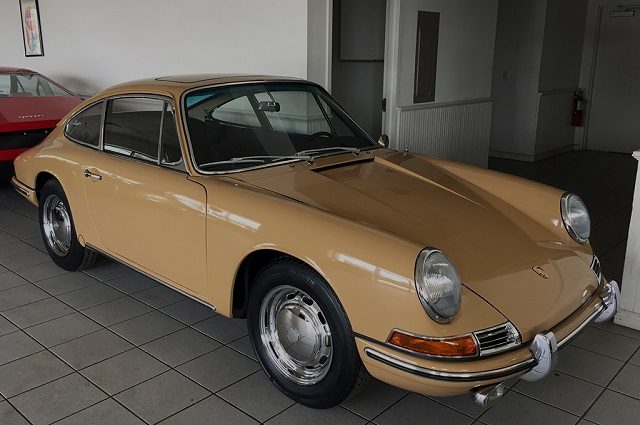 I'm hoping I may learn a little bit with this 911. While it looks in really nice shape having come out of restoration there are a few items that seem incorrect to me. With an asking price above $300K everything needs to be perfect. That said, I might be wrong about these details – perhaps they are correct – and that is where I hope I may learn as restoring vintage automobiles isn't something about which I'm extremely well versed. I know we have some fans of these as readers and maybe they can correct or confirm.
So what do we have? A Sand Beige 1966 Porsche 911 Coupe with sunroof. The sunroof itself is a nice bonus and from the outside the car looks great. I mentioned in a recent post that Sand Beige is a color that seems to work particularly well on early 911s and I think that comes through here. It is in the interior that my questions begin.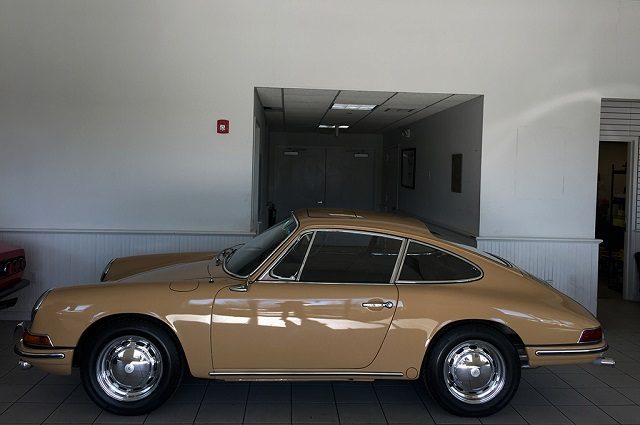 Year: 1966
Model: 911
Engine: 2.0 liter flat-6
Transmission: 5-speed manual
Mileage: 5,777 mi
Price: $325,000 Buy It Now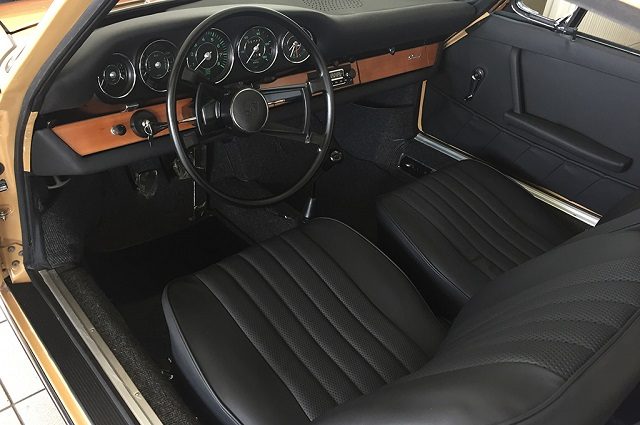 This is a 1966 Porsche 911 Sunroof coupe with matching numbers engine and transmission. This car is an original electric sunroof car with engine # 903848 and transmission # 228220, finished in its original color combination of Sand Beige ( 6607) and black interior. All confirmed by the Certificate of Authenticity. Car has received a complete nut and bolt restoration including :
car stripped down to bare metal and repainted in correct Glasurit Sand Beige ( 6607), Glasurit clearcoat, all new Porsche seals
All new or refinished bright work
Full engine rebuild
All new brakes including master, lines, calipers, discs
all new suspension including all new shocks, bushings, wheel bearings, ball joints, tie rod ends
new Vredestein tires
All rebuilt gauges by Palo Alto
refinished wood by Madera Concepts
All new leather interior by GAHH
period correct rebuilt Blaupunkt radio
New headliner
All new correct German carpets
New wiring harness
All new fluids and filters
All new belts hoses and lines
highly detailed undercarriage
Car comes with a Certificate of Authenticity and restoration records and photos.
This is a very rare find, an original factory sunroof car with matching numbers engine and transmission, with a no expense spared total complrehensive and correct restoration. For more details call 631-283-8819.
Stock: 303739
Color: Sand Beige / 6607
Interior color: Black
VIN: 303739
Transmission: Manual
Body style: Sunroof Coupe
Year: 1966
Engine: 6 Cylinder
Miles: 5777
For more details call 631-283-8819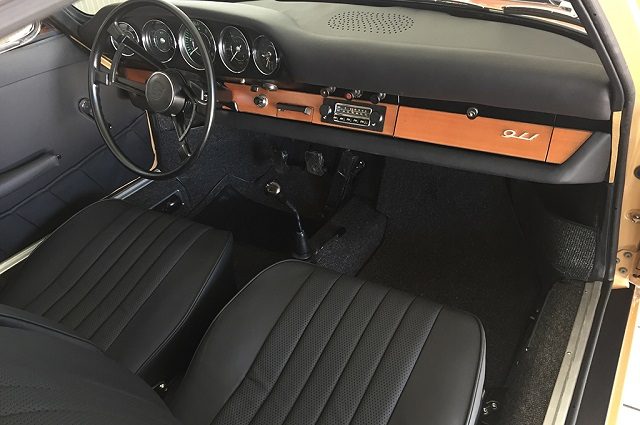 As I've stated before, one of my favorite parts of the early 911 interior is the wood accents. However, here there is no wood steering wheel and the wood dash trim just doesn't look right. It's too light and there's no grain to it. But this is where I wonder if I'm being too harsh, at least about the wood dash. Have I simply become accustom to seeing these pieces on cars with more than 40 years of age on them? Thus, with time will this dash take on the same characteristics? Or is it just a cheaper piece of wood? All I know is that it lacks some of the character that really delivers the impact of a vintage automobile. More attentive eyes may find other details that provoke a similar response, but it is the wood that stood out to me.
As it stands, I suspect this 911 will be for sale for quite a while, though even if it were perfect I'm not sure it would sell for this sort of price. As a comparison, a very similar Sand Beige '66 911 from Seinfeld's collection sold last year for $275K. That one presented better and the Seinfeld name may have added a little extra. And we're still well under this asking price. For an exceptional '65 this asking price wouldn't be unheard of, but '66 isn't really there. What a difference a year makes! I do think this is a nice 911 and lord knows it's hard to find such an early example in excellent condition. There's just those little niggles about the interior and there's the price.
-Rob