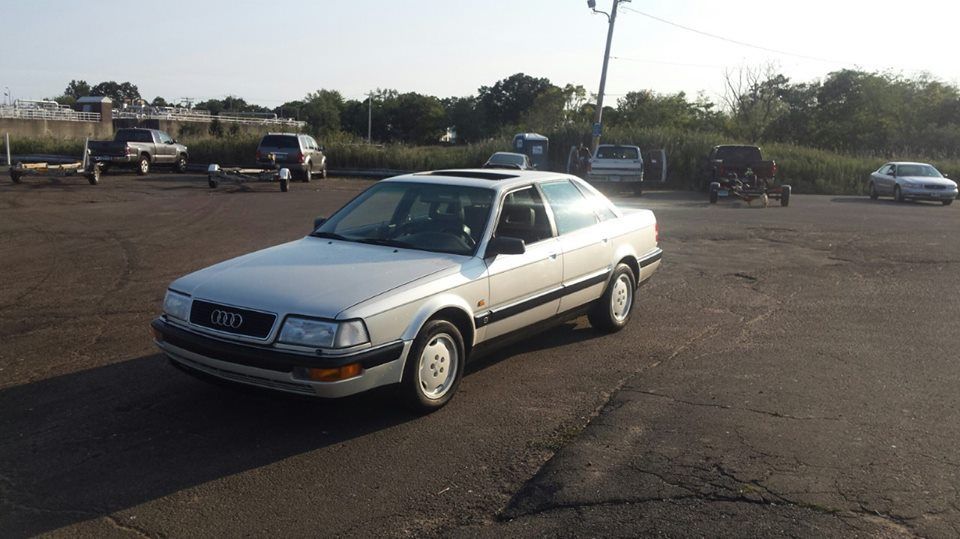 Both the 525i and GTI I've written up this week have followed a common trend; take lower spec model and kick it up a notch with bigger brother power. Today is no different, as once again we look at a car featuring an upgraded power unit swap. However, this is certainly the most stealthy of the trio. The V8 quattro was an impressive car upon its launch in 1988; sure, it was an updated version of an already generation-old car on the verge of being replaced, but the massive amount of updates to the Type 44 meant than the V8 quattro got its own model designation – D11. Nearly everything in the V8 was touched, from the interior materials to the exterior styling, and of course with some celebration Audi launched both its all-aluminum 3.6 liter, 32V 4 cam eight cylinder simultaneously with its 4-speed automatic hooked up to quattro all-wheel drive. The result was a unique luxury car at the time; no one else offered this packaged, and with 240 horsepower on tap the D11 proved a great cruiser. But there were of course teething pains; Audi forecast the length of timing belt service too long on the PT-code engine, and many suffered failures. This was rectified with the larger displacement 4.2 motor in 1992; shorter intervals were met with nearly 40 horsepower more, making the later cars really the ones to grab. Of course, Audi sold many, many more 3.6s than it did later 4.2 models – to the tune of almost 7:1. Many of the early cars were discarded because of low residuals when expensive repairs popped up, but this Pearlescent White Metallic one was saved from that fate by a fortuitous heart transplant:
Year: 1990
Model: V8 quattro
Engine: 4.2 liter V8
Transmission: 4-speed automatic
Mileage: 103,000 mi
Price: $3,000 Buy It Now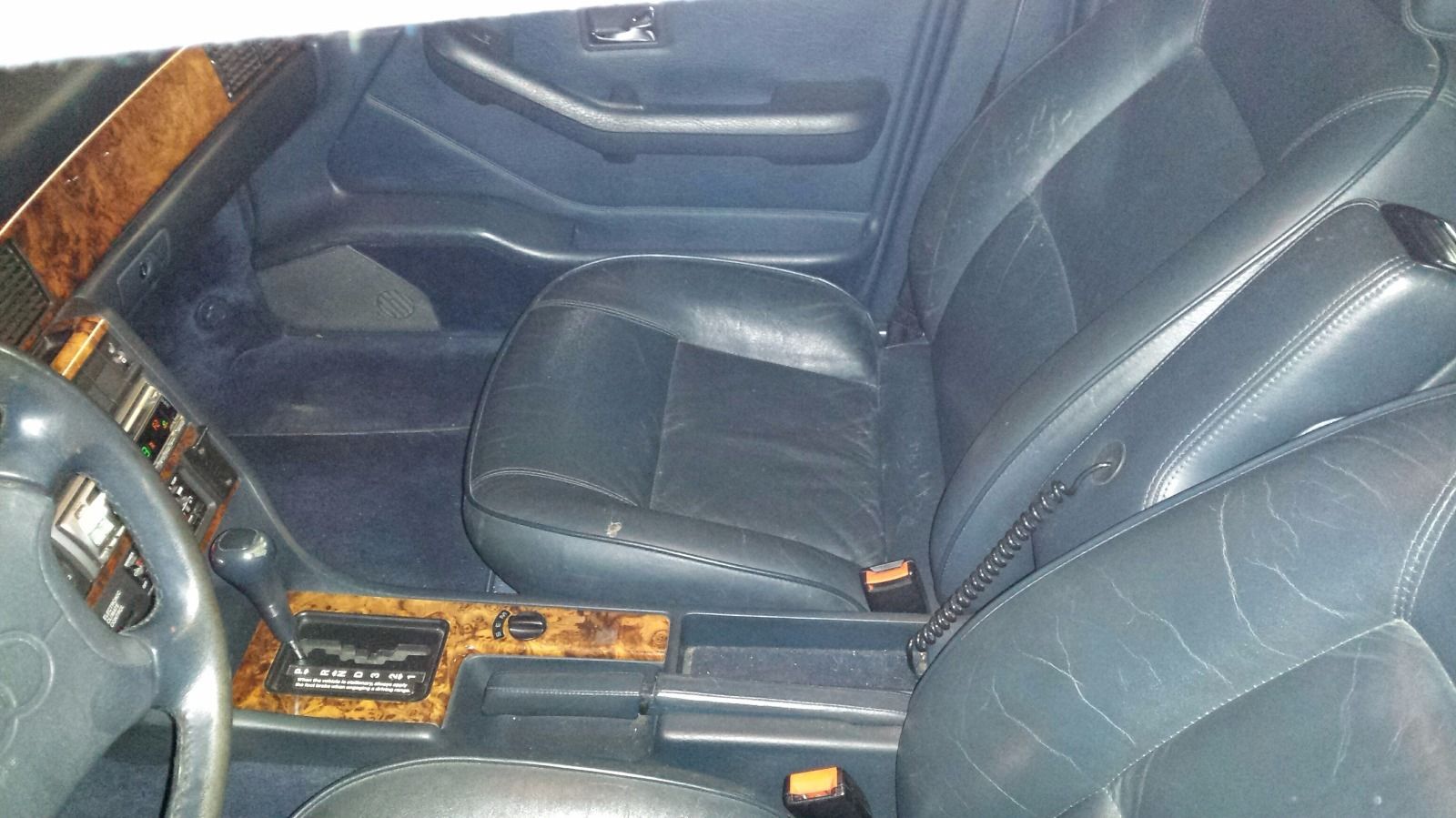 I am selling my 1990 audi v8 quattro. 103,000 miles . (2nd owner) i bought this car from an old man in Pennsylvania and he had let the timing be snap, ruining the engine. Other than that he kept excellent condition of the car. i had it flat bedded to CT and i had a 4.2 liter v8 put into her. I bought the motor from a reputable source on one of the many audi forums i belong to . I hd it installed by a audi mechanic. And there you have it. a really nice collectible Audi almost 30 years old. It starts right up every time. Brand new battery. She is Pearl White. 4.2 l. v8. Fuel injection. All wheel drive and automatic transmission.
Transmission shifts thru all gears like it should. Engine performs perfectly. Leaks a little bit of oil but i've noticed when i drive her more often, the leaks seem the go away. She's been in the garage for two years. I realize i need more pictures and i will take then upon request. There is no dents or rust. Interior is fine. Including the drivers seat. Headliner is starting to sag and although its not too bad if you want this car like new, i'd replace it. I got an offer of 240.00 to replace headliner.
New windshield, tires are fine. time for front brake pads according to the sensors but they seem fine and dont even chirp let alone grind yet. Just slide new pads in rotors are fine.

Everything on the car is good unless notified here:
power antenna replaced with stationary one. A/C does not blow cold, Cruise control does not work, Heated seats do not work. I have not looked into any of these issues they were secondary to how well the car drove and handled the road. The car does not wake up until 80 miles per hour. It is very fast . Steering rack is fine, Heater blower is fine. If you know these cars these are two of the most pain in the neck repairs. I'd really prefer to sell this car who knows what it is. It a bloody race car there is no stopping it. Yes they do need constant tinkering to keep them just right. Unlike a Honda or a camry. If you want a car you expect not to have any problems with for 3 years. buy one of them. If you know what this car is, I'd be happy to chat with you and send more pics.

On Feb-20-17 at 18:31:16 PST, seller added the following information:

Also forgot to mention in original listing that the rear window have sat so long not being used that the motors inside each rear door have cease up. This has been diagnosed with volt meter. Adequate voltage is getting to the seized motor. Not a big deal if you know what you are doing. Window motors can be purchased quite easily and installation aint bad. I never had to use them because the sunroof works fine and both front door windows are 100 %. I did not mention an important fact in original listing that the timing belt and all associated parts, (Kit) were replaced approx 18 thousand miles ago when i had the 4.2 installed. This is a huge service that you will not have to worry about for another 60,000 miles. Service records available for this at request.

On Feb-20-17 at 18:36:21 PST, seller added the following information:

I would also like to add that the reason you see several more owners for this car on its history is because it bounced around a bunch of auctions before it finally landed in my lap. The guy i got it from bought it from an auction and he told me this. there were two long time owners, me and the old man. (truth ) one cat has been completely hollowed and the other is a knock off hollowed, so no need to worry bout this either. Cat bulb been pulled from cluster if anyone knows what this means. This is another extremely expensive repair that u will never see.

On Feb-21-17 at 18:42:04 PST, seller added the following information:

one small rip smaller than a quarter on rear seat(shown in pic) is the only rip in leather interior. And needs new headliner. As earlier mentioned. CD player works as well as unmolested bose system. Still has factory phone in there but most people wont find the need for this…. LOL the more i take pics of this car and start it up everynight after work the less i want to sell it.

On Feb-22-17 at 06:16:58 PST, seller added the following information:

The interior will definitely clean up very well. Carpets need shampoo and leather needs to be treated but it will come back. In the picture i have glove box open, it is not broken, its just open. The only light that come on occasionally on the dash is the brake pad sensor light for the front pads . its time. But not crucial to change front pads rotors good. no rust anywhere on the pearl white paint But underneath has typical wear for a car of this age. (it is a winter car) salt and sand etc.

On Feb-22-17 at 17:24:08 PST, seller added the following information:

i think ive been very accurate in describing things on this car that are not 100%. Please keep in mind if i didnt mention it, that means it works. like all the door handles, glass is all good, tires good etc. if i didnt express it as bad, it's all good.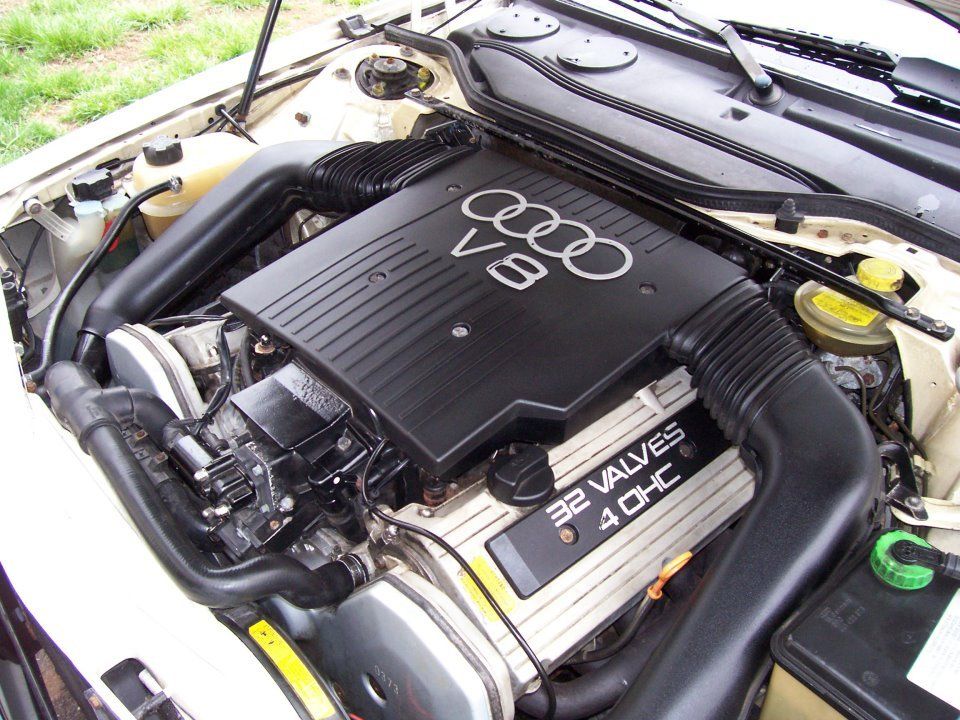 If you have the chance to drive a PT 3.6 or a ABH 4.2, the later cars are the ones to drive. The 4.2 has a better interior, better wood, a better transmission, better looking wheels (1991 excepted), better badges – even better looking exhaust. In short, it's better – a lot better – but not because of the small details. It's the addition of the 4.2 that really transformed the car from competent cruiser to a highway brawler. Dip in to the throttle expecting V8 brutality in the PT and you'll be disappointed. Stomp the loud pedal in an ABH, though, and prepare yourself for a rocket-sled ride to the redline. This car claims to have had that motor installed, but details on the swap aren't forthcoming and it's hard to tell the two motors apart at a glance. Mileage on the engine isn't disclosed either, nor an indication if the transmission – with the later integrated cooler which solved many of the failures of the early 4-speeds – was swapped at the same time. The photos also don't do a great job documenting the condition of the car, but overall it looks to be pretty good. The replacement engine's timing belt is claimed to have only have 18,000 miles, which gives you a few years before the next $1,500+ replacement – the entire front end of the car needs to be removed for access to that belt, starting an unfortunate trend in the brand of very costly repairs necessitated by their longitudinal layout.
Unfortunate is the color and comfort seats, which aren't particularly comfortable. Also, likely lurking under the boat-anchor "Aero" 15″ x 7.5″ color-coded alloys correct for the 1990 are the original "UFO" floating rotors – great for panic stops, horrible around town. The lack of A/C coupled with some non-functioning windows will also disappoint those who like to drive in a comfortable climate. It's not surprising to see an aftermarket head unit, as the Bose radios were prone to speaker implosion (and occasionally, flame-outs!) which then usually necessitated a new radio, since the amplifiers were in the speaker rather than head unit. The cats have apparently been emptied, too, which means you've got near zero chance of getting this car through emissions if it's required.
But at the end of the day, you're probably not looking at this as a daily driver – you'd need to view it as a hobby. We've seen a few late cars ask similar amounts to this 1990, and given a $3,000 budget I'd definitely hold out for a nicer '92-'94. The problem is that they often can't be found, making this car's existence a double-edged sword. It's probably not the one you'd want to buy given an ideal market – but the market on the V8 quattro is nearly non-existent, both in pools of examples for sale and people interested in buying them. From that perspective, you could do worse.
-Carter