Warning!
This post is in our archives. Links in this post may have been updated to point to similar cars available to bid on eBay.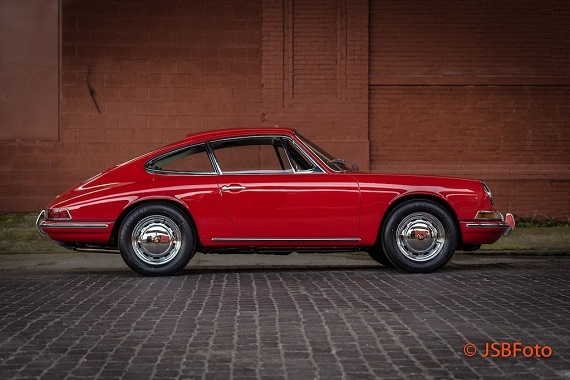 The 911, for good reason, has developed a reputation as a difficult car to drive. Much of this has to do with the rear-engine layout and subsequent dynamic imbalances from the resulting rearward weight distribution. In its early years, these effects were actually more pronounced due to the 911's shorter wheelbase. A shorter wheel base produces greater agility and provides for easier right-to-left transitions, but in a car with its weight shifted towards the rear those nimble qualities can quickly get out of hand. For the 1969 model year Porsche sought to improve the 911's overall stability by lengthening the wheelbase, making the short wheelbase cars somewhat of a historical footnote. The car we have featured here comes from those first few years of 911 production: a long-time garaged 1966 Porsche 911 Sunroof Coupe with a mere 14,620 miles on it, located in Oregon. It doesn't wear its original shade of Light Ivory paint, but still looks very sharp here in Red.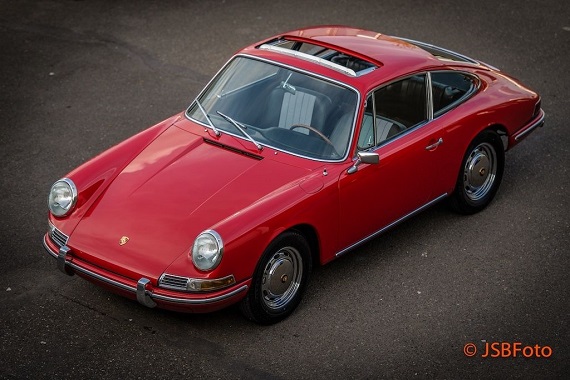 Year: 1966
Model: 911 Sunroof Coupe
Engine: 2.0 liter flat-6
Transmission: 5-speed manual
Mileage: 14,620 mi
Price: Reserve Auction (Buy It Now $119,000)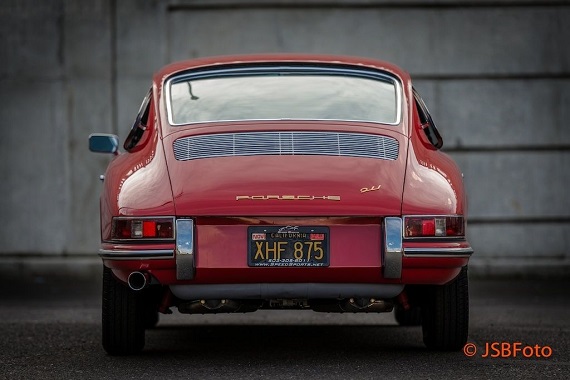 The Dream 911
1966 Porsche 911 Sunroof Coupe.

Early Short Wheelbase

As Per; Porsche Certificate of Authenticity

Chassis #304015

Engine #907241

Engine installed # 3080357

Transmission # 229434 (902/1)

Optional Equipment: Webesto Heater, Blaupunkt Frankfurt Radio, Loudspeaker, Antenna, Safety belts, Sunroof, Dunlop Tires 165/15

Current Odo Reading 14620

First of all let me start out by telling you that I am a jaded car guy. It takes a lot to impress me. My daily driver is a R-Gruppe style car that I built with my own hands. I've sold dozens of really nice vintage Porsches and this one takes the cake.

We had been pursuing this particular automobile for about a year. It was a friend of a friend deal. The car hadn't been driven in over 20 years, but had been stored properly in a climate-controlled garage. When the gentleman who owned the car moved from California to Washington State in 1989 he stopped driving it. Even though he didn't drive it, he was very attached and only sold it when it became a financial necessity.

When we finally got the car, we really had no idea what kind of shape it was in. Obviously we had looked it over, but until you get them up on a lift and spend a day poking around do you really know what you have. Being a 2-owner California car we were pretty sure that that there would be little to no rust. The more we looked the happier we were. Hands down, this was the nicest, most original, rust free car we have ever had. The floors are original, all the glass is original, and the rubber floor mats and rubber pedal covers look like new. The front pan appears to have been replaced some time ago properly. After that they had installed and Optima sealed battery to protect from any further damage. There are only 2 spots on the entire car with any hint of rust. One right behind the door handle on the passenger door, and one right below the rear window on the drivers side. They are very small and are underneath the paint. I made sure to take good, close up shots of both. It's so minor that until you look at the car for a good amount of time you don't see them.

The interior in general is in fantastic condition; original dash is in very good condition and a perfect original headliner. Under the dust, the paint was obviously in great shape. According to the prior owner it had been repainted in the mid-80's to a very high standard. The car was originally Ivory and although we never like to see a color change, this was done very well indeed. Looking over the car in general it was obvious that the car had been well cared for and luckily left stock.

After our inspection a fresh battery was hooked up and to our amazement all of the lights, turn signals etc. worked, as they should. We held our breath and pushed the sunroof switch……It worked as well!!!!

Next we drained all the fluids and replaced them with fresh. We then cranked over the motor to establish oil pressure, it had pressure instantly.

Next we hooked up a fuel source and crossed our fingers, the motor started right up and sounded great! Not able to contain ourselves we drove the car around the block to check for leaks and make sure the transmission was good. The car drove great! We couldn't believe it. It did have a few leaks and we wanted to make sure the tensioners were good, so the motor was dropped out. We did a leak down and were not surprised to see between 5-6%. Given the good results we decided to only do a valve adjustment, re-seal and check the tensioners. It's a good thing that we did because one tensioner was about to come apart. We replaced the tensioners with an updated 930 part and also replaced the clutch. All the standard tune-up items were done, the motor was cleaned up and detailed as well. While we were at it, we rebuilt the entire brake system and had the gas tank cleaned. The Weber carbs were gone through and the distributor was thoroughly cleaned and checked. The heat exchangers were a bit tired so they were replaced with SSI's.

The cases on the motor are 1968 sand cast aluminum, while the top end and fan are all the proper 1966 items. We assume that many years ago there must have been some sort of issue with the bottom end and it was replaced.

Once this was all done I drove the car for a few days to make sure all was good. I can't describe how great this car is. Everything works, the Frankfurt radio, the sunroof, the heat (we did not test the Webesto gas heater). The gearbox is great, syncros are perfect and it shifts as good as any 901 I've ever driven. The car starts hot or cold and does not smoke or make any unseemly noises.

I did notice that the speedo seemed to be reading a bit fast…Then I realized it is in KMH, not sure what the story is, perhaps the car was originally delivered in Germany and then brought to the US.

It is an absolute treat to drive, light, nimble and something a bit intangible that is impossible to convey and must be experienced.

The car comes complete with jack, spare tire and COA.

Both Matt and myself are avid Porsche enthusiasts that own and drive early 911's. We are actively involved in the Porsche community and enjoy these cars very much. Feel free to call or email with any and all questions, we are more than happy to talk shop.

If you have a Porsche you would like to locate a new home for, we specialize in marketing these cars. As you can see from our presentation we do a proper job and have many satisfied clients.

Please remember that if you bid and win the auction, you will be expected to complete the transaction. Recently we have had a few cars sell and then not have the individual follow through. We put a ton of time and effort into the cars and the presentation, please respect that and follow through should you bid.

Inspections are welcome, but must take place prior to the end of auction. The car is for sale locally as well.

Feel free to call or email with any questions, 503-475-8078 Josh, or 503-819-9007 Matt.

We are happy to help you arrange shipping anywhere in the world.

Link to all pictures:

http://www.slickpic.com/share/04MTDMY43DMODT/albums/1966911Coupe?preview

Good Luck and Happy Bidding!!!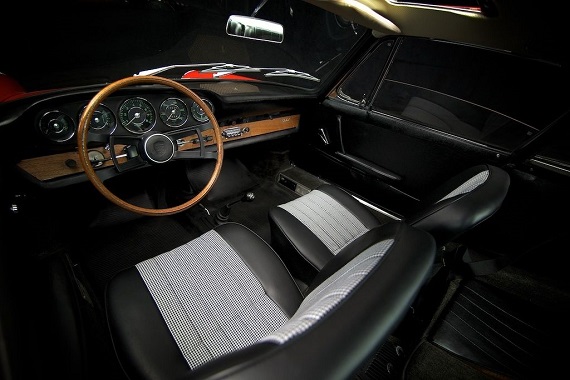 While all early 911s have appreciated in value to a high degree the '66 911 may actually be the least valuable (at least relatively speaking), though the present car's low mileage should serve to balance that out to a degree. The big money for a short wheelbase 911 comes from a 1967 911S, a model designation that did not exist prior to that year. For 1966 there was one 911 and it is the model variant we see here. Setting those points aside, this really is a beautiful example and given the condition it is sure to attract a lot of attention. The seller has provided a description of the work done upon first releasing the car from its long hibernation and, if everything checks out, I'd imagine this has a good chance at being a six-figure car.
-Rob