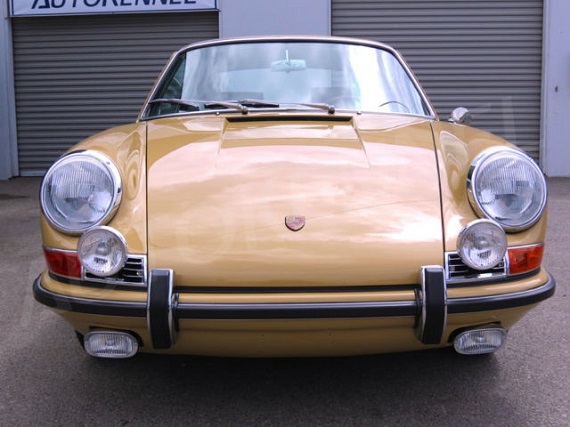 In its earliest years Porsche offered a variety of trim levels to suit a wider array of buyers. The 911T, E, and S each fit within their own performance window and provided buyers more opportunities to get into the 911 that most appropriately fit their performance needs and budget. For the 1967 model year Porsche introduced the 911S. With 160 hp, along with revised chassis and braking, the 911S offered captivating performance for its time and began to establish the 911 as an iconic sports car. The example featured here has recently undergone a full restoration: a Sand Beige 1967 Porsche 911S Coupe, located in California.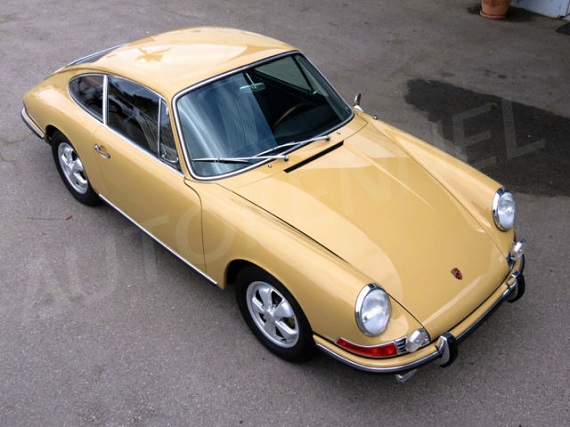 Year: 1967
Model: 911S
Engine: 2.0 liter flat-6
Transmission: 5-speed manual
Mileage: 100 mi since restoration
Price: $249,990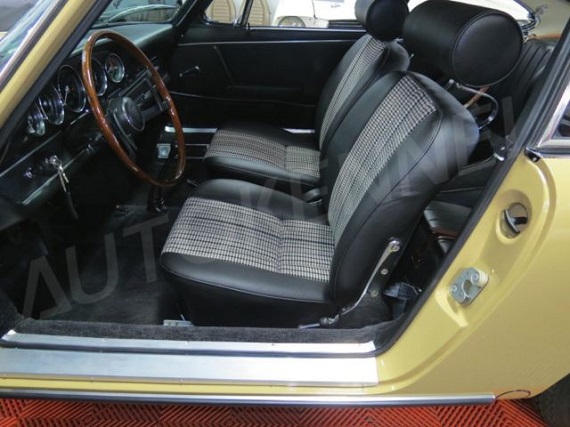 1967 Porsche 911 S Coupe

California Car/Numbers Matching/Kardex

2-Owners for Over 40-Years

Stock #0560

VIN # 307206S

ENG# 961049

TRN# 104050

All Numbers Matching per Kardex
Less than 100-miles since restoration

Sand Beige on Black Leather with Wool Pepita Inserts
5-Speed Manual Transmission

Clean and clear California title

California Car

All Original VIN Stamped Body Panels

Porsche Kardex

California "Blue" Original Issue License Plates.

The 1967 Porsche 911 S is the first "S" model 911 offered and has been identified as one of the top Porsche collectibles by Sports Car Market, Haggerty, and other top automotive resources. However, the reasons aren't just because it was the first and there aren't many remaining complete examples; but rather, they are one of the purest forms of a Porsche 911. They were the culmination of competitive racing for over 15-years distilled into a production road car.

This car was produced on December 19, 1966 and then purchased new by Edward G. Skultety Jr. on March 27, 1967 per the Kardex. It was sold by P.C. Pacific, Inc of Burlingame, California. Although the owner lived in California, he initially registered the car in Oregon for tax purposes. By the early 70's, he re-registered the car in California.

Skultety kept the car for over 20-years before selling it to an Orange County Porsche enthusiast/collector. This owner kept (or more like stored) the car another 20-years. He didn't drive it much but certainly kept it complete and dry. Finally, in 2009, the car was sold to a Los Angeles collector. This owner bought the car because it was, "simple, honest, and pure bones." It had never been abused. It was a very nice complete and straight Early S. Over the next two-years, this owner had the engine fully rebuilt and did an all-window-out/bare metal repaint. His goal was to make it a nice driver as he already had a show-quality '67 S. Unfortunately, he never really drove it much and sold it about a year-ago to the current owner.

The current owner spends part of the year in Los Angeles and the other part in Europe. He has been collecting and restoring vintage Porsches for over a quarter-century. He not only has numerous resources to help him find the rare bits, but he also has a knack for doing things right. He isn't afraid of rolling up his sleeves and doing the hard work. He does this because he enjoys it and he feels it's important that it gets done right.

This 911 is certainly no exception. Instead of just using the car "as-is," he decided to completely take the car apart and redo everything except for the fresh paint. After coming to know this owner for several years, I've realized that he has a passion for this hobby like no other and doesn't like cutting corners. It's never about the profit. He loves sourcing and building cars for himself. The process is his favorite part. He enlisted the help of his good friend Mark at Vintage Excellence to help see this project through. Mark has grown to be recognized as an emerging talent in the early Porsche 911 restoration scene. He is a truly prodigious builder of early 911s. Although they were both on a tight time frame to get this car ready for the summer Porsche events (R Gruppe, PCA Parade, Monterey Historics/Pebble Beach, etc.), they still managed to invest over 800 hours to finish this 911. Over all, nearly $130k was invested in parts and labor alone (not including the purchase of the car).

The first step was to put the car on a rotisserie and begin attacking the underside. They spend many hours removing the entire undercoating by hand to check for any accident damage or rust. The previous owner had recently replaced the front pan when he painted the car. They did a good job and used the correct OEM part. They cleaned up the welds and then prepped/restored the underside in the correct factory finish. After removing the interior, they found a small rust spot by the rear defrost vent on the parcel shelf. Patching the small spot wasn't an option for this owner. Instead, he ordered an entirely new OEM parcel shelf and had it replaced. The only other corrosion they found was on the front lip where the gasket attaches to the front bonnet. Here too, they opted to replace the part with a factory OEM piece. No expense was spared.

The next step was to address the mechanicals. Although the engine and transmission were rebuilt recently, there was a very slight nocking when idling as well as a slight synchro grind. Of course, this owner decided to redo both. Mark completely rebuilt the engine with new pistons and cylinders. The transmission was opened and new 1st and 2nd gears were installed along with new synchros, dog teeth, bearings, and seals. The engine bay was completely detailed to correct original specifications…even down to the correct original-style factory "Orange" Porsche oil-filter.

The final step was to completely restore the interior. The enlisted the help of Autos International, one of the premier Porsche interior restoration facilities. They reupholstered the seats in leather (front and back) and used very hard to find Austrian Wool Pepita (houndstooth) inserts.

Restoration highlights include:

Original factory VDM wood steering wheel restored (correct date stamped)

Correct German wool carpet

Austrian wool pepita inserts

Original rear luggage straps

Leather seats (front and back)

Factory head rests

Blaupunkt Frankfurt mono radio w/re-amp

OEM Sigla tinted windscreen (rare option)

Rest of glass and brightwork all original

Correct "red-line" engine decals

Orange rear defrost foam tubes

Date stamped (11/68) aluminum NOS oil lines

Updated "3-orange" cam oil lines

5-correct date stamped 4-1/2" Fuch wheels restored by Andre Avassian

New 165/15 Vredestein tires

Through the grill fog lights

OEM Hella European headlights

New Hella under-bumper fog lights

Gauges restored by North Hollywood Speedometer

Correct tool kit and jack

Original Porsche Kardex

Original "orange-bar" hood crest badge

As you can see no expense was spared. Everything was either restored or replaced with OEM/NOS parts. Eric Linden of Auto Foreign Services, one of the top suppliers of correct reproduction 911 S parts also helped provide a few of the missing items.

Driving the car is an indescribable pleasure. Driving a properly sorted and done SWB 911 S like this car helps you understand the fervor by the collector community. This car is something special. The sound it makes as it passes 4,000 rpm is fantastic. It shifts smoothly and is probably one of the best shifting 901 gearboxes I've experienced. The car is incredibly tight with superb attention to detail.

Whether you want to show the car or simply enjoy on vintage tours, this Early S is ready to be enjoyed today.

This Porsche comes with the original tool kit, jack, owner's manuals, extra keys, kardex, 4-1/2" spare Fuch wheel, original rubber floor mats, and original U.S. DOT headlights.

*The Vasek Polak license plate frame is not included with the car."

If you have any questions, please do not hesitate to contact Paul at 714-335-4911 or paul@autokennel.com

For tons of photos, go to: www.AutoKennel.com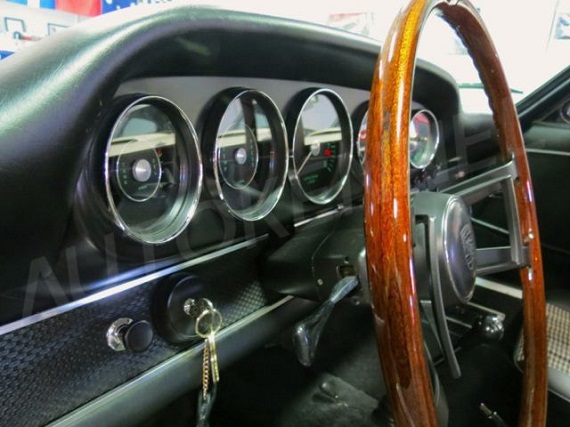 So, this is very expensive. The 911S has been highly valued for a while now and easily leads the pack for standard 911 values so it should not be much surprise that such a beautifully restored example from the first year of 911S production has reached the quarter-million-dollar mark. The question any collector must contend with is where values will go from here and I'll admit I have no idea. Values have escalated so quickly that it feels like a bubble waiting to burst, but that's been said for some time now and values have continued to rise. That rise (at least at the present rate) surely can't go on forever, but given the diminishing numbers of excellent cars available, there should continue to be a market for the cream of the crop.
-Rob