Warning!
This post is in our archives. Links in this post may have been updated to point to similar cars available to bid on eBay.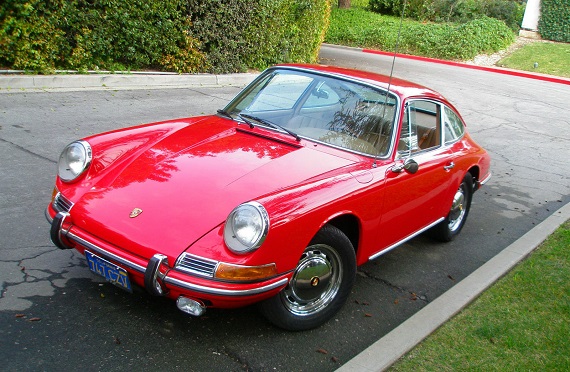 As prices for well maintained and/or restored long-hood 911s continue to soar, my thoughts always drift back to the 912. The same style and the same driving dynamics, but turned down a notch, all for quite a bit less money in today's market. And that is the basic story of the 912's life: an entry-level Porsche for those hoping to get a taste of the marque, but without making huge sacrifices in quality nor performance. As with any car that's approaching 50 years of age, the numbers of quality examples dwindle with each passing year and the cost of entry goes up. For now, however, the 912 still comes at a quite reasonable cost. The car featured here is a restored 1967 Porsche 912 Karmann Coupe located in California. It no longer wears its original color of Irish Green, but still looks excellent here in Polo Red over a Tan interior.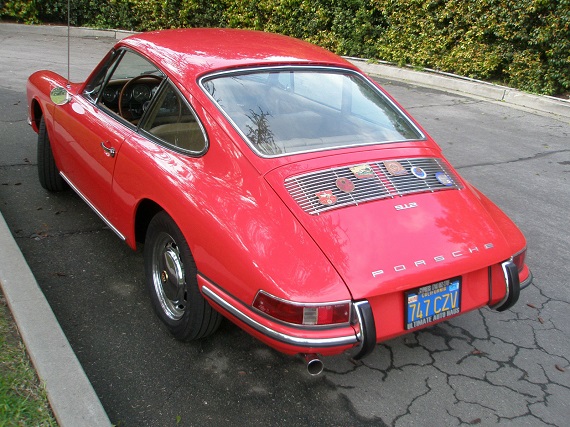 Year: 1967
Model: 912 Karmann Coupe
Engine: 1.6 liter flat-4
Transmission: 5-speed manual
Mileage: 62,005 mi
Price: Reserve auction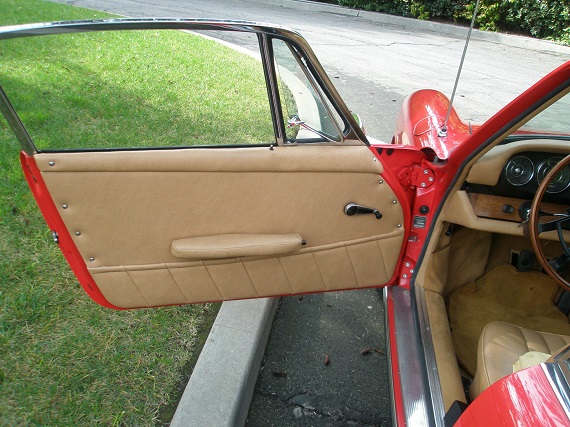 OVERVIEW

Thank you, ladies and gentlemen, for dropping by to take a closer look at my extraordinary 1967 Short Wheelbase Porsche 912. This one is immaculate, both mechanically and cosmetically. It comes with a number of desirable options and approaches the condition of the one you'd drive off the Porsche dealer's showroom in 1967. It's a car that's been the object of my finessing over the past 30 years and is 100% complete.

It's an all-California car with Porsche's Certificate of Authenticity which indicates production was completed 5/22/67 and well into the production year. Listed options are "bumper horns" (with rubber inserts) and full tinted glass. You'll find a complete set of five gauges with clock, Blaupunkt Radio, heater, chrome wheels and four speed transmission.

OPTIONS/AMENITIES

Over the years, a period-correct mahogany steering wheel, hand fabricated, straight-grained walnut dash insert and Hella 128 Driving Lights have been added. At its four corners are a recent set of ContiProContacts fitted to the original chrome wheels and NOS hubcaps with enameled-centers. The 185 65's make for a perfect fit and offer superb grip in the corners. Badges have been added because they are in character with old Porsches seen on the Autobahn and are included in the sale.

912's HISTORY

I bought this car from the second owner, a close friend, in 1983 and for a time it was my daily driver. Later In the 80's, I took the car to a friend's auto hobby shop – Dr. Bob Berger in Santa Ana who specialized in immaculate restorations of Packards and British cars – for a cosmetic restoration. Color was originally Irish Green, but the iconic Porsche marketing choice and my preference has been for early short-wheelbase cars in Porsche's Polo Red with tan interiors. It's what I've always believed is the ultimate appearance combination. According to ads of the period, red also appears to be the factory's preference.

To do the job right required a good steam cleaning and removal of every body part down to the basic frame. Paint was completely removed from every surface, treated, primed and coated with numerous coats of finish, with a lot of wet sanding between coats. Means the car was finished with real paint, not the modern waterbourne basecoat/clearcoat. Painted in the late 80's, you can see the fresh look of a premium finish 25 years later.

The exterior is finished in Polo Red with gleaming brightwork complimented by the Camel Tan, German Vinyl interior. Unlike others being marketed, the radio and clock actually work – as do the OEM underhood, backup, interior, driving and license plate lights.

Engine cladding and valve covers were media blasted and either powder coated or painted with catalyzed black enamel when the car was refreshed in the early 90's.

In concert with factory practice, bumper backsides have been sprayed body color. All exterior rubber moldings, gaskets and seals have been replaced with Porsche or OEM rubber.

Upholstery was completed by Alfredo Galvan, who mastered his craft installing leather interiors in corporate aircraft. Over a period of time, Mr. Galvan replaced the complete interior in the finest German Leatherette and Carpet available. It is all hand cut and hand stitched. It's notable that almost every interior surface is covered by an upholstery material, including the headliner and sunvisors.

To reduce vibrations and ambient sounds, the complete floor was covered with the Dynamat thermal acoustic sound absorbtion system and topped with a heavy pad. Thick sound absorbtion panels have also been applied to the three engine compartment surfaces.

The engine and four-speed transmission are original to the car with numbers supported by the COA. The solid shaft Solex carbs (available) have been replaced with new Webers and the original fuel pump remains as the conduit for a Bosch electric unit which helps starting and increases long-distance reliability. The engine runs strong and transmission shifts effortlessly with its new clutch and shift coupler.

Within the past few months, service invoice indicates Ultimate Autohaus, Cypress, replaced piston rings, coil, distributor, hoses and everything necessary to insure the car performs flawlessly. Chief Mechanic, Robert Moore, was a Porsche dealership mechanic during the 70's and is a horizontally opposed engine specialist. Robert can be contacted to discuss his mechanical work on the car. After a number of years of storage, gas tank and fuel lines were thoroughly cleaned or replaced. Brake system has also been reworked.

Of particular note is the smooth, glossy surface with an absence of any rust bubbling (frequent problem with aging Porsches). In fact, no evidence of corrosion or rust exists anyplace on the car – including the area beneath the battery.

In the early 90's Porsche established a historical parts depot in Reno and friend, Art Carona, who managed the parts counter at Campbell Porsche, our local dealer at the time, reviewed parts sheets with me and ordered all applicable nuts, bolts, latches, lighting fixtures, handles, brackets, pulleys, cables, seals and gaskets, listed on the depot's inventory sheets.

GENERAL 912 INFORMATION

Porsche commenced production of the original Short Wheel Base (SWB) 912 on April 5, 1965. Features included self-supporting bodywork with front independent suspension on transverse links and damper struts, stabilizers, longitudinal torsion bars, rear independent suspension on lateral links and transverse torsion bars. Add its "Safety Steering" jointed steering mechanism with three short column links (including one angled intermediate shaft) connected to a rack and pinion box. Engine is four cylinder Boxer, 1582cc, compression 9.3:1, output 90 DIN (102 SAE) hp/5800 rpm and equipped with pushrods, rocker arms and Cogwheel camshaft drive. Forged crankshaft with 4 main bearings, pressure lubrication.

In its annual rating polls of the era, Car and Driver readers often selected the 912 as "Car of the Year."

912 INVESTMENT POTENTIAL

I'm speculating here, but most of you know that a decent, but aged 67 912 will set you back about $15K. Add 10/15K for premium paint and upholstery and another 10/15K for a complete mechanical restoration. If you want your 912 with an original mahogany steering wheel (if you can find one), a matching dash insert, luggage belts, tool kit, 'driver's manual' and German square weave trunk carpet, add another 3K. New tires and a working clock and radio (new speaker) can add up to another 2K and include about the same to get decent replacement tail and parking lamps. NOS hubcaps with colored crest centers and some rechroming will probably add another thousand. As you can see, it wouldn't be hard to spend $40/50K and a lot of time/energy to duplicate this show/roadworthy 912.

Porsche's 50th Anniversary Celebration has shined new light on the original and stunning 901 design. But for years, 912's, like 190 SL's, were overshadowed by their six-cylinder brethren. As prices on those cars soared, sometimes into seven figures, however, collectors have found the styling, build quality and rarity for concours 912 examples, makes four cylinder cars eminently collectible and appreciating as the days click by. Because 912's offered cheap, fun transportation in the 70's and were frequently run into the ground, Porsche dismantlers, like Anaheim's Aase Brothers, thrived on them. As a result, the herd, over the years, has been considerably thinned.

As a 60-year car hobbiest (Yes, dear, I bought my first project, a 1940 Chevy coupe in 1954) I can advise you spend your collector car bucks on an immaculately preserved, low mileage original. Absent that, however, next in line are cars like this one that, although restored, presents like near new. The car is licensed and insured and regularly driven. California "Pinkslip" is in hand. Because the odometer was recently repaired, reflected mileage is not accurate

SUMMARY AND BIDDING INFORMATION 

Overall, this 912 runs as good as it looks. It revs freely, shifts smoothly and corners like it's on rails – one of the reasons 912's continue to be rally circuit favorites and selected over the more daunting SWB 911.

The second image included with the photos is the restored Polo Red prototype of Porsche's initial 901 T-7 project dating to the early 60's. Remaining images were taken a few days ago and represent the car you will buy today. Fifty one years later, this 912 pays strong tribute to a stunning design for which Porsche is currently producing a tribute car in its 50-year celebration of the design.

If you are the successful bidder in this reserve auction, a $500.00 PayPal deposit will be required within 48 hours. Full payment is expected within a week and the car will be released when your payment instrument, other than cash, clears. The car is in my home garage here in Cypress, California, and can remain stored for up to 90 days if full payment is received. A mutually agreed upon storage fee may apply, however. With 48 hours advance notice, I'll be happy to assist with trandsport. Please bid only what you are comfortable paying for the car.

Because this car has been a thirty year love affair, it's easy to get carried away describing it. So it's my recommendation that before bidding, you see and drive the car personally or have it professionally evaluated. Your close inspection of the photos (or personal assessment) and your questions are encouraged.

Thanks for wading through this abundant mix of fact and hyperbole (know a good editor?) and GOOD LUCK BIDDING!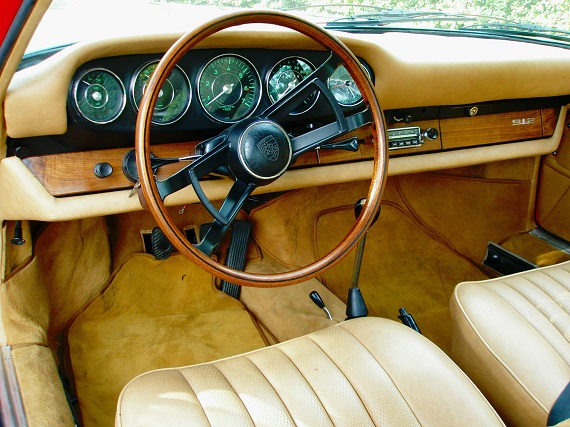 We certainly can't complain about a lack of information with this auction! The seller knows his car well and has represented it faithfully. While the car is undeniably a beautiful color with some really nice period-correct interior accents, I do wish it remained in its original Irish Green, which is just a fantastic color on Porsches of this vintage. While the non-origianl color will hold the price down, this seller is looking for top dollar and given some patience he'll probably get it. I'd imagine this auction will end somewhere in the neighborhood of $30K. Whether that's enough to meet this seller's reserve is something we'll have to watch to find out.
-Rob