If it weren't for the existence of the 912, the venerable Porsche 911 might not still be with us. When it was introduced as Porsche's entry level model in 1965, it initially outsold the 911 and was discontinued in 1969 to make way for the mid-engined 914, a joint venture sports car between Porsche and Volkswagen. These days, the 912 is often passed up for its more powerful sibling, but these four cylinder sports cars were engineered just as well and added an element of greater efficiency and affordability to the 911 range. Incidentally, the 100,000th Porsche produced was, in fact, a 912 Targa outfitted for Police use. This 912 Coupe for sale in Ohio isn't a concours example of the breed, but is rather rust free and in good enough nick to enjoy on a regular basis.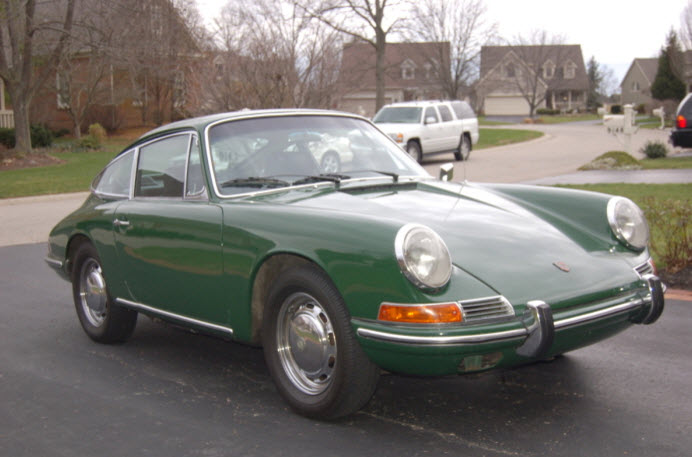 This 1967 Porsche 912 CPE is a strong and reliable driver. It's a 5-speed with a big bore kit that I'd get in and drive anywhere. Here are some points of interest:

-VIN# 458393; Engine# 746358
-Fresh tune-up, plugs, points, cap, timing, valves adjusted
-Solex carbs rebuilt and sync'd
-New Bilsteinsport rear shocks
-New Koni front inserts
-Gas tank cleaned and sealed
-H-4's
-Excellent Bridgestone Invictas, 195-65-15, Original date-matched chromies
-Excellent interior, No speaker holes in the door panels, replacement dash included
-No rust issues, some repairs professionally done
-One windows-out respray in the original color…Windows went back in with all new seals
-Clear title in hand

This car is being sold to make room for its replacement. It's an excellent candidate for a working restoration…drive and enjoy it while you restore, or just drive and enjoy. Offered at $17,300.00 to a good home. Thanks for looking.
Pre 1970s 911s have seen prices skyrocket over the last decade, to the point where they are rather unattainable for enthusiasts of average means. The 912 offers enthusiasts a more reasonable way into the 1960s Porsche club. With the work done, at $17,300, this represents a pretty good bargain to own a classic of this caliber, as most drivers these days are fetching prices above $20,000.
-Paul