The Volkswagen Phaeton is a polarizing car. Some people see it as an overpriced Volkswagen. Others appreciate it for what it brings to the table in terms of engineering and exquisite detailing. Before he retired, Ferdinand Piëch, Chairman of the Volkswagen Group, wanted to develop an uncompromising luxury sedan to beat the likes of Mercedes-Benz at their own game. While he may have succeeded, the market dictated otherwise. By 2006, four years into production, a little over 25,000 examples of this luxury sedan had been produced. The domestic market is by far the strongest, but the US market was a different story. Under 1,500 Phaetons were sold here in 2004 and for 2005, a mere 820 cars found homes. The writing was on the wall and Volkswagen ceased US Phaeton sales the following year. This Phaeton in for sale in Massachusetts represents a lot of car for not much money.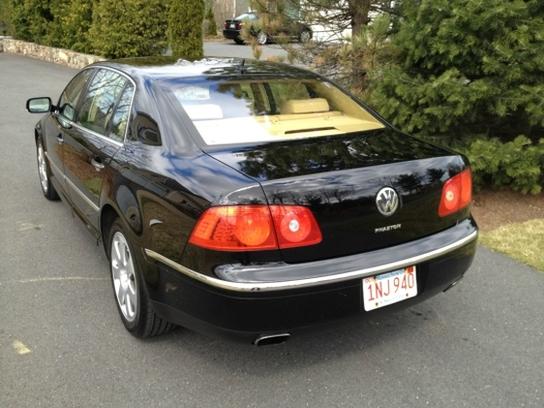 Pristine Black/Beige V8 Phaeton with 54,500 mileage and covered by 2 year comprehensive Platinum RealDriver Warranty till 12/2013. Cold Weather Package Premium Audio Rear/Front Heated/Ventilated/Massaging Seats AWD with refinished wheels, small areas of curb rash. Immaculate exterior recently detailed and compounded, slight scuff behind rear passanger wheel. Pristine interior with small crack in passenger rear speak grill. Looks and drives like new, all service done at Wellesley VW, MA and can provide service records.

Has had air shocks replaced, new TPMS sensors, and recent front brakes/rotors. Includes over $5,000 in extras including. Two year Platinum tranferrable warranty ($3,000), front end clear film protection ($995), built in rear radar/laser detector K40 ($1,200), Smartphone holder with Aux in and Satellite hookup ($895), all-weather custom rubber mats including trunk, original mats pristine ($225) A/C ice cold. All scheduled maintenance, always garaged, excellent condition. Factory GPS system, fully loaded with all the goodies. Looks & drives great. Must see, no accidents, non-smoker, satellite radio, upgraded sound system, very clean interior, well maintained.
When it was new, the V8 Phaeton's MSRP was almost $65,000. A scant eight years later, values have dropped into the mid teens. This particular Phaeton is attractive since the air shocks and brakes have been attended to, not to mention the warranty. It's a lot of car for under $19,000, but it begs the question…"would you?" There's plenty of other luxury sedans in the price bracket with more snob appeal, but if that's what you are after, you're missing the point of the Phaeton. Volkswagen set out to topple the German executive sedan establishment through engineering brilliance. Even though it only saw the light of day in the US for three model years, it left its mark on the automotive landscape and is a part of the larger story of Volkswagen and their efforts to boost brand image.
-Paul