The Porsche 964 was a 911 that wore many hats. Available in the usual Turbo and non-Turbo guise, this was the 911 that introduced all-wheel drive to the equation in normally aspirated models. In 1994, a Speedster version arrived on the scene and along with the race ready RS variant, a US market RS America, based on the Carrera 2, was offered. Along with the multitude of different models, one could request the widebody option, which gave owners the look of the Turbo without the added cost, or horsepower, for that matter. This C4 for sale in Florda is the recipient of an extensive rebuild in Germany and is a sharp example of one of those rare widebody non-Turbos.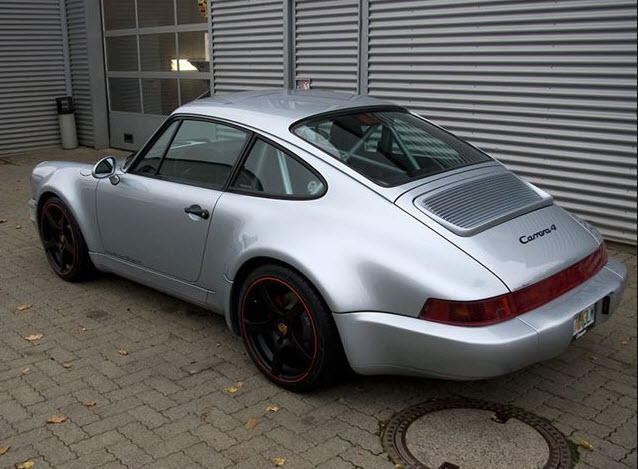 You are looking at an extremely rare 1994 Porsche Carrera 4 wide body. There were only 254 964 Carrera 4's made for the US market, and this one is simply stunning. It is original polar silver color exterior, and was completely restored from the ground up. The interior is wrapped in alcantara with red stitching. The engine and transmission were rebuilt during the restoration. This car is absolutely gorgeous. The vehicle was restored in Germany, and has been fully documented and completely TUV certified. You must see this vehicle in person to truely appreciate the craftsmanship and quality that went into this Carrera 4. There are hundreds of documented photos of this vehicle during its rebuild. For more information or photos, please email us.

The odometer still shows the original miles of 111,000 when the vehicle was purchased before the rebuild. The owner decided not to roll the mileage to 0, and chose to leave it with it's original miles. Please note, the vehicle was completely rebuilt from the tub up. More pictures are available on our website. Link: http://www.tunersmall.com/picture-gallery.php?level=album&id=63

Complete List of Porsche 964 WTL(wide body) Modifications
Dis-assembly of the complete body Take off the doors, Fenders, Trunk-and engine lid, Sunroof Remove Motor and Transmission as well as complete Interior and Carpet Sort all parts and prepare selected items to be painted

Paint
Beat blasting of corroded areas, fix weld spots around the window frames and base coat afterwards, paint the complete inner trunk, all original labels and stickers will be reproduced and mounted in the same original spot, original polar silver metallic high solid manufacturers paint will be used body will be mounted on rotisserie set-up, door sills will be painted together with the body to avoid any paint seams, all dents will be removed, no filler will be used, plastic components below that are usually black will be prepped and painted in car color, rear spoiler insert will be painted in car color, door handles,door frames and sunroof frame will be painted in original black satin, the front bumper will have the license plate opening removed before painting.

New body parts
Replace mechanical Sunroof parts, head lights and hardware, windshield, rear light bar (red), all Rubber seals Front bumper air ducts in car color with hoses and hardware as well as white corner lights and clear bra are installed new

Dry Ice cleaning procedure
complete under carriage, gear box, engine compartment, motor and steering components will be cleaned with dry ice

New original Porsche parts
Suspension rods, all suspension rubber parts and fittings, hydraulic oil and grease

Brake system
Dis-assembly front and rear, grind outside of calipers smooth, powder coat red, original white Porsche font, 4x cross drilled RS rotors, new brake pads and stainless flex hoses, new copper pipes, original brake fluid

Wheels and tires
AP-Five Spoke Racing wheels in black satin with red outer ring and gold crest center caps Front 8.5 x 18ET52 with 225/40ZR18 Dunlop Sport Maxx Rear 10.0 x 18ET52 with 265/35ZR18 Dunlop Sport Maxx

Interior
Inner door panels and upper part complete in Alcantara with red pull-loop, Rear seat side panels in Alcantara as well, Remove rear seats and replace with RS carpet (stitching "WTL" in red), complete new floor carpet with red outer stitching, Momo 350 mm Supercup Alcantara steering wheel custom padded 5 mm with red stitching and gold center crest, delete the Airbag function, adjustable aluminum pedal set, carbon fiber GT seats in Alcantara and red cross stitching, adjustable seat frames, Alcantara headliner and sun visors,red seat belts, remove rear seat belts, upper and lower dash as well as center console Alcantara with red stitching, gauge rings and ignition cover carbon fiber, door sill covers carbon fiber, shifter and hanbreak in Alcantara, new radio with invisible speakers, rollbar with x-brace in car color, install 12 Volt socket in trunk area for battery tender, install 964RS 12 Volt main switch, install Alcantara pouch in trunk area for first aid kit etc., remove spare wheel and replace with tire-fit bottle

Motor
Dis-assembly and removal of valves etc., testing of all moving parts, install titanium valve springs, new seals, belts,spark plugs etc., install AP car design custom stainless steel exhaust system with cup pipe as well as BMC filter and chip tuning ( +20 HP), carbon fiber Air ram system, paint motor cover in polar silver, paint fan wheel in red, visible engine parts completely cleaned and some powder coated, replace all hoses, new compressor connectors, overhaul A/C, new alternator, new starter etc.

Don't miss your chance to own a truely rare vehicle. There are not many of these vehicles left in the world, and there are no other 1994 Carrera 4 Porsches with this level of detail and craftsmanship.
While the level of work done to this car is certainly impressive, I'm not so sure that a rebuilt C4, regardless of whether it is a widebody or not, constitutes much more than what a 964 would cost these days, which is generally in the $50,000 to $60,000 range for a clean, unmolested example. The cost of the rebuild was certainly not cheap, but whether it is feasible to make that cost up will remain to be seen.
-Paul