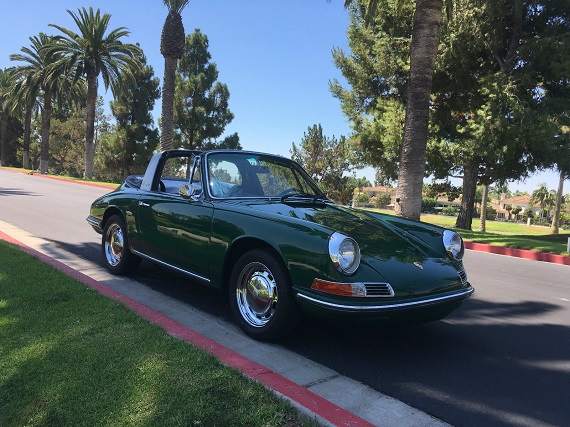 Here we have one of Porsche's more interesting design ideas: the Soft-Window Targa. Most are quite familiar with its hard windowed cousin, which has been available on the 911 for most of its life. But far fewer may be familiar with the precursor to the 911 Targa. With the Soft-Window Targa Porsche sought an engineering solution that would allow for maximum openness in the cockpit while retaining a measure of structural integrity they thought would be necessary to meet impending safety regulations. Those safety regulations never became manifest, but their design did. It's somewhat simple: use a fixed roll-hoop and make the top and window removable. The look is somewhat strange and the window section was quickly converted to a fixed window, but the soft window provided a great deal of versatility and choice for drivers depending on just how much of the external environment they wanted to experience. The Soft-Window Targa is quite rare on both the 911 and 912 and as such will command higher values, with the 911S being far and away the most expensive. The one we see here is from the earlier short-wheelbase model years as well: an Irish Green 1968 Porsche 912 Soft-Window Targa, located in California, with 113,000 miles on it. It should be noted, this 912 does not possess its original engine, but the rest of the car is said to be original.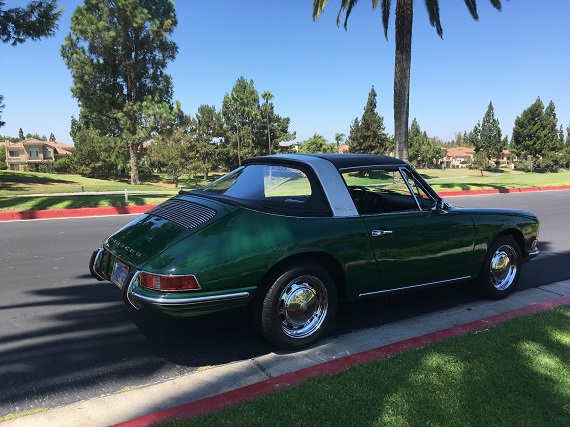 Year: 1968
Model: 912 Soft-window Targa
Engine: 1.6 liter flat-4
Transmission: 5-speed manual
Mileage: 113,000 mi
Price: Auction
This is a real Porsche 912 "Soft Window" Targa

blue plate Southern California car. It never left California. This Porsche 912 car has 113.000 miles on the clock
1968 Porsche 912 Targa – produced in December 1967 – Soft Window

This is one rare car in – original condition –
Chassis number 12870446
1969 new engine installed
at Marin County Porsche
Engine number 4095936
Original engine number 1282198
Transmission number 1281795-902/02
This is a 2 Owner
With the optional 5 speed transmission
Originally purchased @
Marin County Porsche Dealer Leon Felton on 03/13/68
Sales price was $6,052.68
The Base Price at the time was $5,480
Added on the following Options:
Bumper Guards $13.00
Retractable Antenna $16.00
Speaker $11.00
5 Speed Transmission $65.00
5 Chrome Plate Wheels $96.00

The second owner has owned it since 1979
The Original Owner still lives in Marin County.
It has been a Southern California car all it's life.
This is an early 1968 Porsche without headrests.
With the optional 5 speed transmission
in Irish Green

1968 Model Year
Original 113,000 miles on the odometer
A very straight body with nice gaps all around

The interior is all original
Seats, springs and foam was firmed up
Rear seats newly upholstered and reinstalled
In the US the Soft Window was being sold as 2 seater
New carpets were just installed
Dashboard recovered with new leather
Targa top was completely replaced, of course inside and outside
As well as a brand new handmade Soft Window
The car drives great

The previous owner completed the following service in 2015
New Weber Carburetor
New Electric Fuel Pump
All New Fuel lines
Fuel Tank Cleaned
New Engine Sound Proofing–Engine dropped to Install
New Pointless Distributor–Pertonix
New Dunlop Tires –Direzza 195/55R15
New Spark Plugs and Wires
All New Filters and Fluids–Synthetic Oil
Complete Tune up–Most done by Griffin Motorwerke

Please ask me for the dropbox link with all 185 pictures. Thank you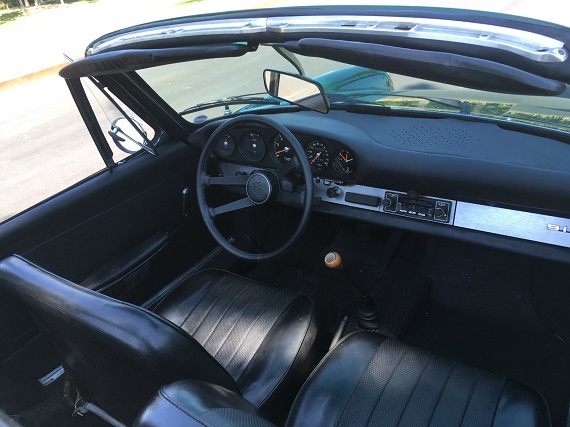 I feature this Soft-window Targa fully with the knowledge that I don't think it has any chance of selling at this price point. These are rare and valuable cars among early Porsches, and are certainly the most valuable of the 912. But without its original engine I'm not sure any collector would have interest when the price is $70K. Also of note is that rear seats have been installed where there originally were none (I find this addition quite strange). Altogether, this strikes me as a great example for the non-collector with an interest in these unique and quirky machines, but those buyers surely would hope to spend less on a 912. Outside of the engine issue it's a very attractive example and looks in good shape. If it's mechanically sound then it should make for a very head turning 912 with which to enjoy some time.
-Rob