Warning!
This post is in our archives. Links in this post have been updated to point to similar cars available to bid on eBay.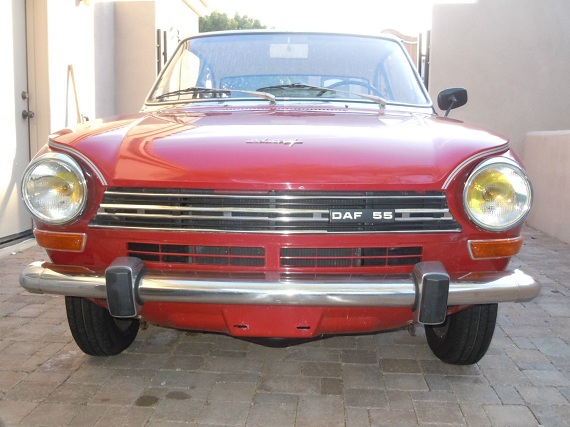 You have to love car companies. Marketing geniuses will tout the superior advantages their cars offer, often referring to the technology incorporated as "ground breaking" or "innovative". One such "recent" innovation has been the CVT – continuously variable transmission – that offers peak power and improved fuel efficiency. The only problem is that it is in no way recent; take today's 1969 DAF 55 Coupe, for example. Launched in 1967 from a Dutch company otherwise known for producing trucks, the DAF 55 took their boxer-engined 44 and replaced the lump with a Renault-sourced 1.1 inline-4. But more interesting was the "Variomatic" CVT transmission – but surely, you say, it wouldn't have worked back then. Well, it did, and like the NSU TT I wrote up Monday the DAF 55 enjoyed some time as a gentleman's race car, even winning the 1968 Alpine Rally and having custom 4-wheel drive versions made. Sound neat? Yeah, it was! DAF was later swallowed by Volvo, but for a time these microcars were the realization of what would happen if you combined styling from all the various European nations into one car. Seriously, there are hints of British, French, German and Italian cars all wrapped up here in one neat little package. Today, there's a stunningly nice example available on Ebay: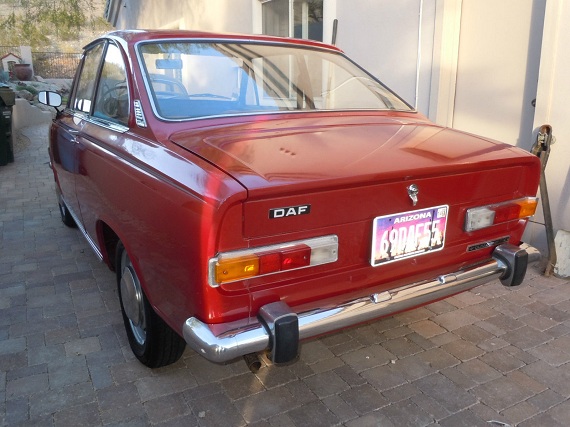 Year: 1969
Model: 55 Coupe
Engine: 1.1 liter inline-4
Transmission: CVT Automatic
Mileage: 33,000 mi
Price: $12,900 Buy It Now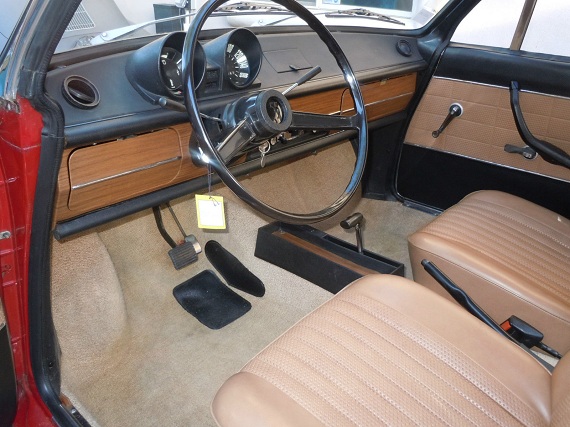 FS – ultra rare DAF 55 coupe. 33k original miles, (53,500kilometers)- it runs like a new car! Quite possibly the only one in the USA!! These little cars were made in Holland in the 50s, 60s and very early 70s until the factory was bought by Volvo. Volvo continued to build DAF vehicles under their own brand name for a few more years.

This model was only made for approx. 3 years and is the rarest of them all! Designed by Michelotti, the same designer that made the VW Type 3 in the 60s. The DAF has a front mounted engine (50hp 1100cc 4 cylinder) and rear wheel drive with a CVT transmission called a variomatic!! Independent front and rear suspension and it is just as quick forward as it is in reverse.

I imported this car from southern France last year, it is fully street legal, clear AZ title in my name, currently registered, insured etc etc. There is no rust on the car. Original ruby red on tan. Beautiful exterior, there are NO rock chips on the hood or front grill (original paint)! An absolute low mileage time warp, the car is UNRESTORED, the interior is all original and beautiful (smells like new old car!). The original carpet is PERFECT, no wear at all. The trunk looks as if there was never anything in it – spotless. The engine bay is extremely clean (original paint!).Most likely the lowest original mileage DAF coupe in the world (they did not sell that many to begin with).

It comes with box of extra parts such as belts, brakes and a spare windshield. 4 of the tires are new (it was still sitting on the original tubed Michelin X tires when I bought it, they were 44 years old and unsafe to drive on). The spare is still the original Michelin X tubed tire.

Perfect conversation piece at car shows (definitely draws a crowd, nobody has ever seen one or heard of it) – or great for a collector (micro-)car museum. Located in Phoenix, AZ

Key words: Mini, Volkswagen, squareback, notchback, fastback, micro, ford, VW, bmw, isetta, isuzu, Mercedes, ghia, fiat, Peugeot, Renault, opel, lancia.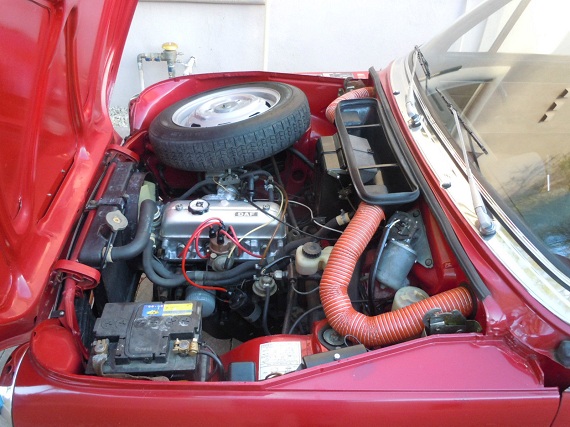 How many times do you find an all-original and unmolested example of any 45 year old car, never mind a rare one? Of course, microcars don't appeal to everyone but if you're a fan of the NSU, DKW, or 700 series BMWs, this DAF makes an interesting and much more unique counterpoint to those cars. Sure, it's not quite German, but it's rare enough and close enough to merit being seen on these pages. What a cool little car, which in my mind is reasonably priced at $12,500. You'll get a lot of "Whadizit"s everywhere you go, but as a rare and cool bit of automotive history tidbits like this really make me smile!
-Carter