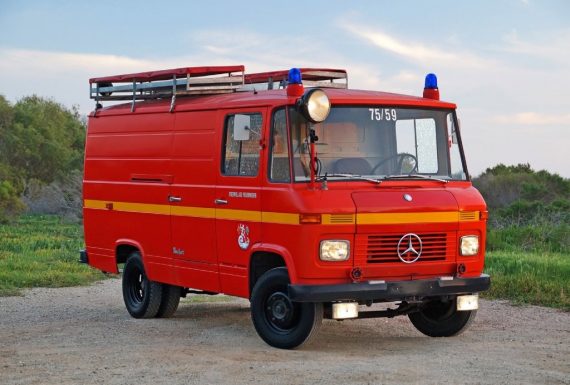 During my searches around the internet for cool cars, every once in awhile I run across an ex-utility vehicle that catches my eye. This is one of those vehicles. A 1969 Mercedes-Benz L408 G Auxiliary Fire Van. Originally commissioned for Fire Department of Heide in Northern Germany, this van has all the pros of owning a fire vehicle without all the cons of owning a fire truck — most notably finding a place to park it. So let's take a deeper look at this cool old van up for sale in Santa Barbara, California.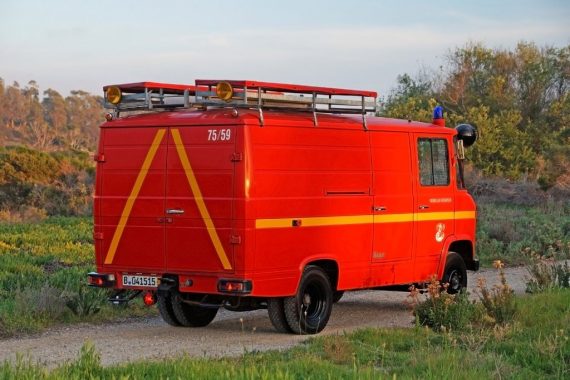 Year: 1969
Model: L408 G Auxiliary Fire Van
Engine: 2.2 liter inline-4
Transmission: 4-speed maunal
Mileage: 27,003 km (16,778 mi)
Price: $23,000 Buy It Now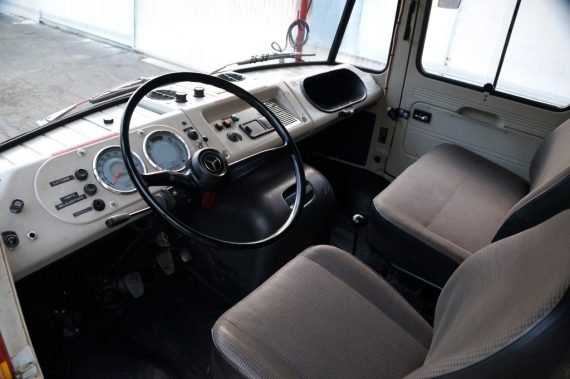 Offered for sale is a fantastic, exceedingly well preserved and entirely original 1969 Mercedes-Benz L408 G Auxiliary Fire Truck outfitted from new by Bachert Feuerwehrtechnik (the oldest fire equipment truck outfitting company in the world) and delivered new to the Freiwillige Feuerwehr Heide-Stadt, the Volunteer Fire Department of Heide, a small town in the Dithmarschen district of Northern Germany. Today Heide has a population of 21,000, and from what we can determine, that number was as low as 6,000 in 1969, when this truck first began its commission. We mention this to point out just how small Heide was and is today, which directly correlates to the low volume of service calls received by their Volunteer Fire Department, as well as their limited level of funding. The end result of course is that vehicles owned and operated by the Department accrued very few miles in service and were expected to last for many, many years. Decommissioned just last year and subsequently imported to the U.S., this is absolutely the case for this exceptional example, having been driven a shockingly low 27k original kilometers (or 16,778 miles) in nearly 45 years of trusty service.

As one would expect of a firehouse kept and perpetually maintained low mileage service vehicle, the truck exhibits an extremely limited amount of wear. The paint is lovely and consistent, but not without its flaws (it was used in the field after all), however those flaws are far and few between, difficult to see in the photos and in many ways only add to this truck's vintage appeal. The body itself is rust-free and entirely straight and true, exhibiting no evidence of any past accident damage and retaining even and correct panel fits and gaps throughout. All of the original glass is in excellent condition, as are the wheels and all of the original trim, and the car's undercarriage is entirely solid and original.

Featuring the correct Freiwillige Feuerwehr Heide-Stadt insignias (very cool, considering they depict a knight killing a fire-breathing dragon) and the original and fully functional Eisemann RKLE 90 flashing blue lights and twin modulating Hella Supertone sirens with their distinct European tone, this example is certainly an attention grabber, although for legality's sake we'd recommend not engaging the light or siren when on public roads. Of all the unique, classic or collector cars that we've owned, no single vehicle has come close to drawing the same attention as this L408 Auxiliary Fire Truck. Thumbs ups, waves and requests for photographs run rampant – people just can't help but smile in this car's presence.

The car's interior is in equally clean, entirely original condition, the seats showing virtually no wear, which can also be said for the molded dash, interior panels, headliner and rubberized floors. Everything works as it should, a testament to the meticulous care afforded by the Department, and the truck retains its original Bachert fire-specific fittings, including ladder/hose racks on the roof, extinguisher mounts, etc. The original tool and accessory cabinets and other interior fittings have been removed, leaving the rear cabin open for the next owner's interpretation. Perfect as a unique owner-operator work van, promotional vehicle for a business or fantastic weekend camper or surf van, this L408 can be viewed as both practical and outrageous, and that's entirely up to the next lucky owner.

As one would expect of a 27k kilometers (or 16k miles) 1960s Mercedes L408 that's been systematically fire-department maintained, it is also mechanically fantastic, its original 2.2L I4 engine starting up flawlessly, idling consistently and pulling strongly and smoothly through each of the manual transmission's gears. Compression is excellent and even across all cylinders and the truck drives and brakes straight and true, it's road manners impeccable. Unlike a majority of its diesel-versioned brethren, this gasoline powered L408 is also capable of highway speeds and can be driven in modern traffic quite comfortably. This era is arguably Mercedes-Benz's most notable, earning the marque its well-engineered, "bullet-proof" prominence, and this L408 certainly lives up to that reputation.

This is an excellent and truly uncommon opportunity to acquire an incredibly well preserved, low mileage, impeccably maintained and cared for example of a wonderful investment grade truck. Whether it be for the serious collector, a practical work-van for a business owner or a unique weekend driver for the enthusiast, this L408 is sure to provide years of fun, utility and trusty service to its next owner.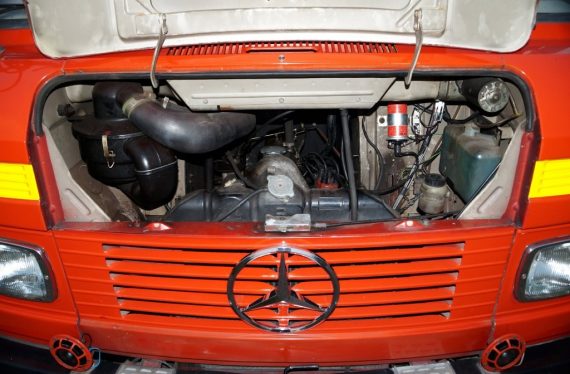 The ad description does a really well job of informing you on the history of this van so I won't waste anyone's time. But what really stuck out to me is (what looks like) how quality this thing is despite being just a lowly fire van. For 47 years old, the dash as well as the rest of the interior held up really well. The paint looks great on the exterior and the cargo area is surprisingly spacious for not being a huge van.
The price of $23,000, I don't know what to make of since I don't really follow the Mercedes-Benz van market too closely. It has potential for use as a promotional vehicle or show piece if you are into vintage German fire equipment. It's probably too old and parts would be too sparse to actually use as a regular utility van for a business, nevertheless just a unique Mercedes-Benz we don't normally think of when we picture the brand.
– Andrew