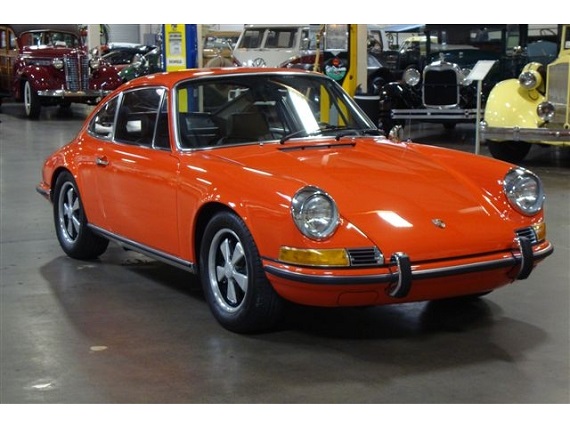 It is no secret that vintage Porsches have seen a serious surge in value over the last couple of years. A decent example of the 356 easily fetch nearly six-figures with some restored models eclipsing $200,000. While the 911 has not quite hit those sorts of values for a non-RS model, we have seen enough upward movement over the past year to suggest that a long-hood 911 is not far behind the 356 in today's market. Whether those trends will continue remains to be seen, but the car featured here is certainly trying to see just how high the bar has been raised. This is a Tangerine 1969 Porsche 911S Coupe located in California. With 190hp coming from the 2.0 liter flat-six engine only forced to propel slightly more than 2200lbs, a 911S remains a spirited performer even by today's standards. Having been treated to a full restoration, the example here appears impeccable in almost every way.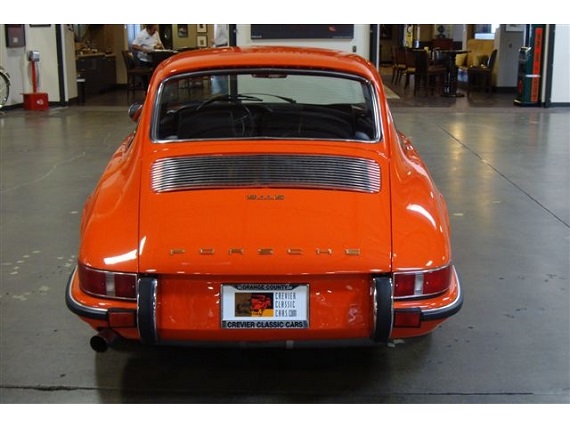 Year: 1969
Model: 911S
Engine: 2.0 liter flat-6
Transmission: 5-speed manual
Mileage: 30,412 mi
Price: $185,000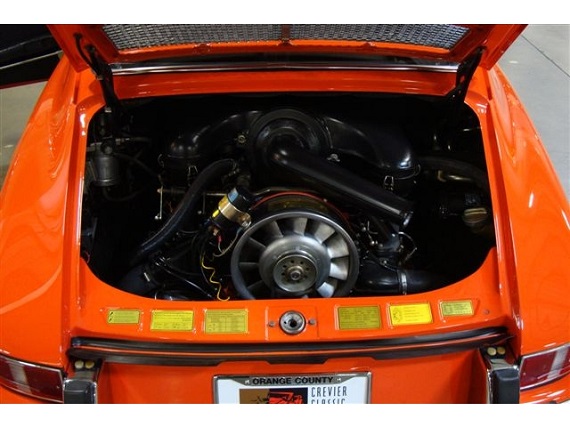 Crevier Classic Cars is pleased to offer our 1969 Porsche 911 S Coupe.

1,991cc, 190hp, Bosch mechanical fuel injection, 5-speed manual transmission
Solid and straight original 911S with a completely detailed undercarriage
'Kardex', Certificate of Authenticity, original owner's manual, warranty book, plus toolkit
Highly collectible example

Porsche's legendary 911 began with initial sketches by Ferdinand "Butzi" Porsche in 1959 predicting a larger, more powerful, and more comfortable successor to the long-lived 356. Ferdinand Porsche developed the chassis and body, while his cousin Ferdinand Piech developed its new air-cooled flat-six engine. With a slightly longer wheelbase and clearly paying homage to its successful predecessor, the new Porsche model debuted at Frankfurt in 1963 as the "901". However, following Peugeot's objections to the name, claiming it held the rights to all three-digit model designations with zeroes in the middle, a simple numeric change heralded Porsche's brilliant new 911.

Production began in September 1964 and as before with the 356, the 911 was relentlessly developed and perfected with an uncanny level of commitment Porsche. Its sporting credentials were confirmed during the 1965 edition of the gruelling Monte Carlo Rally, with a 911 piloted by Peter Falk and Herbert Linge finishing in fifth. "Quick" Vic Elford took victory with a 911 there in 1968. By the late 1960s, the 911 was the cornerstone of Porsche's racing program.

The high-performance "S" debuted for 1967 and immediately spawned a number of lightweight competition variants that immediately dominated their respective classes. Main "S" upgrades included a compression boost to 9.8:1, forged pistons with raised crowns, stronger connecting-rods, high-performance camshafts with increased overlap, enlarged valves, Weber IDS carburetors and revised exhaust ducting, plus brake and suspension revisions. Bosch mechanical fuel injection debuted for 1969 and maintained the engine's stout 190-hp output while meeting the increasingly more stringent emissions standards imposed in Porsche's crucial US export market.

From launch, the 911 S has been the hands-down favorite of driving enthusiasts around the world, with an unmatched level of driver-and-machine interaction and a strong top speed approaching 140-mph. Naturally, its enduring cachet is enhanced by film legend Steve McQueen's ownership of a 911S, with the car figuring prominently during the opening sequences of his classic film, LeMans.

A great example of the ultimate early road-going early 911 model, this 1969 Coupe is a solid and straight original 911S with a completely detailed undercarriage, show quality paint and trim, and excellent panel gaps. Retaining the correct original engine, it is accompanied by its 'Kardex' build record, as well as the original owner's manual and warranty book, plus toolkit. It is numbers matching and finished in its original color of tangerine. Just fully serviced and ready for the road or the track. As one of the greatest pure driving machines ever produced in its iconic early form, this 911S remains the ultimate early 911 and of course, it is both highly collectible and immensely satisfying to drive. Please contact us at 714-426-0238 or mark@crevierclassiccars.com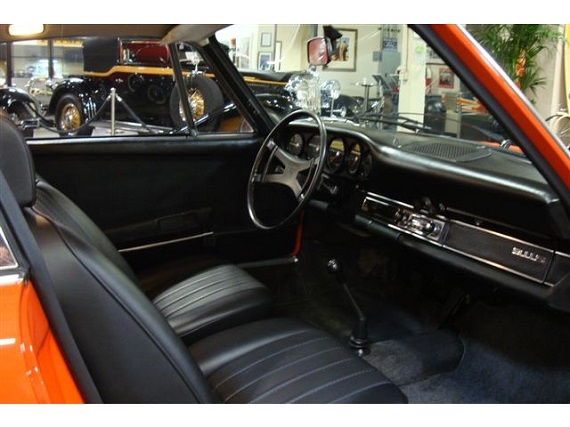 Tangerine is such an eye-catching color on these cars that complements the black interior and fits their period of production quite well. Overall, every thing here looks beautiful. But is it worth $185,000? Probably not, but I've certainly come across sellers with far more unrealistic prices than this one here. This is a near perfect example of a 45-year-old car whose lineage has shown excellent valuation in recent years. It's simply a matter of how high the market is willing to go.
-Rob