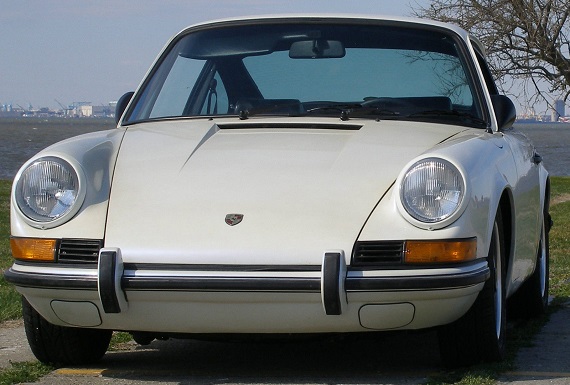 This may be my imagination, but I feel as if we aren't seeing the 912 come up for sale quite as often these days. Granted, there were never a ton of them to begin with since they were produced for such a short period, and given their entry-level status many of them were probably driven for a while and then removed from the population. An excellent 912 is a very rare thing, but even driver-quality examples have become somewhat hard to come by. So I was pleased to come across this example from the last year of long-hood 912 production: a 1969 Porsche 912, located in southeast Virginia, with a reported 33,320 miles on it. As with many Porsches from this period it would be nice to have that verified, rather than discovering the odometer has rolled over. The last year for these 912s coincided with the first year Porsche extended the wheelbase of their rear-engined cars, which should make this model an excellent handling machine given the better balance of the 912's lighter 4-cylinder engine. By modern standards, few Porsches from the '60s will stun you with their performance, but all remain a pleasure to drive and a long-hood 912 comes at a fraction of the cost of a similar year 911. We're certainly dealing with differing levels of investment potential between the two, but for driver-quality examples a 912 can make for a very good choice.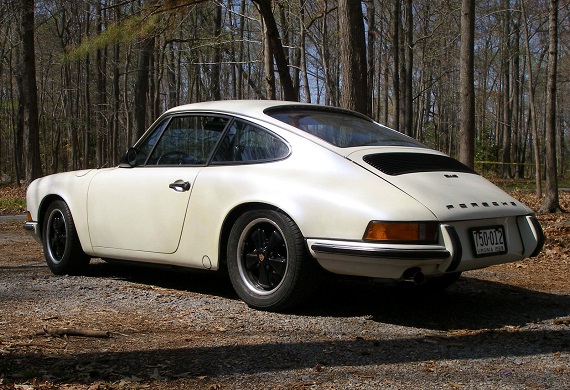 Year: 1969
Model: 912
Engine: 1.6 liter flat-4
Transmission: 5-speed manual
Mileage: 33,320 mi
Price: Reserve Auction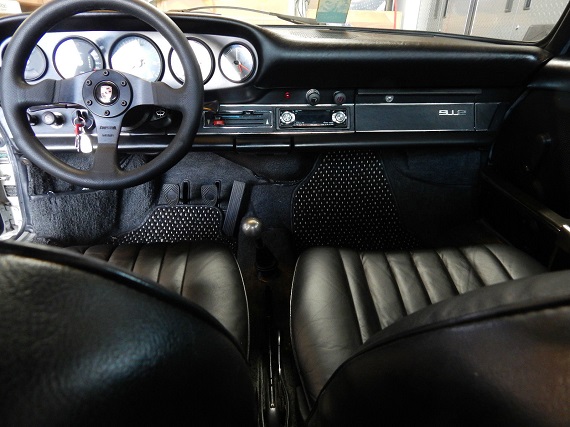 Chassis No. 129021164 Engine No. 4094156
Highlights
1969 Porsche 912 LWB Coupé, 5-speed manual transmission.
Factory owner's manual in original folder
Factory tools in original pouch
Factory-original tinted glass (front, back, sides)
Five authentic 911 Fuchs alloy wheels; four hand-painted center caps
Porsche 935 outside mirrors (both sides, extremely rare)
Flame sprayed aluminum factory exhaust system
Genuine leather front seating; original leather covered steering wheel available
Momo Competition 350mm steering wheel, Porsche crest in center blasts a pair of Hella 110dBs
Black anodized trim
For sale is the coveted, long wheelbase, best and final year 912 coupé. With the wheelbase stretched to help tame the tail-wagging 6-cylinder, the 912 is more balanced than a 911 and has exceptional handling. The '69 912 has always been praised for the way it stays glued in the twisties. Except for rebuild time, the chassis and motor have been together since the day the car was born; coincidentally the same day the Beatles released launched their Yellow Submarine album. Just felt compelled to throw that bit of trivia out there. To confirm some of this information see the Certificate of Authenticity.
This 912 spent the first third of its life touring the California coast (see California registration and matching plate in photos) and in 1985 it arrived on the east coast of Virginia where it has been pampered with climate controlled garages, fanatical maintenance, and rain free drives. It remains registered for road use and is driven on special occasions only.
Drivetrain: With about 5,000 miles since its only rebuild that included new old stock heads and a matched set of Mahle pistons and barrels, the engine runs great and idles smoothly at very low rpms. Original Solex carbs were replaced with a rebuilt set, then a new set, then I tried Dell'Ortos. The second set of Webers finally made me happy. Call me fussy; I am. Just look at that carb photo! Precision Matters full flow oil filtration, an MSD ignition, Earl's hoses and fittings were added for good measure. The transmission was concurrently rebuilt and shifts nicely with new synchros and no complaints.
Suspension: New torsion rod bushings front and rear, sway bars front and rear, and slightly lower than stock.
Brakes: 911 calipers and ventilated brakes on all 4 corners. Braided stainless lines. Pedal cluster re-bushed with bronze.
Body: The 901 body was single-handedly designed by Butzi Porsche. So yeah, it's beautiful …and that goes clear to the bone. I have known and then owned this car for decades and have never detected any rust. The body and entire undercarriage are extremely clean and very solid. It can be jacked in all the right and wrong places with no worries. Weather stripping is also excellent. Paint is a Murano pearl laquer http://www.superstreetbike.com/features/murano-pearl-paint-back-day and after nearly 30 years has some crazing and few cracks, but shows very well. To be clear, the 912 is not painted with any paint ever offered by Nissan.
Interior: Charcoal gray carpet, black leather seats, dash, door panels, etc., are all in excellent condition. Radio is a modern upgrade (plays MP3s) with dials that match the gauge centers for a near original look. All gauges, switches, and indicator lights work. Clock is the original magnetic inductor type. It works but reliably loses a minute a day. Easily adjusts with the turn of a knob. It is way roomier and easier to enter/exit than my larger and way heavier 996.
Do Not Buy This Car as an investment just because values have been soaring, buy it because it will make you smile just to look at it and grin when you drive it.
This 912 car stays in a climate controlled garaged and is now available for viewing by appointment only. SERIOUS INQUIRIES ONLY PLEASE! A non-refundable deposit of $1,000 is required within 24 hours of end of auction and the remaining balance by bank wire within 7 days of the end of auction. Buyer is responsible for shipping, however, I'll be happy to help with referrals and arrangements. GOOD LUCK and HAPPY BIDDING! Thanks!
Being sold "AS-IS" "WHERE-IS" and with NO WARRANTIES. By bidding, you are committing to purchase this vehicle, and not the option to withdraw. I welcome and encourage inspections during the listing time frame. Please DO NOT BID if you do not understand the terms – Backing out of the sale after the auction has concluded is a no-no. I am more than happy to discuss the car and auction with you by telephone – Please contact me at through the eBay message center or at for any clarification of description or for further details.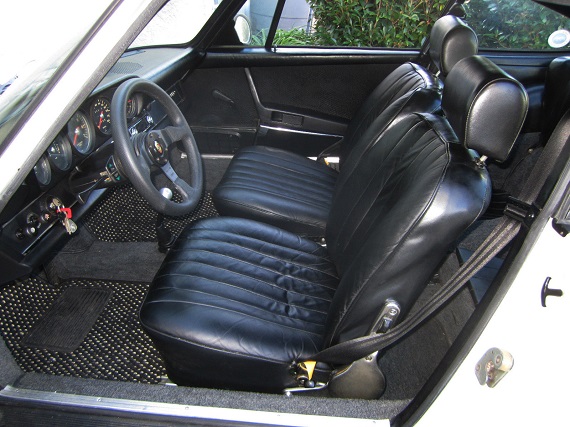 The paint choice here seems slightly strange to me since it looks a little dull, but perhaps it will show better in person. With that said, if it was last painted 30 years ago, as the seller states, then the condition isn't bad at all. We find a similar, though improved, condition in the interior, which shows some wear but still looks in very good shape. The seller also has provided a decent bit of detail concerning the mechanical condition of the car and it sounds as if this seller has had the car for quite some time, all of which provides a nice vote of confidence for any buyer interested in this 912. With only a short time remaining this auction sits at $24,300 with reserve unmet. While that obviously will have to come up in order to meet reserve, at its current bidding this looks like a very reasonable price.
-Rob