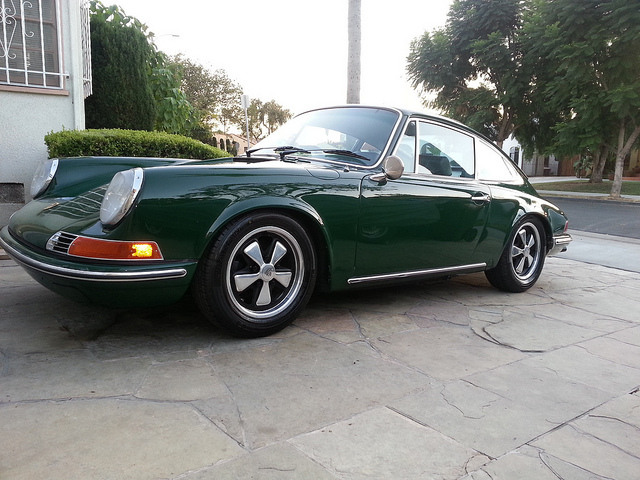 From 1965-1969 the Porsche 911 had a sibling: the 912. It featured the body of the 911 mated to the 1.6 liter engine from the Porsche 356 and served as Porsche's entry-level car for those early years of its production. But the little brother was no slouch and typically provided better driving dynamics than it's bigger brother due to its lighter engine and improved weight distribution. With only 90 hp the 912 wasn't powerful but it wasn't heavy either. These cars provided a simple but fun driving experience. While the 912 returned for a one-year run in 1976 as the 912E, it is the earlier cars that have commanded the most attention from collectors. Like the pre-1974 911 models, from 1965-1969 the 912 showcased the original long hood design of the 911, a feature lost on the cars produced in 1976. As such, prices for excellent examples are higher, but still well below the cost of a similar vintage 911. The example featured here today is a beautiful Irish Green 1969 Porsche 912 located in Los Angeles that has been fully restored.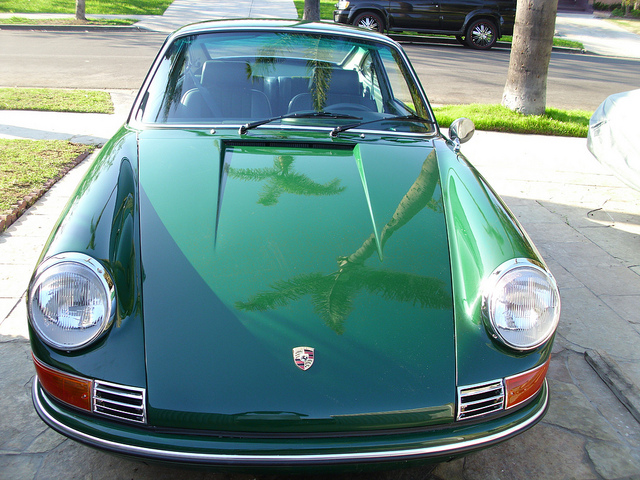 Year: 1969
Model: 912
Engine: 1.6 liter flat-4
Transmission: 5-speed manual
Mileage: 2,968 mi
Price: Reserve Auction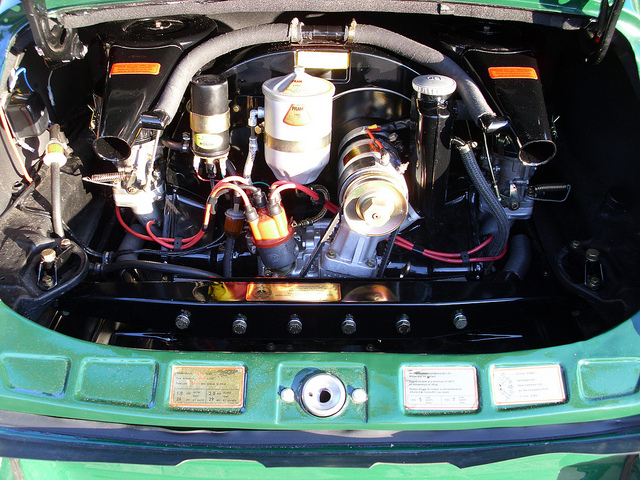 Up for sale is a beautifully restored 1969 Porsche 912, with matching numbers. A full restoration was just completed on this fine car. This was an extensive restoration. The car has been completed in show quality condition and presents remarkably well. The car was totally stripped down, everything was removed (i.e. whole interior, bumpers, engine and transmission, suspensions, all electronics and cables, brake lines, every single screw was removed etc.), the body was sanded down by experts and then prepared and repainted with original color. Everything that was removed was sent out to be refurbished professionally, or replaced with new oem parts.

VIN # 129022111
Eng. # 4096349
Trans# 220126 902/1
Paint# 6806
Mil # 02968

EXTERIOR:
The car was painted back to its original color Irish Green, code (6806) with a quality paint finish. All aluminum trim pieces were removed and sent out and re-done. All trims and seals were replaced. New front windshield was installed. New horns and grills, new headlights, new tail lights lens and turn signal lens was all installed.

INTERIOR:
The interior was completely redone in dark green color. New perforated leather and hounds tooth on seats, new door panels, dash are period correct with perforated leather on the front. A new headliner and new carpets were installed. Brake pedal cluster was rebuilt with new brass bushings and repainted. New shifter bushing. All gauges were removed, checked, cleaned and repainted, the clock was refurbished and now working. Interior is in an excellent restored condition that cannot go unnoticed for its look, aroma and feel.

ENGINE and SUSPENSION:
Each and every bolt and nut for the engine and suspension was taken out and cab plated or zinc plated. All brake lines were replaced. Each and every part that was removed has been powder coated, such as hood hinges, deck lid hinges, A arms, spring plate, the complete suspension and all engine sheet metal pieces. Even the air cleaners were powder coated in glass shine finish.

The engine was completely rebuilt with a 86mm big bore kit. All new gasket sets, new rod bearings, and new rings, valve job, new clutch disc, pressure plate trout bearing. The solex carburetors was replaced with webers and the original knecht air cleaners were refurbished and reinstalled. The transmission is a 5 speed. It was open cleaned and checked. It shifts smoothly through all gears like it should.

The front and rear suspensions were rebuilt with all new bushing, new shocks, front and rear, new brakes all around, new brake lines and hoses, new tires, front and rear.The fuchs wheels are flat 6j x 15 they were polished and painted in excellent condition. I also have steel wheels 5.5 x 15j with new chrome, and new hub caps, that can be installed. Buyer have the choice to choose between the fuchs or the steelies. Both will have brand new tires.

This is a fun car, it runs and drives extremely well with a comprehensive restoration job that speaks for itself.

The car is in pristine condition and very clean, also very solid. The undercarriage is extremely clean and solid too. The car is now available for viewing by appointment only. SERIOUS INQUIRIES ONLY PLEASE!. A non-refundable deposit of $1,000 is required within 24 hours of end of auction and the remaining balance by bank wire within 7 days of the end of auction. Thanks for looking and GOOD LUCK BIDDING.

To view more photos lift and paste the links


1969 irish green interior
http://www.flickr.com/photos/28137752@N06/sets/72157632225568533/
I love the Irish Green exterior. I'm a bit less enamored with the green interior, but I suppose it'd be a pretty rare combination! There's also the matter of the seller's designation of the engine as 1720cc. The engine from the 356 was 1582cc and was used from 1965-1969 in the 912 and the 1976 912E used a 2.0L flat-4 that was sourced from VW. Perhaps 1720cc is simply a typo, but if it isn't then I'm not aware of the 912 being offered with such an engine and that would hurt this car's originality. Otherwise, this looks like a very well restored original example and should command a pretty good price. Bidding is currently at $25,000 with the reserve still on. An excellent 912 of this vintage could easily sell at close to $40,000. Assuming the engine checks out I don't think this one reaches that high, but I could certainly see a price in the mid-30s.
-Rob