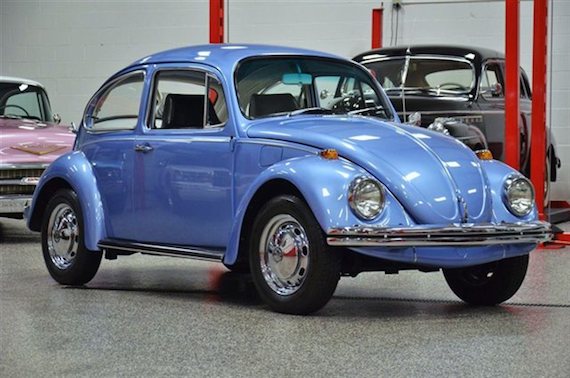 Towards the end of the 1960s, Volkswagen was planning for the eventual demise of the Beetle, but it still wasn't clear exactly the direction the company would take. There were a few fits and starts with front-engined, water-cooled models and developments on the tried and true rear-engine, air-cooled model, such as the 412. Volkswagen even was looking at a mid engine layout as flüssig magazine detailed a few months ago in their piece on the EA266. The Beetle sedan soldiered on for a while, though, with the last one rolling off the assembly line in Germany in 1977. The convertibles would cease production in 1979, with Beetle production continuing on in Brasil until 1996 and Mexico until 2003.
This 1969 example for sale in Illinois has been lovingly restored in a pretty Diamond Blue, having only passed through the hands of two owners.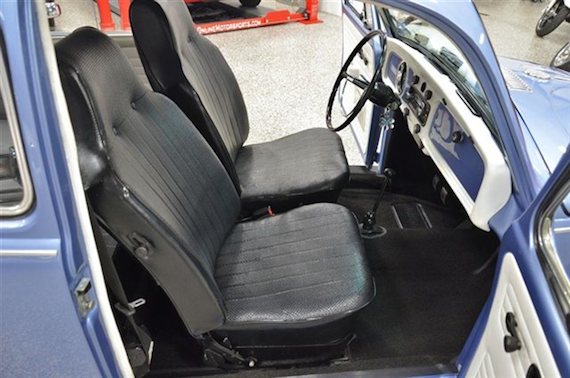 Year: 1969
Model: Beetle
Engine: 1.6 liter flat-4
Transmission: 4-speed manual
Mileage: 72,869 mi
Price: $12,900 Buy It Now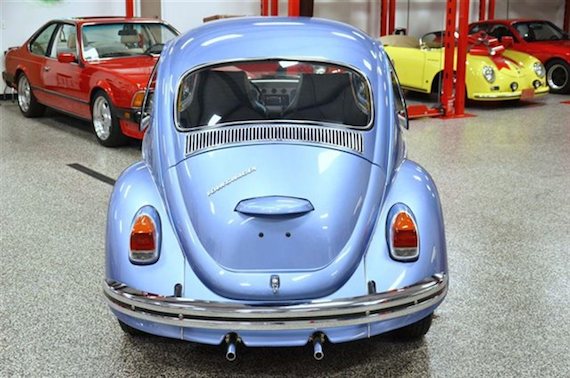 You are now entering into a great opportunity to own a restored and very classic 1969 V.W. Beetle. This beautifully restored 1969 Beetle Coupe is presented in Diamond Blue exterior and complimented very nicely with Black Vinyl Bucket Seating and Carpets and finished off with White Door Trim Panels and a custom White and Diamond Blue Dash Treatment and a Custom Blue Diamond Headliner. This Classic 1969 Beetle has had only 2 owners over the last 43 Years and the original owner loved it so much he did not let her go to the previous owner until 2004.

VEHICLE HIGHLIGHTS:

1969 V.W. BEETLE RESTORED
LESS THAN 1000 MILES SINCE RESTORATION
72, 869 MILES BELIEVED TO BE ACTUAL ON CHASSI
VERY NICE NEW DIAMOND EXTERIOR PAINT
15 INCH CHROME WHEELS WITH CAPS
CHROME TIPPED EXHAUST
NEW CHROME BUMPERS FRONT AND REAR
CHROME FRONT AND REAR VENT BEZELS
CHROME FENDER/BODY BEADING
CUSTOM ALUMINUM RUNNING BOARDS
NEW TP METRIC STEEL BELTED RADIALS 165R15
PIONEER INDASH AM/FM CD PLAYER
PROTECTO PLATE
ONLY 2 OWNERS AND THE ORIGINAL OWNER UNTIL 2004
ORIGINAL OWNERS MANUAL
2ND OWNER RESTORED CAR WITH RECEIPTS EXCEEDING $8500.00 NOT INCLUDING LABOR AND PAINT.
DRIVES AND HANDLES EXTREMELY WELL
READY FOR YOUR LOCAL CRUISE NIGHT THIS WEEKEND

Please review the following photos and form your own opinion. With gas prices on the rise to $5.00 to $6.00 these Beetles will again come very popular on the roads and are trending way up in value and are extremely collectible.

If you require additional information or details on this 1969 V.W. Beetle please feel free to contact Dave at 1-630-327-8321 or email daver7133@hotmail.com. If you require shipping assistance, we can help. Call Dave at 630-3278321 for no charge assistance.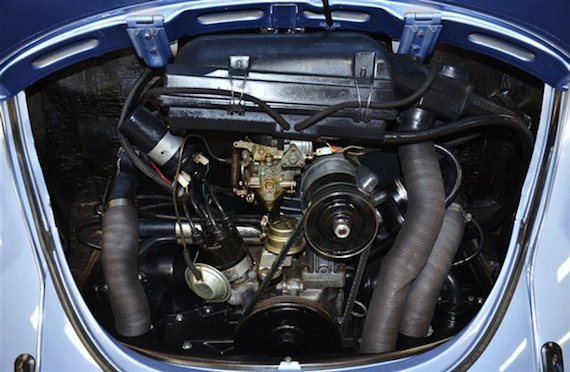 This is one nicely done Beetle. Generally I'm a fan of the pre '68 Beetles, especially those done up in a Cal Look. However, the restoration job on this '69 is impressive, right down to those polished trunk hinges. This car did not look this good when it left Wolfsburg. The asking price is about right when it comes to a late sixties Bug in good nick. These aren't the most desirable of years, but there's a certain charm to the later version of the People's Car, as they began to be overtaken by more modern machinery. My father drove a 1967 Beetle and I have fond memories growing up with that car. Maybe its nostalgia talking, but the Beetle will always be a legend in my book.
-Paul