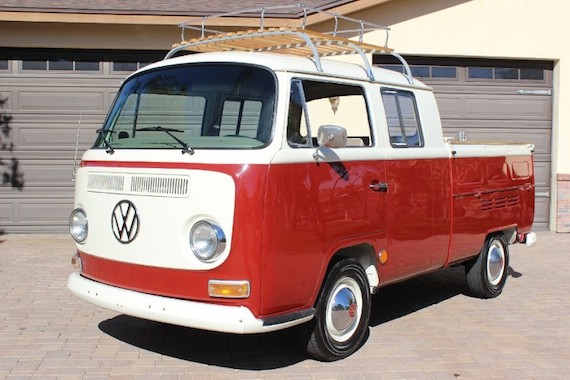 It's not every day a car gets edged out of a particular marketplace due to legislation, but you are looking at one example right here. The Volkswagen Type 2 pickup. After World War II, France and West Germany placed a duty on imported US chicken. The US government's response: tax a bunch of goods imported from Europe, including light duty pickups. Thus, in 1971, it would be the end of the road for this workhorse of a people's car, the likes of which would never been seen in dealers this side of the Atlantic again. Thankfully, the T1 and T2 VW vans are a bit of a cult car, with the pickup variants enjoying a bit of the popularity. As a result, it's not terribly uncommon to come across one of these trucks stateside. This 1969 Double Cab pickup has undergone a complete restoration, which begs the question: do you dare mess up a good thing and test its utility?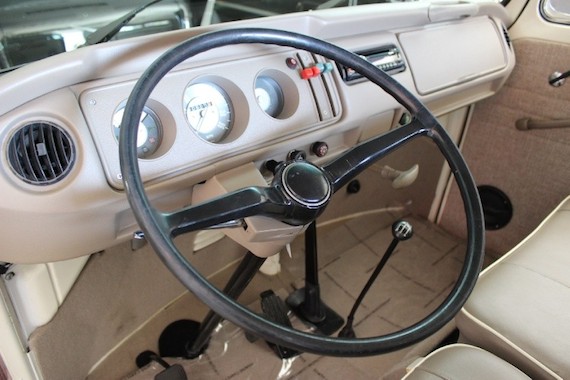 Year: 1969
Model: Type 2 Double Cab
Engine: 1.6 liter flat-4
Transmission: 4-speed manual
Mileage: 43,623 mi
Price: Reserve auction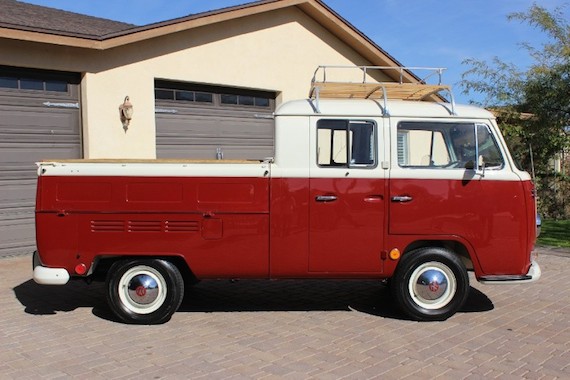 This is an absolutely beautiful 1969 Volkswagen double cab pickup featuring a complete restoration with attention to detail! Finished in classic VW colors, this VW looks and drives like a dream. This VW boasts a fully rebuilt 1600 engine with all new components. All of the running gear is new.

The interior is custom leather with all new carpets and headliner. Custom oak wood bed looks excellent and really sets this double cab off. Drive this VW anywhere and you are sure to turn heads. This is a stunning example of a double cab that has been fully restored.

Shortly after developing the Microbus and Panel Van, Volkswagen realized that there was a strong demand for a pickup as well. Based on the same platform as the other transporter models, the Single Cab pickup provided a single bench seat for the driver and 2 passengers up front with a large pickup bed at the rear. Because of the height of the engine's upright fan shroud, the floor of the bed sat higher than other pickups of the era, but this configuration also eliminated the inner fender wells that protruded into the loading area in most other pickups. One of the most unique features of the Volkswagen pickup was that all three sides of the bed were actually hinged "gates" that could be unlatched and folded down to provide a conveniently flat surface that could be loaded without having to lift the cargo up over the sides of the bed. No other pickup truck in the North American market offered this unique and practical design.

Early on, after-market coach builder "Binz" modified Volkswagen Single Cab pickups by extending the cab area and adding a second bench seat for transporting 3 additional passengers. Although expensive, these "Double Cab" pickups became very popular. Aware of the emerging demand for these "Crew Cab" pickups, by commercial crews of landscapers, builders and other tradesmen, in November 1958, Volkswagen began marketing their own version of a "Double Cab" pickup, and they were instantly successful. Like the Binz "Double Cab," VW's Crew Cab pickup was very similar to the Single Cab, but with an extended cab that housed a second bench seat. Since the Double Cab was built on the same platform as the Single Cab, the pickup bed was shortened to compensate for the longer cab size. Classic Volkswagen Single Cab and Double Cab pickups are as popular today as they were back in the day, because of their great style and proportions, as well as their practicality.

Don't miss your opportunity to own this 1969 Volkswagen Double Cab Pickup! This VW is the one! We take trades! If you have any further questions, please feel free to call Dan Curry at 1-888-722-4985 Toll Free Monday-Friday 9-6, Saturday 9-5, Sunday 11-4. Thanks for your interest. Make it a great day.

Desert Autoplex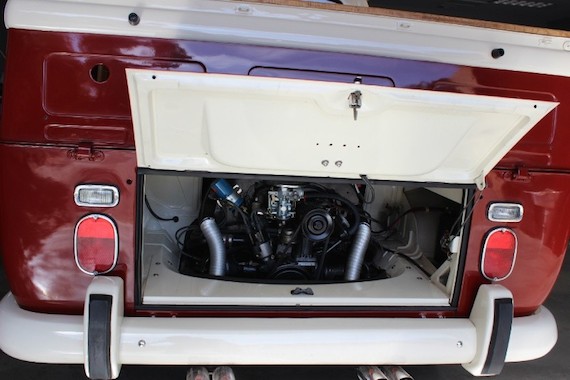 While prices for the Microbus have been soaring, it's not the same case for the T2 pickup variants. We saw a T2 Double Cab in mint condition come up for sale at $27,500 back in July of this year. Given the restoration and some of the upgrades, I wouldn't be surprised if this one could fetch somewhere around the mid $30,000 range given the bidding activity. With besides that fold flat, I could envision this as one hell of a tailgate vehicle.
-Paul