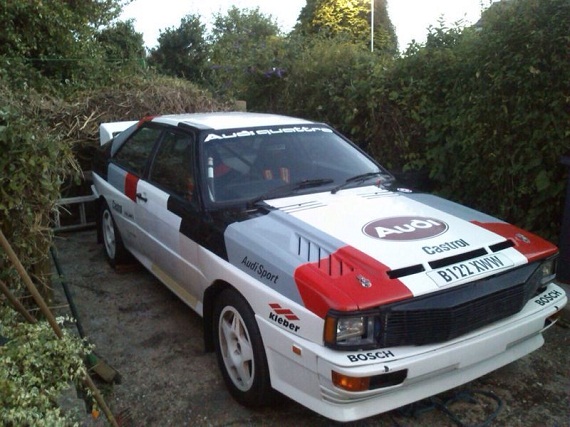 Few motorsport images are quite as evocative as the legendary period of Group B; flying machines spitting stones and belching flames as they skirted trees and rocks at breakneck speeds with crowds only inches away. The ever more powerful cars hurtled their drivers in increasingly lighter and more delicate evolutions of cars towards immovable objects – an act which is some cultures would probably be akin to ritualistic suicide. By 1985 the writing was on the wall; it was a deadly sport that needed to be reigned in. But perhaps more than any other period, this is the time that rally fans and motorsports fans in general identify as one of the most memorable and important periods in racing history. Obviously, the big winner of the period from a reputation standpoint was Audi. The car that helped to define and end the period of wild turbocharged excess, the Quattro has obviously been the spawn of many replicas, such as this one for sale today in England: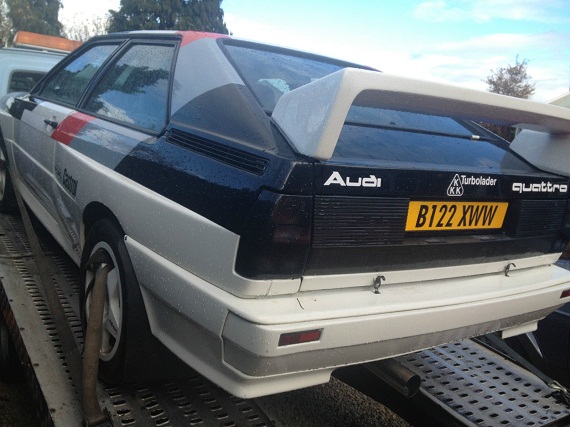 Year: 1985
Model: Quattro
Engine: 2.2 liter turbocharged inline-5
Transmission: 5-speed manual
Mileage: Not Listed
Price: No Reserve Auction
1985 UR WR QUATTRO
BREMBO BRAKES, slave cylinders & master cylinders
LSD
GREEN INJECTORS
ILLUMINATION ENGINE MANAGEMENT SYSTEM
UPRATED FUEL PUMPS
UPRATED INTERNALS
FORGED PISTONS
ALUMINUM SUMP
BIG TURBO
ADJUSTABLE BOOST
3″ FULL STAINLESS EXHAUST
FUEL CUT OFF
IGNITION CUT OFF
REAR FIRE WALL
SPEEDLINE COMPETITION ALLOYS x5
FIA ROLL CAGE
SABELT SAFETY HARNESS'S
FRONT MOUNT COOLER
LARGE UPRATED RADIATOR
BRAIDED HOSES AND FUEL LINES
SEAM WELDED
COIL OVER SUSPENSION
SPORT QUATTRO ALUMINIUM STRENGTHENING BARS
SPORT QUATTRO ARMS
SPORT QUATTRO BONNET
HIGH LEVEL BOOT SPOILER
THESE DONT COME UP OFTEN I WOULD LOVE TO KEEP IT
SAME OWNER LAST 20 YEARS
CAN DELIVER (@ buyers cost)
buyer to arrange shipping
CALL 07730880943
OTHER QUATTROS AVAILABLE (but not like this beast!!!!!)
cash on collection or bank transfer only
i will accept a cheque but car goes nowhere until funds are clear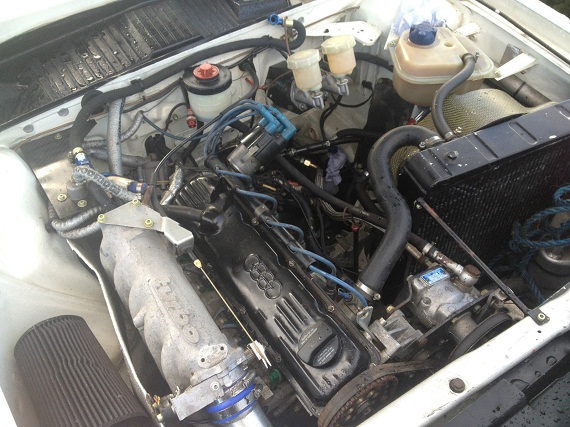 Our reader Mike spotted this creation and sent it our way; it's always nice to see these rally copies and this one is no exception. There are, however, some problems I have with the car, at least from a historical perspective. It's a WR 2.1 road car that was converted; that's not bad in and of itself, but then they backdated the livery to run the earlier colors of Audi Sport. By 1984/1985 Audi wore the HB Team Audi yellow, black and red over white colors. Okay, minor point, and the brown/black, red and silver were more popular and identifiable with the Quattro, so I get the livery. But the car is also referred to as "Group B Spec", though in reality it's more like the production-based Group 4 or Group A cars. Group B started up in 1982, so even though the Group B Audis are generally associated with the '84 up short wheel base cars, there were long wheel base B-spec cars produced; they just weren't as wild as the later evolutions. The hood is the wrong hood, being a street Sport Quattro replica hood; again, real rally hood replicas are available and didn't look like this. By '83, the real rally cars had the wider flared and vented arches and ran aluminum engine blocks; worth a pretty penny in today's market. Though the Speedline wheels mimic the design of some of the period correct Speedline and Compomotive wheels, they're just a little bit off – like the rest of this car – leaving me wishing they had run with the original 8″ Ronals in white or the 7″ Fuchs wheels instead. Ultimately, there's a lot to like here and I'm nitpicking; I just wish the detail work was better. That hasn't stopped high bidding; pricing is already in the $28,000 range give or take, meaning that this car is a bargain compared to the real rally cars from the factory but more expensive than most of the street versions we've seen. Regardless, it'll draw a crowd of avid enthusiasts no matter how accurate it is, all wishing to recreate in some small measure the magical time that was Group B Rallying.
-Carter