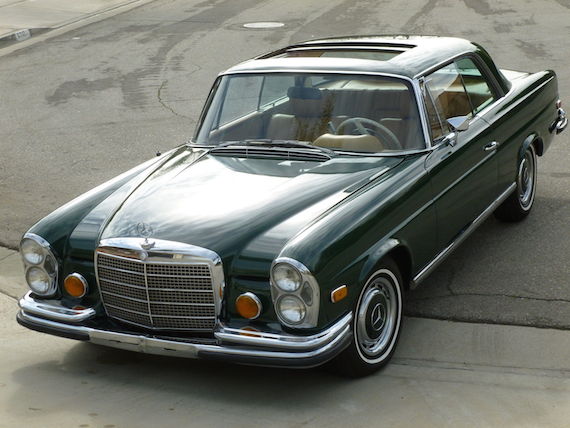 As I was winding down what was quite a long week Friday evening, I happened to catch the original Thomas Crowne Affair on one of the upper cable channels. This was a fantastically scripted movie with one vehicle featured prominently throughout: a Rolls Royce Silver Shadow 2-door sedan with coachwork by H.J. Mulliner, Park Ward Ltd. Built in very limited numbers, this was a gentleman's express of epic proportions, with vast amounts of wood and leather to ensconce those fortunate passengers inside and a pushrod V8 under the bonnet with "adequate" horsepower. This 1970 Mercedes-Benz 280SE Coupe for sale in California could almost be considered that car's contemporary, but with a decided German slant. Even though it might look a bit classic, it was thoroughly modern, with a 4-speed automatic gearbox, Bosch fuel injection and four-wheel disc brakes. Want to be the envy of the forecourt at the country club? Here's the perfect coupe to do it in.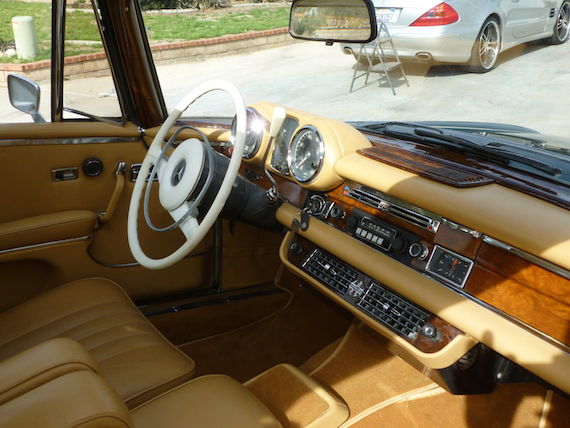 Year: 1970
Model: 280SE
Engine: 2.8 liter inline-6
Transmission: 4-speed automatic
Mileage: 150,700 mi (?)
Price: No reserve auction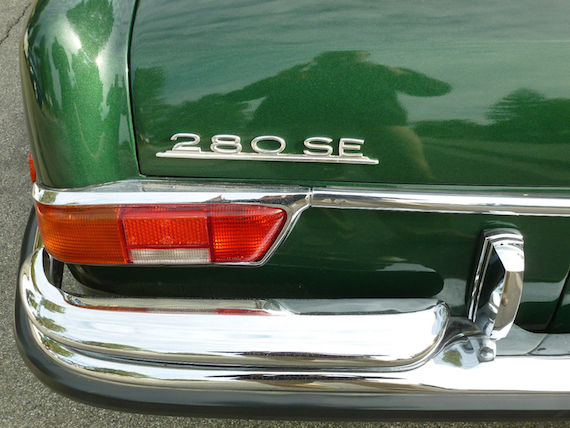 This is a NO RESERVE auction and will sell to the highest bidder

Here we have the 1970 280SE Mercedes Low Grill Coupe the finest of the already world-famous Mercedes-Benz 2.8 litre series models, are the last word in Mercedes Benz quality and perfection. The Coupe with its superb suspension combining outstanding riding comfort and fabulous road holding, will appeal particularly to those motorists who love to drive a real thoroughbred.

As the prospective owner of such an exclusive 280SE Coupe you can expect the interior of to be luxurious in appointment and finish. The dash is artistically executed in the finest precious wood along with all its chrome. Wherever you look you will admire the designers aim to achieve beauty and perfection for the driver and passengers of this hand built beauty.

This 1970 280SE Mercedes coupe, with Automatic Trans, Large Sliding Sun Roof, Refinished Wood and of course new leather interior, very hard to find car in such good condition just in time for Christmas. The car's newly refinished wood work along with its eye catching full leather interior and new wool carpeting will surely cause heads to turn. The unique chassis design and the perfect harmony of the suspension elements results in luxurious riding comfort coupled with quite extraordinary, safe road holding. One has to drive them to appreciate their merits fully.

The car runs and drives amazingly, with its advanced, 2.8 litre rebuilt engine with intermittent induction-manifold injection, four bearing upper head camshaft and thermostat controlled cooling delivers 145 hp at 5000 RPM you can count on a safe journey home. The oil pressure remains high as Mercedes should. Brakes, steering, and suspension all work well.

The odometer reads 50,700 miles which we assume means that it has been driven less than 3,767 miles per year for a total of 150,700 miles but looks like a 10,000 mile masterpiece. There were very few of the low grill 2.8 liter coupes made and that makes this a very rare specimen indeed. When you think about the 3.5 coupes going for well over $70,000 today it makes you realize that this exceptional example will not be far behind in escalating value.

Twenty-thousand highly qualified workers are employed at the Daimler-Benz assembly plant at Sindelfingen and the most skilled of these build this 280SE Coupe attention paid to every detail of construction, as if every coupe was destined to be a gift for a king. A car expert who is as skilled with a pen as he is at handling fast cars wrote: "If one did not know better one would guess that there was a 3.5 litre engine under the bonnet." True sports acceleration right up to their maximum speed.

Unlike other collectors who photograph their cars in professionally lighted studios or in Hollywood driveways, I shoot mine in my driveway using nothing other than natural lighting. So what you see is exactly what you get, a gorgeous rare collector's car that will maintain as well as continually go up in value, it's a great summer classic for budget oriented person. This car will only go up in value.

All bidders do a inspection on the car it is avaible for you 7 days a week no need to call just come over. I am selling the car AS IS no warranties expressed or implied. Any questions please feel free to call me @ (909) 282-0785 or (951) 789-4035 and I will give honest answers to all questions. A phone call is faster than e-mail so please give a call, as I DON'T check my mail everyday (909) 282-0785 or (951) 789-4035

Please ask all questions BEFORE bidding by email or phone (909)282-0785 or (951) 789-4035 serious buyers only, please. Please don't waste my time and money. Have money in hand before bidding and approvals from wife and banker. The car is sold as-is with no warranty expressed or implied. A $200.00 non-refundable deposit must be paid via PayPal within 24 hours of auction end. Car must be paid in full within 7 Days (cashier's checks must clear into my account) before I will transfer the title and give possession. Please do not expect to take possession until the financial transaction is complete.

Shipping is the sole responsibility of the buyer; I will assist your shipper in loading at my convenience. Car must be picked up within 14 days or deposit will be forfeited (I will work with your shipper when they call). Car is for sale locally so I reserve the right to cancel all bids and auction at any time for any reason without warning. Feel free to make an appointment to view the car; the car is located in Riverside Ca.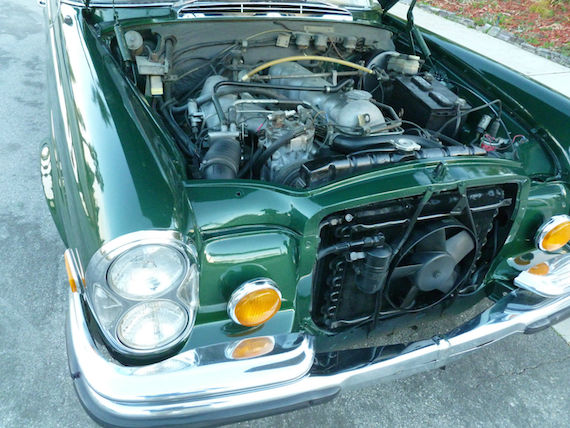 It's not news that the 3.5 V8 versions of this very coupe are bringing princely sums in this day and age, so that's bound to reflect well on its lesser engined counterpart. These were truly some of the last hand-built Mercedes-Benzes and their popularity in the collector market reflects that status. The best non-V8 low grille W111 coupes such as this one are glancing the $50,000 mark currently. At no reserve, I'd suspect this one might settle somewhere in the high $30,000 to low $40,000 range.
-Paul