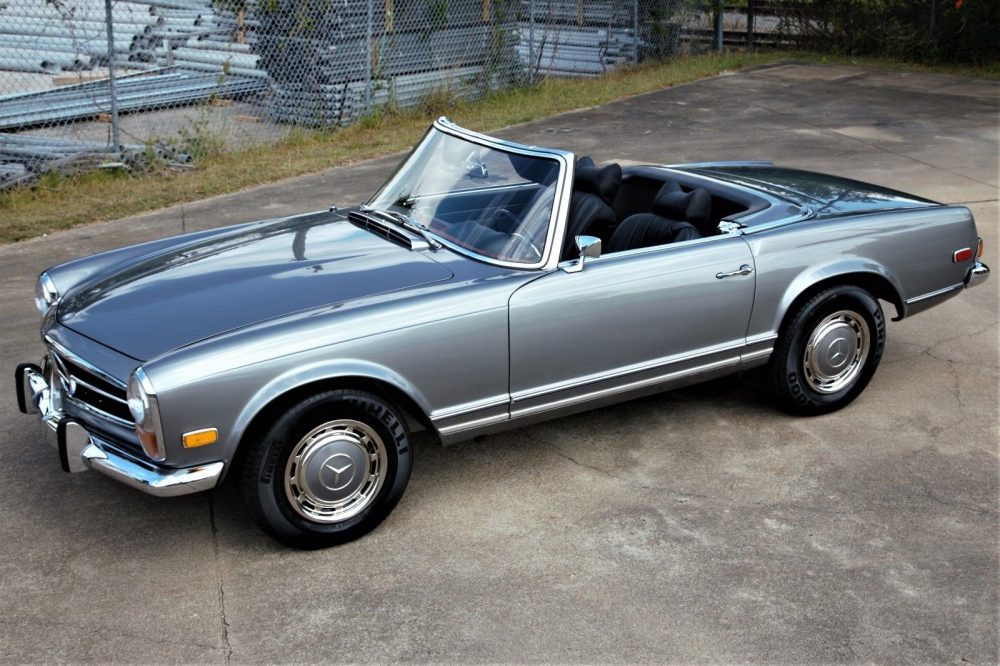 If I had a dollar for every time I see the terms "like-new", "showroom condition" or even worse, "restored" when looking at a used car ad, I'd have a lot more cars. The overwhelming majority of the time these terms don't apply to the car listed for sale and are just used by overzealous sellers just trying to drum up interest. I fight every urge to send them a sarcastic message saying that I didn't know Mercedes sold new cars on the showroom floor with cracked dashes and stains on the carpets, but I resist. Either way, it ruins the term in my eyes because of how loosely it gets tossed around. Today, one of those cars actually deserves all those marketing terms because it is actually true. This 1970 Mercedes-Benz 280SL for sale in Texas was restored, is like-new and is certainly in showroom condition. However, if you want to own this car, I hope your net worth is in seven-figures. It is that expensive.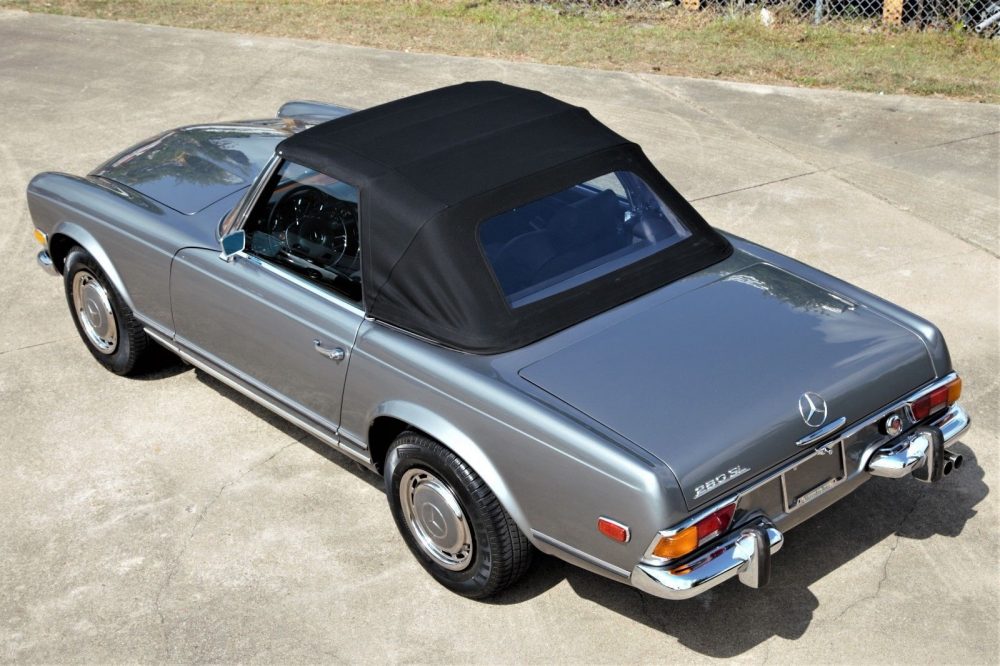 Year: 1970
Model: 280SL
Engine: 2.8 liter inline-6
Transmission: 4-speed automatic
Mileage: 54,000 mi
Price: $259,000 Buy It Now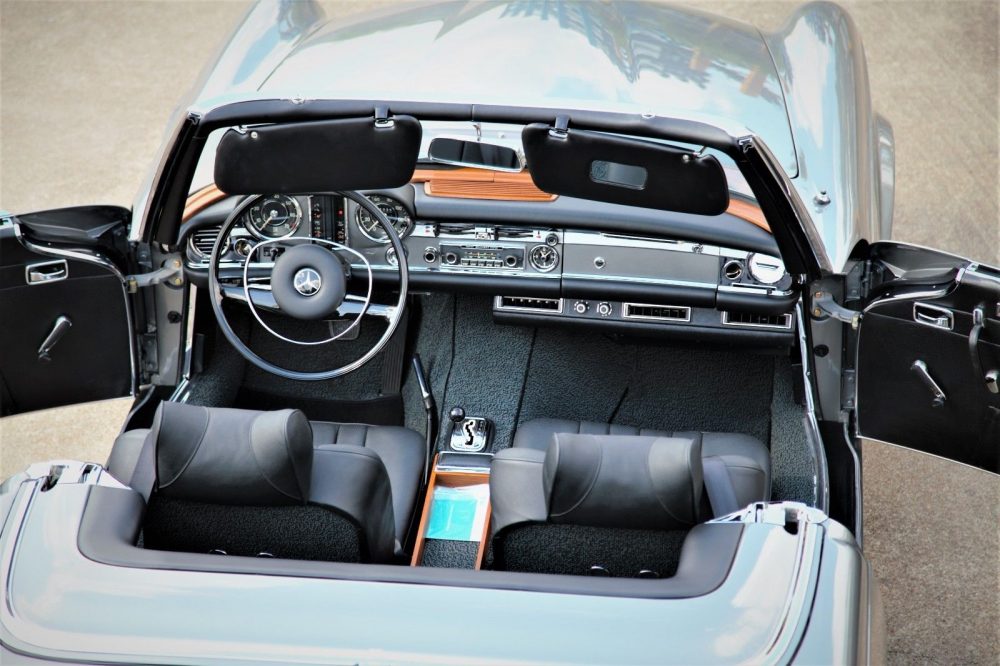 1970 Mercedes Benz 280 SL "Pagoda"

https://www.mercedes-benz.com/en/mercedes-benz/classic/50-years-of-the-pagoda/

Those of us(you) that have ever built/ rebuilt cars will appreciate the Concours level of fit and finish to this project.

Complete "nut and bolt" restoration that took over three years to complete. This car is an original North American market model (W113).

Documentation of the disassembly, body fitting, and assembly, disassembly, paintwork, parts, re-chroming, engine pull, dismantle, build and complete re-assembly.

Started with a fully functional "driver" 280SL, she was forest green. Bought her about thirty-five miles from the office, drove her back, project evaluated, set in line and started 5/15.

To be OCD is one thing, for me, well I think I drove the build team crazy. Initially, I wanted just a color change (to titanium), then realized the value of the car was climbing (started at $100k in 2015 and now is well over $200k for museum quality cars)… So, let's do a complete rebuild of the entire car to the level we did this http://www.aston-martin.com/2014/02/07/for-sale-custom-built-db4-gt-zagato/

The Aston took almost three times as long…. She still makes me smile when I show her.

Okay, enough with that!

All subgroups (if you are familiar with MB work list, this is what applies to this model) to new condition.

01) Removal and inspection of engine (original M130 unit) Engine ran well when vehicle brought in for project. Engine compression tests good. Engine was disassembled as

needed to inspect and replace seals and bearings as needed. Engine was photographed and reassembled.

07) Fuel Injector nozzles cleaned and tested, Injection pump cleaned and resealed. New intake hose and filters. All new fuel lines and filter.

13) All belts replaced with OEM Continental

14) New heat shield for intake manifold

15) Distributor refurbished, new spark plugs, ignition wires, distributor cap and rotor.

18) New oil pump installed, new oil cooler lines.

20) Radiator re-cored, new water pump, new cooling hoses.

22) New motor mounts

27) Complete rebuild of automatic transmission

32) New Bilstein shocks, front and rear

33) Front upper and lower control arm bushings replaced. New spindle pins and adjusters.

35) New axle mounts and bushings

40) Wheel alignment

41) New U-joints, center support, bearing and balance of driveshaft

42) New master cylinder and brake hoses, front and rear brake calipers rebuilt. New emergency

brake shoes, front and rear brake pads and rotors.

46) Steering box resealed, power steering pump resealed. Inner and outer tie rod ends replaced.

Drag link replaced, steering dampener replaced, idle-arm, power steering hoses replaced.

Steering wheel removed and restored.

47) Fuel tank, removed, cleaned, new filter installed in tank, new fuel hoses.

49) Complete new exhaust system including new chrome tips and mounting hardware.

54) New Mercedes Benz battery, rebuilt alternator and starter motor.

62) New OEM firewall insulation

65) New OEM soft top

67) All new window channels and seals, new OEM windshield, side glassed, buffed and excellent.

68) New clock all gauges tested and functional

82) System relays replaced throughout auto where necessary

83) Air Conditioning, upgraded to 134A Freon and new Sanden rotary compressor and receiver

Dryer added

91) New interior, panels, seating, console, knobs, carpet, all chrome interior and exterior -re-

chromed or replaced.

Complete file included with purchase. Receipts and picture library. Shop lead by thirty-five year experienced MB mechanic from Santa Barbara, Ca. Has had Master mechanic status since 1993. Body and paint specialists also with forty plus years.

Call us today, 281.530.6000 Chuck, John or Keith Collectormotors.com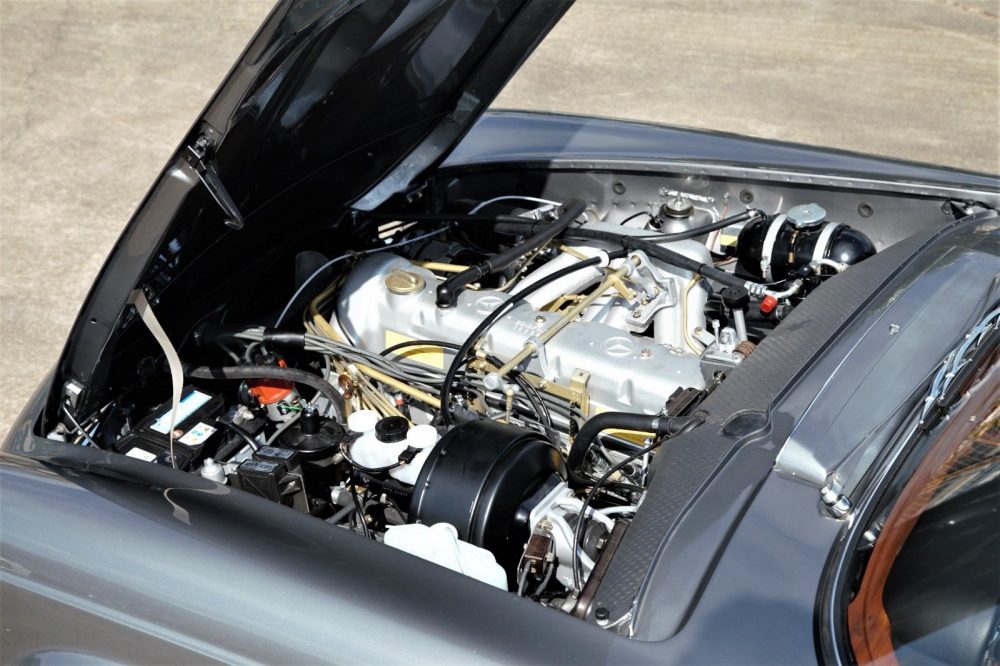 The photos pretty much tell the story on this car. It was torn down to the bare metal then totally reassembled with all new parts. Even the M130 engine was rebuilt so basically what you have is a brand new car. Everything is so clean that you can eat off it, including the under body, and nothing was overlooked. All this work took three years and now you have a concours-level Pagoda. I can't say it wasn't worth because you see how stunning it looks, but I also have to admit they took a huge gamble that Pagoda values would stay strong during this rebuild. When they started this project in 2015, W113 prices spiked pretty hard along with a lot of other cars, so they probably thought at the time this project would be worth it. Now that it is finished, it carries a mega price tag.
I think $259,000 is the highest price I've seen for a Pagoda. There are lots of other really nice 280SLs for over $100,000 and I think the Mercedes-Benz Classic Center had one of their W113s listed for over $200,000, but $259,000 is just way up there. I'm sure if you tally the parts and labor you are over $100,000 on this car plus maybe the purchase price of $50,000, so doing the math here there is some profit in it for the seller. Is it worth it? I guess if you want a totally brand new Pagoda, yes. I think if you buy a car for half this price you are going to get a really exceptional car but it probably won't feel brand new or have all the little details done like this one. My guess? This one probably heads to Europe of the Middle East.
– Andrew