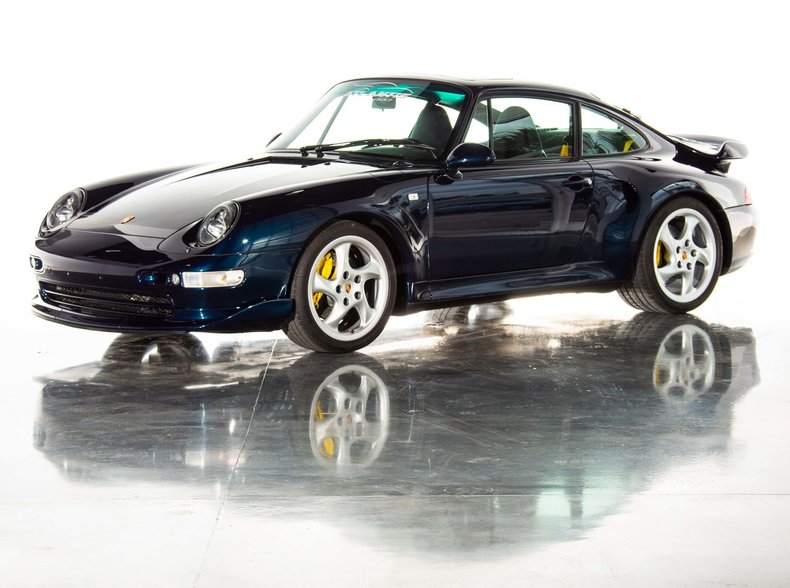 Let's see if we can figure out what we've got here. Despite its appearance this is not a 993 Turbo S. The rear vents in the quarter panels, the quad exhaust tips, and the yellow brake calipers all make it look the part, but it isn't. It is an Ocean Blue Metallic 1997 Porsche 911 Turbo with a Black leather interior and 23K kilometers on it. It also just so happens to have been fitted with a number of Turbo S pieces. As noted, the mileage is given in kilometers and the speedometer shows km/h so this clearly was not originally a U.S. market 911. In which market did it originate? We aren't told. It's also not quite clear why the original buyer would order a standard Turbo and then effectively convert it to a Turbo S. Porsche doesn't typically make it less expensive to "build your own" so to speak. Perhaps a Turbo S was not available or perhaps the owner just wanted something more unique because given that this one is claimed to be 1 of only 2 such Turbos to exist it's quite a bit more rare than the already very rare and very desirable Turbo S.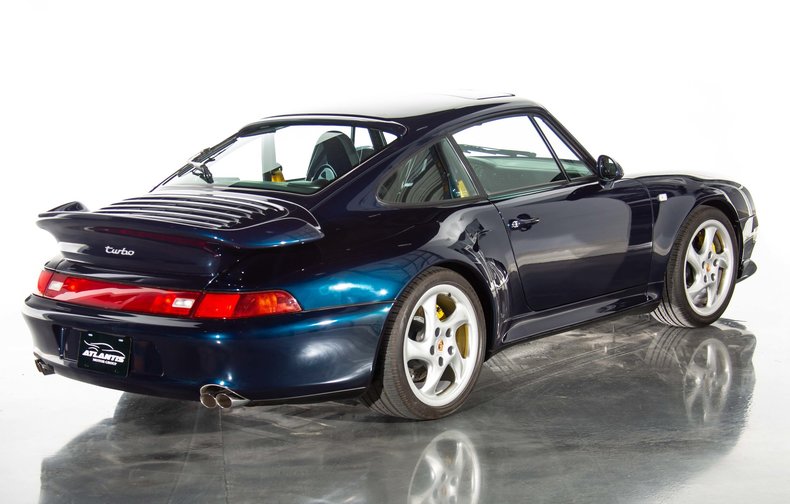 Year: 1997
Model: 911 Turbo
Engine: 3.6 liter twin-turbocharged flat-6
Transmission: 6-speed manual
Mileage: 23,000 km (14,000 mi)
Price: $399,000 Buy It Now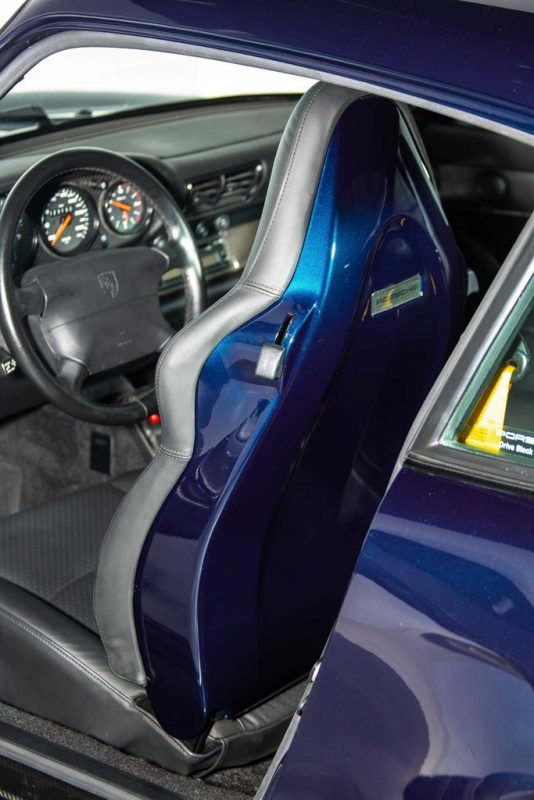 1997 Porsche Twin Turbo "Special Wishes" This is the rarest of the rare in Porsche. 1997 "Special Wishes" Turbo. 100% factory and 1 of only 2 in the world. The 993 Twin Turbo is all factory coded with the following options: Turbo S rear quarters Factory S power package (X50) Factory front RSR/GT2 Splitter Sports seats with hard back color coded Carbon Fiber interior Yellow seat belts Yellow calipers Ocean Blue Metallic with Black interior 23,000 klm (14,000 miles) Option Codes: XE7 Extra oil cooler for 993 Turbo S 139 Seat Heating – Left 340 Seat heating – Right 373 Left Sport Seat w/ Power Height Adjuster 374 Right Sport Seat w/ Power Height Adjuster 454 Automatic speed control 650 Sunroof X50 Power package Turbos X54 Dual Chrome Exhaust Pipes X79: Side air vents 545 92-litre fuel tank 315 MHz anti-theft system 09991 (Special Wish / Exclusive Program) Contact us for more info. 877-894-4420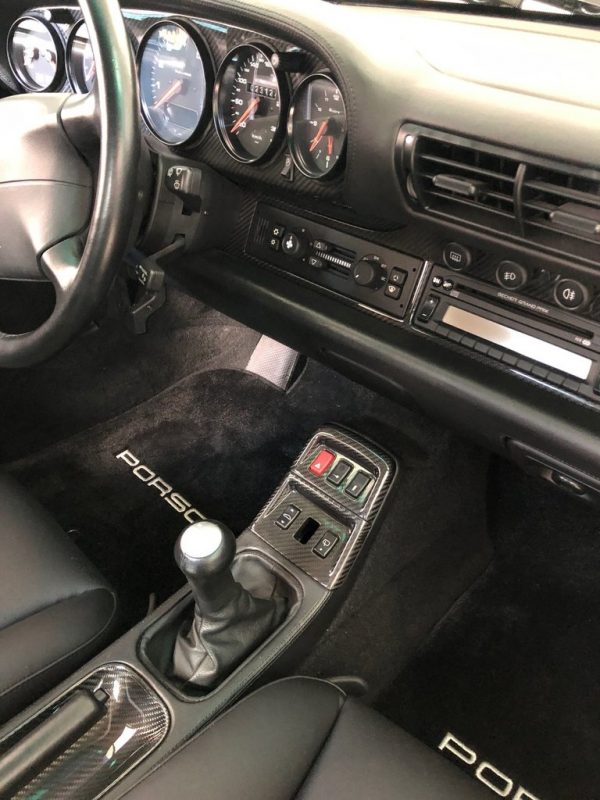 The interior also has a Turbo S feel to it with the carbon fiber package adding detail around the cabin. The color-matched hard back sport seats are a very nice option and really look good contrasted with the black leather. Yellow belts add some brightness. While there probably are a few items that aren't quite the same as an actual Turbo S the only really obvious ones are the rear spoiler, which appears to be the standard 993TT unit, and the front splitter, which comes from the GT2, and of course the door sills which only say "Turbo." That splitter actually gives this Turbo a more aggressive appearance than the Turbo S.
The added options on this one are not just a few appearance pieces to make people think you have a Turbo S. This one has been fitted with the X50 Turbo Powerkit to give it the power to go with its looks.
In the end, the question is whether this Turbo should be more valuable (or at least equally as valuable) as a true Turbo S. Assuming everything stated here can be validated, including that there only is 1 other like it extant, it truly is quite rare, but ultimately it's really just a rare and well-optioned 993 Turbo. It looks in really nice condition and definitely should elicit plenty of conversation among 933 aficionados. While all of that is quite nice I'm not sure it should add $200K to the price tag.
-Rob